June Full Moon 2022: Full Moon in Sagittarius means change is in the air - here's what that means for your star sign
June Full Moon 2022 is a chance for big change and this Sagittarius Moon says it's not to late to make this year, your year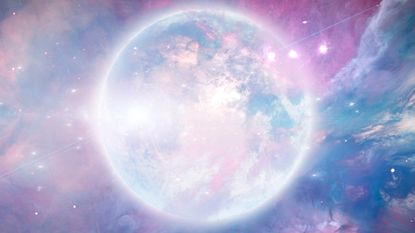 (Image credit: Bruce Rolff/Universal Images Group/Getty Images)
The June Full Moon 2022 says that change is in the air and adventure is calling - but are we ready to meet the moment? That's the question we'll be grappling with during this fiery, potent, and potential-filled Full Moon in Sagittarius.
After the Full Moon May 2022 fell on a Lunar Eclipse, fate took over. The Blood Moon total lunar eclipse 2022 meant that a heck of a lot of supercharged supermoon energy left us needing to be vigilant. Luckily, the June Full Moon 2022 comes after Mercury Retrograde 2022 finally shuddered to an end.
Mark your Moon calendar 2022 for June 14, because whenever the Moon is in Sagittarius, it's a time to adjust our focus. By transforming our innermost thoughts, beliefs, hopes and dreams into outward experiences and life-defining adventures - and we'll feel this especially as this lunation, also known as the Strawberry Moon 2022, is a Supermoon.
Therefore, at this critical midpoint of the year, just ahead of Summer Solstice 2022, we will ask ourselves how far along we are on making progress towards our goals and ambitions, and reflect on your 2022 horoscope. Whether we made formal resolutions at the start of the year or loosely formed an idea of where we want to be or where we want to go. Perhaps you want to enter a new relationship, get a new job, start a lifestyle change. This Full Moon is showing us the point in on our journey between what we said we wanted to do and achieve in 2022 and where we currently are. Full Moon ritual anybody?!
With six months left in the year, what habits have we formed that we may need to release so we can either stay on our path - or get back on it? We may now look at distractions, like mindless scrolling through social media, that take up too much of our time at best, or at worst, make us second-guess our own abilities. We're being called to go deeper and looking beyond the surface and the superficial or superfluous. This is not a time for shortcuts where we end up short-changing ourselves in process.
This lunation features a square to illusive Neptune while two powerful and simultaneous conjunctions are occurring concurrently, between Venus and Uranus as well as Mars and Chiron, respectively. In total, what this means is that June Full Moon 2022 in Sagittarius is powerful lunation - that will leave an imprint on us. It will do so by asking us to be open to change and accept that, even if events don't go according to plan, there is still beauty in the plot twist. It also wants us to let go of our defenses and fears and welcome in a chance to start fresh. Trust yourself and your intuition - you know the truth. Or you soon will.
Here's how the Full Moon in Sagittarius will affect you depending on your star sign. For the most accurate reading, look at your sun or rising sign according to your astrology birth chart.
How will June Full Moon 2022 effect my star sign?
Aries
This lunation is asking you to think, believe and dream bigger than you have before. As this Full Moon illuminates your ninth house of higher wisdom, public broadcast, and spiritual learning, you're being asked to think about the weight your words carry - and the potential impact they can have on other people. Certainly, the way you say things matters but it's just as important that you actually do say it. What, if anything, is holding you back from constructively sharing your wisdom with those around you - or the world at large? You're a natural-born leader and adventurer, Aries. You have experiences, thoughts, and opinions that can offer real value to those around you. Don't speak without thinking, but neither should you allow fear of judgement to hold you back - or fear of failure to prevent you from taking a leap of faith.
Taurus
Taurus, this Full Moon in your eighth house of karmic debts and relationships is a time when you can release your sense of burden and obligations to other people, especially if you've felt weighed down. These debts can be financial, but they can also be of the karmic variety, where you repay a favor or have one given paid back to you. Consider what you have learned about the depth of the relationship and the magnitude of the karma it generated. Sit with your feelings. Go deep. The stars are inviting you to transcend the surface-level observations or loud opinions from friends or other people telling you what to believe or how to see it - and instead, begin to see your experience as a debt of gratitude. One that you also owe yourself. For going through it - and getting through it. With this release comes your freedom - and future.
Gemini
This Full Moon in your seventh house of partnerships may find you at odds between your individual identity and the role you play with others. Is something distracting or even preventing you from showing up as your whole self? Gemini season is your time to shine after all, but could obligations at work be creating relationship roadblocks? Is spending time worried about public perceptions getting in the way of matters of the heart? If you're single, let go of the idea that there is some status you must achieve, some perfect job, career or position you need to attain before you're ready for a relationship. If you're in a committed partnership, let go of the idea that relationships are self-sustaining; you need to work on them every day, just like you work at your job. Love is in the air for you, Gemini. You just have to acknowledge it's there.
Cancer
Anyone who has ever spent time with a Cancer knows that there are times when you must step away from others to get back to center. This Full Moon in your sixth house of health is the time for you to do just that. You're being called to evaluate your patterns and routines and ask how they contribute to your sense of health and healing - or if your habits detract from your sense of wellbeing. It's not about shaming or blaming yourself if they do. It's not about comparing your journey to anyone else's. And right now, it's not even the time to try another new healing modality. Instead, stick with what you know works. Use this time to recognize your current roles and routines and recalibrate from there, letting go of anything that is no longer in alignment. There will always be a time to try something new. But right now, simply enjoy the lack of grinding.
Leo
You have a big heart, Leo and you're beloved for it. But the June Full Moon 2022 is in your fifth house of fun and pleasure, and is asking you to consider where your inclination to give another person the clothes off your back has left you feeling out in the cold, proverbially speaking. The stars are bringing awareness to where you may be sacrificing your personal authenticity, wants, and desires for the sake of going along with the group. It's almost like you've been dimming your own light because you fear being considered 'too much.' But this Sagittarius energy is showing you that there is enough sunlight to go around for everyone. And as a sign ruled by the Sun, you have so many gifts to offer those around you. Take this time to let go of the expectations of others and do one thing you love. It's not selfish. It's star-prescribed soul-care towards your dreams.
Virgo
You're being drawn inwards during this powerful full moon in Sagittarius, which rules your fourth house of home and family. You have a sharp mind coupled with perfectionist tendencies, Virgo, that often leaves you in a constant state of trying to create order out of chaos. Now the stars are asking you to consider letting all that go - even if just for a day. You will still be you if the laundry doesn't get done. If you ask for an extension on a work deadline. If you don't fix something for your lover or partner. The stars are asking you if a persistent urge to go-go-go and do-do-do ever allows for you to be at home. In a physical sense yes, but home is just a building unless it's a place where you can also be at home with yourself. Your wonderfully imperfect self.
Libra
If there is any sign that embodies the concept of letting go with gratitude and graciousness, it's you, Libra. And that's exactly what this powerful Full Moon in your third house of communication is calling on you to do. It's a time to realign not only how you communicate, but who you communicate with. Not everyone will fully understand your dreams and aspirations - but they don't have to. Use this time instead to focus your energy on the kindred spirits in your life, the ones you champion the same causes as you and have a similar outlook and perspective. The stars are asking you to broaden your outlook and your social circle. If there is something or someone you've been avoiding or putting off, make deliberate time to have that conversation - and in the process, reclaim your story and your power. It's about speaking your truth - and living it.
Scorpio
As the saying goes, you've got your mind on your money and money on your mind during this full moon in your second house of earned income. The trouble is, frivolity may be winning over frugality right now for you, Scorpio. The stars are merely asking you to weigh any conflicting priorities - but you do have the cosmic green light to reward yourself and celebrate your successes. In a universe of infinite possibilities, surely you can indulge these more fun inclinations while remaining committed to a long-term and sustainable fiscal future for yourself. Look at where your time and money have gone over the last six months - and decide which pursuits are worth more of your investment. You owe it to yourself, after all, to be dedicated to your future and reward yourself for all you've done so far.
Sagittarius
Your personality shines through in all that you do, Sagittarius, and if you've been feeling like you're hiding out in the shadows, now is your time to step out. Defining ourselves by our relationship status can happen without us even being consciously aware that we're doing it. But with this Full Moon taking place in your first house of your identity, it's a call to remind yourself that whether you're single or committed, it's all a part of your unique soul journey in this lifetime. Your relationships are certainly important, but that's you're an equal part of how those dynamics are defined. It wouldn't be a relationship without your participation so make sure that you're bringing you - and that means all of you - to the experience. Let go of anyone else's expectations of who you should be or how you should show up. Right now, it's about you.
Capricorn
Capricorn, the stars want to remind you that it's not only more than OK to take a break, but for you, it's essentially required right now. As one of the hardest-working signs of the zodiac - if not 'the' hardest working one - you have an uncanny knack to crush your goals, knock out deadlines, and surpass anyone's reasonable expectations…except the overly exacting standards that you put on yourself. This Full Moon in your twelfth house of the subconscious is asking you to be mindful of the mantras you repeat and the stories you tell yourself about yourself. You're not on this earth to produce. You're on this earth to experience life to its fullest. So, make sure that is the item that appears on your daily to-do list and your yearly bucket list. You'll be glad it did.
Aquarius
This Full Moon in your eleventh house of friendship is illuminating the vital role that your networks play in ensuring that you can achieve your goals. It takes a village to raise a child - but it also takes a community to support the grown-up children we all are fundamentally at heart. Now is the time to take stock of your mid-year progress while also bringing a deeper sense of awareness of the support systems you have in place that help you get there. Are they strong? If so, are you showing your gratitude for not just the overt gestures they make, but the often-missed favors done for you? If your network is on shaky ground, what can you do to ensure that you never feel like an island of one? When you celebrate a win, it's always more fun to toast a victory with others, don't you think?
Pisces
You deserve recognition and rewards for the work that you do. Having goals you want to achieve is important. It's what sustains us on an emotional, mental, and even spiritual level. If you have been feeling guilty about prioritizing your own wants, needs, and desires, this Full Moon in your tenth house of your public image is asking you let that go and fully bask in receiving praise for a job well done. During this time, you could receive an increase in responsibility that comes with an increase in title, status, or some other kind of promotion, which in turn, can make your home life see an increased sense of comfort and ease. You've earned it. This isn't a time to shrink from the spotlight, but to celebrate your victories and recognize yourself for your efforts. The stars simply won't have it any other way for you, Pisces.
Astrologer and tarot reader
Maria Sofia is a Greek-American writer, astrologer, Tarot reader, and intuitive. She is a lifelong lover and student of the stars, who has been practicing divination and magic for 20+ years.
Maria is Leo Sun, Cancer Moon, and Virgo Rising. Her favorite natal placement in her chart is her Virgo Mercury conjunct the ascendant that makes her a fast writer and talker and she smiles anytime she pulls the Queen of Wands or the Nine of Pentacles.