The true meaning behind the blood moon in May 2021
No, it's not as spooky as it sounds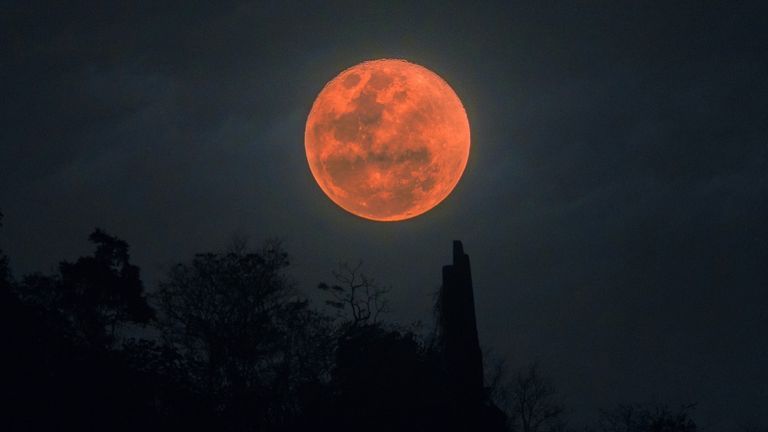 (Image credit: Aumphotography/Getty Images)
The super blood moon will be visible on 26th May 2021, but what does this actually mean?
While the name sounds ominous, it's actually not a sign of bad things to come—the true purpose is more spiritual than evil. The only "bloody" thing about the event is the color that the moon takes on, which is caused by the alignment of the planets.
More from woman&home:
• The best shapewear pieces of all time
• Best jeans you'll wear again and again
• Best sandals it's time to ditch your boots
What is the blood moon?
The blood moon, otherwise known as a total lunar eclipse, typically occurs during a supermoon (either a new or full moon that occurs when the moon is within 90% of perigee, its closest approach to Earth). On any other night, the moon receives direct light from the sun, but on this special night, the moon shifts into the Earth's darkest and most central part of its shadow. At this point, the sun, Earth, and moon are almost completely aligned. You might think that this would cause the moon to go completely dark, but instead it is illuminated by indirect sunlight, which results in an eerie red color.
What's the spiritual meaning of the blood moon?
Supermoons are considered more "powerful" than any other moon and the closer the moon is to Earth, the more intense its pull is. This affects the tides, your instincts, feelings and even complications in life. So, when you combine this supermoon with a lunar eclipse, you get one powerful concoction of cosmic forces.
It's said that eclipses symbolize beginnings, endings and clean slates. So if you've been wrestling over a big decision, now could be the time to make it. This could come in various forms, whether it's ending a relationship, quitting a job or professing your feelings to someone new. So it's a point in our lives when we're supposed to prepare for new chapters by tying up any loose ends.
This blood moon will also be in Sagittarius, which is the zodiac sign that longs for adventure, spontaneity and new stories to tell. Don't be surprised if this lunar eclipse causes you to desire new experiences that may go against your normal routine. As one of the more honest zodiac signs, this could also cause feelings to surface, so it could be that you confess something or find out something new.
Rylee is a digital news writer for woman&home and My Imperfect Life. She covers everything from beauty and fashion trends to celebrity and entertainment news.