Mercury retrograde May 2022 is about to bring the chaos—here's what to expect, depending on your star sign
Mercury retrograde May 2022 is one of FOUR occasions, this year, that the planet of communication goes retrograde. So how will that affect you?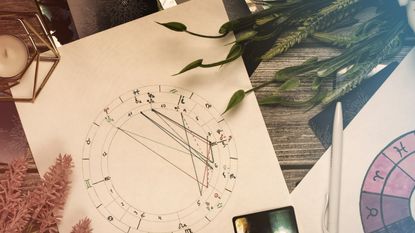 (Image credit: Oksana Zueva/Getty Images)
woman&home newsletter
Sign up to our free daily email for the latest royal and entertainment news, interesting opinion, expert advice on styling and beauty trends, and no-nonsense guides to the health and wellness questions you want answered.
Thank you for signing up to . You will receive a verification email shortly.
There was a problem. Please refresh the page and try again.
Back up your computer and get ready to take things personally—everyone's favorite cosmic inconvenience is back: Mercury retrograde!
Mercury, the planet of communication and travel, stations retrograde from May 10 until June 3. This is one of four Mercury in retrograde 2022 that we will experience, and during this trip around the sun, Mercury will retrograde through two zodiac signs: Gemini and Taurus.
In air sign Gemini, you can expect typical Mercury retrograde manifestations from misunderstandings, missed connections, travel delays, technological issues, and more. Once Mercury re-enters Taurus on May 22, the flavor of retrograde takes on more of an earth sign nature, bringing up issues around our material possessions, finances, and value systems. And of course, people from our past popping up is something you can also expect throughout this retrograde journey, too.
What are the most important dates for Mercury retrograde?
May 10—Mercury stations retrograde in Gemini. Expect miscommunication, technological issues, people from our past, and more to flavor this transit.
May 21—Mercury retrograde meets at the same point in the sky as the sun, which is known as a cazimi in astrology. Cazimis signal a new cycle of rebirth. When Mercury is in the heart of the sun, we can gain deeper insight or understanding of a particular situation, story, or current theme in our life. Pay attention to ah-hah moments and breakthroughs.
May 22—Mercury will leave Gemini as it moves backward and re-enters the sign of Taurus. This is an energetic shift for our retrograde stories. Taurus' energy will bring up issues around our finances and material possessions, as well as our value systems.
June 3—Mercury stations direct and begins to move forward! We will still be in Mercury retrograde shadow period until Mercury re-enters Gemini, the sign it started its retrograde journey in. Pieces of our retrograde story are starting to make more sense and come together. This is an integration period.
June 13—The coast is almost clear! Mercury re-enters Gemini.
June 18—Mercury's post-retrograde shadow ends! You've made it through the other side!
How will Mercury retrograde May 2022 affect my star sign?
Read on for your Sun, Rising, and Moon signs to gain deeper insight into how this Mercury retrograde will affect your zodiac sign and astrological birth chart.
---
Aries
Your Mercury retrograde journey could not be more cliché, Aries, but maybe that's a good thing! As Mercury moves through Gemini, situations, and themes related to communication, travel, and siblings will be the focus. Be aware that miscommunication is in the air—so people may take your words more personally, and you may find yourself taking others' words more personally, as well. If you're traveling, for the love of the sun, get to the airport early! You can expect travel delays and commuting issues. Technological issues will also rear their heads, so be mindful of who you're texting or emailing before hitting send.
Once Mercury re-enters Taurus, your focus shifts to your finances and income. Perhaps you were hoping for a raise or promotion and for some reason the conversations and next steps are delayed. Bills and payment plans you may have forgotten about can reappear. This is a beneficial time to be proactive with your budget.
Taurus
Mercury retrograde in Gemini starts off with money on your mind, Taurus! When was the last time you took time to rework your budget and take a closer look at what you're bringing in vs. what you're spending on a monthly basis? Old bills that you may have neglected can catch you off guard—or perhaps you're ready to settle some debts. Either way, redefining your relationship with your finances is powerful at this time. This is aligned energy for releasing a scarcity mindset and calling more abundance into your life.
As Mercury re-enters your sign, things get a little more personal. The focus is on you, your needs, personal goals, and your relationships. Are your needs being met in your closest relationships? Are you giving more than you're receiving? Experiencing retrograde in this part of your chart, especially if you're a Taurus rising, can increase the likelihood of hearing from people from our past. Get ready to hit the block button!
Gemini
What's going on with you, Gemini? Mercury is spending a little extra time moving through the part of your chart that rules your identity and sense of self. This transit also activates your relationship axis, which means exes and people from our path are more likely to pop up in some way, shape, or form. If you've been rethinking how you want to present yourself in the world or any personal goals and/or projects, this is a powerful time to reassess before moving forward.
Once Mercury moves into Taurus, you're finding yourself ready to dip into your subconscious. This is a powerful time to focus on your internal world, honor your rest cycle, and develop spiritual practices that will support your overall wellbeing. If you're ready to kick a bad habit or self-destructive thought pattern or behavior, this retrograde will bring it to light so you can release it.
Cancer
Things start off pretty deep with Mercury retrograde May 2022 in Gemini activating the area of your chart that governs closure, spirituality, and your subconscious. This is a powerful time to be as reflective as possible. You have the ability to reach a new level of self-awareness and shed limiting beliefs and behaviors. This isn't an easy feat and may create the need for more rest. Don't overbook yourself—integration requires a lot of energy.
Old friends start to reappear seemingly out of nowhere once Mercury re-enters Taurus. If you had a friendship fizzle out, this person may reappear for some closure or reconnection. This is also an aligned time for networking. Socializing and prioritizing spending time with groups of like-minded people who share your same interest and/or hobbies could lead to some success.
Leo
Ghosts of Mercury retrograde's past appear as Mercury moves through Gemini for you, Leo. Old friends, colleagues, or people within your professional network are likely to play an important part in your retrograde story. If you left any friendships unfinished or never received closure, you may be tasked with confronting anything that's been left unsaid.
Professional projects may come to a standstill or old bosses or CEOs may reappear in your life at this time. If you're overdue for a promotion or eager to get started working on a new professional project, there may be some delays. That doesn't mean your dreams won't come true, it just means you'll have to proceed with a little patience. The cosmic slowdown is really for your benefit to work out any kinks.
Virgo
What's been going on at work, Virgo? Mercury retrograde brings the focus to your career. If you've been rethinking your career path, this may be a time when you're reconsidering if you are truly satisfied with your current job or career. People from your professional network that you worked with in the past may also show up seemingly out of nowhere—perhaps with a new job opportunity. If you're working on a big project at work, expect delays. Slowing down is beneficial for moving forward in a more streamlined, successful manner.
As Mercury re-enters Taurus, you might have your mind lost in a few books. Perhaps you're re-reading a favorite book or decided to pick up studying something that's interested you before, but you never committed to. This is a great time to sign up for courses or classes that ignite the inner curiosities of your mind. If you've been putting a trip off, you may finally be ready to plan and recommit to moving forward.
Libra
Your mind is full of depth, Libra, as Mercury retrograde, May 2022, asks you to reconsider your personal philosophy. What is the meaning of life? Are you actively fulfilled in your current life? You may gravitate toward spiritual practices and explore esoteric subjects. Your inner traveler is also ready for a trip or two—just make sure you factor in extra travel time when you get to the airport.
You're revisiting the depths of your mind and perhaps ready to process some deep-seated fears as Mercury re-enters Taurus. Triggers and past pains may come up for re-examination so you can heal and move forward. This is an incredibly powerful time to lean on your support network. Don't be afraid to ask for help and know that when you face the skeletons in your closet, you are always rewarded.
Scorpio
You're no stranger to depth and facing your shadow side, Scorpio. As Mercury moves through Gemini, you may be reminded that you are not immortal and have fears and past pains like everyone else. These triggers are bubbling up to the surface for a reason. When you spend time processing your psychological world either by seeking out a therapist or leaning on your support network, you will be rewarded. You can regain your power and these fears and past issues will lose their influence over your subconscious mind and world. It's time to heal.
It's a cosmically aligned time to invest in your partnerships once Mercury re-enters Taurus. Sure, exes may pop up, but this energy could manifest as calling your attention back to your current partnership. Are you spending enough time together? Is the division of labor fair? Are you emotionally satisfied? If you're single, this may also bring up a period of addressing issues that have been brushed under the rug with exes or even our BFFs.
Sagittarius
A serious ex that you haven't heard from in a while is likely to resurface, Sagittarius! Mercury moves through the part of your chart that governs one-on-one relationships. Any issues from past partnerships—whether romantic, platonic, or familial—may come up to readdress. Reflecting deeper on your relationship dynamics at this time is healing and necessary. Is there balance in your closest ties? If your needs aren't being met, don't be afraid to speak your mind and stand up for what you deserve.
Projects at work can feel like they're moving slower than molasses. People might not be responding to your emails—you can't count on productive communication at this time, which can lead to delays. Your schedule also might be filing up and this is an aligned time to reflect deeper on your daily routines and schedules. If you want to kick a bad habit and call in some healthier ones, Mercury retrograde in Taurus will help you find a more sustainable path moving forward.
Capricorn
It might be a little harder to enjoy work right now, Capricorn. It can feel like your to-do list is piling up and you're drowning in mundane tasks. This retrograde can have you feeling like you're burning the candle at both ends. It's so incredibly important to reconsider your limits and your work/life balance. There is a deeper lesson in protecting your time and the power of saying no. Projects at work might also come to a standstill, so be gentle with yourself and it's OK if you're not meeting every deadline. People are working slower at this time.
Your love life is about to take a stroll down Memory Lane once Mercury re-enters Taurus. Exes or people you casually dated may come around and shoot their shot one more time. Anything that comes up is meant to release you from any unresolved thoughts or feelings you've been holding onto. This is also an incredibly healing time to reflect on and nurture your inner child. What is your relationship to play? Are you carving out enough time for your hobbies and creativity?
Aquarius
Did someone say ex-lovers, Aquarius? As Mercury moves through Gemini, it activates a very romantic part of your chart that governs the area of your life that holds your ex-flings. Don't be surprised if you hear from people from your past or an ex or two. These conversations are meant to be healing so you can release and move forward. This is also an aligned time to reconsider your relationship to pleasure and play. Do you have enough fun in your daily life? How can you call in more enjoyment into your life?
Once Mercury retrogrades into Taurus, your family and home are centerstage. You may be dealing with issues related to your family or working on a home renovation project. This is also a very private time for your chart that offers us a chance for deep reflection. Honoring your need for privacy can lead to profound breakthroughs.
Pisces
Your residence or family unit is on your mind, Pisces! If you just moved, you may be working out a few kinks and perhaps are still adjusting to new roommates or a new living situation. This transit can also open dialogue between family members if you have issues that need to be sorted out. This is also a powerful time to retreat inward and prioritize your rest and solitude.
As Mercury re-enters Taurus you're receiving the cosmic gift of miscommunication and technological snafus. Issues with siblings and your extended family can also crop up. Anything that's been left unaddressed will reappear in some way as an opportunity to find a healthier way forward. Traveling can also cause some frustrations at this time—so even if you're just driving from point A to B, don't rule out traffic and be as present as possible while on the road!
Stephanie Campos-Powell is a Mexican-American astrologer, modern mystic, writer, editor, and serious cat lover. She's got four obnoxious planets in Leo and thanks the stars every day for her grounding Virgo moon. Reading celebrity birth charts just puts the wind in her sails, and so does Zumba. In her spare time, you can find her helping others step into their power with the help of magic, spellwork, astrology and various healing modalities. And creating passive-aggressive astrology memes about her loved ones.