Mercury Retrograde shadow period 2022 will happen EIGHT times so here's what to look out for
Mercury retrograde shadow period 2022—the period before and after this year's FOUR Mercury retrogrades and what to look out for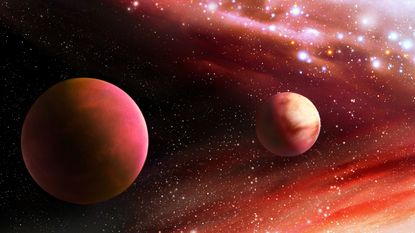 (Image credit: Nazarii Neshcherenskyi/Getty Images)
Mercury retrograde shadow period 2022 is a bit like the ramp-up and ramp-down from the madness that is Mercurial backspin. However, ignoring it can make your retrograde period far more difficult. Worse still, it can stop you from taking the vital lessons that this often misunderstood planetary shift can bring.
This year kicked off with an absolute barrage of planetary happenings. Yes, astrological events in 2022, especially Mercury in retrograde 2022, set the stage for what's sure to be an interesting year.
Mercury's backspin has a fairly bad rep as its retrograde is associated with chaos in communication, technology, and travel. It's that time when you have huge disagreements; when your laptop decides to give up the ghost; when your ex slides into your DMs; when your flights, trains, planes are delayed.
So, understandably, there's a collective exhale when it ends. The thing is though, as with many things in life—it's not quite that simple.
If you keep an eye on your 2022 horoscope, the moon calendar 2022, make time to practice your monthly manifestations and full moon rituals then listen up—because observing shadow periods can help you make the most of Mercury retrograde.
---
What is Mercury Retrograde shadow period?
The shadow period is the time span before and after Mercury Retrograde. If you've ever felt as though your luck was running dry, yet a retrograde had not begun, it may be because of the shadow period. Feeling crappy even though the planet is no longer in a backspin? Yep, that's post retrograde shadow period too.
In more technical terms, it's the specific degree the planet is in before and after a retrograde, explains Stephanie Campos-Powell of Leona Moon Astrology (opens in new tab). Stephanie tells woman&home that Mercury Retrograde shadow period, "details when Mercury first enters the zodiacal degrees of the retrograde period."
How long does Mercury Retrograde shadow period 2022 last?
The two weeks before, and after, retrograde happens is considered the shadow period. Stephanie warns that it can even last for up to three weeks though depending on the speed of the retrograde.
This may explain why some of us may feel stuck or in a rut before a retrograde even occurs. You might even feel the lingering effects of the retrograde during the weeks after.
This isn't exclusive to just this retrograde either. The Mercury retrograde shadow period happens before and after every planetary retrograde too. Yep, that means Venus in retrograde 2022 also has its own shadow period you should also be observing!
Consulting your astrology birth chart and considering the planetary positions around the time of the retrogrades will help guide you through this tricky period.
How to prepare for Mercury Retrograde shadow period 2022
Stephanie advises treating this shadow period as a 'mini-retrograde.' If you notice any reoccurring themes in your life during this time, they can give you a clue as to what to expect from the full Mercury Retrograde.
"The pre-shadow period highlights themes, conversations, and topics that will come up for us during our personal retrograde journey. It's not full-blown Mercury Retrograde chaos, but it's when we can start to pick up on clues," she says.
"The post-shadow period offers us a chance to finish up and act on our retrograde story. After revisiting and revising, what do you now need to implement? What are the final pieces of your retrograde story?"
You should still exercise caution during the shadow period as it's still easy to misconstrue conversations or struggle with planning. Stephanie advises the best way to prepare for the shadow period is to just start your retrograde protocol earlier.
"Be mindful with communication and planning," she warns. "Don't jump to conclusions—miscommunication can occur. Re-read the text before sending, and mostly, just begin your retrograde protocol a bit earlier!"
You've been warned...
Rylee is a U.S. news writer who previously worked for woman&home and My Imperfect Life covering lifestyle, celebrity, and fashion news. Before joining woman&home and My Imperfect Life, Rylee studied journalism at Hofstra University where she explored her interests in world politics and magazine writing. From there, she dabbled in freelance writing covering fashion and beauty e-commerce for outlets such as the TODAY show, American Spa Magazine, First for Women, and Woman's World.