New Moon June 2022: Cancer Moon is giving us a super dose of cosmic self-empowerment - here's what that means for your star sign
New Moon June 2022 is brim-full with cosmic bliss and all it takes to the make the most of this energy is believing in yourself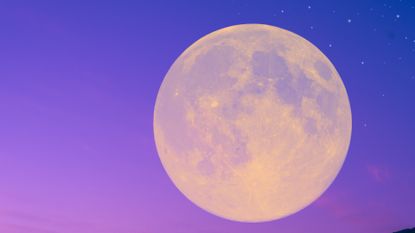 (Image credit: Nyon/Getty Images)
The New Moon June 2022 calls on you to trust your instincts and trust the Universe. That's our mantra for this New Moon and here's what your star sign can expect from this lunation.
This all kicks off on June 28, 2022, at 10:51 PM EST at 7 degrees of Cancer, the sign of the Crab. Cancer season 2022 begins on Summer Solstice 2022, just after the stunning Strawberry Moon 2022 - the monicker given to the June Full Moon 2022.
As a celestial body, the Moon symbolizes the internal realm of emotions, particularly what makes us feel safe, protected, and nurtured. When the Moon is in Water sign Cancer, the sign that the Moon rules, these topics become magnified, as we may seek to retreat into our proverbial crab shells for a moment, defaulting to our comfort zone and what feels familiar.
We won't find ourselves huddled up at home during this lunation however, as the push from the Universe during this pivotal New Moon comes from bountiful Jupiter in the trailblazing sign of Aries. As the New Moon meets Jupiter in an action-provoking square, think of it as the cosmic encouragement we need to move forward on our dreams. And there is no more perfect time to set these bold and soul-aligned intentions than during a New Moon.
Keep in mind that during this date in the Moon Calendar 2022, the Sun and Moon are the furthest ahead in the zodiac, driving us forward to chart new territory and we are pushed in a new direction. With all this cardinal-based Cancer and Aries energy, you will be prompted to reconcile how can you meet the needs of your comfort zone with your sense of entrepreneurial adventure.
The key to this New Moon is reframing the phrase comfort zone. It's not about pushing yourself out of your comfort zone—but pushing yourself *into* it. You know what you're good at. You know what you enjoy doing—and what you don't. You also know that incomparable feeling of hitting your stride—personally, romantically, professionally, financially—and that's how you can use this New Moon to plant more seeds in helping those feel-good feelings grow in areas where you feel comfortable and like you belong. Like a crab carrying its shell on its back as its walks, the feeling of home can always be with you if you feel at home with yourself.
Here's how the New Moon June 2022 will affect you depending on your star sign. For the most accurate reading, look at your sun or rising sign according to your astrology birth chart.
New Moon June 2022: Your zodiac forecast
Aries
Home is the focus for you, Aries, during this New Moon in your fourth house of home and family. What feels like home? Where and when do you feel at ease? With whom do you feel perfectly comfortable with? These are your questions as you interrogate any old or outdated beliefs that were instilled in you by the people you grew up with, or any societal or cultural norms you were expected to adhere to. As an Aries, you always want to do things your own way, even if that means going your own way, on your own. Be willing to do that now - to take that daredevil, devil-may-care attitude about convention and adjust it to your living style. You don't have to do things just because social media, all your friends, or 'they' expect you to. The only person's expectations you need to honor are your own.
Taurus
Your words have power. Your voice matters. Repeat it, like a mantra, until you believe it. That's the message that the cosmos have for you during this New Moon in your third house of communication. Ask yourself all the ways you have held yourself back from expressing yourself - whether it's out of fear of hurting someone's feelings, fear that you'll be rejected or ridiculed for your beliefs, or even your own inner doubts and insecurities about if your contributions carry any weight. This lunation is inviting you to remember who you are. Venus, your chart ruler, is currently in Gemini, only further emphasizing the importance of your words. You are great at keeping the peace. You thrive in stability. And you can still maintain harmony by owning who you are, advocating for yourself, for what matters to you. This New Moon is about taking back your power.
Gemini
The New Moon June 2022 is all about your relationship to abundance, Gemini. As it takes place in your second house of income, the focus will be on facing any fears about your financial future. But remember just how abundant you are. You're quick with a joke. You light up any room you enter with your gift for conversation. You're knowledgeable on many topics. And you make friends so easily. You are rich with talents. Now the stars are inviting you to take this mindset and apply it to your earnings, despite any literal gains or losses. You can gain a fresh perspective and transform your relationship with money by being clear on what you want to earn, make, and have. You deserve to be fairly compensated for your skills. And now is the time to be intentional about what you're worth - the total package.
Cancer
This New Moon in your first house of the self is all about you, Cancer. If you allow it. As a sign, you're known for your enormous empathy. The amount of love, support, care, and nurturing you can generate seems like it comes from an endless supply deep inside of you. You give because you want to. Because you love to make others happy. And now you can use this New Moon to keep doing what you're excellent at - and give all that loving energy back to yourself. Because that's how it replenishes itself. That's how you have a constant, steady supply. You don't have to worry that self-care or self-prioritization is selfish. You can put aside your fears that you'll be seen as too much or too wanting. That endless encouragement you give - use it to encourage yourself to come out of your shell and allow yourself to shine.
Leo
Leo, this New Moon in your twelfth house of the subconscious is encouraging you to dig deep. You are the sign known for being in the spotlight, out entertaining the crowd. But what others may not realize is that you do it out of a deep sense of service. Out of wanting to connect. Because whether they're laughing or crying, when people watch a performer, read a story, or listen to a song, what's being activated for them is a feeling of being seen, heard, and understood. And that's all you want. So as the zodiac's star performer, it's your time to understand your underlying motivations and emotions even better. Your fears, your worries, your hopes, your dreams. By knowing yourself, by being more real even about your own shortcomings, you can get even more in tune with universal truth. Courageously deepening that authenticity is what makes you beloved.
Virgo
Virgo, you have a New Moon in your eleventh house of groups and it's time to think about planting seeds to expand your social circles. You excel in one-to-one relationships and can easily build intimacy with others - coworkers, colleagues, and friends. You're often on the receiving end of, "I've never told anyone that before." Often that even comes from perfect strangers. Your task during this New Moon is to take that mindset and be discerning about your current alliances - and what you want future ones to feel like. It's allowing yourself to grow beyond ones that have reached their end and disentangle from groups that are not aligned with who you are now. It's about nurturing the ones who where you're not being to be yourself, where you feel safe and supportive. Remember, you deserve support. And you know what that looks like because you so generously give it to others.
Libra
When people talk about Libras, they always emphasize your indecisiveness. That you care so much about what other people think. So now, with this New Moon in your tenth house of public image, you have a chance to revise that tired script. The tenth house is about legacy. What you want to be known and remembered for. It may be something for other people but it's something about you. Right now, there is a whole new life story available to you now if you are willing to face the fear that comes along with uncertainty or going against what others consider safe. If you put aside other people's voices that tell you what you can or can't be, what you should or shouldn't do. The cosmos are calling you to experience freedom in following your own path, so it becomes something you can't wait to share with others.
Scorpio
As a Scorpio, you're a deep thinker, but one who tends to keep your thoughts and feelings closer to the chest. You don't instantly allow others in, especially ones you don't know intimately. You don't mind if no one knows exactly what you're thinking. During this New Moon in your ninth house of travel and higher wisdom, you aren't being asked to change that. But can you take your gift of analysis and use that energy to help you see that all communication, even non-verbal, goes two ways? Whether you realize it or not, you have a profound effect on other people. Just as the actions of others affect you, your actions and inactions also make an impact on people in ways you may not have considered. Think about what you want your effect to feel like - for them and for you.
Sagittarius
With the New Moon June 2022 in your eight house of karmic debts, the cosmos are inviting you to caretake your feelings - even the ones you'd rather not feel. As a sign, you're the first to sign up for the fun and the last one to leave the party. You want to live life to the fullest. This lunation is asking you to take that energy and translate it into fully experiencing the depth of your emotions. It's about taking stock of your experiences - the good, the bad, and the ones in between. It's acknowledging your hurts, your disappointments, your regrets, or what you consider your failures. And it's about courageously looking them head-on, not shying away, and knowing that it's not the end of the story. It's about knowing what you want to do and what you never want to experience again. That's growth. And that's what this New Moon is giving you.
Capricorn
When you consider what you most desire out of your closest relationships, what do you imagine is possible? With the New Moon June 2022 taking place in your seventh house of partnership, now is the time to lay new foundations for what you expect, and most importantly, deserve in your partnerships. From the time you were just a baby Capricorn, you've been trained to believe you work for what you want. It's become one of your strengths. Turn this dedication and think about what your relationship goals are - and what you want to commit to. Is it more intimacy, companionship and/or authenticity? More time together? Make a plan to change what needs to be changed. It's OK to think about your relationship like work - because it is. Something you show up to and for every day to grow, learn, expand, and shine - together.
Aquarius
You're known for your out-of-the-box thinking, Aquarius. Daily routines can seem far too boring for your big picture point of view. But with this New Moon in your sixth house of health and habits, it's time to reframe how you look at this. Right now, it's about planting seeds of intention that help you live more closely in alignment with what makes you happy. Your comfort zone is your mind - so think about how you can devise routines that help excite you and give you time to rest and refuel. Your enthusiasm is contagious—so think about who you can check in to remain accountable to your goals—whether they're fitness-related, project-related, or any other task you care about. This is a time for you to creatively problem solve - so you can show up with your whole self, for yourself, every day.
Pisces
This is a magical New Moon for you, Pisces, as it takes place in your fifth house of fun and creativity. This Cancer New Moon is very fertile, in both the literal and figurative sense. If you have been hoping to expand your family, this is auspicious for that, as the fifth house is also the house of children. You can just as equally find yourself giving birth to new and exciting creative ideas - ones that allow your natural artistic and imaginative abilities to shine. Remember, this is about working within your comfort zone and what you're great at. Let someone read the first draft of your novel. Share your art. Indulge a romantic fantasy. Whatever you do, cast away self-doubt or fear of rejection and instead, believe in your innate talents and unique qualities. It's your call to take a risk and put your whole self out there.
Astrologer and tarot reader
Maria Sofia is a Greek-American writer, astrologer, Tarot reader, and intuitive. She is a lifelong lover and student of the stars, who has been practicing divination and magic for 20+ years.
Maria is Leo Sun, Cancer Moon, and Virgo Rising. Her favorite natal placement in her chart is her Virgo Mercury conjunct the ascendant that makes her a fast writer and talker and she smiles anytime she pulls the Queen of Wands or the Nine of Pentacles.