September Full Moon 2022: Pisces Moon calls on you to speak your dreams into reality
September Full Moon 2022: Manifestation energy is high during this Full Moon and here's how to best harness it based on your sign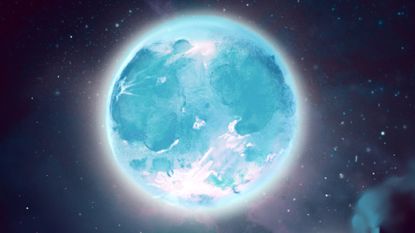 (Image credit: NORIMA/Getty Images)
The stars have aligned with the September Full Moon 2022, bringing us a lovely lunation in the dreamy, creative, and spiritual sign of Pisces. Taking place on September 10, 2022 at 17 degrees of Pisces, this Full Moon is offering all of us the opportunity for emotional release, especially around areas where we've felt pressure to perform or meet overly perfectionist standards.
If other people's actions, critics, or expectations have caused conflict, this date in the Moon calendar 2022 invites us to be easier on ourselves than others have allowed us to be. The August New Moon 2022 said crush your goals - the September Full Moon 2022 says dig deeper and speak your dreams into reality. Remember that Virgo season 2022 is in full swing, and considered a harvesting time after all. Because Full Moons are times of clarity, where all that was previously in development or unfolding has reached its conclusion.
September Full Moon 2022, also known as the Harvest Moon, is significant because it is conjunct Neptune, the planet associated with fogginess and confusion - and is also during Neptune retrograde 2022. As stargazers, we get the added benefit of now knowing that any conclusions we seem to reach at this time may require us to slow down and not rush to judgment. We're invited to keep an open mind and not be too rigid or exact about our pronouncements at this time, especially if we're relying on our cognitive capabilities. Intuitive functioning is the name of this Moon's game, so remember to go with your gut. It won't lie to you.
With all the haze surrounding the September Full Moon 2022, it's a good reminder that when something is coming from a place of alignment – meaning it's rooted in your subconscious feelings and wishes – it will feel natural, possibly even neutral. It will not make you feel scared or anxious.
This dichotomy is the exact balance we are meant to discern with this Virgo and Pisces axis. Virgo invites analysis and a preoccupation with the mind. And while there is a time and place for that energy, this Pisces Full Moon instead invites softer reflection, creative visualization, and mindful meditation. The key is to bring these oppositions together, namely, by speaking your dreams into existence. That's the power of manifestation and it's the magic available to you right now with this intuitive, emotional, highly creative, and imaginative energy flowing in the sky.
Here's how the September Full Moon 2022 will affect you depending on your star sign. For the most accurate reading, look at your sun or rising sign according to your astrology birth chart.
Aries
Lucky you, Aries! The realm of dreams and psychic vibes is being activated for you as this Full Moon culminates in your twelfth house of the subconscious. If any sign should pay extra close attention to signs and synchronicities that occur, it's you. Your dreams will also be especially vivid during this time, so be sure to jot them down. Your job however is to be especially careful not to be overly rational or over-analytical. These revelations are less about facts and figures and what you can see on paper and more about inner truth and gut feelings. Remember that feelings are a different kind of fact. Ones that invite you to dig deeper. You're experiencing something, so allow yourself to process it on a soul level. Validate your own emotions, even if no one else can. Bear witness to your own experiences.
Taurus
The September Full Moon 2022 in Pisces is activating your inner psychic vibes, Taurus. It's the kind of situation where if you think about someone, it's the exact time they'll seemingly "randomly" text you or reach out. Did you predict it – or did you manifest it? The answer is less important than understanding there are so many ways we communicate with friends that has nothing to do with the words we say out loud to them. With this lunation in your eleventh house of friends and groups, you have a real opportunity to begin to understand the subconscious inner workings of the group dynamics you participate in. You can start to discover patterns of how you all relate to each other and the role you play within them. Be mindful of the energy you bring – and see if you can't add more creativity and positivity to your interactions.
Gemini
You could see a project come to completion during this Full Moon, Gemini. Taking place in your tenth house of career and the public spotlight, a big professional endeavor that you have previously labored over is now making its debut out into the world. But what this Full Moon is inviting you to focus on is less about the particulars of the project and more about how you feel about it. Does it enhance your sense of identity? Do you feel a sense of accomplishment? Relief that it's over? Or do you feel the exact same that you did before – or possibly even guilty or conflicted? This Piscean energy is asking you let go of how you think you 'should' feel and allow yourself to experience the emotions you do feel. Let go of the weight of other people's expectations – and possibly even your own.
Cancer
It's time to move forward and embrace change, Cancer. That's easier said than done for most people – but for you especially, the future can seem daunting. You're known for clinging to the past and to the way things have been as a source of comfort even when you consciously know it can be limiting. With this Full Moon in your ninth house of spiritual growth and expansion, the question you must answer is: what has your intuition been whispering to you that you've been ignoring or putting off? Why? Whether it's clinging to the idea of a past relationship, a dead-end job, or a goal that no longer uplifts and inspires you, the stars are calling on you to do what you already know you must. Let go of what has reached its expiration date and trust in your dreams, in your abilities, and in your inner sense of knowing.
Leo
You may be feeling particularly vulnerable during this Full Moon as it activates a very secretive and sensitive spot in your natal chart. With this Piscean energy culminating in your eighth house of karmic debts, there is a fated sense to your current circumstances. That could leave you feeling out of control and at the mercy of the whims of another person or the Universe itself. It's not the most comfortable feeling imaginable, but you're being invited to sit with any discomfort that arises and ask yourself what you know to be true. To be real. To be just. To be right. Use these answers to guide your next actions and let go of the perception that you are ever totally in control of anything but how you respond to the moment and how you honor your intuition.
Virgo
Relationships are in the spotlight for you, Virgo. With the September Full Moon 2022 highlighting your seventh house of partnerships, it's time to listen to what your gut has been telling you about your most intimate partnerships – romantic, business, or otherwise. Does this person feel like 'the one?' Are they someone you can blindly put your faith in? Do you trust them to have your best interests at heart? This isn't about writing things down in a pro/con list – something you're quite good at assessing – but instead, it's about tapping into your inner sense of fact-based feelings. How do you feel in this person's presence? What feelings are you leaning into it – or possibly avoiding? Only you can tell if this is an invest or devest moment – but trust that however you proceed, you're doing what's best for both of you.
Libra
You know what you need to let go of. The question for you, Libra, during this Full Moon is if you're finally willing to work up the courage to do it. With this energy activated in your sixth house of daily routines, you may have slowly come to realize what fulfills you, excites and inspires you, and what you're doing out of a sense of duty or obligation to others. You've been called a people-pleaser before, and there is no shame in wanting systems to function efficiently and for everyone to get along together. But all your daily sacrifices may have come at too high a cost – one that you no longer need to pay to function and more importantly, thrive. Listen to what your inner voice is telling you. You know what needs editing. Wish it well and send it – and yourself – on a new way.
---
Scorpio
Your imagination is operating at an all-time high during this Full Moon, Scorpio – and your sign is aligned to most enjoy it. With this lunation happening in your fifth house of fun and pleasure, your creative juices are sure to be flowing and you could have a cosmically inspired eureka moment. Allow the proverbial muses to pay you a visit, whether in a dream or daydream and allow any critical thoughts or self-judgment to float by and just accept the new vision they're sharing with you. Maybe it's a pursuit you've never considered before. Your sole job is to let go of overly exacting standards or a need for everything to be perfect for you to allow yourself to express your creativity. You have a gift and it's time to share it with the world.
Sagittarius
Your home is your focus right now, Sagittarius, as changes are quickly approaching. This Full Moon is taking place in your fourth house of family, you're being invited to consider if your living environment is reflective of your wants and needs. Growing up, you likely fantasized about a dream home. Whatever that fantasy abode looked like on the exterior, there are also foundations that needed to be built on the interior as well. Who is in that home with you? What does it feel like to be in it? To live in it every day? Is there happiness and harmony? Do you wake up refreshed and inspired? Think of your current living situation and if it's reflective of that dream. It's OK if it's not entirely. But what can you do – or release - to get one step closer to making that dream a waking reality?
Capricorn
Trust your vibes, Capricorn. When it comes to mental insights and strategic analysis, you're one of the sharpest minds out there. But this isn't about thinking, this is about feeling right now. Can you feel your feelings? Understand where they are coming from? Process them? And most importantly, trust that they're showing you something important about yourself. This Full Moon in your third house of communication is about sitting with your emotions – dreaming, writing, meditating, reflecting, and calling a friend or trusted mentor to talk about them. The point is to begin to see that you're not sharing your feelings so someone else can substantiate their validity. This is about you owning your story and your truth for yourself. Remember that strength is about authenticity. You don't have to stiff upper lip every experience. Show your heart.
Aquarius
You're being called to affirm what matters to you, Aquarius. With this Full Moon activating your second house of personal values, the stars are asking you to think beyond money and finances. It's about knowing that you're more than your bank account. It's about welcoming in a sense of personal abundance. It's about affirming your sense of self and building confidence that's not merely rooted in what you do or how much you earn but centered on who you are. You have great instincts, especially when it comes to what you choose where to invest in the material realm. So, use that energy to manifest a deeper appreciation for who you are. You've earned it and come by it honestly. If you're unsure, consider the ways in which your body already knows the truth. Trust your gut. Follow your heart. Perhaps even literally.
Pisces
So much of how we identify is rooted in the exterior, but this Full Moon is about getting deeper into your core. With this Full Moon shining a spotlight on you, Pisces, and your first house of self, this isn't about how others see you, but how you see yourself and how you want to be seen in the future. Can you allow yourself the grace to accept who you are in this moment – your perceived faults and all? Now is the time to celebrate how far you have come in building your unique persona. It can sound like an empty platitude or a cliché, but there is no one else quite like you – so allow your light to shine. Honor your feelings. You have a special opportunity to manifest your deepest desires right now – all you have to do is be honest about what those dreams are.
Astrologer and tarot reader
Maria Sofia is a Greek-American writer, astrologer, Tarot reader, and intuitive. She is a lifelong lover and student of the stars, who has been practicing divination and magic for 20+ years.
Maria is Leo Sun, Cancer Moon, and Virgo Rising. Her favorite natal placement in her chart is her Virgo Mercury conjunct the ascendant that makes her a fast writer and talker and she smiles anytime she pulls the Queen of Wands or the Nine of Pentacles.