The August New Moon 2022 in Virgo says crush your goals: How your star sign can make the most of it
The August New Moon 2022 screams 'get stuff done' and the sky is the limit with this Virgo energy, especially for these signs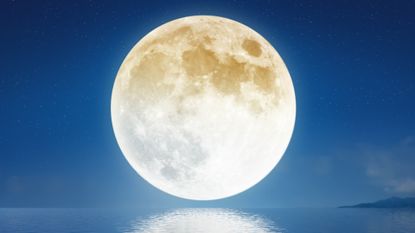 (Image credit: BAOLEI GAI/Getty Images)
The August New Moon 2022 is here – and it's cheering you on to crush your goals
It's been quite the summer already and it's not even over yet! You're probably still all aglow after the August Full Moon 2022 and riding out the end of Leo season 2022. Now as we settle in to close out this season, the cosmos are offering up a lovely New Moon in Virgo.
Remember that Virgo season 2022 is considered a harvesting time, when we assess what we have and what we've done so we can determine our next course of action. Think back to the Lion's Gate Portal opening and your Lion's Gate Portal manifestations. What do you still want to achieve before the end of the year? What truths or tasks are you avoiding? What changes can you make?
If you can answer these questions, the August New Moon 2022 is the perfect time to assess what is working and recalibrate what isn't so you can move forward toward your goals with a clear plan.
As the Moon meets up with the Sun on August 27, 2022, at 4:16 AM EST, they will connect to Jupiter in a lucky aspect that requires a welcome pivot. The August New Moon 2022 suggests that even if you can't always see your way forward, with faith, hope, and an optimistic outlook, you can persevere. It's the stars encouraging you to bet on yourself and be your own champion and cheerleader – especially if you've recently felt stung by a harsh conflict. The good news is that's over now and the way forward is here - but keep Uranus retrograde 2022 in mind as you never know what might happen.
With Mercury, the ruler of this lunation, in Libra, the sign of partnership, connecting in an easy aspect to Mars in Gemini 2022, it's another reminder that you can soften any recent blows you've experienced with an open mind, clear vision, and a sense of compromise. Even if you can't get it done exactly the way you want, at least get it started. It's a reminder that you should never sacrifice progress by trying to aim for perfection. It's better to make a mistake than never make a move at all.
Here's how the August New Moon 2022 in Virgo will affect you depending on your star sign. For the most accurate reading, look at your sun or rising sign according to your astrology birth chart.
How will the August New Moon 2022 in Virgo affect my star sign?
Aries
As a cardinal fire sign, you've got great energy and enthusiasm for starting a project. It's in the follow-through where you can sometimes get tripped up or distracted. With this New Moon taking place in your sixth house of daily habits, now is the right time to use this cosmic energy to make a plan – and stick to it. And yes, words like routines and schedules can certainly sound boring, but that's only if you let them. Keep your ultimate goal in mind – whatever it is, whether that's starting a fitness regimen, getting your desk more organized, or opening up your own business or side hustle. Then use the Mercury-ruled energy of this moon to start planning out the details and milestones. It's not about fast results or rushing to an end date but picturing yourself in that end state.
Taurus
Divine inspiration is raining down on you, and your biggest task during this New Moon is to make sure you act on the opportunities that excite you. Taking place in your fifth house of fun and creativity, the stars are giving you the chance to start fresh on something you've been dreaming of doing. It could be starting a family, it could be writing a book, taking a dance or painting class, starting a social media side hustle, or even starting a family – whatever it is, you can plant a fertile seed of intention. The Universe is meeting you halfway during this lunation, so make your dreams known to them. Start planning and taking steps now – or throw a bit of caution to the wind and jump in headfirst. While that may be unlike your steady disposition, you won't regret doing it, only if you hesitate.
Gemini
Your definition of home is changing right now, Gemini. With this New Moon in your fourth house of home and family, you can shape your environment with a new vision. It's not about how it's always been done or what other people, like your family or culture of origin want and expect from you. It's about building a life that you want to live with the people you want to live it with. This is your life. To that end, if you're not enjoying your current living situation – perhaps there's been fighting or a sense that you've outgrown your space – this lunation offers a wonderful time to start envisioning your dream home and then outlining what it will take to manifest it into existence. Remember that the Universe always wants to meet you halfway, so if you're willing to show effort, they're more than willing to throw you a cosmic helping hand.
Cancer
As a Cancer, you'd often rather say nothing than say the wrong thing. Fear of rejection or of being misunderstood can keep you quiet – even while your inner voice longs to be heard. With this New Moon taking place in your third house of communication, you're embarking on a new chapter in how you connect. You're being asked to put that proverbial pen to paper. Or if you're not inclined to writing, to start talking – with a trusted friend, sibling, or counselor. Sometimes the best way to know if something is true, is to write it down or say it out loud. Once you see it in print or hear the words, you'll know if that's how you actually feel or if that's what you really think. This lunation is asking you to free yourself up to saying the wrong thing in order to find out your truth.
Leo
This New Moon is kicking off a new cycle in your second house of income. Prosperity is at the heart of it, asking you to operate from an abundance mindset. It is likely that a recent income change – either suddenly earning more money or less than you were used to – required you not only to re-evaluate your budget but also your priorities. As you've navigated this shift, this energy marks an auspicious moment to reframe your relationship with your finances and your access to personal pleasure and joy. Can it be about indulging in something you want to buy? Could it be about saving enough that you feel secure? Is it about longing for something spiritual and grounded that is unaffected by a bank balance? You won't know the answers to these questions until you try – and the August New Moon 2022 is asking you to try.
Virgo
Necessity is the mother of all invention – or at least, so the saying goes. And that's what this New Moon in your first house of self is offering to you. If you have the desire to forge a new path, to start fresh, and to reinvent yourself, then the timing of this lunation could not be more auspicious for you. But the question becomes, what is the necessity? Where is the need coming from? You're a sign that's known to be hard on yourself – feeding your inner critic with plenty of supposed evidence from your fault-finding missions. So perhaps this lunation is less about fixing and more about allowing yourself to be. How would that be for a change? Can you envision a future where things are not totally in your control, not going according to the script, and not completely perfect – and you're at peace with that?
Libra
In the weeks before your season starts, a Virgo New Moon is a chance for you to withdraw for a moment before re-emerging into the spotlight. And the August New Moon 2022 is in your twelfth house of the subconscious. Thus, it's asking you to sit with your own thoughts without giving in to your inclination to ask someone else what they think – or conversely, what they think you should think. Can you allow yourself to sit with that initial discomfort? By doing so, you could start to notice the habits you default to in those moments. Is it immediately texting a friend? Mindlessly scrolling through social media? Anything to distract yourself? What if you didn't? What would happen? Now you could choose to try something different – which is to try to do nothing. Because maybe by doing nothing that creates more outside input, you get closer to knowing your inner voice.
Scorpio
This month is a great time to be a Scorpio as you have a lucky and abundant New Moon in your eleventh house of friendships, groups, and dreams. Activity in this sector of your chart, especially as fresh as this New Moon, is often about bringing people into your life who can help you reach your dreams. Unexpected people who will help you out when you need it most. Colleagues and acquaintances who may feature in your life for a short time but leave an indelible mark. And as a notoriously private sign that suspicious of people you don't know, your task is allowing yourself to be more open to the possibilities of luck coming in from a stranger. Or someone who hasn't passed your series of loyalty tests. Luck and abundance are being paid forward to you – and one day, you'll pay it on to someone you haven't even met yet.
Sagittarius
The August New Moon 2022 is in your tenth house of career – and it's the reset you've been hoping for. After a series of stops and starts, you're ready for positive change – and the chance to step into the position where you've always longed to be. But first, you need to be ready to meet the opportunity. Luckily for you, there will be an abundance of new and attractive offers – whether that's a promotion, a pay increase, or the chance to venture out into a new field that's more aligned with your wants, needs, and goals. So how do you get ready to meet the moment? Connect with people who cheerlead you. Apply for jobs you qualify for – and ones you one day hope to be qualified for. Talk to a mentor. Ask for feedback. Take the feedback and apply it. There's nothing you can't handle, change, and achieve if you put your mind to it.
Capricorn
Your heart is pulling you in new directions – and it may be time to give in to the desire. The August New Moon 2022 is in your ninth house of travel and exploration is like embarking on a spiritual quest to find your happiness, to discover what lights you up from the inside out, and ultimately to figure out who you are. If you've been wanting to expand your horizons, now is the time to start mapping out what that can look like. Are there places you to want to visit? New studies or topics you want to learn about? This energy is a much-needed mindset shift. It's OK if you're a novice compared to others. It's totally fine if you're not completely fluent in the language or a certain subject's vernacular. How will you ever learn if you don't allow yourself the chance to make a mistake? You have to start somewhere.
Aquarius
For a sign known for its paradoxical urge for independence and need for group connection, matters of personal intimacy can be tricky to balance for you. You can waver between feeling avoidant when smothered but also anxiously clinging in times of stress. This New Moon in your eighth house of intimacy and assets offers you a way to navigate these competing needs – and still have them met. As this new cycle begins, you can start by bringing more awareness to them – however contradictory they may seem to others or confusing they can be to yourself. Allow them to be messy and to shapeshift according to a nuance of a particular relationship or situation. It's not about being perfectly consistent with every person in every setting. But it is about being patient with yourself and others are you experiment with figuring it out.
Pisces
If you've been longing for a fresh start in your love life, Pisces, the stars are certainly blessing you with one right now. It could be time to let someone – or something like an unhelpful dynamic – go. But if you want to work it out, this New Moon in your seventh house of commitments offers a proverbial olive branch that you can extend to your partner – or even to yourself. When it comes to relationships, you can find yourself going into a perennial state of fix-it or nitpick-it. You can swoop in, often unprompted, with your unsolicited advice on how things could be better if only someone else would just do the thing you want. This lunation is a reminder that commitment is a two-way street – and some things in life can be easier, better, and more fulfilling with someone trusted by your side. You both deserve that much.
Astrologer and tarot reader
Maria Sofia is a Greek-American writer, astrologer, Tarot reader, and intuitive. She is a lifelong lover and student of the stars, who has been practicing divination and magic for 20+ years.
Maria is Leo Sun, Cancer Moon, and Virgo Rising. Her favorite natal placement in her chart is her Virgo Mercury conjunct the ascendant that makes her a fast writer and talker and she smiles anytime she pulls the Queen of Wands or the Nine of Pentacles.