New Moon April 2022—how the new Moon in Aries will affect your star sign
New Moon April 2022—the New Moon in Aries is allowing you to put yourself first, but what does that mean for your zodiac sign?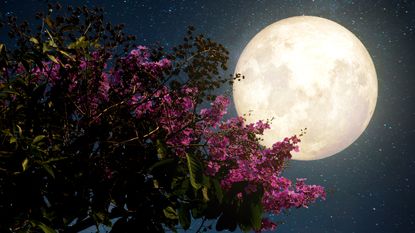 (Image credit: Jakkapan Jabjainai / EyeEm/Getty Images)
New Moon April 2022 kicks off the fourth month of the year in the adventurous sign of Aries. It takes place at 11 degrees of Aries and as the Sun and Moon conjoin in the sign of the Ram, so do Mercury and Chiron.
Mercury is the ruler of how we communicate, just ask anyone who's had drama during Mercury Retrograde, while Chiron is the inner gift we have to offer that helps heal ourselves and others. This concentration of authenticity-seeking Aries energy suggests that this lunation is offering all of us a powerful opportunity to communicate our innermost, honest selves.
Whether that's showing the world who we are or starting a passion project, there is a real call to put our own needs first, remembering that the best way we can assist others is by showing up for our own selves first. With Mars, the ruler of this New Moon, contacting Saturn, the planet of responsibility, this New Moon is the perfect time to make a plan for the future and then start taking action on our dreams.
With all this fiery energy in the sky, we have the desire and the drive coupled with the faith that if we stay true to ourselves, no matter what is happening around us that is out of our control, anything is possible.
Here's how the New Moon will affect you depending on your star sign. For the most accurate reading, look at your sun or rising sign according to your astrology birth chart.
---
ARIES
All eyes are on you, Aries during this New Moon. As one of the boldest of the zodiac signs, you may enjoy being in the spotlight. But think about who you are when no one is looking—and when everyone is. Often, we carefully curate our outward presentation. We disguise ourselves, out in the open. And while you're not shy about vibrant colors and notice-me fashions, this New Moon is asking if you're bold enough to wear your heart on your sleeve, too. It's also saying: it's OK to put yourself first. To take your much-famed adventurousness to be boldly, wildly, authentically yourself. Be vulnerable. Share your hopes and your hurts. If there is any sign brave enough to do this, it's you. There is no project more important for you right now than discovering who you are and acting every day in radical alignment with that version of yourself.
TAURUS
Permission to rest, relax and recharge Taurus. You're a sign that is known to enjoy the simple pleasures – think cozy pajamas, take-out, and guilty pleasure TV. The invitation of this New Moon is to be intentional about your restorative time. If you want to spend a day doing "nothing," that is "something." Honor your need to do that something without guilt. Ask yourself: does that time feel good in the moment? Does it set me up to feel balanced and rested to then take on bigger challenges? Is the only reason I don't do it more often is because it's perceived as lazy or self-indulgent? This New Moon is inviting you to put your self-care needs first. Let go of the idea that you must always be producing to feel worthy. Sometimes the most purposeful thing you can do is to not have purpose—and just be in the moment.
GEMINI
The last two years could have put a strain on your relationships—especially friendships. We went from hanging out, carousing, and hugging to Zoom meetups that quickly led to online fatigue. For you, Gemini, this shift could have felt like a real loss, as you thrive in both group and one-to-one friendships. If you have felt this way, this New Moon is coming at the perfect time. It's giving you the wonderful opportunity for a fresh start in your friendships. It's your cosmic reminder that friendships must be caretaken just as much as any other relationship we care about. Make an intention to call up your closest friends, Gemini. The ones you can be your quirky and authentic self around without judgment. The ones who see you and love you—but also the ones you may have lost touch with. Call them. Let them know what they mean to you.
CANCER
This year is all about your public image. Soon, Jupiter will bring career blessings when he enters the sign of Aries—and this lunation is the start. Get clear on what you want those blessings to look like. What have you always wanted to do? Open a business? Lead a team? Write a book? Start a family? This lunation is about aligning Aries energy that urges us towards self-empowerment and adventure with your Cancerian predisposition to act in emotional alignment with your true feelings. If you're not doing what you love every day, that's OK. But what is one simple thing you can do right now to get yourself closer to that? What are you investing time in, Cancer? If the answer is anything other than your own dreams, use this New Moon to plant new seeds of intention that will get you one step closer to making them real.
LEO
Adventure is calling, Leo. The question is, are you ready to answer? This New Moon is asking you to go big—and not stay home. Travel opportunities have been in short supply recently. But over the next year you will be infinitely more inspired to get out there—especially when Jupiter enters Aries in May. Use this New Moon to think about what you want to see and do—and also why. Taking one yoga class could be what leads you to a life-changing yoga retreat. Casually reading a horoscope could catapult you into a career in divination. Liking a travel account on social media could inspire you to actually go there and have a once-in-a-lifetime adventure. For you, this New Moon is about feeling the urge to book more trips, see more places, and experiences entirely new stimuli outside of your comfort zone—and then feeding that adventurous desire.
VIRGO
Can you let go to let someone else in, Virgo? That's your pivotal question during this New Moon. You're a giver and a helper. When someone is in need, you're the first person everyone calls. You either know how to fix it or have the perfect thing to say. But how about when you need help? Does anyone even know? Are you able to ask for assistance? If you get it, do you feel like you worthy enough to receive it? During this New Moon, repeat that you are worthy. Like a mantra. Say it so often, that you finally start believing it. This New Moon is an adventure in physical, emotional, sexual, and spiritual vulnerability for you. It may not look like a radical change on the outside, but this could be the New Moon that awakens a deeply healing inner transformation in you. One you've earned and deserve.
LIBRA
If you've been longing for a fresh start in love, Libra, then this New Moon is something like divine timing. If relationships have felt stagnant or like a spark has been missing, now's the time to reignite passion and adventure. This energy can express itself in the bedroom, but there's also an opportunity to go deeper. Aries energy is about authenticity and our ability to boldly express our own individual nature. Aries craves freedom. At first glance, that can feel like it contrasts with your Libra solar need for union and partnership—but this lunation is urging you to see that you don't have to compromise yourself for the sake of another. Real love and partnerships require freedom. Your freedom to be you and your partner's freedom to be themselves—and both of you to be accepted for it. Perfection is never the price for being loved. Being yourself is.
SCORPIO
There is reward in ritual, Scorpio, if we know where to look for it. You're a sign that enjoys the allure of mystery. Something as mundane as a daily routine can be quite uninspiring to you. Paying bills, getting ready… boring, right? But what if you could change your perspective? Put more intention into tasks you perform on autopilot? What if you could look at something like a walk around your neighborhood–the same, familiar place–and see it as a stranger would? This New Moon in Aries is about waking up a sense of adventure in your daily life. So that way, an email in your inbox doesn't produce a burdensome weight of one more thing you "have" to do—and instead becomes one more thing you "get" to do. Use this New Moon to help you cherish every moment. Because time goes by fast—and life with it.
SAGITTARIUS
This New Moon is all about fun for you, Sagittarius, the kind of fun you had when you were a kid. It's about having an adventure. Living in the moment—and then living to tell the tale about it. It's about letting your inner child out and recapturing the youthful exuberance and optimism you may have once felt but got lost along the way of deadlines, obligations, and the weight of responsibilities. This New Moon is about healing your inner child by acknowledging the role your inner child still plays in your heart. What would you do if you could do anything that you wanted to? Where would you go? Who would be with you? What activity would you choose? And most importantly, how would you like to feel? Then use this New Moon to do just one thing that brings you closer to making that vision into a reality.
CAPRICORN
How often are you doing more for others than you are doing for yourself, Capricorn? It's a question that's often asked of people in relationships, but it is an equally important question with family members and at home. Are you shouldering more responsibility than should reasonably be expected? This New Moon is a chance to balance out where obligations may be overweighted on you. When it comes to taking ownership and accountability, people always turn to you. But you also need time for yourself. You also need a moment to put your needs first or to have a space that is just your own to unwind. Use this New Moon as an opportunity to get help around the house, with your daily chores, so you can free yourself up to do more of the things you wish you had more time to do. Because if you do, then you will.
AQUARIUS
What's your relationship like with communication, Aquarius? Do you wish you could change how you interact with not only people, but with your actual devices? Can you be more intentional about putting your phone down so you can be more fully present? Is it about making your preferred communication style more clear to others? Letting them know you can't always respond to every text? Or instead that you appreciate more prompt replies? Whatever it is, as our dependence on technology to communicate with others grows, so does our fraught relationship with the devices we're using to do that communicating. Look at this New Moon as a chance to hit the celestial reset button on the thornier parts of corresponding with others—as in, managing expectations and establishing guidelines, so you can spend more time focusing on the quality of your conversations and less time thinking about how you'll do it.
PISCES
You're getting a fresh start in your world of personal finances—especially as Jupiter, planet of abundance, will very soon bring luck and blessing in matters of money. With the future pointing towards financial freedom, it's a good time to think about what you want your future to look like—and what role financial health plays in it. Use this time to invest in your greatest asset: your own dreams. Then plan what exactly you need to fuel those dreams. This isn't a time for reckless spending but for intentional budgeting. Money can be an awkward subject to talk about, but it can be a critical part of our sense of security. What do you need to feel comfortable? To feel in control? And to feel adventurous? Remember that Aries is a cardinal sign which calls on us to initiate a plan. Now it's time to invest in yourself, Pisces.
Astrologer and tarot reader
Maria Sofia is a Greek-American writer, astrologer, Tarot reader, and intuitive. She is a lifelong lover and student of the stars, who has been practicing divination and magic for 20+ years.
Maria is Leo Sun, Cancer Moon, and Virgo Rising. Her favorite natal placement in her chart is her Virgo Mercury conjunct the ascendant that makes her a fast writer and talker and she smiles anytime she pulls the Queen of Wands or the Nine of Pentacles.