The over-50s fashion icons to draw inspiration from for this season and beyond
The over-50s fashion icons proving style is ageless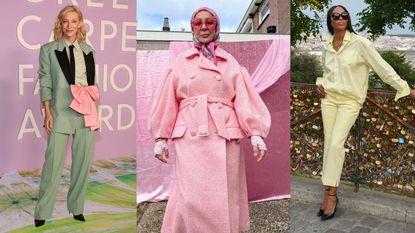 (Image credit: Getty Images / @Meryemsrwina)
When it comes to over-50s fashion icons, the women on this list show that their style only got better with age. When we're younger we can sometimes get overly caught up with trends, but with age comes confidence, bringing with it the advantage of knowing what you like and what works for you.
To be an over-50s fashion icon, you need consistency and the women on our list constantly deliver in the style stakes, creating their own fashion persona that exudes confidence and individuality. While some of these women have known their aesthetic for years, others have come into their own in later years, with an evolving style story, reminding us all that it's never too late to embrace fashion.
Although you may have nailed your style identity in your younger years, many women find that as we age, our bodies and lifestyles change and our experiences not only shape our personalities but how we want to present ourselves to the world too. And if you're in need of some new fashion inspiration these over-50s fashion icons are the perfect example that you deserve to look and feel great whatever your age.
18 over-50s fashion icons that are proving style is completely ageless
1. Lauren Hutton
Actress and model Lauren Hutton was a regular face of the glamourous Studio 54 era. Working as a model in New York, with her instantly recognizable tooth gap, Lauren signed a deal with Revlon in the early '70s in one of the biggest modeling contracts of its time.
Now in her 70s, Hutton's style is effortless and totally timeless. With a penchant for tailoring, silky blouses worn with wide leg pants, the best trench coats and relaxed suiting just about sums up the star's take on smart casual attire. A master at the Stealth Wealth trend, Hutton has a habit of always looking subtly expensive, regularly spotted in a neutral palette that oozes class and confidence. Still modeling today, Lauren is currently the face of the global skincare brand Strivectin.
---
2. Naomi Campbell
Supermodel Naomi Campbell needs little introduction and is certainly worthy of a spot on our over-50s fashion icons list. Beginning her modeling career in 1986 at just 15, the model and businesswoman has spent several decades in the industry, honing and leading in her craft. Becoming one of the most famous supermodels of her generation, at 1.75 meters tall, clothes sit effortlessly on her frame, giving Naomi somewhat of an unfair advantage. Putting that aside, the model has a distinctive style all of her own and is a woman not afraid to stand out. Playful with color and texture, whether it's a full-color-blocked look or layered accessories, Naomi is a style chameleon, dressing appropriately for each occasion. Still rocking the runway, Naomi recently walked for Italian clothing brand Boss, in its spring/summer show at Milan Fashion Week 2023.
---
3. Jenna Lyons
Making her fame as the creative director and president of American clothing brand J.Crew, 54-year-old Jenna Lyons is known for her signature black-rimmed glasses, which have made their mark as an eyeglasses trend, and a bright red lip, delivering an instantly recognizable and statement finish.
Starting her career at J.Crew at 21, Jenna worked her way up from assistant designer, to take the helm of the brand, wearing some pretty iconic outfits along the way. Not afraid of print or pattern, Lyons effortlessly mixes everyday pieces such as Breton tops and jeans with androgynous tailoring and hints of glamour, often in the form of metallics or embellishments. A crisp white shirt is her regular go-to, but she ups the ante of this wardrobe essential by teaming it with more eclectic pieces to create a statement look.
While Jenna's unique spin may seem unachievable, she's actually the master at taking capsule wardrobe heroes and breathing new life into them with more standout items. If you're looking to add edge to the best jeans for women over 50, Jenna is a great person to check out for ideas.
---
4. Michelle Obama
From the moment Michelle Obama stepped out of the White House as America's First Lady, all attention went on her oh-so-chic wardrobe. Over the years, Michelle's style developed from more formal structured two-pieces to wearing softer silhouettes in the form of unexpected up-and-coming designers such as Jason Wu and Thakoon.
With a love of American retailer J.Crew, known for its embellished knits, tiered skirts, and ruffled blouses, Michelle's feminine but tailored style made her quite the style icon. With a love of designer heels, Michelle was often spotted in a pair of chic Jimmy Choo heels, alongside her signature string pearls, adding a final touch of glamorous sophistication to every look.
The Michelle Obama look is classic with a hint of quirkiness. Classic shapes are refreshed with a strong use of color and embellishment, before being grounded in timeless accessories. Ideal for those who still want to look fairly formal, but inject personality in there too.
---
5. Linda Fargo
Linda Fargo is the senior vice president of women's fashion and store presentation director at luxury department store Bergdorf Goodman. Based in New York City. it's fair to say she has her finger on the pulse when it comes to fashion. A regular on the New York Fashion Week circuit, Linda is somewhat of a fashion chameleon, with the host of the best designer brands and collections at her fingertips, Linda switches up her style on the regular.
With an over '50s capsule wardrobe that consists of classic pieces, coupled with new season, trend-led designs, Linda's ensembles always feel effortless, and she doesn't shy away from print or embellishment. Her youthful and energetic looks are a stark reminder that the playfulness of fashion does not have a cut-off point.
While Linda's 'city' ensembles are categorized by their trend focus, when it comes to weekend style, Linda has a love of white jeans outfits, well-cut shirting, and striped tees, for a winning off-duty aesthetic.
---
6. Demi Moore
While '90s fashion trends are back in style, Ghost actress, Demi Moore has been embracing this aesthetic as her go-to for years. From LBDs to floor-length black dresses and classic tuxedos for women, Moore is a fan of monochromatic, neutral looks, keeping her look sharp. By rarely wearing bright colors for formal events, Moore keeps her ensembles timeless, giving her a minimalist capsule wardrobe that won't let her down.
And while Moore might not be readily embracing the latest fashion color trends, the actress is still clearly a keen follower of fashion, walking the Fendi haute couture spring/summer 2021 show, alongside the likes of Kate Moss and Naomi Campbell. She has also been spotted sitting front row during Paris Fashion Week at the Saint Laurent show.
---
7. Iman
It's hard to believe supermodel Iman is nearing her seventieth decade. Somalian-born Iman was scouted whilst studying at university by a photographer and within a year she was featured in US Vogue. A muse for numerous brands over the years including Calvin Klein, Saint Laurent and Issey Miyake, Iman is an over-50s fashion icon to know about.
Back in the '90s, Iman was a regular on the party circuit and lent into the power-dressing aesthetic of the time. Showing off her incredible frame, Iman regularly wore figure-hugging looks, including slinky cocktail dresses for the evening. Fast-forward to 2023 and Iman is as stylish as ever, and her years as a model have meant that she has retained her ability to be playful and experimental with fashion. Seen above in a bright pink sweater and flowy purple pants, Iman isn't afraid to max out on colors for a dopamine-dressing look. Spotted in one of the Met Gala best looks in 2022, Iman dazzled in a striking Dolce Gabbana x Harris Reed design. At 67, Iman is an over-50s fashion icon, even gracing the cover of British Vogue at the start of 2023.
---
8. Najate Leklye
Many of the over-50s fashion icons on this list might be familiar, but if you haven't heard of the Moroccan mom-and-daughter duo taking Instagram by storm, now is the time to investigate. Daughter Meryem styles her mom Najate in outfits that reference street culture, with a heritage twist and the resulting inspirational ensembles have gained the duo over 100k Instagram followers.
Expect an explosion of color in the form of bright knitwear and printed silk head scarves, covering everything from tie-dye and florals to candy stripes that Najate looks absolutely dazzling in. Some standouts include top-to-toe tonal shades of pink and green, or blazers with tracksuit bottoms. For a spring outfit idea, why not try Najate's lilac and orange color combo that feels very of the moment.
---
9. Oprah Winfrey
Just shy of 70, Oprah Winfrey is an over-50s fashion icon that has just got better with age. A household name, Oprah has clearly honed her style over time, learning to highlight her hourglass body shape to maximum effect. A fan of nipped-in waists and more tailored shift dresses for a smart ensemble, Oprah's outfits always look well-balanced and harmonious. Not afraid of color or embellishment, Oprah is always appropriate for the occasion at hand. A winner on the red carpet, we love the sequinned shirt dress above, that showcases a more playful element to Oprah's style. Above all else, the TV host and interviewer wears everything with a level of confidence, and it's worth noting that that is the best accessory of all.
---
10. Jennifer Connelly
With more of a sixties aesthetic, Jennifer Connelly hit the spotlight as a child model before heading into the movie business. With years of red carpet practice under her belt, Connelly is clearly comfortable in her own style and happy to experiment with fashion-forward pieces too. Snapped in 2019, Connelly's Paris Fashion Week street style look, which showcased a pleated skirt over pants, was directional and showed a real ability for interpreting trends. With a wearable style that is easy to replicate, Connelly's off-duty looks include nailing how to style baggy jeans, while her red carpet ensembles cover everything from floor-length gowns to mini hemlines and boots - highlighting her penchant for sixties style.
---
11. Sarah Greaves-Gabbadon
Award-winning journalist and tv host, Sarah Greaves-Gabbadon is based out of Miami, but her glamorous job takes her to far-flung, sun-drenched locations, making her a great style reference for a travel capsule wardrobe. During her travels, Sarah shares her OOTD (outfit of the day) and best finds to her Instagram account and her rainbow bright ensembles will certainly make you smile.
Describing her personal aesthetic as 'colorful, eclectic, bold, comfortable and inimitable', Sarah can't live without sneakers, maxi dresses, jeans, off-the-shoulder tops and a statement hat to top it all off. With style influences that stretch from Miami, where she lives, to the Caribbean, where she travels too bi-monthly, Sarah adds "My clothing and how I combine pieces is an expression of my creativity and my personality." And we're loving it.
---
12. Carla Bruni
Surrounded by the best Italian clothing brands and best French clothing brands it's no wonder that Carla Bruni is one of the chicest over 50s fashion icons. With a career as both a singer and a model, Bruni modeled for the likes of Prada, Dior and Versace, with the polished global fashion houses certainly leaving their mark on Carla's enviable style.
Favoring a more neutral and pared-back palette, Bruni regularly opts for classic wardrobe essentials and is a dab hand at the Stealth Wealth look. From well-tailored wool coats, to wide-leg pants, Bruni's look isn't overly embellished, but it is always well-balanced and elegant.
---
13. Cate Blanchett
As a regular on the Oscars best dressed list Cate Blanchett has earned her spot on our over-50s fashion icons list ten-fold. Arguably one of the world's most stylish women, the Australian actress delivers chic with a twist whether it's on the red carpet or a smart casual outfit.
A dab hand at mixing androgynous tailoring with uber-feminine elements, such as tailored pants with the frothiest of pussy-bow blouses, Cate interprets red carpet style to match her own aesthetic, rather than bowing to pressure to wear obvious evening wear. A brilliant source of inspiration for those who prefer suiting with a hint of vintage softness.
As New York-based Dina Scherer, personal wardrobe stylist puts it, "I admire Cate Blanchett's style as it effortlessly fuses feminine silhouettes with elegant, timeless pieces and touches of colorful and dramatic details. I feel like my style aesthetic is similar to hers, and I often find inspiration from her looks for myself and my clients".
---
14. Yasmin Furmie
Yasmin Furmie is a designer and fashion entrepreneur. The South African social worker turned fashion brand owner gives us all a lesson in how to rip up the fashion rule book. A reminder that over-50s fashion doesn't mean frumpy, and at 60 years old, Yasmin wears modern silhouettes with heaps of style, drawing inspiration from the runway and streetwear. Examples of this include bra tops over vests and how to style jeans with dresses. Head to Yasmin's Instagram page for bright prints, contemporary cuts, and of course endless style inspiration.
Yasmin is a regular on the front row at international fashion weeks, she continues to build her label 'Cici The Collection' and was a part of L'Oréal's Age Perfect campaign, which aims to celebrate and empower women at every age.
---
15. Tilda Swinton
From sharp tailoring to color pop separates you can rely on Tilda Swinton for iconic fashion that delivers the unexpected. An award-winning actress and model, Swinton has paved her own path when it comes to over-50s fashion, with a penchant for timeless classics and androgynous pieces that exude quiet luxury. Regularly wearing chic brands such as Celine, Jil Sander and Haider Ackermann, Swinton's aesthetic is notably expensive by its subtlety, with a focus on cut above all else. And while these well-tailored looks lend themselves to neutral hues, Swinton frequently also inject bold, bright colored clothing into her wardrobe.
New York stylist Liz Teich says "The reason so many admire her style is because it's striking, unique and she's not afraid to take risks. She's a chameleon in her aesthetic just like she is on-screen in her acting".
Incredibly self-assured in her own personal style, even pops of color follow a more pared-back feel making her a fashion icon.
---
16. Helen Mirren
Legendary actress Helen Mirren doesn't let age hold her back when it comes to expressing her personality through her wardrobe. She dresses with class and sophistication yet still manages to obtain an unexpected twist and interest with her style. Never one to shy away from form-fitting dresses, Mirren is a fan of a nipped-in waist and a tailored silhouette for a curvaceous finish.
Styling her tresses, Mirren loves to experiment with accessories and can regularly be seen sporting a headband adding a more youthful, signature style to her look. Despite being an over-50s fashion icon, Mirren, 77, still regularly trials new trends on the red carpet. The narrator of the highly anticipated Barbie Film, it seems that Barbiecore style has rubbed off on Mirren who stepped out at a film premier recently in a daring fuchsia pink cape with oversized bow.
---
17. Shauna Grow
With friends constantly asking for style advice, Shauna decided to collate her fashion choices and tips all in one place and her blog, 'Chic Over 50' was born. Inspiring women to embrace their age and style, Shauna, who is based in Utah believes that, "Women over 50 are just beginning in our journey of influencing and supporting others to be their best selves".
At just 5ft 1.5inches, Shauna is ideal for those looking for petite style advice, including the best petite jeans, the best petite dresses, and the best stylish tops to wear with jeans, showcasing a wide range of wearable outfits that are easy to take inspiration from. Due to her petite frame, Shauna's aware of not over-loading on accessories, so she can wear the outfit, rather than the other way round. A keen follower of fashion trends, she's a dab hand at interpreting the latest looks to her own style.
---
18. Kristen Scott Thomas
Most famous for her roles in The English Patient and Four Weddings And a Funeral, British actress, Kristen Scott Thomas is perhaps an over-50s fashion icon we don't see quite enough of on the red carpet these days. Oozing a glam French aesthetic, Kristen is the ideal choice of icon if you're looking for inspiration for what to wear in Paris. Favoring elegant base layers, such as chic midi or full-length skirts and dresses, alongside more tailored pieces, Kristen adds a little je ne sais quoi to outfits with statement texture (as shown above). While she is regularly spotted in a neutral color palette, Kristen isn't afraid of punchier hues and snapped outside Valentino's runway show, Kristen's feathered cape, coupled with a zesty blouse and crease fronted pants made her one of the best-dressed guests. While this over-50s fashion icon might not be in the limelight as regularly as others in this list, when she is, her style always delivers.
Anna Woodham is a well-established stylist with nearly 20 years of experience under her fashionably tied belt. She has styled numerous celebrities such as Amanda Holden, Holly Willoughby and Claudia Winkleman to name a few and has endured a very tense moment interviewing Kim Kardashian during which her dictaphone decided to cease working!
Anna has worked for titles such as Stella, Grazia Middle East, The Telegraph Magazine, YOU magazine and was formerly Fashion Editor at S magazine. Anna also writes a blog called The Mothershop; a curated edit of the best maternity wear on the market.