Everything You Need To Know About The Mulberry Factory Shops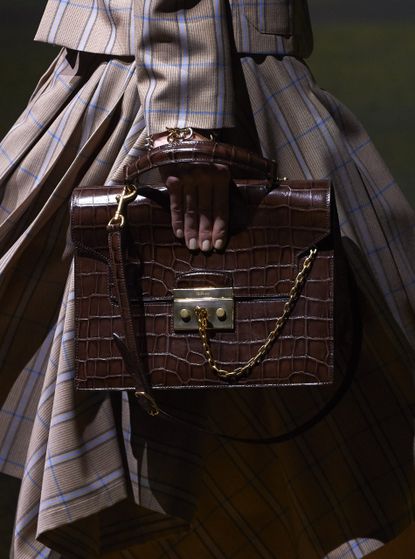 (Image credit: AFP/Getty Images)
If there's one idea that appeals more than bagging a Mulberry bag, it's bagging a bargain Mulberry bag. Mulberry began producing its iconic wares in Somerset during the early '70s, and still maintains two factories there. More pertinently for us, though, Somerset is also the location of the originalMulberry Factory Shop (opens in new tab)... Yes, tucked away in a converted school house nestled at the heart of the countryside, last season's 'it' bag patiently awaits a loving home. If you're not already halfway out the door, allow us to tell you everything you need to know...
What's in stock?
Men's and women's clothes, accessories and luggage, plus fabrics and offcuts. Stock is a mixture of discontinued styles (mostly last season's), seconds (although imperfections and 'damage' are often virtually imperceptible) and factory specials (limited edition styles you'll only see here).
What are the discounts like?
Reductions start at 30-50% off, with further discounts given for 'damaged' items. Mulberry runs regular sales across its Factory Shop and outlet stores, with discounts going up to 70-90% off. You can join a mailing list to receive advance notification of impending sales.
Can I bring the kids?
Yes! A bucket of toys is on hand to keep restless toddlers amused whilst mummy/granny monopolises the changing room.
Where is it?
The Mulberry Factory Shop The Old School House Kilver Street Shepton Mallet Somerset BA4 5NF
It's open from 9.30am to 5.30pm Monday to Saturday and 10am to 4pm on Sundays.
It's a long way. How do I know it'll be worth the trip?
Well, the cake selection in the coffee shop gets rave reviews, for a start. There's also plenty of free parking.
If you're after something in particular, you can give the shop a call on 01749 340 583 to check if they have it in stock. They'll often offer to put it on hold for you.
Do they offer an online/mail order service?
Officially, no. However, they may, at their discretion, accept orders over the phone, posting items to you in exchange for a reasonable delivery fee.
Are there any other Mulberry factory shops?
There are Mulberry outlet stores in Bicester Village, Cheshire Oaks, York and Kildare Village. Mulberry insists that its outlets retain the 'spirit' of the original Factory Shop.
Visit the Bicester Village Outlet Store at:
Unit 26A Bicester Village 50 Pringle Way Bicester OX26 6WD
Tel: 01869 322 882
Opening Hours Monday-Friday: 10am-8pm Saturday: 9am-8pm Sunday: 10am-7pm Bank Holidays: 9am-8pm
Visit the Cheshire Oaks Outlet Store at:
Unit 80 Kinsey Road, Ellesmere Port Cheshire Oaks CH65 9JJ
Tel: 0151 356 8904
Opening Hours Monday-Friday: 10am-8pm Saturday: 9am-7pm Sunday: 10am-5pm Bank Holidays: 9am-6pm
Visit the York Outlet Store at:
23-25 Swinegate York YO1 8AZ
Tel: 01904 611 055
Opening Hours Monday-Saturday: 10am-6pm Sunday: 11am-5pm
Visit the Kildare Village Outlet Store at:
Nurney Road Kildare Town County Kildare Ireland
Tel: +353 45 520501
Opening Hours Monday-Wednesday: 10am-7pm Thursday-Friday: 10am-8pm Saturday-Sunday: 10am-7pm