Best watches for women—timepieces for every budget
Our fashion team select the best watches for women, from everyday timepieces to evening accessories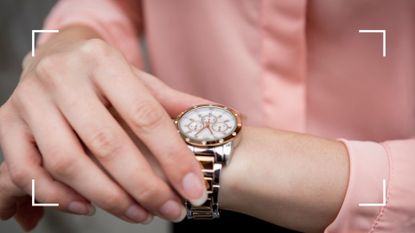 (Image credit: Future / Getty Images)
woman&home newsletter
Sign up to our free daily email for the latest royal and entertainment news, interesting opinion, expert advice on styling and beauty trends, and no-nonsense guides to the health and wellness questions you want answered.
Thank you for signing up to . You will receive a verification email shortly.
There was a problem. Please refresh the page and try again.
The best watches for women are timepieces that you'll invest in now, but love for a lifetime.
When it comes to the best watches for women, look for styles that won't date. Jewelry trends tend to be less rapid than fashion trends, with seasonless styles forming the basis of most watch brands' collections. Think about your watch as an added accessory or an extra piece of jewelry. Consider when you'll want to wear it—will you wear it to casual, work, or evening functions? Or are you simply looking for a watch that will slot into your capsule wardrobe and that you will wear everywhere?
You will need to take your skin tone into account when picking a metal shade. Think about 'what color suits me' before making any purchases. Silver tones look great against darker skin tones, whereas gold gives warmth to all skin tones. In recent years, rose gold has become popular in the watch and accessory world. Rose gold works particularly well on yellow-based skin tones, as the pink tone of the metal creates balance.
Best watches for women—quick links
Best watches for women—as chosen by our experts
Why you can trust Woman & Home Our expert reviewers spend hours testing and comparing products and services so you can choose the best for you. Find out more about how we test.
We've considered a range of styles and budgets. These are the 12 worth looking at.
1. Certina
Best for sporty style watches
Reasons to buy
+
Sporty, modern style
+
Swiss made
+
For day and evening
Certina is a Swiss watch brand, created in 1888. They specialize in sports watches, so precision and reliability are key, but that doesn't mean they compromise on beauty. With fantastic underwater technology and dynamic design, Certina balances form and function.
RRP: £440 (UK / Europe only) | With an attractive moon phase display and sleek white leather strap, it features a high-quality mother of pearl dial that will brighten any look.
RRP: £485 (UK / Europe only) | With diamonds on the dial and a mix of silver and gold, this bracelet-style watch is one that will go from day to evening.
---
2. Michael Kors
Best for affordable designer watches
Reasons to buy
+
Designer brand
+
Fashionable
+
Modern
Much like the best designer bags, designer watches act as entry points to a brand. Michael Kors' watches offer refined style in a mix of metals to suit a multitude of tastes—expect a little bit of sparkle too, making these great day-to-evening styles.
(opens in new tab)
Michael Kors Oversized Brecken Gold-tone mesh
RRP: $295 / £275 | For a more androgynous feel, opt for chunkier faces and darker hues. This gold mesh strap manages to feel both weighty and refined for a striking but elegant watch. The darker watch face also enhances the watches modern feel.
(opens in new tab)
Michael Kors Pyper Logo and Gold-Tone Watch
RRP: $179 / £180 | The MK logo is now universally recognizable but this subtle cream-on-cream design is a chic way to wear the brands' monogram. Available for engraving, this timepiece is a stylish gift for all ages. The non-metal strap gives this watch a more relaxed feel.
(opens in new tab)
Michael Kors Pavé Silver-Tone Strap For Apple Watch
RRP: $195 / £209 | If you've invested in an Apple watch but feel that it sometimes misses on evening glamour, you can now dress up your watch for nights out. This clever jeweled casing will give a new lease of life to your Apple watch in a jiffy.
---
3. Cartier
Best for luxury watches
Reasons to buy
+
Investment purchase
+
Beautiful craftsmanship
A Cartier watch is a big investment purchase, you know you're buying something that will last forever. Because of this, the watch styles are incredibly timeless and devoid of the extra embellishment that you might find on more trend-led pieces. When it comes to Cartier, established in 1903, less is more: delicate watch faces contrast with weightier or bracelet-style straps. They'll look elegant with anything but add to your best blazer and shirt combination for a really slick look.
Cartier Tank Must Silver Watch
RRP: $2,980 / £2,500 | The Tank Must watch is a beautiful, classic timepiece with a smaller delicate face and narrowed silver bracelet style strap. The striking blue sword hands subtly contrast with the silver watch.
Cartier Ballon Bleu De Cartier Watch
RRP: $7650 / £6000 | Encased in an arc of precious metal, the Sapphire Cabochon mechanism within all Cartier Ballon Bleu watches ensures years of precise time-telling.
---
4. Gucci
Best for fashionable watches
Reasons to buy
+
Fashion forward watches
+
Well-known brand
Gucci may not be the first brand you think of for watches, but the Gucci range is really popular thanks to the brands' fashion prowess.
The brand sells classic styles, featuring their easily recognizable red and green striped design, and some sleek metal iterations. But they also design fun, trend-led pieces that will be relate to Gucci's creative vision for each season.
(opens in new tab)
RRP: $950 / £720 | Featuring two house icons, the bee and the Web stripe detail, this watch is the ideal purchase for true Gucci fans. While this is quite trend-led, as it features classic Gucci iconography you can enjoy this for seasons to come.
(opens in new tab)
Gucci Diamantissima watch
RRP: $1060 / £820 | Super sleek and packed full of detail, featuring Gucci's signature diamante pattern etched into the back of the watch case, and repeated on the black dial in a tonal hue to give the impression of fabric.
---
5. Olivia Burton
Best for feminine watches
Reasons to buy
+
Feminine watches
+
Colorful
+
Great price points
Rooted in nature, you'll see that the glorious world around us is a huge source of inspiration for the Olivia Burton brand. Floral prints, pretty pastel hues and delicate bee, butterfly and dragonfly emblems to create watches with a sense of magic and fantasy. These are gorgeously feminine watches at great price points, making them ideal gifting items. Team with any one of your best dresses to carry on that ethereal feel.
(opens in new tab)
Olivia Burton Secret Garden Watch
RRP: $125 / £89 | This lavender strapped watch is so pretty and delicate. Named 'secret garden', this is an ideal gift for those who want a statement timepiece. And with this floral fare it's ideal for spring.
(opens in new tab)
Dragonfly Thin Case Rose Gold Mesh Watch
RRP: $140 / £99 | Nature is a strong theme for Olivia Burton and this is interpreted through pretty watch face prints in romantic pastel hues. This rose gold mesh strapped watch is an easy every day style that will work for smart occasions too.
---
6. Movado
Best for fashion watches
Reasons to buy
+
Modern design
+
Colorful options
Movado has a long and rich heritage in watchmaking, having launched in 1881. A Swiss watch brand, you're buying a combination of their expertise and their reputation for creating modern watches with a fashion aesthetic. Striping back some of the fussier detailing you might see on watches from big Swiss watch houses, Movado is all about sleek design and block color. A statement accessory on their own, you can easily team a Movado watch with your best jeans and tee and still have a strong and directional look.
(opens in new tab)
RRP: $495 / £395 | Looking for a showstopping gift? A bangle watch takes timepieces into the realm of jewelry and blurs the line between timekeeping and accessorizing. This gold bangle watch is a perfect example of this silhouette.
(opens in new tab)
RRP: $695 / £479 | Add a burst of color to proceedings with this intense red watch with gold rim. Such a striking color combination this modern design will work for day to evening and pair well with monochrome hues for a bold look.
---
7. Fossil
Best for smart watches
Reasons to buy
+
Youthful styles
+
Changeable watch styles
+
Engraving available
Fossil watches are extremely high-quality. Their watches do have a more androgynous feel to them and they have also expanded their watch collection into smartwatches which are well worth checking out. Utilizing OS by Google their feminine smartwatches are a stylish option for those who want their multi-functional watch to look good.
(opens in new tab)
Fossil Gen 5E Smartwatch Blush Silicone
RRP: $249 / £199 | With multiple strap options, this watch is packed with functionality (and looks cute too)—compatible with Wear OS by Google works with phones running the latest version of Android™, it has a water-resistance of 3 ATM, can measure heart rate and connect to WIFI and Bluetooth.
(opens in new tab)
Gen 6 Smartwatch Rose Gold-Tone Stainless Steel Mesh
RRP: $319 / £299 | This slightly sportier execution of the Fossil smartwatch packs a hefty tech punch. Compatible with Wear OS by Google works with phones running the latest version of Android™ and has a memory of 1GB RAM, 8GB of Storage. Offering touchscreen use and voice activation, you can run your world on the go.
(opens in new tab)
Fossil Hybrid Smartwatch HR Monroe
RRP: $219 / £209 | One of the most notable aspects of Fossil's smartwatch offering is the hybrid selection. For those that don't want to go full tech but do want some of the functionalities—notifications for apps, workout trackers and music controls, the hybrid offers a gorgeous aesthetic and just the right amount of tech power.
---
8. Swatch
Best for colorful watches
Reasons to buy
+
Colorful designs
+
Lots of choice
+
Mix of price points
Swatch is probably one of the most commercial and recognizable brand names of watches. With an almost endless selection, Swatch is where watch fun starts. With a magical array of colors and prints, there is something for every taste. From bold and bright, cartoonish and chic metallics, Swatch has really got all the bases covered. And better still, this high-quality brand also has incredible price points too.
RRP: $110 / £91 | This minty hue is just so refreshing. A good choice for every day, this icy tone features a minimalist face in a complimentary silver tone that adds to this watch's style and sophistication. This is a grown-up watch, with the right dose of fun.
RRP: $75 / £62 | A burst of bubblegum pink, this trend-led watch comes in a whole host of colors (literally every bright hue). For those who love a little bit of mechanics, this clear watch face allows you to see what's really going on.
---
9. DKNY
Best for branded watches
Specifications
Prices from: $115 / £137.36
Reasons to buy
+
Ultra-modern
+
Sleek design
+
Monograming
DKNY have been well-known for their directional watch collection for many years. An entry point to the rest of the Donna Karen label, they offer designer style at a much more affordable price point. Iconic for its 'New York' aesthetic—in the same way a Burberry trench coat makes us think of London—strong, sleek, modern are the key terms that spring to mind.
(opens in new tab)
RRP: $155 / £137.36 | The discreet DKNY lettering on the face makes this ideal for anyone that wants to have a designer watch, without broadcasting it. The bold contrast of the black, gold, and crystal accents around the face make for a striking final piece.
(opens in new tab)
RRP: $135 / £119.64 | With a logo embellished strap, this watch feels much more typical of what we're used to seeing from the DKNY watch collection. In an attractive slate hue, reminiscent of the New York skyline, this is a covetable timepiece.
---
10. Sekonda
Best for bracelet watches
Reasons to buy
+
Glitzy watches
+
Great for special occasions
+
Affordable price points
This British watch brand is all about high-quality watches at affordable prices. We've opted for their bracelet watches, as they deliver a high-end aesthetic at a pocket-friendly price, but if you're looking for any style of watch at a reasonable price then Sekonda is a good place to start.
(opens in new tab)
Sekonda 4191 Glitzy Watch
RRP: $52.80 / £38.95 | With an antique feel, this watch is also a bargain. Fantastic as a gift or for evening, this bejeweled watch is something really special.
(opens in new tab)
Sekonda 40037 Bracelet Watch
RRP: $67.77 / £49.99 | Can't decide between gold and silver? Get both. This mix metal bracelet watch would fit right at home with any of the best jewelry brands and the subtle added sparkle makes this one to buy for evening glam.
---
11. Skagen
Best for minimalist watches
Reasons to buy
+
Minimalist design
+
Subtle
+
Will go with everything
Much like the best Scandinavian clothing brands, Danish brand Skagen is known for its sophisticated and minimalist design aesthetic. Expect fuss-free design, chic color options, and classical styles that will never date.
(opens in new tab)
Skagen Signatur Lille Two-Hand Ocean Blue Leather Watch
RRP: $115 / £109 | A clean and minimal design, this watch features a navy leather strap with rose gold rim and white watch face. The navy blue is a lovely, lighter hue compared to black leather and metal. A timeless design that you can enjoy for years.
(opens in new tab)
Skagen Signatur Lille Two-Hand Stainless Steel Mesh Watch
RRP: $135 / £129 | Still pared-back, this Skagen watch feels a little more fashion-forward than most of their subtle designs. The steel mesh and rose gold make for a very stylish and sharp combination. The watch is engravable too, making it great for gifting.
12. Rolex
Most luxurious watch
Specifications
RRP from : £4,200 (not available online)
Reasons to buy
+
Investment pieces
+
Future heirlooms
Largely considered the finest and most luxurious watches in the world, a Rolex watch is a highly sought-after item. The best Rolex's for women are true investment pieces—like the best Chanel bags, that can be loved, worn, and passed from generation to generation. From subtle and sleek to bold and diamond-encrusted designs, a Rolex watch will certainly never date. Not retailed online, the exclusive Rolex watch is an in-store shopping experience.
(opens in new tab)
RRP: £4,200 (not available online) | The sunray finish creates delicate light reflections on many dials in the Oyster Perpetual collection, creating a characteristic subtle glow that moves depending on the position of the wrist.
(opens in new tab)
RRP: £20,300 (not available online) | This watch is truly a masterful piece of craftsmanship. The bezel literally acts as the key to the programmable countdown, allowing it to be set and synchronized to the sequence of race start times.
Rivkie is a fashion editor, writer and stylist with over fifteen years' experience in the industry. Having studied design and pattern cutting at the London College of Fashion, Rivkie fell in love with styling and journalism, covering fashion weeks in London, Paris and New York.
Specialising in plus size fashion, Rivkie has long championed that style is for everyBODY and has been a regular talking head on a host of radio stations and television shows, pushing for greater representation for plus size women and fashion throughout her career.