The best sex positions to help you orgasm whether you're with a partner or going solo
These best sex positions will change your sex life for the better, whatever your situation…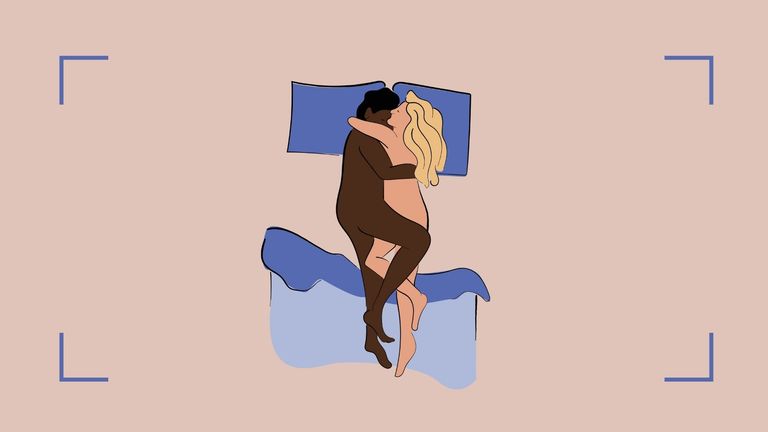 (Image credit: Future)
Trying out the best sex positions can help keep things fresh and exciting in your sex life or reignite a lost spark. Changing what you do in the bedroom could give your love life a much-needed boost, and create more intimacy—not to mention making you feel empowered and in control of your own pleasure.
Whether you're looking for positions to get closer to your partner or new sex moves that go hand in hand with your best vibrator, there's something for everyone in our expert-approved guide. Mixing things up in the bedroom by trying one of the best sex positions or dipping your toe in sex play such as bondage for beginners, or tantric sex, is not only great for figuring out what turns you on (and off) but can also build trust in your relationship. What are you waiting for? Get ready to shake things up with some of the best sex positions for women, according to sex experts.
The best sex positions for women
If you're wondering how to have an orgasm alone or with a partner, remember it's important to prioritize your pleasure in the bedroom. But, every woman is different, and the best sex positions for orgasm for one woman might be different for another. If you're ready to experiment and discover what feels amazing for you, here are some positions to try…
1. WOMAN ON TOP
How to do it: Have your partner sit down on a chair or lie down on the bed, straddle their waist with your knees bent and thighs facing up on either side.
Why it's great: This is one of the best sex positions for feeling closer to your partner as you can focus on their face and create even more intimacy, says Lovehoney sex and relationship expert Annabelle Knight. "I think woman-on-top is ideal for super-connected love-making. After you have done as much eye-gazing as you like, you can fall on top of your partner for maximum skin-on-skin contact." It also puts you in control of how fast or slow you want to go.
Make it sexier: This position provides the perfect opportunity to introduce a bullet vibrator into the mix for even more pleasure.
2. EYES WIDE OPEN
How to do it: Face your partner with your legs draped over theirs. Stare into each other's eyes and synchronize your breathing. After a few minutes, move to sit on their lap and straddle them. Start with kissing and light touches before taking things further.
Why it's great: If you've ever been curious about tantric sex, this is one of the best sex positions to try. Moving slowly with purpose, and not rushing to take each other's clothes off and orgasm, will make your climax all the sweeter. "The advantage of this position is you can enjoy intimacy and foreplay and then have intercourse as an added extra," says Knight.
Make it sexier: For a true tantric experience and to make your orgasm even more intense, spend more time on foreplay. Set aside a few hours for you and your partner to really indulge in your time together. Light candles, put on your favorite music, use sensual oils to massage each other, and take things super slow. Tantric play doesn't have to lead to penetrative sex, but if you choose to, being present in the moment and moving slowly will make it even more pleasurable.
3. MISSIONARY
How to do it: Lie on your back with your partner on top of you, facing you. Easy!
Why it's great: It often gets a bad rep for being a little boring, but Missionary is one of the best sex positions if you want something simple that still feels good. Sometimes you might not want to try unusual sex positions, and that's ok. Sticking with Missionary and adjusting your leg positioning, wrapping them around your partner's waist or bringing one leg on top of their shoulder, can really take pleasure to a whole new level.
Make it sexier: Add a blindfold to make it even sexier. "By using a blindfold you're depriving yourself of sight and amplifying your other senses. This can give you an even greater, more powerful orgasm," says Dr Andrea Pennington, author of The Orgasm Prescription For Women.
4. THE LAZY MAN
How to do it: Have your partner sit on pillows on the floor with their legs outstretched. Lower yourself onto them, sitting upright with your feet on the floor. Press through the balls of your feet to control your movement.
Why it's great: "This works great if you need to be quiet because there is less thrusting and therefore less noise, and it's more bobbing up and down," explains Knight. Being on top also allows extra control, and facing your partner means you can kiss and touch.
Make it sexier: During sex, transition into a slight variation of the Lazy Man aptly called The Spider. Lay back and rest on your elbows with your hips between your partner's legs. This allows your partner to do some of the work, rocking back and forth inside of you, and it's the perfect moment to slip a bullet vibrator or hand between your legs.
5. SPOON FACING
How to do it: While in Missionary position, roll onto your side so your partner is facing you. You can both bend your arms, resting on your elbows to support your upper bodies.
Why it's great: This position encourages slower, quieter thrusts, says Knight. "If anyone were to interrupt you it would look like you're just having a cuddle under the covers," she adds. Plus, the skin-on-skin and eye-to-eye contact create even more intimacy.
Make it sexier: Experiment with your leg positioning, wrap your outside leg around your partner's waist, or prop it up on your opposite shin for more intensity. "Spooning is the perfect position for slow and gentle sex," says LELO sex and relationships expert Kate Moyle. She points out that by adding in clitoral stimulation, you increase your chances of having a blended orgasm, which is where you have a G-Spot and clitoral orgasm at the same time or just after each other. And the beauty is, you'll be wrapped in your partner's arms when that happens.
6. THE WHEELBARROW
How to do it: "This is one for the strong-armed," warns Emily Prichard, brand manager of condom brand Hanx. Place your forearms flat on the ground and elevate your pelvis and thighs. Your partner will then penetrate you from behind holding your hips, which will allow you to wrap your legs around their waist.
Why it's great: While it's unusual, this is one of the best sex positions for G-spot stimulation, and it's fun to try. You might have a few false starts and fall a couple of times, but just laugh it off and try again.
Make it sexier: Don't be afraid to laugh! Sex should be fun, and sometimes it can be funny, too. Having a laugh and trying something unusual in the bedroom is a great way to break the ice in a sexless marriage or add more laughter into your relationship.
7. THE BUTTER CHURNER
How to do it: Lay on your back on a sofa or at the end of your bed with a pillow between your shoulders. Then raise your legs up and over your body, so your ankles are above your head. With your partner standing over you, they can hold your ankles and squat slightly from above to penetrate you.
Why it's great: "This is a position for those feeling flexible and can also be great for those with partners who come with smaller packages," says Evie Plumb sex educator and expert at Here We Flo. It might take time to get the angle right, but it's worth it for the fun of trying a new sex position and it's great for G-spot stimulation.
Make it sexier: "Coupled with clitoral stimulation from you, your partner, or a toy for will give maximum pleasure in this sex position," advises Plumb. We can't argue with that!
8. THE BUTTERFLY
How to do it: Lay on your back at the edge of the bed with your partner standing over you. Prop your legs up on their chest or hook them around their shoulders, then have your partner hold your hips to elevate you slightly before they penetrate you.
Why it's great: "This is one of the best sex positions for deep penetration," says Plumb. "It'll give you a new and sexy angle of each other, while also feeling amazing." If standing becomes uncomfortable for your partner then can move their knees onto the bed for extra support, while still staying in the same position.
Make it sexier: If you and your partner are interested, incorporate some BDSM for beginners into your play to take the power element of this sex position to the next level. This could be your partner tying your hands with rope or blindfolding you as they explore your erogenous zones. Before trying any BDSM play you should always discuss your boundaries with your partner and agree on a safe word that can be used to stop play at any time.
9. REVERSE COWGIRL
How to do it: Have your partner lie flat on the bed or sit on the edge. Straddle your partner with your back facing them, and place your hands on their knees for support.
Why it's great: "In terms of sex positions while pregnant, what's possible and not possible changes throughout pregnancy," says Moyle. The reason she recommends Reverse Cowgirl for any stage of pregnancy? "For some women, positions, where they're on top, can help them feel more in control of the depth and speed of penetration," Kate says. "Although, they may also find they get tried quicker in this position that you used to."
Make it sexier: Support = sexy when it comes to sex during pregnancy. Prop a chair up in front of you to hold onto for added support as you get to it!
10. SPOONING
How to do it: Lay down with your partner slotted in nicely behind you as if you're about to cuddle. Experiment with leg positioning to find a spot that feels pleasurable and comfortable for you.
Why it's great: "Spooning is another great position for navigating around a bump and it allows for clitoral stimulation," says Moyle. This is one of the best sex positions while pregnant, particularly in the last trimester, because it's doesn't involve much movement and has your partner doing most of the work so you can reposition yourself into a spot that's comfortable for you.
Make it sexier: Introduce a vibrator into the mix for extra clitoral stimulation. While you can start your spooning session at any point and then add in the vibrator, it's better to be prepared. "It's sexier to make sure you have the vibrator easily in reach so that you don't have to scrabble around for it and interrupt your enjoyment," says Moyle. Blindfolds can also increase pleasure, plus adding lube can make things more fun, too. "A finger vibrator can be especially helpful if you're using lube," Moyle adds, "There's nothing more distracting than someone losing their grip or slipping just as you edge towards orgasm."
11. THE SOLO FRONT-FACER
How to: Find somewhere soft and comfortable with enough space for you to lie down and where you can move your hands freely underneath you. Position your sex toy of choice between two pillows and then lie on your front over the pillows, using the sex toy to stimulate you.
Why it's great: The best sex positions don't always have to involve a partner! This particular position is great for female masturbation. Lying on your front gives easy access to your clitoris and G-Spot. "On your front is a great position for female sex toys," says Moyle. "It's a position rarely depicted in porn for women, though, because it doesn't reveal much to anyone watching, and not because of a lack of pleasure." Not only do the pillows prop up the toy so you can go hands-free, but they can also create the sensation of being with a partner, which can boost your imagination and, in turn, help you orgasm.
Make it sexier: Just because you're on your own doesn't mean you have to miss out on foreplay. "Using one of the best body wand massagers first, such as Lelo Smart Wand will give you an all-over body massage," says Moyle. "This won't just help you relax but can build up desire and arousal by teasing. Running along the inner thighs, the lower back, and buttocks can build up anticipation, which is our most natural aphrodisiac." Keeping your eyes closed the whole time can really help when it comes to imagination and making up sex stories in your head. When you can't hold off anymore and roll into The Solo Front Facer position, you'll have major body tingles when you eventually orgasm.
12. THE SPRAY & PLAY
How to: Firstly, check your sex toy is waterproof—then step into the shower and turn on the water. Use the sensation of water to mix it up. "You can swap between using the showerhead targeted at your clitoris and your sex toy, or use them simultaneously together," Moyle suggests.
Why it's great: If you think about some of the best movie sex scenes, everything is so much sexier when water is involved. Not only can the steam and heat help you feel aroused, but being in the safety of an enclosed shower can help you lose your inhibitions, especially as the noise of the water can disguise the sound of your sex toy.
Make it sexier: Playing around with temperatures can really help when it comes to sensations. Try blasting some colder water onto your clitoris or nipples and see how it can increase sensitivity. You can also invite your partner to join you for some added watery fun. Exploring all their erogenous zones with both the showerhead and a bullet vibrator at the same time while they are facing away from you could be a huge turn-on. Just be careful when using lube, it can make things slippery.
13. THE VIBRATING REVERSE COWGIRL
How to: Adopt the traditional Reverse Cowgirl position with your partner lying on their back, and you straddling on top facing away. Make it a "vibrating" ride by grabbing hold of a vibrator. You could also pass them the toy, to massage down your back during sex, or stimulate your clitoris.
Why it's great: "Not only can a vibrator be used for clitoris stimulation on the riding partner, but you can also use it on a bottom partner, for example, on their perineum or testicles for additional sensation," says Moyle. "It's a great way for couples to explore giving control to the other. Plus, if one person can't see when the sex toy will be used, it can also add to the suspense of not knowing what's going to happen next."
Make it sexier: When it comes to this position, the more sex toys, the better. Adding a cock ring to the session can make it even sexier. "A cock ring that stretches around the penis is great," says Moyle. "It also offers great clitoral stimulation if worn during sex, particularly when the woman is on top." It's a hands-free sex toy so you're still free to touch your partner, and you don't have to think about changing the settings—just enjoy.
14. THE SITTING UP SIZZLER
How to: Forget simply lying on your back when you masturbate. Instead, sit up on your knees and lower yourself onto your G-spot vibrator instead. It's one of the best sex positions to try alone if you want deep penetration. But, make sure to use plenty of lube!
Why it's great: The Sitting Up Sizzler is the best for hitting the G-spot and feeling in control. "Sitting up on your knees and lowering yourself onto a sex toy can be a great way for vulva and vagina owners to mix it up at home," says Moyle. "Using a sex toy with a suction base so that it can be secured to a surface can be beneficial. Or, standing it up between two pillows can be helpful if you're on your bed."
Make it sexier: Try The Sitting Up Sizzler in front of a mirror. By sitting up on your knees, you'll be able to look directly in front of you. Try imagining you're being watched or starring in a film, anything that will help turn you on. Some women find even just looking at their facial expressions during masturbation can help drive them to orgasm.
15. THE CHAIRMAN
How to do it: Similar to the Reverse Cowgirl, have your partner sit on the edge of the bed or on a chair, with you sitting on top of them facing away.
Why it's great: "Not everyone wants to have sex while on their period and that's more than okay," says Plumb. "But, if both partners are comfortable it can have some great benefits, like helping relieve cramps, extra lubrication, and increased sensitivity!" When it comes to the best way to have sex when on your period, Plumb says no positions are off-limits, however, we recommend The Chairman position for comfort, intimacy, and pleasure during your period.
Make it sexier: If you're concerned, you can lay a towel on the bed underneath your partner. Plumb also suggests propping a mirror up in front of you so you can watch things play out and make this position even sexier.
Faye M Smith is an award-winning journalist with over 15 years experience in the magazine industry. Her continued work in the area of natural health won her the coveted title of theHealth Food Manufacturers' Association (HFMA) Journalist of the Year Award 2021.
Currently Acting Health Editor across several brands including woman&home, Woman and Woman's Own, Faye specialises in writing about mental health, the menopause, and sex and relationships. In fact, having previously been the go-to sex columnist for Now magazine, there isn't much she won't discuss when it comes to women's health. This makes her the best person to review must-buy sex toys, describe how to have a mind-blowing orgasm or explain how to navigate sex in the shower without it ending in a medical emergency.
While not anti-gym, Faye's fitness routine is more focussed on finding inner balance rather than burning excess calories. An advocate of mindfulness, she loves power breathing, yoga and plenty of walking in nearby woodlands rather than a sweaty HIIT class. Follow her @fayetuned