These are the best positions for using sex toys, according to a sex expert
It's time to mix things up!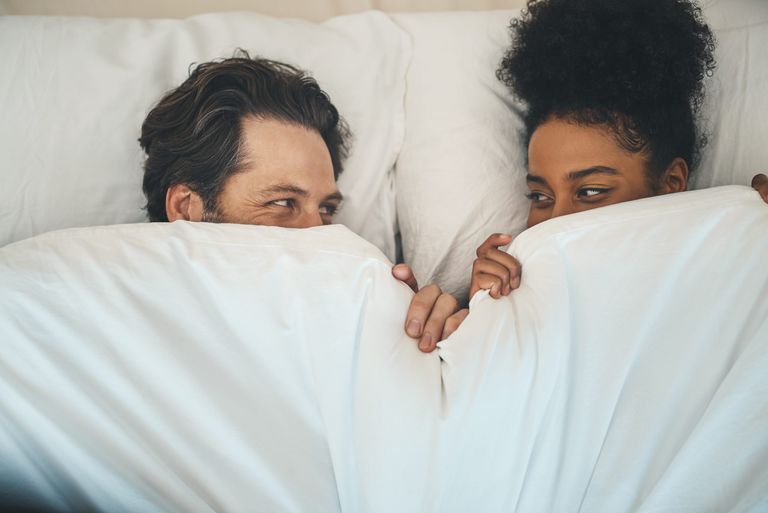 (Image credit: Getty Images)
Love using sex toys, but finding things are starting to get a little boring in the bedroom?
Whether you're going solo, or enjoying being with a partner, we all know that using one of the best vibrators can really boost your pleasure levels. But have you thought about the best positions for using sex toys? Turns out, there are more ways to use them than you might first think.
And, there is no need to feel daunted. New research by sexual wellness brand LELO has found 42% of couples are now using sex toys together. Plus, 32% of Brits say they use one when going solo.
"Sensory play and satisfaction is a key part of sexual wellbeing. And sex toys are a great way of achieving that," says sex and relationship expert for LELO, Kate Moyle.
"Sex toys shouldn't compete with, but should compliment partnered sex," says Kate. "This is because they can offer different elements and sensations that can help you to maintain variety in your sex life. This is also the case for solo play."
So, what are you waiting for? Grab a toy and try out these positions recommended by Kate:
The best positions for using sex toys
1. Hands-free is great for mixing things up
"Remote controlled toys are a great way for couples to explore giving control to the other," says Kate. "Encourage the partner using the toy to lie back on a bed with the other partner out the direct line of sight. This will also add to the suspense of not knowing what's going to happen next."
2. Lying on your front is one of the best positions for sex toys
This is definitely one of thebest positions for using sex toys, but is rarely depicted on screen. "On your front is a great position as it can work for both male and female sex toys," says Kate. "Position the sex toy between two pillows on your bed and then lie on your front, using the sex toy to stimulate you."
3. Try your sex toy in the bath or shower
Checked that the sex toy you are using is 100% waterproof? "Then use the sensation of water to mix it up," says Kate. "For example, turn on the handheld shower or the tap. Then you can swap between the shower head and your sex toy or use them simultaneously."
4. Use your sex toy all over your body
Who says one of thebest positions for using sex toys is just one place on the body? "Using a wand vibrator, such as the Smart Wand 2, can help give you an all-over body massage," says Kate. "This won't just help you to relax, but can build up desire and arousal by teasing. Running along the inner thighs, the lower back and buttocks can build up anticipation, which is our most natural aphrodisiac." This level of relaxation is one of the reasons a vibrator is good for your health.
5. Spooning is one of the best positions for using your sex toy
"Spooning is the perfect position for slow and gentle sex," say Kate. "And a vibrator can be the perfect addition as the 'big spoon' is easily able to reach around for clitoral stimulation on the little spoon partner. A bullet vibrator or finger vibrator would work really well. Plus, you can start your spooning session at any point and then add in the vibrator. Just make sure you have it easily in reach so that you don't have to scrabble around for it and interrupt your enjoyment."
6. Let them wear the sex toy, if you can
Playing with a partner? Then let them do some of the work with a sex toy which offers multiple functions. "A cockring that stretches around the penis is great for penetrative sex," says Kate. "It also offers great clitoral stimulation if worn during sex, particularly when the woman is on top. You can also use it for mutual masturbation or oral sex to add something different."
7. Using your finger can help guide your sex toy
"A finger vibrator can be especially helpful for solo fun if you are using lube," says Kate. "There's nothing more distracting than losing your grip or slipping just as you edge towards orgasm! But it's also a great addition to oral sex and can be used all around the vulva."
8. Try your sex toy while sitting up
Forget simply lying on your back. "Sitting up on your knees and lowering yourself onto a sex toy can be a great way for vulva and vagina owners to mix it up at home," says Kate. "Using a sex toy with a base so that it can be secured to a surface can help. Or, standing it up between two pillows can be helpful if you are on your bed."
9. Do the reverse cowgirl
Want to try the reverse cowgirl with a handheld vibrator? You should! "It means that you can use it for stimulation on the riding partner, and that you can also use it on the bottom partner on their perineum or testicles for additional sensation," says Kate.