The UK's best designer outlets for snapping up shopping bargains
These are the best designer outlets loved by style fans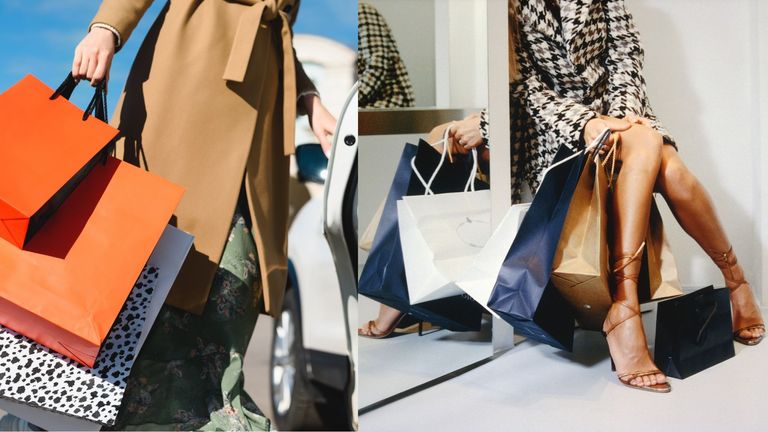 (Image credit: Getty Images)
The best designer outlets allow you to snap up designer clothing items at a fraction of the price.
We all know our capsule wardrobes should be made up of top quality basics, but what if those wardrobe essentials were just out budget? While searching for a designer bargain used to mean rifling through sale rails or hoping your local TK Maxx had seen a delivery of weekend goodies, in 2022, the best designer outlets are almost as luxurious as shopping in the flagship stores themselves, and they're the perfect way to invest in the best designer handbag.
Big designer brand names are all about exclusivity and shopping the new in styles and global fashion weeks, help to keep that air of aspiration the brands desire. But over the past 5-10 years, fashion brands have also realized the importance for entry points to their brand and how cultivating a wider audience is, in the long term a shrewd business move.
While many of us simply can't afford to rush to the store to pick up the latest handbag trends 2022 has to offer, or the spare cash to make the shoe trends 2022 at home in our closet, that doesn't mean we don't want a piece of the fashion action. Enter the best designer outlets, designer shopping, but discounted.
Best Designer Outlets in the UK—how does it work?
If you've never been to any of the best designer outlets in the UK, well, you're in for a treat. Over the past five years or so, they've really become destination shopping hubs, beautifully laid out, well curated, usually with restaurants alongside and often a really great outing for the whole family. With designer outlets popping up all over the UK, you can find great bargains, whereever you live.
Unlike stores like TK Maxx, the best designer outlets are made up of a series of boutiques. The boutiques are stand alone to particular brands, which means you can plan your day and hone in on the stores and designer brands you want to investigate further. So whether you're looking for one of the best Gucci bags for less or a discounted Mulberry, pick the right designer outlet and all you've got to do is find the one you're going to take home.
The best designer outlet stores will be kitted out to look like the real stores, so you can actually enjoy the shopping experience too, and as it's discounted, you get more for your money. The items in store will usually be past season, so don't expect the fashion trends 2022 is peddling to be in store, but as most brands have a design aesthetic, you'll probably be able to find something in a similar look.
The best designer outlets in the UK as selected by our fashion team
1. Bicester Village
One of the UK's most luxurious designer outlet shopping experiences, this Oxfordshire based hub has garnered a reputation worldwide. Set up as a shopping village, with beautifully created stores, an array of dining options, plenty of parking and even a bus laid on from the nearest station, Bicester Village has really set the pace for luxury designer outlet shopping. Whether you're in search of the best French clothing brands, high-end designer Italian clothing brands, or you want to shop classic British clothing brands—Burberry trench coat anyone? You can find the biggest names in fashion at Bicester Village.
With a personal shopping service, for those that want to up the luxe factor, they've also recently started doing digital appointments to help those who want to shop online, with appointments taking place by phone, video, email or WhatsApp.
Home to more than 160 boutique stores boasting discounts of up to 60% on everything from Burberry to Balenciaga and Alexander McQueen to Jimmy Choo you could literally curate your wardrobe from designer goodies and never pay full price. Oh and it isn't just fashion and footwear, you can shop for homeware and beauty goodies too.
Plan your visit to Bicester Village
Our fashion editor's top 5 picks at Bicester Village
2. Cheshire Oaks
Located 35 minutes from Manchester and 45 minutes from Liverpool, Cheshire Oaks is the UK's largest multi-storey outlet, and boasts over 140 stores. With discounts of up to 60% of recommended retail value you can really grab yourselves some serious bargains.
Unlike Bicester Village which has a far greater lean towards designer brands (although Bicester does have high-end of the high street too—think The White Company and Reiss) Cheshire Oaks has a much larger brand mix, making it one that hits a huge array of price points. While you can shop your big runway names here such as Mulberry and Michael Kors, you can also pick up some brilliant high street and ready to wear labels, with great discounts too. Meaning you really can sort your whole wardrobe here.
From Ben Sherman to Adidas, Reiss, Dune London, Joules, Jigsaw, Pandora and Phase Eight, there is a massive array of brands to suit all tastes.
With five restaurants you can really make a day of it, having a full shopping experience, not just a quick mooch.
Similarly to Bicester Village though, Cheshire Oaks has also introduced a virtual shopping experience, great if you're short on time or just want to feel like a celebrity.
Plan your visit to Cheshire Oaks
Our fashion editor's top 5 picks at Cheshire Oaks
3. Livingston Designer Outlet
Situated between Edinburgh and Glasgow, Livingston Designer Outlet houses more than 70 stores beneath its cathedral-inspired glass dome roof, ranging from BOSS and Radley to Ted Baker and French Connection.
There's a really good selection of ready-to-wear brands and a distinctly more sporty and casual direction to the brands housed here, but have no fear, you'll be able to grab some brilliant bargains for your wardrobe and stock up on timeless items you can wear season after season. For British basics fans, there is even a Marks and Spencer outlet—guaranteed to have some good buys.
Aside from fashion outlets, there is a good selection of kitchenware options including Le Creuset, as well as a Cadbury's and Lindt outlet—great if you need a little pick-me-up during your shop.
There's also entertainment for those who don't want to splash the cash, with a mini golf, a cinema and 14 dining options.
Plan your visit to the Livingston Designer Outlet
Our fashion editor's top 5 picks at Livingston Designer Outlet
Fossil—home to some of the best watches for women, great for gifting or self gifting.
Pavers—for comfortable flats, this is a really good option.
The NorthFace makes brilliant outerwear, such as some of the best waterproof jackets.
Next Outlet—brilliant for all the family, you're guaranteed some good style buys.
Kurt Geiger—looking for some party shoes, this would be our first stop.
4. Gloucester Quays
With up to 70% off leading brands, Gloucester Quays outlet has some of the best discounts around. There is a much smaller pool of brands to choose from compared to other outlets, but they do have a really stellar edit of recognizable names that are well worth the trip.
With options for men, women and kids, as well as gifting and homeware, there really is plenty to see. Household names like M&S, Hobbs, Phase Eight, Ted Baker, All Saints and White Stuff, means you can get some great deals and timeless styles on a shopping trip here.
With 14 dining options, a cinema, a gym (just in case you need to train up to carry all those shopping bags) as well as a host of special events, you're guaranteed an action packed day out.
Plan your visit to Gloucester Quays
Our fashion editor's top 5 picks at Gloucester Quays
Barbour—makers of some of the best gilets and waterproof outerwear looks, a Barbour coat is definitely an investment piece, so a discounted one is even better.
Dune London—from great everyday flats to seriously stylish boots, put your best fashion foot forward.
Phase Eight—wondering what to wear to a christening?, or need help with what to wear to a wedding this summer? Then Phase Eight should be on your hit list.
Calvin Klein—this designer brand makes some of the most stylish, classic pieces that you can wear on repeat. Oh and their bralettes are great too.
Ted Baker—for everyday style with a twist, we love Ted Baker's beautiful but quirky collections.
5. Burberry Outlet
Hackney's Chatham Place is home to its own hub of designer outlet stores. Launched in around 2017, this ambitious project of factory outlet stores for some of the world's biggest luxury labels rarely seems to get a mention, with much more focused on big mall style destinations. But according to shoppers, there are rarely queues at the Hackney designer outlets making them already a great place to stop for a mooch.
The Burberry Outlet is an ideal pitstop if you're after a timeless handbag, a classic trench coat or just some amazing quality basics to top up your capsule wardrobe. It has discounts of more than 50% making it one for bargain hunters.
Plan your visit to the Burberry Outlet
Our fashion editor's top 5 picks at the Burberry Outlet
Burberry trench coat—an obvious answer, but if you're going to invest in one Burberry item, it really should be this timeless classic.
Scarf—a silk scarf is a brilliant styling item and at outlet prices, much cheaper than in the regular flagship store.
Tailoring—with thanks to the history of the trench coat, any Burberry tailoring will be well loved in your wardrobe.
Bags—a bag is now at the heart of most designer collections, as they're often the first major purchase entry point to a brand. Look for classic styles such as the best crossbody bags or tote bags that won't date.
Belt—leather items from designer labels will often be of significantly higher quality and so they can be wnjoyed for years to come.
6. The Box
The Box at Chatham Place—near the Burberry Outlet store is a rotating pit stop for sample sales and pop-up shops and product launches. Based around a curated calendar of events, they offer experiential activities to compliment their sample sale calendar, including talks from brands, workshops, DJs and fashion shows.
Essentially this is the kind of venue you add to bookmarks and check once a fortnight to see what's coming up next.
With two events currently in the diary, previous collaborations and visitors to The Box include Agent Provocateur, Anya Hindmarch, Joseph and Liberty London to name just a few.
Our fashion editor's top picks at The Box
Upcoming events include...
Sunspel Sample Sale—a must for those obsessed with the best t-shrits and the sale is across all categories, and up to 70% off!
House of Hackney Sample Sale—interiors more your thing? This is fashionista's absolute favorite right now. Quirky designs, statement prints, this luxe brand will hopefully be selling some real goodies at great prices.
7. The London Designer Outlet
One of the newer designer outlets, this shopping hub sprung up next to London's iconic Wembley Arena. With up to 70% off RRP you can grab some incredible bargains. While not as high-end as somewhere like Bicester Village, you can still grab some big designer names with a presence from Tommy Hilfiger, Replay, Guess and Calvin Klein.
With more of an emphasis on straight to market labels such as Phase Eight, Clarks and Kurt Geiger, you can get some really great pieces to enhance your wardrobe.
From the selection of brands, The London Designer Outlet certainly feels more streetwear led, with shopping options including Nicce, Superdry and The NorthFace and a brilliant array of brands with a sports leaning, so if you're a fan of Puma, New Balance, Vans and Adidas, this is the designer outlet for you.
With plenty of places to eat and a cinema, this is a really good stop for a full day out.
Plan your visit to The London Designer Outlet
Our fashion editor's top picks at The London Designer Outlet
The Sunglasses Hut—while of course there are sunglasses trends 2022 in the works, if you opt for classic styles you can grab a timeless designer bargain that will work this year and beyond.
The NorthFace—for your winter and outdoorsy needs, they have a great selection of cosy outerwear including some of the best winter hats.
Nike Factory Outlet—in need of the best running shoes? Great sportswear can get expensive, so this is definitely worth a look.
Guess—stock up on brilliant jeans and casual tees.
Sketchers—a classic, Sketchers trainers and flats are supremely comfortable and have great tech to mold to your feet.
---
Best designer outlets—top tips for a successful shop, according to a fashion editor
Fashion editor and shopping expert, Antonia Kraskowski says...
"If you're heading to a designer outlet, it's good to plan ahead. Weekends are typically much busier—if you can, plan your trip for a weekday to avoid the crowds and shopping tourists. Like many excursions, the earlier you arrive, the more pleasant your experience is likely to be.
Sign up to the outlet's newsletter for any additional discounts that they may offer to subscribers which will save you even more money.
Before you go, think about what's missing from your wardrobe or needs replacing—perhaps a gorgeous camel coat or designer handbag? This is the perfect opportunity to invest in a piece that you've always wanted at a knock down price but equally, it'll still be more expensive than the average high street piece so thinking carefully before parting with your pennies and try not to get caught up in the moment.
Making a wish list of items to look for will focus your energies and money, meaning you're less likely to splurge on a random item that you later regret.
When you're shopping, try to look for classic styles that will stand the test of time as well as working with your wardrobe. Leather goods such as jackets, boots and handbags are good investments, as are trench coats, the best cashmere sweaters and suits.
If you're shopping for a designer handbag, classic styles may be hard to come by but limited edition versions are often available which may have a small quirky update on the typical model of the bag you are after. Popular brands such as Gucci, Mulberry and Chloe can be found at many of the more popular outlet destinations such as Bicester Village in Oxford or MacArther Glen outlets nationwide."
Rivkie is a fashion editor, writer and stylist with over fifteen years' experience in the industry. Having studied design and pattern cutting at the London College of Fashion, Rivkie fell in love with styling and journalism, covering fashion weeks in London, Paris and New York.
Specialising in plus size fashion, Rivkie has long championed that style is for everyBODY and has been a regular talking head on a host of radio stations and television shows, pushing for greater representation for plus size women and fashion throughout her career.