10 minimalist wardrobe essentials to build your style base
A signature style made easy with these perfect, staple wardrobe essentials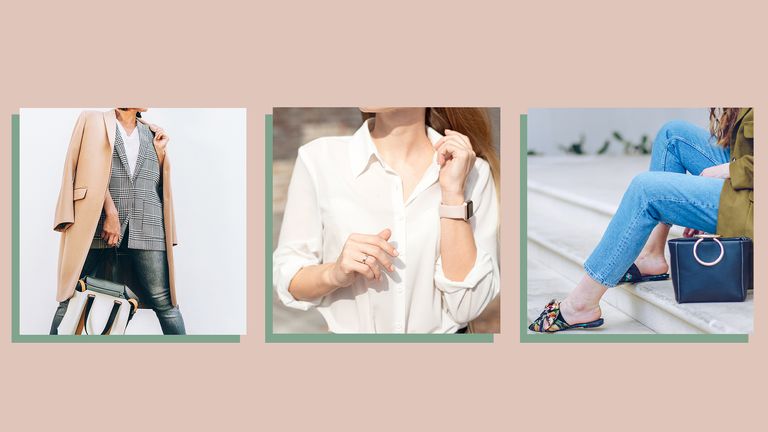 (Image credit: Future/Getty)
Building a collection of wardrobe essentials can create a stylish backbone to your everyday fashion looks. Minimalist closet essentials are staples that re-emerge and effortlessly transition through the seasons.
A minimalist wardrobe will never go out of style, as staples like white shirts, simple jewelry and the best jeans in your closet will always create a simple but trendy look. These timeless looks are also endlessly compatible with other fashion trends, so you can pair your wardrobe essentials with anything - mixing and matching patterns, colors and fit. And a minimalist capsule wardrobe can even help take the time out of getting ready in the mornings by narrowing down your choice as well as help you declutter your space.
And if you like to stay aware of your carbon footprint, then curating a minimalist wardrobe can be a good idea as it's a sustainable way to shop, allowing you to drop fast fashion trends and invest in high-quality wardrobe essentials that will last. You can even incorporate thrifting into a collection of wardrobe essentials, as buying second-hand will often help you find well-made pieces for a fraction of the price you would buy new. Minimalist wardrobe essentials are not limiting in their choices, as you can still get creative with your outfits—it just offers a new way to view your wardrobe, as effortless and convenient.
Minimalist wardrobe essentials to create any look
These 10 wardrobe essentials will help towards building up your capsule wardrobe, so that you're ready for any occasion.
1. White T-shirt
White t-shirts are one of the most underrated wardrobe essentials. Aim for oversized, a boxy shape that can be worn under jumpers, tucked into jeans or worn alone, or even a crewneck that will create a flattering style. A white t-shirt is perfect to layer, affordable and available virtually anywhere.
How the experts wear it:
"A white t-shirt is the ultimate outfit building block and every wardrobe needs at least one," says w&h's acting deputy fashion editor Charlie Bell. "I tend to go for a fitted crewneck style as they are the easiest to layer and tuck in. Wear under a slip dress or dungarees for a 90s vibe or with your jeans and blazer for a casual take on tailoring.
"They also look great tucked into a printed midi skirt to give it a cool edge. It pays off to spend a bit more on your white tees as cheaper ones can get misshapen easily in the wash. Shops such as Arket, Cos and Selected Femme are good places to start. It's worth getting a couple so you always have one to hand when one is in the wash."
2. Classic jeans
A staple in everyone's wardrobe. For your best look, find a fit that is flattering for you like mom, straight leg or skinny fit. Classic blue jeans can be paired with almost anything, dressed up and down and worn throughout the year. Aim for dark or mid blue, these colors will work with most colors and all seasons.
How the experts wear it:
"The key is to find the perfect style and fit for you," advises w&h's style editor Joely Chilcott, "and it may mean spending a little more to ensure you bag jeans that will last for years to come. As a starting point, try a pair of high-waist straight-leg jeans. They are a timeless style that are smart enough for dressier events but can easily be paired with a simple t-shirt and trainers for daywear. If you don't feel like this fit is quite right for you, then give mom shapes, skinny jeans, flares and wide-leg designs a go. It might take a bit of leg work, but we promise it will be worth it."
M&S Collection Carrie Supersoft Skinny Jeans: £29.50 | Marks & Spencer
Sponsored
These classic blue jeans are a great starting point when looking for a wardrobe denim staple. The high-waisted fit will help create a flattering silhouette while the blue shade helps emphasize the classic look. Super soft denim with 2% elastane also adds some stretch to the jeans for a comfortable fit.
3. Chunky knit
An oversized chunky knit is a must. You're likely to see chunky knits all over your social media, worn with jeans or over floaty dresses showing how they're perfect for layering and can add texture to your outfit. Play with oversized pieces, as that can be extremely flattering.
How the experts wear it:
"The kind of throw-on-an-go piece that will never let you down, a chunky knit in a neutral tone like black, grey or beige will more than earn its keep in your wardrobe," says w&h's deputy fashion editor Jessica Beech. "I like to buy mine slightly cropped, to make tucking into high-waisted skirts and trousers easy."
4. White button-up shirt
The white shirt is another one of those wardrobe essentials that you can dress up or down. Tuck it into your black trousers and add some gold chains around your neck for an elegant, clean look. Or leave it loose over your jeans for 90's chic style.
How the experts wear it:
"Crisp and clean, the white shirt has the power to make even the shabbiest outfit suddenly feel put together," says Jessica. "Make yours form-fitting for work, or go over-sized for laid-back weekends. Just don't forget to iron."
5. Smart trousers
A smart pair of treasures can be a godsend when you're stuck for what to wear, as they can transition easily between casual to smart. A nice pair of fitting black trousers is really the key to a minimal wardrobe, they will always add a touch of sophistication to any outfit. They're also great if you're stuck on what to wear to an interview. Look for a pair of suit or cigarette-style trousers.
How the experts wear it:
"Sometimes, just sometimes, your jeans just won't do—even your black skinny ones," says Jessica. "For those occasions - think job interviews, work and fancy evening dos, a pair of high-waisted trousers are your best bet. Choose a tailored cut in a heavy (and importantly anti-crease) fabric for a premium look."
6. Turtleneck sweater
A turtleneck is an elegant piece that is great to layer in winter under a jumper or coat and perfect for transitional weather.
How the experts wear it:
"Evoking a touch of Parisian class, a turtleneck sweater will always be a stylish addition to your wardrobe," says Jessica. "A failsafe layering piece, wear with everything from silky slip skirts to your favorite jeans. Lightweight or chunky knit, the choice is yours."
7. Flattering coat
A long, structured or oversized coat is a perfect addition to your minimalist wardrobe—but for the very best winter coats, make sure to invest in a good material like wool and aim for a flattering, classic silhouette. Good colors to gravitate toward are the classic, grey, black, cream or camel but don't be afraid of a pop of color! A minimalist wardrobe doesn't have to mean muted.
How the experts wear it:
"A quality winter coat is a smart investment," says Jessica. "Choose a classic color and shape, and you could be wearing yours for years to come. My trusty woolen camel coat is on it's 6th winter as we speak..."
8. Leather handbag
A small leather bag is quintessential for your minimal attire, aim for a good size that can be used for more than just a dinner date, pick a classic shape and hardy material that will last. Stick to something muted like black, white, cream, nude, grey or even maroon if you want something more classic. Or you can play around with color if you want something that will stand out from a monochrome outfit.
There are also different types of leather that will make different fashionable statements. Pebbled leather makes for more of a classic look, while Saffiano has a more chic and sophisticated finish. Or go for a bit of fun with croc leather. You could even splash out and invest in one of the best designer bags if you're going to keep this as a wardrobe staple.
9. Gold and silver jewelry
Opt for simple plain gold or silver jewelry. You can go big or small but gravitate toward simple shapes, hammered jewelry, thick rings and hoops are perfect to pair with any outfit.
How the experts wear it:
"It's easy to fall into the trend trap when it comes to accessories and buy statement pieces that will quickly fall out of favor," says Joely. "Instead, build up your jewelry collection with simple gold and silver pieces that stand the test of time.
"Simple huggies or stud earrings are guaranteed to add a touch of class to any outfit, while stacking rings can be worn together or separately and always feel contemporary. Layer simply chain necklaces and pendants over a simple t-shirt to add a luxe finish. Often classic jewelry can help you feel put together and more refined with minimal effort."
Twisted Heart Hoop Earrings: £105 | Missoma
Sponsored
To up the style status of any minimalist outfit, we love these gold hoop earrings that have a little twist to their simple design. If you're all about feeling the love then you'll be taken by these hoops, which are in essence heart-shaped. But if you're not a lover of hearts, the twist on these makes them a lovely addition for anyone. Gold, chunky and just a little bit different to the norm—what more could you want?
10. Little black dress
A little black dress is an iconic piece in any wardrobe, aim for an A-line style, or one with a square neck. The black dress is an effortless look and can be dressed up with jewelry or down with a jumper over the top.
How the experts wear it:
"There is no item as timeless than a little black dress," says Charlie. "Simple and chic, you can always rely on an LBD if you're having a last-minute sartorial meltdown. They work for any occasion (except weddings) and once you've found a style and fit that works for your body shape, you will wear it for years to come.
"An LBD can be styled many different ways too so it looks different every time you wear it. Keep it pared-back with barely-there sandals and delicate jewelry or elevate it with color popping accessories and a printed jacket."