10 minimalist style essentials to build your perfect wardrobe
A minimalist wardrobe made easy with these perfect, staple pieces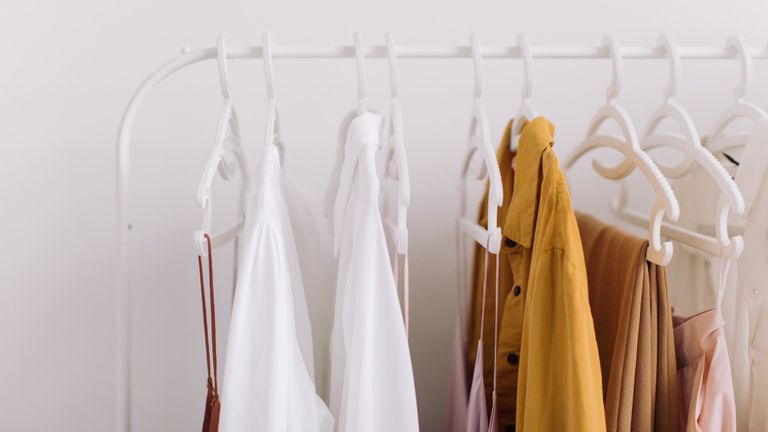 (Image credit: Nina Vartanava / EyeEm / Getty images)
Minimalist fashion never goes out of style. Timeless and endlessly compatible with any other fashion trend, you can pair your essentials with anything - mixing and matching patterns, colours and fit. 
Minimal essentials are staples that re-emerge and effortlessly transition through the seasons. Here are the pieces to look out for to build your capsule wardrobe.
A white t-shirt
White t-shirts are the underrated gems of all wardrobes. Aim for oversized, a boxy shape that can be worn under jumpers, tucked into jeans or worn alone. A white t-shirt is perfect to layer, affordable and available virtually anywhere. 
Alanis T-shirt
Alanis T-shirt
£8.00
WeekdayView Deal
Little black dress
A little black dress is an iconic piece in any wardrobe, aim for an A-line style, or one with a square neck. The black dress is an effortless look and can be dressed up with jewellery or down with a jumper over the top. 
Whisper square neck dress
Whisper square neck dress
£60.00
French ConnectionView Deal
Classic jeans
A staple in everyone's wardrobe, find a fit that is flattering for you like mom, straight leg or skinny fit. Classic blue jeans can be paired with almost anything, dressed up and down and worn throughout the year. Aim for dark or mid blue, these colours will work with most colours and all seasons.
 Levi High Loose Taper Jeans  
 Levi High Loose Taper Jeans  
£110.00
LeviView Deal
A turtleneck sweater
A turtleneck always brings an immediate elevation to an outfit, it's an elegant piece that is great to layer in winter under a jumper or coat and perfect for transitional weather.  
Ribbed turtleneck top
Ribbed turtleneck top
£12.99
H&MView Deal
Smart trousers
A smart pair of treasures can be a godsend when you're stuck for what to wear, they can transition easily between casual to smart. A nice pair of fitting black trousers is really the key to a minimal wardrobe, they will always add a hit of sophistication to any outfit. Look for a pair of suit or cigarette style trousers.  
 High ride Modern Trousers  
High ride Modern Trousers
£15.99
ZaraView Deal
A flattering coat
A long, structured or oversized coat is a perfect addition to your minimalist wardrobe, invest in a good material like wool and aim for a flattering, classic silhouette. Good colours to gravitate toward are the classic, grey, black, cream or camel but don't be afraid of a pop of colour! A minimalist wardrobe doesn't have to mean muted. 
Label collar coat
Label collar coat
£29.99
ZaraView Deal
The white shirt
The white shirt is another key piece you can dress up or down, have it tucked into your black trousers, with some gold chains around your neck for an elegant, clean look. Or have it loose over your jeans for 90's chic style. 
White shirt
White shirt
£14.00
Next
Chunky knit
An oversized chunky knit is a must, you'll see a chunky knit over dresses and jeans all over your social media, they ooze sophistication and effortless cozy style. They're perfect for layering and will add texture to your outfit. Play with oversized pieces, especially in knitwear it can be extremely flattering.  
Oversized wool knit jumper
Oversized wool knit jumper
£65.00
&Other storiesView Deal
Gold and silver jewellery
Opt for simple plain gold or silver jewellery. You can go big or small but gravitate toward simple shapes, hammered jewellery, thick rings and hoops are perfect to pair with any outfit.  
 Chunky hoops 
Chunky gold hoops
£75.00
MejuriView Deal
A black handbag
 The black bag is quintessential for your minimal attire, aim for a good size that can be used for more than just a dinner date, pick a classic shape and hardy material that will last.  
Leather mini bag
Leather mini bag
£69
Marks & SpencerView Deal
Having a minimalist aesthetic to your wardrobe will not only declutter and halve your getting ready time, but is also a sustainable way to shop. Drop fast fashion trends, either invest in pieces of high quality that will last or find pieces that are timeless and you can picture yourself wearing in years to come. You can incorporate thrifting into a minimalist wardrobe, buying second hand you will often find well made pieces for a fraction of the price you would buy new. Minimalism is not limiting in it's choices, you can still get creative with your outfits, it just offers a new way to view your wardrobe, as effortless and convenient.