Our edit of the most romantic Valentine's Day gifts for her
Treat your partner, mum, daughter - or yourself - to one of these thoughtful and romantic Valentine's Day gifts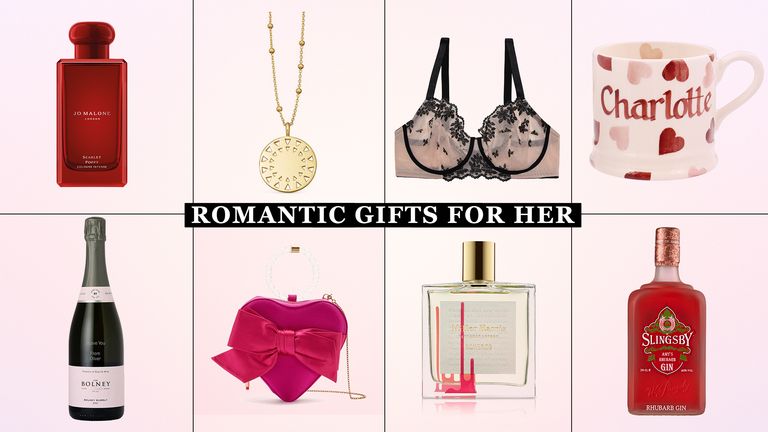 (Image credit: Future)
By Lauren Hughes , Aleesha Badkar published
The best Valentine's gifts for her aren't always easy to come by, especially if the usual chocolates and roses options are feeling a little... tired. It can be all too difficult to strike a balance between unabashedly romantic and a little, well, clichéd.
Having said this, the perfect gift can hit all the right notes, and trust us when we say this carefully curated edit of our most-desired jewelry, fragrance, fine wines, and flowers are the epitome of old-school romance. From an elegant fragrance inspired by the words of F. Scott Fitzgerald's Tender Is The Night, to an engraved locket with an optional extra of personalization for a final thoughtful touch, these are the big dogs when it comes to Valentine's gifts. And if you're looking for something affordable, yet fabulous, our round-up of gifts under $30 won't fail to disappoint.
Valentine's Day is looking a little different this year, with reservations at your favorite restaurant (get practicing those Valentine's recipes!), or spontaneous romantic mini-breaks firmly on hold. But that doesn't mean that romance is out of the window. In fact, if our turbulent recent history has taught us anything, it's the power of human connection. Show the one you love (and by all accounts, that may mean yourself) how much you appreciate them.
Whether you're shopping for the woman that makes your world go round, a pivotal person in your life, or want to show your galentine just how much you appreciate them, we recommend spreading some love this Valentine's Day with a special something. Excuse us, while we treat ourselves to something lovely...
Jewelry gifts
1. Ania Haie Gold Pearl Chunky Drop Earrings
Material: 14kt gold plated on sterling silver with baroque pearl | Colour: Gold | Earring length: 50mm | Pearl size: 6mm x 8mm | Weight: 2.4g | RRP: $67.24
These Ania Haie earrings combine two key trends; chunky gold chains with baroque freshwater pearls. Elegant and timeless, these statement earrings look far more expensive than their affordable price tag. Ania Haie is a relatively new brand on our radar, but these beautiful freshwater pearl pieces are reminiscent of the Duchess of Cambridge's much-coveted Annoushka Ducas drop-pearl earings. These Gold Pearl Chunky Drop Earrings are also available in silver. Whether you're treating yourself - or the special woman in your life - to something special, we're sure these classic earrings won't disappoint even the fussiest of Valentines.
2. Lark and Berry Alicia Diamond Leaf Ring
Material: 14K yellow gold | Colour: Yellow Gold | Leading gemstone: Cultured diamond | Total Diamond Carat Weight: 0.02ct | Sizes: J-P | RRP: $530
This leaf motif ring is a truly spectacular piece of craftsmanship and a very special gift for anyone lucky enough to receive it. Lark & Berry not only offers some stunningly beautiful jewelry pieces, but they're also an ethical jewelry brand. Lark & Berry are proud to be one of the only brands in the world that uses cultured diamonds and stones exclusively in our fine jewelry pieces. What this means, in simple terms is that their diamonds are sourced in an ethical way, meaning no large holes need to be dug up, nor are any human rights violated or animal habitats destroyed.
3. Astley Clarke Celestial Compass Necklace
Material: 18-carat gold-plated sterling silver | Colour: Gold | Leading gemstone: White sapphire | Length: Adjustable chain with three lengths | RRP: $265
Astley Clarke has developed quite the reputation as the jewelry brand at the moment - helped, in part, by a certain Duchess sporting a beautiful necklace from the brand. This locket makes the perfect keepsake and, in the style of a compass that will guide the wearer and keep them grounded, it's a wonderfully romantic gift. The locket features a stunning white sapphire set in the center. You can also have the necklace engraved for a special touch and upload a photo to be positioned inside before the lucky recipient receives this thoughtful gift.
4. Astrid and Miyu Mystic Dreams Simple Huggies
Material: 18k Gold plated Sterling Silver | Colour: Gold | Inner diameter size: 7mm | Outer diameter size: 9mm 50| Suitable for: Forward helix, helix, tragus, lobes, upper lobe | RRP: $59
Sometimes, the best pieces of jewelry are the most simple. Anyone who has ever tried out a jewelry-making kit (or had a go at jewelry-making classes online!) knows that it's classic shapes and designs that often offer the most striking finish. And what makes these simple, yet beautifully-formed, huggies romantic is how the receiver will wear them every day and think of you - the perfect gift for your partner, galentine, or a special family member. And, as the Astrid and Miyu Mystic Dreams Simple Huggies are made from sterling silver, you'll never need to take them off!
Perfume gifts
5. Byredo Lil Fleur
Top notes: Cassis, tangerine, saffron | Heart notes: Damascena Rose| Base notes: Blonde Woods, amber, vanilla| RRP: $270/100ml
Lil Fleur's joyful fragrance was concocted with long summer days and the beauty of new beginnings in mind. With a soft and youthful fragrance that perfectly encapsulates a romantic mood, this scent boots feeling of optimism and hope. "I feel that perfume often tries to capture one idea or one emotion; Lil Fleur is about capturing a complex personality, one we can all recognize. As a brother to a sister and a father to a daughter, in my experience it does not get more beautiful and interesting than the personalities of a young spirit," said Ben Gorham, Creative Director and Founder, BYREDO. And it's all enclosed in a beautiful bottle, too.
6. Jo Malone Scarlet Poppy
Top notes: Ambrette | Heart notes: Scarlet poppy, fig | Base notes: Tonka bean, almond, vanilla, tobacco | RRP: £86/50ml, £134/100ml
It's fair to say that Jo Malone's latest fragrance drop, Scarlet Poppy, definitely looks the part for a Valentine's gift. The cult brand has turned its classic cream and black coloring on its head with this striking deep red bottle that immediately makes you want to soak whatever's inside. And luckily, the scent itself is just as inviting as its housing, with an expertly blended cocoon of ambrette that softens the strong poppy, fig, and gourmand base notes, which are lifted by the touch of smoke at the other end. A true masterpiece that leaves a lingering warmth and a seductive hint of sweetness. And if Jo Malone is good enough for Meghan Markle on Valentine's Day, it's good enough for us...
7. Maison Francis Kurdijan Baccarat Rouge 540
Top notes: Saffron, jasmine | Heart notes: Cedarwood | Base notes: Ambergris | RRP: $255/70ml
Over the years, the perfumes that grace our dressing tables have become somewhat of a status symbol, and Baccarat Rouge 540 is, without doubt, one of the highest olfactory status symbols out there. Not only does it come in a graceful but ornate gold-adorned bottle, but there's a glamorous intimacy to the subtly blended saffron and ambergris that immediately transports you to sexy stolen looks with a brooding stranger across a low-lit, high-end drinks lounge. So whether you're with your significant other this Valentine's Day, celebrating in a long-distance fashion, or in fact spending it practicing some self-love, this is a perfect choice.
---
8. Juliette Has a Gun Musc Invisible
Top notes: Jasmine absolute | Heart notes: Cotton flower | Base notes: White musk | RRP: $135/100ml
If all you want for Valentine's Day is a warm, cozy hug then this will l with its soft, warm, and creamy notes. With an opening touch of powder layered onto musky and floral additions, a spritz of this will not only lovingly wrap you in a bundle of comfort, but will also speak to your other half on a carnal level by replicating those all-important V-Day pheromones. "The smell of musk closely resembles that of testosterone, which means it is more likely to act as a pheromone," says Paul Solly, chief commercial officer at The Fragrance Shop. "Scientists have found that a strong musk scent is particularly attractive to females as a women's sensitivity to musk is almost 1,000 times greater than that of men's—hence it is claimed that musk can act as an aphrodisiac." *Adds to basket*
9. Miller Harris Scherzo Eau de Parfum
Top notes: Tangerine, davana | Heart notes: Olibanum, narcissus, pittosporum, dark rose, peony | Base notes: Patchouli, vanilla, oud, sweet note | RRP: $177/100ml
Is there anything more romantic than a perfume inspired by the words of F. Scott Fitzgerald? With an iconic quote from the writer's Tender Is The Night printed on the front of the bottle, this is sure to get even the biggest of cynics to crack a gushing smile accompanied perhaps by the most endearing of David Rose-esque eyerolls. And this will only be exacerbated of course by the sweet but smoky scent inside. Telltale oud holds its ground while simultaneously being softened by the gourmand vanilla and sweet note, as the floral dark rose and peony additions sing alongside the understated sharpness of tangerine - all coming together like the soul-touching words of a literary great.
Lingerie gifts
10. La Perla Layla lace-embroidered push-up bra
Material: Lace | Size range: 32B-36D | RRP: $200
Nothing screams Valentine's Day more than red lace, so for those looking to heat things up a bit during this cold February, this gorgeous La Perla bra would make the ultimate present. Featuring dainty lace detailing, padded cups, and adjustable shoulder straps, it has everything you might want from a seductive piece of lingerie and has even been crafted from a stretchy material so that it provides comfort at the same time - win-win.
11. Sloggi zero feel lace bralette
Material: Polyamide & Elastane | Size range: XS-XL | RRP: £45
Valentine's Day doesn't have to be all silk and scratchy lace. If you want to treat your loved one to the gift of comfort then Sloggi is the way to go. For anyone who wants that no-bra bra feel, this lightweight bralette is the answer - with lightweight material and softy padded push-up cups that manage to hold up even larger bust sizes. The smooth quality of the fabric also means that telltale digging in seams is a thing of the past and the intricate cutout detail gives the appearance of lace (without all the discomfort you usually get with it) for pretty and practical wear.
12. Playful Promises Gabi Fresh Evie Black & Peach Balcony Bra
Material: Mesh | Size range: 36B-44H | RRP: $52
For those big-busted types who struggle to find quality and good-fitting sexy underwear, Playful Promises is here with their super comfortable and ultra-seductive Curve range. We love this black and peach balcony bra that's made of cheeky nude mesh and embroidered with delicate black flowers. It's non-padded and comes with a wired cup for extra support, plus there is also a matching high-waisted brief available that comes in sizes UK16-UK28/US-12-US24.
Personalised gifts
13. Personalised Bolney Estate Blanc De Blancs
Base ingredient: Sparkling wine | Personalisation cost: £12 | RRP: £30.99
Valentine's Day is just the latest in our long line of excuses to pop a bottle. If you're like us, we'd suggest opting for this mouthwateringly smooth Blanc de Blancs from Sussex-born wine producers The Bolney Estate. Engrave a message for your loved ones onto the front of the bottle (there are a tonne of other wine options available too if you're not a fan of this) and this bottle will make for a gift that keeps on giving. When each drop has been drained, fill it with flowers, squeeze a candlestick in, or - our personal favorite - get some wired string lights and pop them inside for a magical ambiance.
14. Emma Bridgewater Personalised Pink Hearts Mug
Personalization cost: £1 per letter | Size: 1/2 pint | RRP: $36.95
A lovely and thoughtful gift that comes with an even more lovely and thoughtful charity donation. This adorable hand-painted mug will show your love with its dainty hearts and personalization, while the accompanying £5 donation to the British Heart Foundation adds a practical touch to the often-overbearing symbol of a romantic holiday.
15. Missoma Gold Large Cut Out Disc Necklace
Personalization cost: Free | RRP: $201
Sponsored
If in doubt, go for jewelry - and add a personal touch to your glitzy Valentine's Day gift with a meaningful engraving to your loved one. And like the Duchesses Catherine and Meghan, we are obsessed with London-based jewelry brand Missoma, which adorns the wrists, necks, and fingers of any fashion-forward trinket lover these days. This Cut Out Disc necklace is a lovely option for Valentine's Day - bringing bright, positive, and sunny vibes.
16. Personalised Slingsby Rhubarb Gin
Base ingredient: Gin | Personalisation cost: Free | RRP: £41
We all love a cheeky G&T and this positively festive version from Spirit of Harrogate adds a fruity twist to our favorite tipple using locally sourced botanicals alongside Yorkshire Rhubarb sourced from the famous 'Rhubarb Triangle'. Add a name engraving so that your loved one can keep it all to themselves - there's no room for sharing this, even on the day of love.
Special gifts over $100
17. Lulu Guinness Heart Chocolate Box Clutch
Material: Outer 100% polyester, acrylic handle | Special features: Lipstick puller, mirror slip pocket, mirror included | Packaging: Unbranded box with a branded Lulu Guinness dust bag | RRP: $280
We're in love with this adorable chocolate box clutch from Lulu Guinness. There are few fashion items as joyful as a statement clutch and this playful design is the perfect option for date night. We particularly love the special features of this dainty bag, with a lipstick puller and mirror slip pocket for touch-ups on the go. Naturally, this heart-shaped cross-body - or clutch - bag comes in bright fuchsia and sumptuous satin, to amp up the romance. It's safe to say that this signature piece will be a guaranteed talking point and makes the ideal gift for the special woman in your life - or as a treat to yourself.
18. Smeg 50's Retro ECF01RDUK Espresso Coffee Machine
Dimensions: (H)30.3 x (W)14.9 x (D)33.0 | Bar pressure: 15 bar | Water capacity: 1 litre | Power: 1350 watt | RRP: $442
Ok, so say it with Smeg might not have the best ring to it... but we're pretty sure any coffee lover would be completely enamored with this sleek '50s-style espresso machine. With this stunning machine, breakfast in bed just got a whole lot fancier. The built-in milk frother is an added bonus for delicious white coffees, while the thermoblock heating system preserves maximum flavor. Your perfect cup awaits...
19. Hayford & Rhodes The Rose Petal Gift Set
Includes: 750ml Bottle of Whispering Angel rosé wine, 185g Neom Complete Bliss candle and a box of Pink Marc de Champagne truffles | RRP: £125
We never knew one item could perfectly encapsulate all of our favorite things until we came across this beautifully curated box of romantic treats from Hayford & Rhodes. This delightful brand comes up with all sorts of winning combinations - and this one is the perfect Valentine's treat. The Rosé Petal Gift Set comes beautifully presented in a Hayford & Rhodes navy blue gift box tied with limited-edition luxe velvet ribbon. The rose petals themselves are hand-selected by Hayford & Rhodes florists, so each box is truly unique. Use the petals to set the scene for a romantic evening, filled with delicious wine and chocolates.
---
Thoughtful gifts under $30
20. Fox & Ivy Alphabet Mug
Colours: Seven different colours - from blue to pink | Letters: The entire alphabet | RRP: £3.50
When it comes to romance, a personalised gift always wins. And if you're on a budget - or just fancy buying something sweet on impulse for your significant other - this lovely Fox & Ivy mug is definitely a winner. With an ethereal floral pattern, and emblazoned with your loved one's initials, it's a nice way of letting them know that you're thinking of them as they drink their morning cup of coffee.
21. Van Hunks Sparkling Rosé Mead
Base ingredient: honey, yeast, water | Flavour: rosé | RRP: £25 - free delivery within the UK
Does anything say Valentine's Day more than sipping on a glass of sparkling rosé? We think not. And this particular fizzy treat comes all the way from South Africa and one of the world's most romantic destinations - Table Mountain. Van Hunks offers a deliciously dry alternative to Sparkling Wine, made from all natural ingredients including honey and hibiscus. If sparkling mead is a new concept to you, it's actually a delicious alternative to champagne made from honey instead of grapes. Delicious, and we love the stunning packaging, making this an extra special gift.
22. Lacura Ebony Rose Face Cream
Ingredients: Black rose extract, pro-vitamin B5, shea butter, vitamin B3, avocado oil | Cruelty-free | RRP: £6.99 for 50ml
Give the gift of great skin this Valentine's with this luxe-for-less brand from Aldi. Aldi's new cruelty-free Lacura Ebony Rose skincare range has Valentine's twist, harnessing the power of Black Rose to ease fatigue and brighten skin. This line may look familiar, as it's been compared in the beauty world to leading skincare brand Sisley Paris (Meghan Markle's reportedly favorite skincare brand) in terms of both packaging and ingredients. But with a saving of 95%, this could be the perfect affordable treat for some Valentine's self-care.
23. World of Zing Saffron & Rose Gimlet
Flavor: Saffron and rose | Ingredients: Tanqueray Gin, rose liqueur, saffron, lime | To serve: Pour 100ml into an ice-filled tumbler, or shake into a martini glass | RRP: $17.96
We may not be able to go out for cocktails right now, but that doesn't mean you can't recreate the experience at home - especially when World of Zing has done all the hard work for you! World of Zing has a whole host of delicious flavors to try, starting with the unique saffron and rose gimlet combo. A British company specializing in unique cocktail combinations, World of Zing ship their delicious creations all over the world. With bottles as pretty as the drinks inside, you - or your love - may also want to keep the glass bottle for story blooms after the big day.
24. & Other Stories Scarlet Red Lipstick
Shade: Scarlet Red | Finish: Matt | RRP: £13
Nothing sums up Valentine's Day more than a classic red lip. We're partial to MAC's iconic Ruby Woo shade, but it looks like this arrival from & Other Stories could be a strong contender for the perfect red. Long-lasting and highly pigmented, this clever lippie will moisturize your lips while you wear it for a long-lasting matte pout. Treat yourself to a new look this Valentine's, or offer to the one you love - whether that's a partner or best friend - as a thoughtful gift makeup lovers will cherish. As an added extra to this powerful pout enhancer, blurring ingredients reduce the appearances of fines lines and wrinkles giving a soft-focus effect on the lips.
25. Bloom & Wild The Celebration Blooms
Packaging: Brown paper with a gift tag for personalisation | Flower variety: roses, wildflowers and foliage | Includes: Flowers, brown paper, ribbon and flower food | RRP: £40
These stylish blooms look far more expensive than their very reasonable price tag and are a welcome departure from the typical dozen red roses. These feel-good flowers are romantic in a much more subtle way, showcasing vibrant wildflowers and roses with delicate foliage. Treat yourself, or the special woman in your life, to a classic - yet always romantic - surprise. These special bouquets come perfectly pre-arranged by Bloom & Wild's florists, so all you need to do is cut the stems and pop them in water!
26. American Originals Chocolate Fountain
Power: Mains operated | Tiers: 2 | Includes: 100 bamboo skewers & 2 x dipping trays | RRP: £29.99
We think we'd give the moon, sun, stars, and everything in between to the kind soul who offered up a chocolate fountain (with all the dipping trimmings) to us on Valentine's Day. A delicious way to spend an evening, this chocolate fountain will make the big day into a more delicious affair. Great for dipping fruit, marshmallows, nuts, and just about any sweet treats you can dice up and pop on a skewer. This set includes 100 bamboo skewers and 2 dipping trays, for all your chocolatey needs.
---
Lauren is deputy editor at woman&home.com in the UK and became a journalist mainly because she enjoys being nosy. With a background in features journalism, Lauren has worked on the woman&home brand for four years. Before woman&home Lauren worked across a variety of women's lifestyle titles, including GoodTo, Woman's Own, and Woman magazine. After starting out working for a local paper in Yorkshire, her journalism career took her to Bristol where she hunted out stories for national papers and magazines at Medavia news agency, before landing a job in London working as a lifestyle assistant.
Lauren loves helping people share their stories, bringing experiences to life online, honing her interview techniques with everyone from authors to celebrities, headteachers to local heroes. As well as having a good nose for a story, Lauren has a passion for the English language and years of experience optimizing digital content to reach the widest audience possible. During her time at w&h, Lauren has worked on big brand campaigns like the Amazing Women Awards and assisted in developing w&h expert-approved Buyer's Guides—the place to go if you're looking to splash out on an important purchase and want some trusted advice. In addition to her journalism career, Lauren also has a background in copywriting for prestigious brands such as Inhabit Hotel, eco-development K'in in Tulum, social enterprise The Goldfinger Factory and leading London architect Holland Harvey, using language in all its glorious forms, from detailed guidebooks to snappy social content.
A big fan of adventure, Lauren is also a keen travel writer and loves sharing tips on where to find the best places to eat, drink, and be merry off the beaten track. Lauren has written a series of travel guides for London hotels and loves sharing her insights into a destination's cultural and culinary offerings. If you need a recommendation on any UK destination, she's more than happy to help. At the weekend, you'll usually find her hanging out with her pet cat (or anyone else's pet she can get her hands on), escaping to the countryside, or devouring a good book.
Follow her adventures @laurenkatehughes
Twitter: @laurenkhughes
LinkedIn: Lauren Kate Hughes
Email: lauren.hughes@futurenet.com