Discreet vibrators that work secretly under a clever second function
Meet the next-gen secret vibrators that use multitasking functions to enhance EVERY facet of your life – and beyond giving you an orgasm, you'll be surprised what else they can do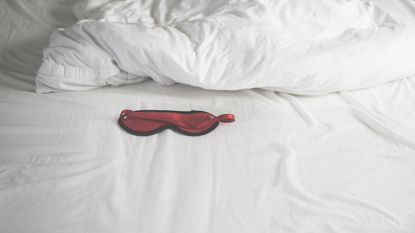 (Image credit: Getty)
While there's no shame in indulging in masturbation, some of us still like to keep that side of our lives to ourselves. So when it comes to picking the right sex toys, secret vibrators that discreetly masquerade under another use can help us enjoy our self-love time without being left red-faced for the wrong reasons.
And while we may have thought that secret vibrators might be challenging to seek out, it turns out that some of the best vibrators (opens in new tab) out there actually come with a secret second function. And we don't mean the kind of second function that the best rabbit vibrators (opens in new tab) offer (with both vaginal and clitoral stimulation), we mean picks that hide the vibrator function completely. So for those of us who feel shy about masturbation, they're a great choice to make sure we're not missing out on all of the health benefits of using a vibrator (opens in new tab).
Not only is masturbation said to help circulation to boost your memory and release endorphins to relieve stress, but it's also meant to decrease blood pressure and fight menopausal symptoms, including dryness and the narrowing of the vagina that can cause pain during sex. Plus it releases the feel-good hormone oxytocin to help us feel perkier no matter what trials we're facing.
So we've rounded up the best secret vibrators that can help you get your oxytocin fix without leaving you blushing - well from embarrassment at least...
Best secret vibrators that masquerade under a second function
1. Lovehoney classic mains powered magic wand vibrator
Best for aching muscles
Specifications
Secret vibrator second function: Body massager
No. of vibration levels: Multiple speeds
Waterproof: No
These handheld heroes have evolved from massager products, which athletes used to treat aching limbs, so it's no wonder they can help achy muscles after a workout. Magic wands are becoming so popular, as they are a great choice for people who enjoy intense stimulation. Once you feel better, you can secretly use it in a more intimate area and prioritize your own orgasm every day. Win-win!
2. Vibease Bluetooth erotica rechargeable responsive knicker vibrator
Best for reading you an erotic bedtime story
Specifications
Secret vibrator second function: Syncs up with an erotic audiobook
No. of vibration levels: Five
Waterproof: Splashproof
Calling all lovers of books (opens in new tab)! Loved reading Fifty Shades Of Grey? Then you'll adore this small but mighty secret clitoral vibrator. Not only does this toy have five intense vibes, which really hit the spot, but it can sync up to some top erotic audiobooks (via an app). This means you can listen along to a saucy story, hands-free, and your mind and body will both be stimulated at the same time.
It's something new to try if you have a drawerful of vibrators already. You can even close your eyes if you want to. There's definitely no more being turned off as you stop to turn the page.
3. Little Rooster alarm clock vibrator
Best for waking you up with an orgasm
Specifications
Secret vibrator second function: Alarm clock
No. of vibration levels: 30
Waterproof: No
Us 'permanently exhausted pigeons' are all constantly wondering how to sleep better (opens in new tab) but did you ever consider that your everlasting fatigue may have something to do with how you're buzzed awake in the morning? Well, imagine if you will, a world in which your alarm clock induces joy, rather than misery - that's the promise of Little Rooster.
The vibrating alarm clock – worn inside your underwear (but outside your body) for a fully secret experience – wakes you up with gentle vibrations, which gradually increase, over the course of five minutes, to your chosen level. There are 30 power levels, the first 27 of which are, apparently, virtually silent. It's phthalate-free and comes complete with travel lock, one-year warranty and, yes, a snooze mode.
All the vibrators here are popular, but this one has won rave reviews from users, some of whom have taken advantage of its portability to liberate it from the confines of the bedroom – like the woman who set hers to go off 20 minutes into a blind date. Well, it's certainly one way to ensure a satisfying evening out.
4. Coco de Mer Crave Vesper vibrator necklace gold
Best for jazzing up your décolleté
Specifications
Secret vibrator second function: Necklace
No. of vibration levels: Three
Waterproof: Yes
Going away? Then you might prefer something a little less conspicuous. And, thankfully, not all vibrators look like sex toys. Billed as an "intense intimate pleasure accessory", the Crave also doubles up as a chic pendant.
This is one vibrator that won't leave you red-faced at airport security, and with three vibration intensities and a pulsing mode, departure-lounge waits will take on a whole new dimension. Handily, Crave is also USB rechargeable and will look completely discreet sticking out of your laptop as you wait to recharge its batteries.
5. LELO Siri 2 luxury clitoral vibrator
Best for music fans
Specifications
Secret vibrator second function: Syncs with music
No. of vibration levels: Eight
Waterproof: Yes
Keen singer? Well according to vocal coaches, this vibrator is a great massage tool for the larynx! So you can incorporate this into your vocal warm-up without your music group buddies being any the wiser and then whip it out for the real fun when you get home.
The Lelo Siri 2 boasts eight vibration settings associated with the rhythms of different styles of music – classical, reggae, rumba, folk, hip-hop, soul, techno and jazz. But set it to "sound responsive" mode and its vibrations will sync with the sounds in your ambient environment, from your favourite CD to your lover's voice and even, apparently, your own sighs! It's guaranteed to make your next music concert an unforgettable experience…
Not quite ready to risk a public When Harry Met Sally moment? Why not run a bath and crank up the sound system instead, as this is 100% waterproof.
6. Svakom Siime Camera Vibrator
Best for video call fun with your other half
Specifications
Secret vibrator second function: Camera
No. of vibration levels: Six
Waterproof: Splashproof
While this isn't the most inconspicuous vibrator we've come across, its camera function does mean you could almost get away with claiming that this is some savvy next-gen selfie stick. The Svakom vibrator, dubbed the "vaginal selfie stick", boasts a built-in illuminated HD camera, allowing you to create a very personal sex tape. And, thanks to its FaceTime compatibility, you can even share the footage with a partner in real-time! If you haven't channeled your inner voyeur yet, now could be the perfect time.
7. Lovehoney Oh! Kiss Me Lipstick Vibrator
Best for makeup fans
Specifications
Secret vibrator second function: Looks like a lipstick
No. of vibration levels: 1
Waterproof: Splashproof
What's more secret than a vibrator that looks like a designer lippie? While this one doesn't technically come with a second function, it's probably the most discreet you're going to get when it comes to trying to hide what it is. And with a compact size that you can take anywhere and one consistent speed setting it's good for those occasions when you're strapped on time and want a 'quickie'.
A survey conducted for Superdrug Online Doctor did reveal that 88% of women masturbate, carving out an average of two 13-minute sessions per week. So for the 12% who have let self-pleasure slip under the radar, using this discreet vibrator could be exactly what they need to help them just back on the proverbial wagon.
8. LELO Smart Bead
Best leave-in vibrator
Specifications
Secret vibrator second function: Strengthen pelvic floor
No. of vibration levels: 5
Waterproof: Yes
Okay so not really one that masquerades under another use, but this leave-in vibrator is VERY discreet and does come with a second function, so bear with us...
We all know that Kegel balls can help us improve our pelvic floor muscles and many of us have also probably come to realise that they can sometimes help to stimulate sexually (especially after seeing THAT Fifty Shades scene). But LELO's Smart Bead takes the sexual stimulation aspect to a-whole-nother level with its addition of delicate vibrations.
Simply turn this on, pop it inside you and follow the device's 'squeeze & relax' routine for the ultimate stimulation. We wouldn't leave this in for too long, but it's definitely one for if you want a hit of discreet pleasure.