Best lightweight moisturizers—fresh formulas that don't compromise on hydration
Our tried-and-tested guide to the best lightweight moisturizers —perfect for oily skin or warmer days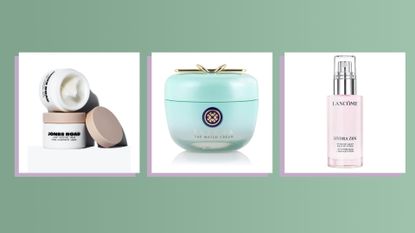 (Image credit: Future)
The hunt for the best lightweight moisturizers that provide hydration without a heavy feeling can feel like Catch 22. Many times, what makes them great hydrators can be the very thing that works against them.
Confused? Let us explain. Typically, moisturizers designed for a daily skincare routine have a rich texture that, although nourishing, can feel uncomfortably gooey or even downright unbearable on certain skins. Those with oily skin, in particular, can find regular moisturizers suffocating, and rightly so. "Products that are thick on consistency, such as heavier moisturizers, retain all the oil and sweat the face has produced, causing the skin to become congested," explains Tammy Richards, health practitioner at PureOptical. "This causes a build-up of bacteria which, combined with excess oil production results in clogged pores, a risk of blackheads and breakouts."
Although using moisturizers as skincare for oily skin feels counterintuitive, science supports that wearing moisturizer helps maintain normal oil levels, as without it your skin may try to compensate with more sebum, which can lead to acne and clogged pores. The trick to getting this delicate balance right is finding and wearing the best lightweight moisturizer to add just what your skin needs, nothing more.
How to choose the best lightweight moisturizer
Why you can trust Woman & Home Our expert reviewers spend hours testing and comparing products and services so you can choose the best for you. Find out more about how we test.
Skin type: Dry skin is a type lacking in oil, while dehydrated skin can be any type including oily but is lacking in water. "Dry skin will look visibly dry and flaky, even rough and cracked in extreme circumstances," says Richards, "whereas dehydrated skin looks duller, with an uneven complexion." Knowing which category you fall under will help you choose whether to go for a water-based or oil-based moisturizer.
Base: "If you have extremely dry and flaky skin, then an oil-based product may work better for you as dry skin produces less sebum than normal," explains Richards. "However, if your skin is dehydrated, a condition caused partly by a lack of water, then water-based products will most definitely be a good choice."
Key ingredients: For light, non-clogging hydration Richards recommends looking for hygroscopic humectants such as Hyaluronic acid which slows water evaporation, holding it in the skin. Beauty Mogul Bobbi Brown's go-to in the best lightweight moisturizer is niacinamide aka Vitamin B3. "It offers so many benefits: In addition to being hydrating, it softens the appearance of fine lines and wrinkles and softens hyperpigmentation. Beyond that, it also regulates the amount of sebum your skin produces," says Brown.
Texture: The best lightweight moisturizer is one that you love enough to apply regularly, so comfort is key. "Avoid heavier creams and instead look for water-based gels," Richards recommends. "Or, if you're more susceptible to drier skin, lotions—their higher water content means they're more soothing than a heavier cream." It's probably best to avoid anything too heavy or occlusive (unless you've been reading up on what is slugging and are keen to try the trend)
The best lightweight moisturizers, by our beauty team
1. Clinique Dramatically Different Hydrating Jelly
Best lightweight moisturizer overall
Specifications
RRP: $32.50/£32
Texture: Gel
Targets: Dryness, pollution-exposed skin
Ingredients: Clean Shield Technology (blend of sunflower seed cake, barley extract, cucumber fruit extract), hyaluronic acid
Fragranced: No
Reasons to buy
+
Oil-free formula is very light
+
Non-sticky; perfect under makeup or SPF
+
Formulated for most skin types
+
Unscented
Clinique's Dramatically Different is a classic skincare line, and it's no surprise that this super-light, oil-free variant is an absolute hit. Formulated for all skin types (although we'd always patch test for super sensitive skin), this spread neatly and evenly on our combination skin, and the clear gel is a fun, refreshing take on the original DD lotion. This one is also mineral oil-free, doing away with a common complaint about the original formulation.
Let's start with the small stuff: The gel is straightforward to use and feels contemporary; it definitely has a crisp, gender-neutral, Instagrammable appeal. We enjoyed the cooling effect, and appreciated the fact that it was non-fragranced, although there is a natural, ozone-y scent that immediately dissipated upon application.
Ingredients-wise, Clinique's trademarked Clean Shield Technology is a mix of antioxidants that fight the ravages of pollution by strengthening the skin barrier, while trusty hyaluronic acid does its part in rehydrating parched skin. Oily skin types will appreciate the non-greasy way in which this all happens, and though not marketed as mattifying, it did leave our skin with a slightly diffused glow which we found pretty nifty to work with under makeup. All in all, this is a simple-to-use yet cleverly formulated product. It offers hydration, won't irritate sensitive skins, and the light gel is the best lightweight moisturizer texture for anyone who just can't wear heavy creams.
2. Tatcha The Water Cream Oil-Free Pore Minimizing Moisturizer
Best luxury lightweight moisturizer
Specifications
RRP: $68/£49
Texture: Translucent gel cream
Targets: Dryness, enlarged pores, dullness, uneven texture
Ingredients: Hadasei-3 (green tea, rice, algae), Japanese wild rose, Japanese leopard lily
Fragranced: No
Reasons to buy
+
Oil-free and very refreshing
+
Non-comedogenic
+
Dermatologist-tested
+
Mineral-oil-, sulfate detergent-, urea-, synthetic fragrance-, and cruelty-free
The name says it all: Tatcha The Water Cream was practically branded for the oil-adverse crowd, but we'd be remiss to chalk this up to a simple marketing ploy. Premium Japanese botanicals are the hero of this fan-favorite, which boasts nearly 290,000 likes on Sephora alone.
Not only is the water-gel texture refreshing in and of itself, but the cooling sensation is also a welcome plus when faced with stuffy central heating or warm, humid days alike. Let's not get lost in the details, however, as it's the trademarked Tatcha blend that makes this pricey pick worth paying attention to. Antioxidant-packed hadasei-3 (a concoction of green tea, rice, and algae), along with Japanese wild rose to refine skin texture and leopard lily for oil regulation and cell turnover all work in tandem to provide that poreless, luminous finish that put Tatcha on editor's lists everywhere.
The packaging is what you'd expect from the best face moisturizers at the luxury end of the market, which means it comes with a delightful gold spatula for scooping, as well as looking gorgeous on your vanity. For travel, this watery formula decants neatly too, meaning you can enjoy quenched, smooth and supple skin on any vacations you're lucky enough to be taking.
3. L'Oreal Paris Hydra Genius Daily Liquid Care for Normal to Oily Skin
Best drugstore lightweight moisturizer
Specifications
RRP: $17.99/£9.99
Texture: Lightweight gel
Targets: Dryness, dullness, excess oil
Ingredients: Aloe water, hyaluronic acid
Fragranced: Yes
Reasons to buy
+
Transforms into water texture
+
Feels invisible
+
Offers up to 72 hours of moisture
+
Reasonably priced
Lightweight, continuous hydration for up to three days is the name of the game with L'Oréal Paris Hydra Genius Liquid Care. Obviously, there's not much chance we would leave any product on, unwashed and unbothered by other skincare steps, makeup et al, for a full 72 hours. But we surmise from our testing that should we need reliable, long-lasting moisture (for a long-haul flight, full day at work, or a trek outdoors) this humble, minimalist pick would totally deliver the goods.
The secret is their simple combo of aloe water and hyaluronic acid, hygroscopic humectants that keep water from evaporating thus locking moisture onto the skin. The watery formula also gave an expectedly easy glide and felt light and unobtrusive under makeup, particularly due to its specialized mattifying properties. Formulated for balanced to oily skin, this is also a good pick for travel (the pump renders it handy on the go) and a warm-weather staple that's easy to commit to every day.
4. Nuxe Merveillance Lift Firming Powdery Cream
Best lightweight moisturizer for blurring
Specifications
RRP: $61/£40
Texture: Cream
Targets: Firming, hydration, pore-blurring
Ingredients: Micro-Algae Oil, squalane, glycerin
Fragranced: Yes
Reasons to buy
+
Light yet skin-plumping texture
+
Targets multiple skin concerns
+
Unique soft-focus finish
+
96% natural origin ingredients
Sometimes using the best lightweight moisturizer for oily or congestion-prone skin means sacrificing an element of sensorial pleasure. Water gels and light lotions feel fresh and won't smother the skin, sure, but if you find you miss the buttery 'slip' and luxurious feel of a trad cream then this could be the one for you. It manages to combine the benefits of easy absorption and oil-control properties with a glorious, mousse-like texture that feels like a luxurious treat to apply.
This isn't all texture though, serious thought has been given to active ingredients by the natural-leaning French brand. The main USP is the inclusion of microalgae oil, an elegant complex for skin replenishment that builds up the skin barrier to prevent natural epidermal water loss and sensitivity. The formula is not entirely oil-free, but the plant-based oils it does include such as macadamia and vegan squalane are known to nourish and balance the complexion, rather than clog it up. The finish of this cream is, not as powdery as the name suggests, but lightly soft focus, smoothing over pores and taking down excess oil. As with much French skincare, this is scented with a light musky flower fragrance, it's not offputtingly strong but if you are very reactive it may not suit.
5. Jones Road Light Moisture Cream
Best lightweight moisturizer for dry skin and mature skin
Specifications
RRP: $38/£27
Texture: Cream
Targets: Dryness, roughness, enlarged pores, uneven tone, dark spots
Ingredients: Niacinamide, propanediol, panthenol
Fragranced: No synthetic
Reasons to buy
+
Little goes a long way
+
Plant-derived provitamin B5
+
Free from many known irritants
+
Light natural fragrance
Reasons to avoid
-
Might be too creamy for oily skin
This would be the best lightweight moisturizer for skin that skews dry, has become dryer over the years or has texture issues all year round. The feel of the cream is one of substance—the lighter side of creamy without being greasy—which Brown says is perfect as a primer for makeup products; we definitely saw less drag after using it, as well as a subtle glow under our best lightweight foundation. We also tried it on our combination skin as a spring substitute for our night cream and are happy to report a smooth, supple finish come morning.
Another tiny detail we appreciated, on top of the brand's clean beauty ethos, was the super-faint natural citrus smell which adds to the overall chic appeal. Although those on the oilier side of things might balk at the idea of a cream, the wonder ingredient niacinamide, which does due diligence in reducing the appearance of enlarged pores and dark spots, just might win them over. We love this pick for mature skin and those experiencing hormonal dryness—its plumping ingredients do wonders for any crepey areas that need a bit of help, like our neck and jawline.
6. Lancome Paris Hydra Zen Anti-Stress Glow Liquid Moisturizer
Best light moisturizer for combination skin
Specifications
RRP: $45/£39
Texture: Light milky lotion
Targets: Dryness, distressed skin, tightness, dullness, uneven texture
Ingredients: Amino acids, hyaluronic acid, aloe vera, rose extract
Fragranced: Yes
Reasons to buy
+
Immediate soothing sensation
+
Silky and featherlight feel
+
Non-pilling, fast-absorbing
+
Formulated for all skin types
Reasons to avoid
-
Rose scent may be off-putting for some
We can't lie: The first thing that greets you is that signature Lancôme rose fragrance, which, depending on your opinion of the best perfume for women, could be the best or worst thing (personally, we like it) The scent is light enough to dissipate after a few seconds, so is not a deal-breaker by any means. The spreadability of Hydra Zen Anti-Stress Liquid Moisturizer is exceptional. It's a milky liquid that comes out pure white, turning invisible as it's applied to leave a soft, smooth, non-tacky result. Our skin looked naturally glowy but with a more even texture; we wore it under makeup with zero issues.
Ingredients-wise, it's an antioxidant-forward blend of 11 amino acids to fight and protect against external aggressors like pollution. Aloe vera and rose extract give the moisturizer its soothing, calming properties that help against tight, irritated skin, while hyaluronic acid hydrates. The alcohol-free formula also makes it non-drying, and it's this well-rounded mix that makes it ideal for combination skin that can skew dry or oily. Its lightweight formula has integrity and is able to address both skincare concerns. Of everything we tested, this was our favorite under foundation due to its almost water-like consistency. Drier skin types might want something thicker and more emollient, but we found this the perfect pre-SPF, pre-makeup base.
7. Honest Beauty The Daily Calm Lightweight Moisturizer
Best lightweight moisturizer for sensitive skin
Specifications
RRP: $29.99/£22
Type: Lightweight cream
Targets: Dryness, redness, irritation, reactive skin
Ingredients: Calming Phyto-Blend (Phytosterols and Phospholipids); micro-hyaluronic acid; Liquid Crystal Technology
Fragranced: No
Reasons to buy
+
No-nonsense
+
Highly spreadable
+
Dermatologist-approved; hypoallergenic
+
Paraben-, phthalate-, PEG-, dye-, fragrance-, and cruelty-free
+
Vegan
Reasons to avoid
-
Might feel sticky for oily skin types
If you want a light moisturizer that also calms irritated, inflamed skin, look no further than this unpretentious, gentle cream. Although it's not as flashy as the others on this list, it's most certainly a lighter formulation than your regular cream and provides a just-right emollient feel that sensitive, reactive skin types can appreciate.
The main draw is its calming phyto-blend made up of barrier-strengthening lipids that visibly reduce redness and soothe skin. We tested it after cleansing and treating our skin with our best vitamin C serum, and felt that any post vit-C tightness and redness were quieted upon application. Micro-hyaluronic acid is known to penetrate deeply into skin for long-lasting hydration. What did that mean for us? Our skin felt soothed, protected, and primed for SPF. Our complexions looked even and felt comfortable while the slightly creamier formula made the foundation a breeze to apply.
As the name suggests, this is a great pick for sensitive skin that can get particularly vulnerable during hotter, more UV-exposed months. We wouldn't look any further.
8. Versed Dew Point Moisturizing Gel-Cream
Best vegan lightweight moisturizer
Specifications
RRP: $14.99/£10.12
Texture: Translucent jelly-like cream
Targets: Dryness, distressed skin, inflammation
Ingredients: Green tea leaf extract, aloe leaf juice, niacinamide, sodium hyaluronate
Fragranced: No
Reasons to buy
+
Transparent jelly spreads smoothly
+
Feels comfortable under makeup
+
Clean beauty formulation
+
Sustainable
+
Very affordable
It's not hard to see why Versed Dew Point Moisturizing Gel-Cream is such a prominent player in vegan moisturizers: Not only do they walk the walk by formulating their products to the European Union standards (avoiding 1,350 questionable ingredients in doing so), they also talk the talk by using ingredients free from "marketing jargon," have signed the UN's Climate Neutral Now (opens in new tab) pledge, and purchased 2,600 tons of certified carbon credits to offset any of their emissions.
Now to the product: It's a translucent jelly that glides onto skin, with a light consistency that feels cool and refreshing during the hotter months. It's a textbook summer moisturizer that also works brilliantly for those with oilier skin or are fans of a lighter consistency, which makes this pick a no-brainer for those that hit all of the above. Versed are touted as famously unfussy, and we appreciate the clear, direct benefits we get from this ingredient list: Green tea extract is the hero antioxidant here that, together with niacinamide, calms inflammation and fights free radical damage, while aloe leaf juice and sodium hyaluronate hydrate skin. (Sodium hyaluronate has a smaller molecular weight than traditional hyaluronic, meaning it penetrates deeper and is more shelf-stable.
If you're all about clean beauty Dew Point is as clean as it gets, and the most logical decision you can make when it comes to sustainable yet high-performing skincare.
9. Glow Recipe Watermelon Glow Pink Juice Moisturizer
Best glow-boosting light moisturizer
Specifications
RRP: $39/£36
Texture: Lightweight gel-liquid
Targets: Dryness, acne, dark spots, aging
Ingredients: Watermelon extract, hyaluronic acid, jasmine and peony extract
Fragranced: Yes
Reasons to buy
+
Oil-free
+
Formulated for all skin types
+
Ultra-light gel
+
Fresh, cooling sensation
+
Skin has a bouncy glow
Reasons to avoid
-
Watermelon scent might be off-putting for some
Glow Recipe Watermelon Glow Pink Juice Moisturizer is worth the hype for results alone (and we haven't talked about that scent yet). Watermelon is well-known in Korean skincare circles for its soothing properties on irritated and inflamed skin due to its vitamin- and amino acid-rich extract. To add to the goodness, soothing botanicals like jasmine and peony extracts provide another one-two antioxidant punch. Unsurprisingly, rounding out this bounce-inducing moisturizer is hyaluronic acid, which adds to the plumping factor.
We found that this felt delightful after cleansing with cool water and like next to nothing under SPF and makeup—pretty much all you need in a summer moisturizer. And, naturally, that fresh, fruity watermelon fragrance was a sheer delight in our books, as it didn't come across as too sweet and politely quieted down into a faint neutral scent after a few minutes.
As far as K-Beauty moisturizers go, this iconic moisturizer achieves that famed glass skin effect when layered with a serum, and nails the cute-yet-effective, youth-enhancing ethos that separates Korean innovations from the rest. It's also fairly low-stakes thanks to the unusually reasonable price for a calming, plumping, and yes, glowing, effect.
---
woman&home thanks Tammy Richards of PureOptical (opens in new tab) and Bobbi Brown (opens in new tab) of Jones Road (opens in new tab) for their time and expertise.
A lifelong creative writer and beautyphile, Eunice Lucero-Lee graduated from De La Salle University in 2002 and was hired a year later to front all beauty coverage for Pink Magazine. A beauty, astrology, and pop culture obsessive and insider for over 18 years, Eunice is an internationally published editor (and now certified astrologer) whose work has been featured in publications such as Cosmopolitan, Esquire, and The Numinous, among many others.