The best romantic movies to get your heart fluttering in 2022
This critic's picked the best romantic movies to get you through these dark winter nights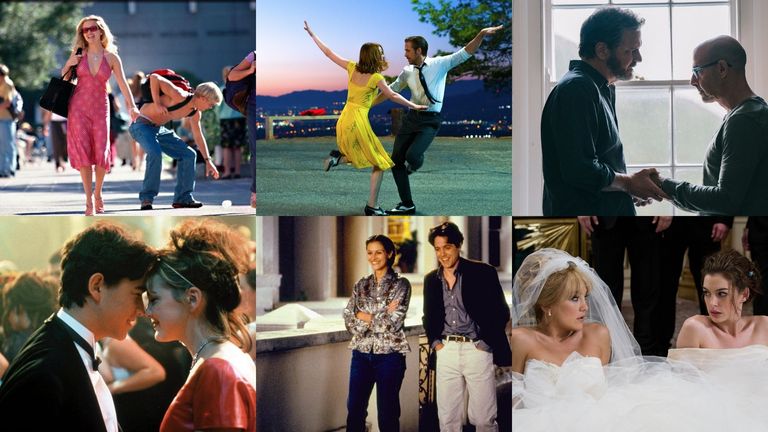 (Image credit: Future// Images left to right and top to bottom: Image 1: 20th Century Fox // Image 2: Lionsgate // Image 3: StudioCanal // Image 4: Buena Vista Pictures // Image 5: Universal // Image 6: 20th Century Fox)
The best romantic movies will soon have you feeling all the emotions as whether you're crying at the what-if moments or rejoicing in a heartfelt reunion, there's plenty for everyone to enjoy this Valentine's Day.
Once you've settled on the best Valentine's Day recipes for a deliciously romantic meal, or sought out the best flower delivery services to give your loved ones the perfect surprise, the next thing on your mind will likely be a romantic movie to enjoy. And when it comes to the best romantic movies out there, you're spoilt for choice!
From brand new films that will have you laughing and crying in equal measure, to classic rom-coms that never fail to give you the feels no matter how many times you watch them, there's something for everyone. The only difficulty lies in choosing the ultimate love-story line-up as February looms, but now you can relax and select from the top tier films on everything from Netflix to Disney Plus.
Here we reveal the best romantic movies to add to your to-watch list this Valentine's Day…
Best romantic movies on Netflix
Notting Hill
As all fans of rom-coms will know, if you see Julia Roberts on the cast list, it's likely to be a classic well worth watching. And London-set Notting Hill is certainly no exception, with Hugh Grant playing bookstore owner William Thacker whose path unexpectedly crosses with A-List Hollywood actor Anna Scott. What starts out as a rather unlikely romance soon develops, but with paparazzi trying to track Anna down at every turn, love is never easy!
Legally Blonde
As fans of the original films wait eagerly for further news about the upcoming Legally Blonde 3, there's nothing like watching the romantic movie that started it all off. Reese Witherspoon's bubbly blonde lawyer Elle Woods is a hero you can't help but root for as she sets out to get back her boyfriend, only to discover her own hidden talents. Snaps for Elle as she makes her choice in the closing moments!
Silver Linings Playbook
Inspired by the Matthew Quick novel of the same name, Silver Lining's Playbook has an impressive cast including Jennifer Lawrence, Bradley Cooper and Robert De Nero and takes place in Pennsylvania. Full of emotion and hope, this film follows Pat as he attempts to win back his wife after returning home from a psychiatric hospital to live with his parents. Enlisting the help of young widow Tiffany, everyone's relationships are under the spotlight in this heart-warming tale.
Friends with Benefits
This classic tale of friends discovering their connection might go deeper is set in New York City and sees Dylan (played by Justin Timberlake) and Jamie (played by Mila Kunis) come to an agreement. No strings attached sex is on the table, with neither believing that feelings can arise out of this situation. Soon, though, they discover that they might not have been quite right about this. But whether or not they return the other's feelings remains to be seen… Fun, contemporary and a great romantic movie to add to your list.
Mamma Mia
Whether you're going to celebrate Valentine's Day with a partner, friends or even by yourself, Mamma Mia is the perfect choice to liven up your evening with some classic ABBA tunes. With its all-star cast including the brilliant Meryl Streep, Julie Walters, Christine Baranski, Pierce Brosnan, Colin Firth and Amanda Seyfried, you'll soon be singing along as you watch romantic moments unfold on a stunning Greek island.
How to Lose a Guy in 10 Days
Whilst some of the best romantic movies draw their inspiration from books, anyone who loves comic books in particular might recognize the character and storyline of this hilarious classic based on Jeannie Long and Michele Alexander's work. Writer and "How to" expert Andie becomes inspired to write her best article yet: how to lose a guy in just 10 days. Unfortunately for her, her man of choice, Ben, has recently bet his boss he could make any woman fall in love with him in 10 days. With that dichotomy as a premise, it's no surprise that the film has double the brilliant moments.
The Notebook
A tear-jerker if ever there was one, The Notebook has long been considered an absolute must-watch and one of the best romantic movies around. Rachel McAdams and Ryan Gosling star in this tale of love across social circles. Falling in love in the 1940s, Noah and Allie's journey to happiness might not be easy, but that doesn't stop you enjoying the twists and turns along the way.
P.S. I Love You
Based on the book by Cecelia Ahern, P.S. I Love You is another film that's hard to ignore around Valentine's Day, though it will surely bring you to tears at points. After Holly loses her beloved husband Gerry, she thinks her own life is done too. Until, that is, she receives a letter from her late love, revealing he's arranged for a series of messages to be delivered after his death to help her start living again. Full of hope as well as sadness, Hilary Swank's performance as Holly is breath-taking.
Bride Wars
Anyone who's ever had a childhood best friend might find themselves drawn to the enduring bond between besties Liv (Kat Hudson) and Emma (Anne Hathaway). After the two become engaged at the same time their excitement turns into savage competition after a mix-up means their weddings will both be on the same day. Neither friend wants to compromise on their dream Plaza Hotel wedding, but will they realize what's really important in the end?
Jerry Maguire
Tom Cruise fans will already be aware of this award winning movie, which sees the Mission Impossible star playing slick sports agent Jerry. Sports and love combine in this tale as Jerry decides to speak out about perceived dishonesty in his business, leading him to start his own and even breaking up with his fiancée. Hiring Dorothy to join his new company and going up against his former protégé, from here Jerry's life transforms into something unlike he'd ever expected…
Clueless
Whilst classic literature might not be everyone's cup of tea, this fun adaptation of Jane Austen's Emma set in modern-day California is a crowd pleaser. The coming-of-age drama sees privileged teenager Cher as she attempts to give new student Tai a makeover. Only her match-making efforts don't quite go to plan as she comes to a realisation about her own love life…
Best romantic movies on Amazon Prime Video
Something's Gotta Give
If it's a later life love story you're looking for in your romantic movies of choice, then Diane Keaton and Jack Nicholson's performances as Erica and Harry could be right up your street. Opposites they may be, but as all romance enthusiasts know, opposites can so often attract. Especially when your paths cross and end up sharing a roof…
Crazy, Stupid, Love
As with so many of the best romantic movies, Crazy, Stupid, Love starts with a relatable premise as recently separated man Cal re-enters the dating scene. But getting back out there proves to be a bigger step than he might've imagined and he soon attracts the attention of local bar patron Jacob. Seeing Cal's struggling attempts to approach women, Jacob offers to teach him a few handy tips…
The Big Sick
Loosely based on a real-life romance between Kumail Nanjiani and Emily V Gordon who both wrote the film, this makes this movie all the more special. Handling important subjects such as cultural differences within relationships, this heartfelt story is one that will have you crying and laughing in equal measure as Kumail supports Emily after she falls dangerously ill. An unforgettable watch!
Life Itself
If you love the multi-generational aspect of Love, Actually, then Life Itself could be one of the best romantic movies for you to watch as February 14 draws ever closer. This layered story tells the tale of not one love story, but several, connected to a single event. With twists and turns aplenty, there's so much to enjoy in this film.
What if
Ben Walker left not only his girlfriend but also his faith behind 15 years ago when he chose a business opportunity over them. And though it seemed to have paid off, with Ben now a high flyer with a beautiful fiancée, things might not be as perfect as they could be. Soon Ben is visited by an angel, who gives him a glimpse into what his life would look like had he not made those fateful decisions, adding another layer of suspense to this emotional film.
Closer
Based on the play of the same name and starring Julia Roberts, Natalie Portman and Jude Law, Closer sees two couples' apparently rock solid relationships begin to crumble after an affair takes place. Exploring the idea of complex love stories and the damage that infidelity can cause, this is a somewhat more serious take on the classic romantic movie.
500 Days of Summer
Highlighting the way not every relationship can end in a happy ever after, 500 Days of Summer delves into the past as it explores the time Tom and Summer spent together. Anyone who likes a movie to include interesting timeframes is sure to enjoy the non-linear structure of this romantic movie. Instead of their relationship history being told chronologically, it's told through different days during it, jumping back and forth and making for a very emotional and original viewing experience.
10 Things I Hate About You
Starring the late Heath Ledger, if you love Shakespeare then this modernized retelling of The Taming of the Shrew might be the ideal Valentine's Day movie for you. Set in an American high school, new student Cameron is eager to get around his crush Olivia's father's strict views about her dating only when her older sister does. To help him in his quest and believing shrewish Kat is unlikely to do this without some persuasion, Cameron tries to persuade bad boy Patrick to date her. Will he succeed? You'll just have to watch to find out!
Best romantic movies on Disney Plus
Pretty Woman
If you haven't already seen the Julia Roberts classic then a Valentine's Day watch of this romantic movie should be added to your schedule. It sees Julia opposite Richard Gere as the suave businessman Edward who hires sex worker Vivian to play his girlfriend at a week of events. Both go on to learn huge lessons from the other as what started out as an arrangement begins to blossom into something more.
While You Were Sleeping
Sandra Bullock fans might well already consider While You Were Sleeping to be one of the best romantic movies out there. Lonely fare token collector Lucy can't help her strong feelings for commuter Peter despite never having exchanged conversation with him. After saving him from a train accident, Peter is in coma and after a mix-up Lucy is thought to be his fiancée by medical staff. Continuing the lie in a panic, Lucy's love story takes a very different turn as she meets Peter's brother and Peter himself wakes up. This film is dramatic and emotional in equal measure!
John Tucker Must Die
This teen romantic comedy is packed full of memorable moments as three high school girls plot to get revenge on arrogant sporting star John Tucker. Realising in a horrifying moment that he is dating all of them and that he chose them because they all come from different cliques and are unlikely to interact, they go all out. Though vengeance won't get you half as much as changing someone's perspective and before long all those involved, including John himself, begin to see the value of honesty and real love.
The Other Woman
In a similar vein to John Tucker must die is The Other Woman, when Cameron Diaz's character, Carly, is left heartbroken to discover her boyfriend Mark King (Game of Thrones star Jamie Coster-Waldau) has been unfaithful to her. It's not long before she teams up with the other woman to get some answers and they then uncover they're not the only ones and Mark is involved in some serious fraud. With some brilliant performances, this is a hilarious movie that celebrates female friendship.
Rodgers and Hammerstein's Cinderella
If you love fairytales and musicals then look no further than Rodgers and Hammerstein's Cinderella film. Released in 1997 it stars Whitney Houston as the Fairy Godmother and Brandy as Cinderella, with Whoopi Goldberg and Veanne Cox as well as many others. This adaptation sprinkles additional magic on the original story and gives it a modern twist that is sure to entertain you and your loved ones this Valentine's Day.
Ever After: A Cinderella Story
Another Cinderella story to enjoy this Valentine's Day, Ever After is a 19th century reimagining of the tale with Drew Barrymore as the titular character. Now a historical fiction story, we see Danielle (Cinderella) as she attempts to resist the cruelty of her stepmother Baroness Rodmilla de Ghent (Anjelica Huston). Danielle soon meets and forms a friendship with France's Prince Henry without revealing her true identity. One masquerade ball and a clearing up of some serious misunderstandings later, and the fairytale reaches a magical ending!
Best romantic movies on Hulu
La La Land
If it's a musical Valentine's Day movie you're looking for and Mamma Mia isn't quite for you then La La Land could be the perfect choice. This all-singing, all-dancing movie set in California sees jazz pianist Seb (Ryan Gosling) and aspiring actor Mia (Emma Stone) trying to secure their showbusiness dream. If the Best Actress Oscar for Emma Stone hasn't already tempted you to watch this, then now's the time to give it a go.
Supernova
Fans of Colin Firth and Stanley Tucci (and let's face it, there are a lot of them!) are sure to be swept away by this emotional love story. Playing partners Sam and Tusker who have been together for 20 years, they must come to terms with Tusker's diagnosis of early onset dementia as they travel in a campervan across England. At the end is a reunion with friends and family in the Lake District, but the journey along the way is just as joyful and emotional to watch.
The Quiet Man
This academy award winning romantic movie is set in the 1920s as Sean "Trooper Thorn" Thornton makes his way to his birthplace to buy his old family farm. Little does he know that when he gets there his life will change forever as Mary Kate Danaher comes into it. Though with her brother still bitter about Sean's offer on the farm being accepted over his, Sean and Kate's love story has a fair few twists and turns to keep you gripped.
The Princess Bride
Undoubtedly one of the most quotable movies of all time, The Princess Bride is one you'll love watching again and again. Starring the late great Peter Falk as the storyteller, just like his young grandson you'll soon be transported to the world of pirates and princesses. But will the lovely Buttercup ever be rescued by her true love Wesley and who is the Dread Pirate Roberts really? You'll have to give this classic a watch to find out…
Sense and Sensibility
For those looking to switch things up this Valentine's Day and watch something a little more historical, then look no further than the Jane Austen classic, Sense and Sensibility, brought to life in this 195 adaptation. This version sees none other than Dame Emma Thompson, whose husband Greg Wise was on the latest series of Strictly, in the leading role as Elinor Dashwood. Possessing cool judgement, she's not one to get swept away by love—or is she?
Emma is a Senior Lifestyle Writer with six years of experience working in digital publishing. Her specialist areas including literature, the British Royal Family and knowing all there is to know about the latest TV shows on the BBC, ITV, Channel 4 and every streaming service out there. When she's not writing about the next unmissable show to add to your to-watch list or delving into royal protocol, you can find Emma cooking and watching yet more crime dramas.