Emma Thompson and Greg Wise—everything you need to know about their magical 18-year marriage
Emma Thompson and Greg Wise first met on set and it was 'all meant to be'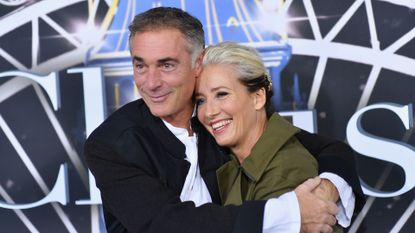 (Image credit: Photo by ANGELA WEISS/AFP via Getty Images)
Emma Thompson and Greg Wise have been happily married for over two decades after they first met on the set of a classic Jane Austen period drama.
Perhaps best known for her role as the iconic Karen in Love, Actually, Emma Thompson has won the hearts of the nation throughout her career. Though the talented star is not the only acting legend in their household as her husband Greg Wise has appeared in everything from The Crown to Cranford in recent years. But while their acting prowess is well-known, he will soon be putting his dancing skills to the test, having just been announced as part of the Strictly Come Dancing 2021 line-up.
Emma will likely be looking forward to seeing Greg take on this exciting new challenge and the two have wholeheartedly supported each other at similarly pivotal moments across their time together.
Here we reveal all you need to know about Emma Thompson and Greg Wise's magical relationship.
---
Emma Thompson's husband is Greg Wise
Emma Thompson's husband Greg Wise is a fellow actor, who is perhaps best known in recent years for his role as Lord Louis Mountbatten on Netflix's The Crown seasons 1-2.
Though his breakout performance was playing John Willoughby in the 1995 film Sense and Sensibility, where he acted alongside Emma. Greg was born in Newcastle in 1966 and went on to study Architecture in Edinburgh while performing at Bedlam Theatre. It was following this that he is understood to have gone on to study drama at the Royal Scottish Academy of Music and Drama.
Emma Thompson and Greg Wise met whilst filming Sense & Sensibility
Oscar-winning actor Emma Thompson met Greg Wise whilst the two were filming the 1995 adaptation of the Jane Austen classic, Sense and Sensibility. Their fellow cast members for the big-budget production included fellow British acting legends Kate Winslet, Hugh Grant and, of course, Emma's future on-screen husband in Love, Actually, Alan Rickman. However, despite now having been happily married for almost two decades, their romance didn't get off to quite the fairytale start some might have imagined.
Opening up on The Graham Norton Show last year, Emma admitted that Greg was initially more interested in Titanic star Kate, believing they were destined to be together.
"Before he did the job, he went to see a friend of his who was a bit witchy and she said he would meet his future partner on the film," Emma revealed to the astonishment of fans.
"He assumed it wasn't me because I was married and quite a lot older than him so he thought it might be Kate. He took her to Glastonbury, and she was so bored, and he thought, 'This isn't going to work, who can it be?'"
And Emma's not the only one to have subsequently reflected on the fortuitous nature of their meeting. Speaking to Express.co.uk (opens in new tab), Greg previously shared that it was Kate who encouraged him to look towards Emma after they realized the two of them were not best suited.
"[Kate] pointed out that we were right for each other and told me that Emma's marriage was over," he reportedly explained. "It was all meant to be, just as my friend Helen had predicted."
So while romance might not have blossomed instantly between them, Kate—and Greg's friend—did turn out to be correct in their predictions of Emma and Greg's future together.
Emma Thompson and Greg Wise got married in 2003
Emma Thompson and Greg Wise married in July 2003 in a stunning ceremony held in a converted barn in Argyll, Scotland. They had been dating for eight years before tying the knot and their daughter Gaia, then just three years old, was an adorable flower girl for their big day.
As reported at the time by Hello! magazine (opens in new tab), the wedding had been kept a secret until the very last minute, with only a small group of family members and close friends in attendance, including Sir David Jacobi.
The wedding was hit with typical British weather as Emma and Greg exchanged vows during a downpour, with Emma choosing a magnificent white dress for the occasion, whilst Greg opted for a traditional Scottish kilt. But it seems that his decision might not have been the best one.
According to The Telegraph (opens in new tab), Emma declared at the time, "This for me is heaven. It has been a wonderful day", before joking, "We'll need to get inside, Greg has got no knickers on."
Whilst her sister and fellow actor Sophie Thompson is said to have shared that "There wasn't a dry eye in the house" on their wedding day.
The age difference between Emma Thompson and Greg Wise is seven years
Emma Thompson is 62 and Greg Wise 55, making the age difference between the happily married couple seven years. Addressing age gaps in general, Emma has previously dismissed the idea that older women can't sleep with younger men on screen and enjoyed the way her role in Good Luck To You, Leo Grande departed from this trope.
She told CultureBlast podcast last year, "It's very interesting with this woman I'm about to play. This young man says, 'You're perfectly attractive, why can't you find another chap?' And she says, 'Because the only people willing to sleep with me are people my age, and I want to sleep with someone younger than me'.
"Now, I've never heard a woman say that on screen, with men it's completely acceptable," she added.
Emma Thompson's ex-husband is Sir Kenneth Branagh
Emma Thompson's marriage to Greg Wise wasn't the first for the acting legend, as she was previously married to Sir Kenneth Branagh. The former couple tied the knot in 1989 after meeting while filming drama Fortunes of War and they went on to act opposite one another again in films such as Much Ado About Nothing and Dead Again.
However, after six years of marriage, Emma and Kenneth divorced in 1995. At the time, the pair cited conflicting work schedules as leading to the breakdown of their marriage.
However, it's since been alleged that Kenneth had an affair with Helena Bonham Carter when he starred with her in Mary Shelley's Frankenstein in 1994. The affair has not been confirmed, though Emma has since confessed that her real-life heartbreak inspired her emotional Love, Actually scene.
She has also discussed how meeting Greg in 1995 helped her heal. As reported by The Evening Standard (opens in new tab), Emma once told Radio 4, "Work saved me and Greg saved me. He picked up the pieces and put them together again."
Emma Thompson has two children
Emma Thompson has two children, a daughter Gaia and a son Tindyebwa. Prior to her marrying Greg Wise, Emma opened up about her struggles to conceive a sibling for the couple's daughter Gaia, who was born in 1999. The Telegraph (opens in new tab) has previously reported that Emma suffers from polycystic ovary syndrome and has tragically suffered two miscarriages.
"I would have desperately liked to have had more children and it's been a great agony for me," Emma reportedly shared at the time. "There's been an awful lot of grief to get through in not being able to get pregnant again, but there are thousands and thousands of women like me who can't have children."
Following this, Emma and Greg went on to adopt their son Tindyebwa Agaba Wise. The Love, Actually star has discussed how adopting Tindyebwa has changed her life, reflecting during an interview with The Guardian (opens in new tab) over how things might be different if she had conceived another child.
"I couldn't have more children, and that was hard; but perhaps if I had [had more], I'd have missed out on this extra act of mothering that I've had with Tindy," she explained. "Because there was space in my life for him, and I don't think there would have been space if I'd had another young child around."
As reported by the publication, Emma Thomspon first met Tindy when he was 16 at a party organized by the Refugee Council. At this time, he was an orphan and had been press-ganged as a boy soldier in Rwanda before fleeing the country with the assistance of an aid agency.
The Refugee council went on to help him and Emma and Greg were so moved by him and his story that they invited him to spend Christmas at their home. From then on, Tindy became a member of the Wise family and a devoted big brother to Gaia.
Greg Wise supported Emma Thompson as she became a Dame
Greg Wise and the couple's children Gaia and Tindy were there to support Emma Thompson as she received her Damehood back in 2018. She was awarded the accolade at Buckingham Palace by Prince William and delighted fans for her down-to-earth outfit choice of trainers along with her smart Stella McCartney teal suit.
Emma became Dame Emma Thompson for her services to drama and later admitted she "sniggered" during the ceremony when speaking to the Duke of Cambridge. According to The Independent (opens in new tab), Emma shared, "I love Prince William, I've known him since he was little, and we just sniggered at each other."
"I said, 'I can't kiss you, can I?' And he said, 'No don't'!" she joked, reflecting on the momentous occasion. She, Greg, Gaia and Tindy were later photographed outside the palace after the investiture, beaming on this special occasion.
Emma Thompson loves Greg Wise's baking
Greg Wise's appearance on Strictly Come Dancing 2021 won't be his first foray into competition TV shows. The actor was amongst the contestants on The Great Celebrity Bake Off for Stand Up to Cancer in 2019 and went on to win. He revealed he'd practiced a lot in the lead-up and it seems Emma was more than happy to try out his baking. It was during a discussion on The Graham Norton show that she has since admitted to drunkenly eating his biscuit design which had to resemble himself.
"He created himself and he decided he'd make a sort of pancake-y thing that was a kilt. So he made a kind of structure, which was him, biscuit legs and then this kilt," she began.
Emma went on to add, "I came in one night and drink had been taken. And I walked in and I saw the structure and I didn't really take it in, but then I saw the kilt and it looked good. It looked good enough to eat, so I ate it."
She explained that her husband had come down the next morning, confused about who had eaten part of his design. "And I blamed our daughter," Emma confessed.
Emma will no doubt be looking forward to supporting Greg as he takes to the dancefloor for Strictly Come Dancing this autumn.
Emma is a Senior Lifestyle Writer with six years of experience working in digital publishing. Her specialist areas including literature, the British Royal Family and knowing all there is to know about the latest TV shows on the BBC, ITV, Channel 4 and every streaming service out there. When she's not writing about the next unmissable show to add to your to-watch list or delving into royal protocol, you can find Emma cooking and watching yet more crime dramas.