20 Ways To Improve Your Love Life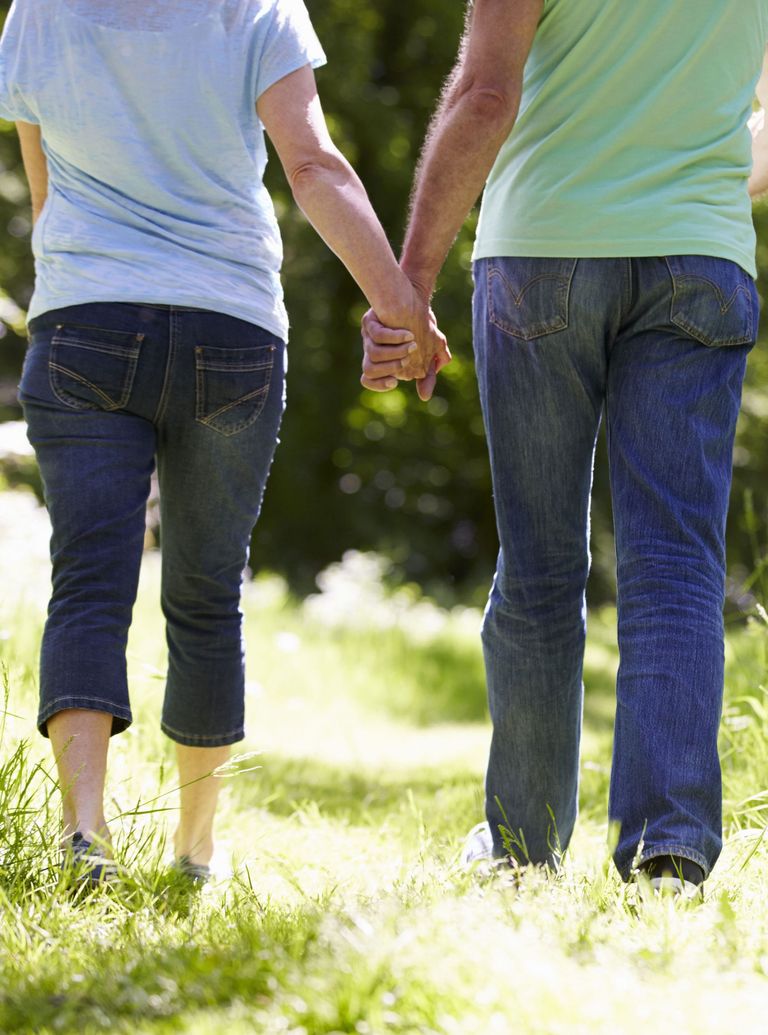 Put the passion back in to your relationship with our expert tips
According to a new study from the University of Washington, divorce rates are at their peak in August. Thanks to the stress of holidays and a build-up of tension throughout the year, couples reach their lowest point, well...right about now.
Associate sociology professor Julie Brines, PHD, told health.com: "People tend to face the holidays with rising expectations, despite what disappointments they may have had in the past. They represent periods in the year when there's the anticipation or the opportunity for a new beginning, a new start, something different, a transition into a new period of life." Unfortunately, she adds, these times don't always live up to expectations, and relationships can be left feeling a bit flat.
Is your relationship suffering the pressure? Divorce doesn't necessarily have to be the answer; sometimes all it takes is a few steps to put the spark back in your relationship. Sometimes it feels like life is too busy, or stressful, to make time for the two of you - but an active sex life is so important, whatever your age.
Studies have shown that sex can help your immune system, improve your bladder control, lower blood pressure and aid sleep. Not to mention the mood-enhancing and weight loss benefits, of course. In case you were wondering, sex definitely counts as exercise!
But if you're not enjoying an active sex life, you're not alone. Maybe you're suffering from a low libido? Feel like you don't fancy your partner as much as you used to? Or perhaps you're worried about sex with a new partner?
Don't fret. We've asked our team of experts, including psychologists, doctors and sex columnists, for their top sex tips so you can feel confident again under the covers. And it?s never too late, either. Even if you've been with your partner for many years, you can still re-ignite the passion and enjoy an active sex life with these expert sex tips. These sex tips are proven to work and are surprisingly easy to fit into your life.
Fall in love with him all over again
'Try banishing the kids and inviting him to a romantic dinner at home', says clinical psychologist, Dr Julie Gottman. 'Open up the conversation by asking him intimate questions that unlock mind and heart. Try these: What is the one dream you still wish you could fulfill? What are you most proud of? Share your answers too.' Find more diet and health tips
Don't schedule sex...
But do schedule time. 'Book an appointment with each other just to be together, only agreeing that you will hug and kiss', Phillip Hodgson, a fellow of the British Association for Counselling and Psychotherapy, says. 'Give yourselves the opportunity to lose your clothes, but never attempt to mandate passion.' Find more diet and health tips
Increase your libido
'Arousal and orgasm are a response mechanism and, like any other part of the body, the more you exercise those responses, the better and stronger they will be', says sex columnist, Suzi Godson. 'Invest in a good vibrator, and a good lubricant. Reacquaint yourself with the sensations of arousal and orgasm until you become more confident about your sexual response. Boost your system with magnesium, zinc, evening primrose oil and wild yam supplements, and cook with plenty of ginger and chilli.' Find more diet and health tips
Initiate sex
'What women who never initiate sex don't realise is that their passivity is an inverted form of control', Phillip says. 'Initiating sex isn't difficult, nine times out of ten, all it takes is a creeping hand across the bed linen, but making the first move occasionally is a clear statement of intent. It says, 'I want sex just as much as you do', and for a man that's tremendously reassuring.' Find more diet and health tips
Take time to look good
'Nothing is more flirtatious than putting time in to looking sexy, yet for many of us this falls flat in the face of our busy schedules', says Dr Laura Berman. 'But neglecting your appearance means neglecting your self-esteem; especially true for women. Not only will your libido take a hit as a result, but your partner will incorrectly assume you don't care to entice him any longer. Try exchanging your sweats for tight-fitting jeans or your ponytail for a blow-dry at weekends.' Find more diet and health tips
Seduce him
'Subtle gestures are turn-ons for men and women: smile in to your partner's eyes, lick your lips, play with your hair, or cross and uncross your legs seductively', Dr Berman says. Find more diet and health tips
Use technology to get the message across
'Use email, texts or instant messaging to prime yourself for whatever is on the menu later', says sex and relationship expert, Suzi Godson. Find more diet and health tips
But not at home
Novelist Adele Parks admits that her frantic life can get in the way. 'For us, it's not so much what we need to have a good time, it's more about what we have to ignore: mobiles, computers, phones and the DIY job list', she says. 'We've both recognised this is the case and, after various attempts, we've discovered what works for us'. That could be something as simple as turning off your Blackberry once a week. Find more diet and health tips
Don't bring past experiences to a new relationship
'The best basis for a happy and fulfilling sexual relationship is liking and fancying each other', says writer and presenter, Janet Ellis. 'He's getting to know you, so make sure there aren't three of you in bed - you can be grateful for all that your ex did for you, but he's not invited now! By beginning to truly see and feel your new man, you'll discover new things too.' Find more diet and health tips
Try massage
Janet Ellis tried a couples massage class with husband, John recently and they both loved it! If you want to give it a go at home, pick up an oil (not nut-based if someone has an allergy) from your local health food shop. You'll also need a firm padded surface covered by a sheet and lots of towels to keep you both warm. Flex and stretch your hands to warm them up, then apply a little oil. Apply it gradually in long, gentle strokes. Be guided by your partner, always finishing with a effleurage (firm but gentle strokes over the massaged area, using your entire palm). Work towards the heart, pushing thumbs in to knots rather than digging them in to the skin. Use a variety of kneading, frictions and vibrations. Find more diet and health tips
Push your sexual boundaries
'Consider doing something that you would normally find taboo', Dr Berman says. 'Nothing that makes you feel uncomfortable or unsafe, but it is thrillingly sexy to push your boundaries in small ways. Try watching an erotic film or read passages from an erotic book out loud, lingering over the sexy parts. Try one new product, position or experience at least once a month. Sex is as boring or as exciting as you make it.' Find more diet and health tips
Make bedtime more exciting
'The problem is that boredom becomes inevitable when we disappoint ourselves by becoming so predictable', Phillip says. 'Take a new approach. That means changing the time, place and circumstances that lead up to sexual activity. Kiss him more often during the day and pay him compliments... Show him that you fancy him (outside the bedroom routine).' Find more diet and health tips
Be confident...
Psychologist Dr Pamela Stephenson says: 'Older women who have learned to be more comfortable with themselves - and therefore less dependant on others, are lucky; they do not need to feel validated by others in order to feel sexy - they just know they are. It all starts with us. Contrary to what we might have been told, it's really okay to look in the mirror and say: 'Damn, woman, you're hot!'' Find more diet and health tips
And stop putting yourself down
'Stop criticising your appearance out loud', Psychologist Dr Cecila d'Felice says. 'It's a false crutch - each time you put yourself down, you reinforce the natural networks that tell you that you're not very attractive. Reject this negative culture of body bashing.' Find more diet and health tips
Know your body
'If you can have an orgasm by yourself, then there's no reason why you can't have one in [your partner's] presence', Phillip says. 'If you want a particular mood creating, ask him to put on the right music or to tell you ten reasons why he adores you. If you need him to be more patient before intercourse begins, learn to tease him by saying: 'Not yet, not yet, I want you really on the edge.' All female orgasms involve the clitoris. If you want more - or different - pressure on your clitoris during intercourse, then guide his hand or use your own.' Find more diet and health tips
Pop a pill
'Maca, also known as the passion plant, is my new favourite herb', Margo Malone, creator of The Organic Pharmacy says. 'High in linoleic acid and oleic acid, as well as amino acids, maca contains plant sterols that increase energy, stamina and libido in both men and women'. Maca Capsules are available from health food shops. Find more diet and health tips
Sign up for a yoga class
'Yoga can help you develop an awareness of sensitivity', says wellbeing expert, Dr Marilyn Glenville. 'The yoga pose Straddle Forward Bend helps to open hips, giving greater flexibility and making you more sensitive to arousal.' Find more diet and health tips
Be affectionate every day
'Once you are used to having sex with your partner, it may seem unnecessary to woo each other with sexy lingerie or extended flirting', says Dr Berman. 'However, these gestures are critical to maintaining passion. Be affectionate with your partner every day and take time to set the mood like you did in the early days of dating. Make physical contact too: wink at your partner across the room or grab his bottom when no-one is looking.' Find more diet and health tips
Get help if you're still turned off
'If sex still never occurs then you have a problem that must be dealt with, as one person isn't being honest', says Phillip. Talk through the issue as honestly as you can. Sex therapy can help too. Find more diet and health tips