How to dress like Carrie Bradshaw—five outfits from And Just Like That
The ultimate guide on how to dress like Carrie Bradshaw, complete with five outfits you'll want to buy immediately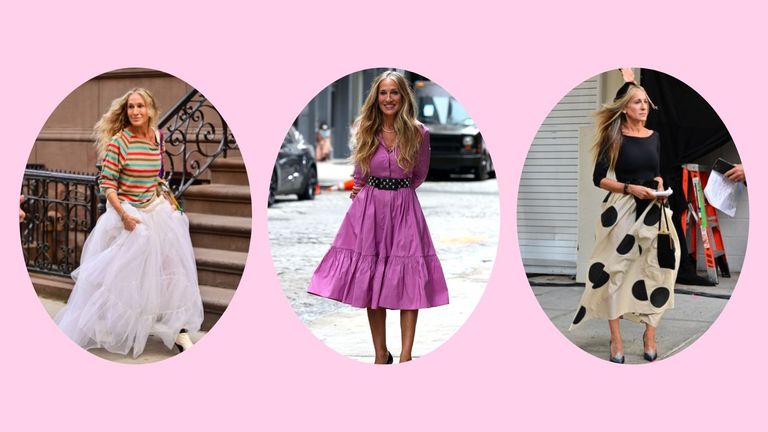 (Image credit: Future)
By Mollie Quirk published
We've compiled the ultimate guide on how to dress like Carrie Bradshaw. Carrie is a style icon to masses of people all over the world, with hundreds upon thousands wanting to recreate her unique and trend-led looks—and our guess is, if you've stumbled across this page you're probably one of them.
Because, after all, who wouldn't want to look effortlessly glamorous in the best winter coats, the most coveted designer bags, and the best dresses from the latest designers (or designer dupes, if you don't quite have Carrie's budget...) Sex and the City's latest spin-off series has just dropped onto HBO Max, and we've been watching And Just Like That and daydreaming about Carrie's never-ending walk-in closet.
In the original novels by Candace Bushnell—The Carrie Diaries and Summer And The City—readers were enamored by Carrie's carefree character and her creative and flamboyant outfits. The TV series, starring Sarah Jessica Parker, cemented Carrie's reputation as a fashion icon. From Carrie's signature tulle skirts to her iconic blue Manolo Blahnik courts, and her purple skirt teamed with a Dior slogan sweater, Carrie's outfits never fail to surprise, delight, and inspire. Here is a woman who knows how to style straight leg jeans as well as how to style an evening gown.
How to dress like Carrie Bradshaw
There are five outfits from HBO Max's And Just Like That... that we really love. From Carrie's signature tulle look to her daring pairings of color, texture, print, and style, we've selected five outfits that are super simple to recreate and are set to be huge fashion trends for 2022, while being timeless for years to come.
Selecting only staple pieces that you'll wear time and again, our fashion experts have scoured the internet to bring you the ultimate guide on how to dress like Carrie Bradshaw.
1. Carrie's shirt dress
People will no doubt be divided over the color of this dress—is it pink? Is it purple? Either way, we are completely besotted with this stunning ensemble that Carrie wore in the new reboot of SATC. The long-sleeved shirt dress with a tiered design, cinched in with a studded belt, and teamed with black court shoes? Our idea of dopamine dressing. Block colors are going nowhere, so it's always a good idea to invest in a couple of key garments that you can team with an array of different outfits.
---
2. Carrie Bradshaw's Timeless Tulle Skirt
We can all remember Carrie's iconic baby pink tiered tulle skirt from the original series, right? Well, this is her now. A more mature version of that iconic garment, this floor-length mass of tulle is a complete dream, and we are loving the way it's been styled. Instead of going down the classic 'princess' route, Carrie wore the tulle skirt with a striped jumper in an array of fun colors, white knee-high boots, and a fun purple sequinned baguette bag.
---
3. Carrie Bradshaw's Polka Dot Skirt
Polka dots never go out of style, and neither does the monochrome color palette. This outfit—worn by Carrie in the new SATC reboot—is the perfect mix of sophisticated and fun. When opting for polka dots, we usually gravitate to the smaller more palatable design, so this oversized pattern is a welcome change—and we are completely head over Manolos.
Whether you're looking to opt for the classic small polka dot in the form of a floaty midi, or perhaps you want to step out of your comfort zone a little and opt for a more oversized feel—we've selected three SATC approved garments to style.
---
4. Carrie Bradshaw's Burgundy Suit
We can't get enough of this menswear-esque look that Carrie wore when she met friends for a picnic in the park. The oversized tailored suit in a deep burgundy hue was the perfect mix of smart and casual—perfect for laid-back days in the city. Carrie teamed the two-piece with a black low-v tee, black patent pumps and her hair swooped back into a sleek bun. We've found the perfect garments to recreate this chic look—from wide-leg pants to oversized blazers, we've got you covered.
---
5. Carrie Bradshaw's Blue Patterned Dress
This outfit gives us major Mamma Mia vibes, and we are totally here for it. Spring layering can be difficult, but it needn't be when you're taking notes from the ultimate fashion icon. Wear a simple light blue linen shirt underneath a simple spaghetti strap day dress, teamed with gladiator sandals or something higher, and a fabulous designer bag.
Mollie Quirk is a freelance journalist and features writer from London, England. With a First-class degree in Journalism and over eight years of online writing experience, Mollie is an expert in her field. At a UK size 16–18, she specialises in writing about plus size fashion and issues surrounding body image – knowing firsthand what it's like to style a fuller figure, Mollie knows what plus size women want and need. Having written for some of the most well-known publications around the world, Mollie has hopes of continuing her career and eventually becoming a plus size fashion editor. When she's not writing or styling up outfits she can usually be found upcycling second hand furniture, listening to country music with her cat, or sipping coffee in a corner of London.