Best designer sunglasses: The new season shades to brighten up your summer
Protect your eyes in style this season with the best designer sunglasses. Our edit includes shades from Gucci, Ray-Ban, Loewe and many more...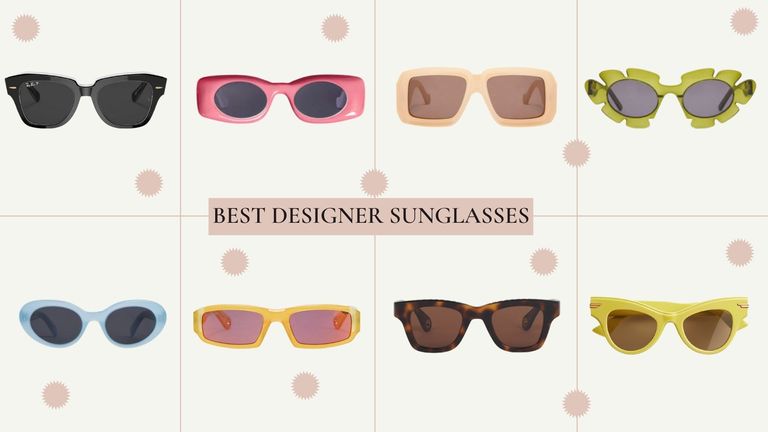 (Image credit: Future/Canva)
The best designer sunglasses make an instant fashion statement. From bold designs in bright block colors to sleek iterations with subtle branding, when it comes to sunnies this season, there's a style for everyone.
Unsurprisingly, the big sunglasses trends 2022 are largely dictated by design houses across the four main fashion cities. Producing the best designer sunglasses, they set the tone and style guide that will then be replicated by straight-to-market retailers—many of who still produce some of the best sunglasses, just without the hefty price tag attached. As with the eyeglasses trends of 2022, there are many different silhouettes available across the best designer sunglasses, from cat-eye to oval and statement oversized shades. If you've been wondering what sunglasses suit me, there is guaranteed to be a pair of designer shades that fit the bill. If you're after the best prescription sunglasses, a number of brands allow you to adapt frames to prescription lenses, but you may need to avoid slim aviators as the wire frames can struggle to hold thicker lenses.
The best designer sunglasses offer an instant uplift to summer outfits and the best swimsuits, and if you can't afford to dress head-to-toe in the best Italian clothing brands, investing instead in the best designer bags and sunglasses can make your entire ensemble appear more expensive. However, as with many of the best designer items, you don't always need to pay full price to get maximum style. Plenty of the best designer sunglasses brands or multi-brand specialists such as the Sunglasses Hut also has retail spaces at some of the best designer outlets.
Best designer sunglasses 2022
Ray-Ban is the go-to when it comes to sunglasses for good reason. Offering polarized lenses, UV protection and the option to add prescription lenses, both style and safety are at play. The brand's diverse range of designs features both trendy and classic frames suitable for all occasions, whether you are looking for the best beach-side protectors or shades for running around the city. Keep it simple with the signature aviator style, or go big with an oversized cat-eye shape, both of which are good sunglasses for round faces.
Known for chic and timeless designs, one of the best Spanish clothing brands, Loewe always delivers high-quality eyewear. For 2022, the brand has ditched its signature earth tones in favor of a kaleidoscopic of color. The new summer capsule collection, aptly named Paula's Ibiza, features a range of exuberant prints and vividly eye-catching shades to inject into your wardrobe. Available with daring color-coordinating bucket hats, its sunglasses selection is one of the most unique and exciting out there this season. This bold pink pair give a nod to the fashion color trends 2022, keeping your summer look on-trend.
Combining contemporary and timeless, French clothing brand, Celine's sunglasses offering has it all. From on-trend cat-eye styles to oversized, butterfly and square designs, all face shapes are covered with this chic range. Whether you decide to add a pop of color with vivid red frames or keep it understated with milky white, no look is lacking. Chuck into your best beach bag on your way out the door and soak up the sun in style.
Jacquemus exploded onto the fashion scene in 2017 after the success of its Spring/Summer 2018 collection, becoming a firm favorite with celebrities and fashion editors, and it is clear that summer styles are where the brand's strengths lie. Already leading the way with micro handbags, one of the major handbag trends 2022, its striking selection of sunglasses are available in a range of dazzling color palettes that are certain to turn heads this season. Bring the sunshine with you wherever you go with gorgeous red and orange lenses that will also keep your eyes shielded from any harsh rays.
Famed for chic and sophisticated designs, Prada always nails those wardrobe essentials. From the most comfortable flats to timeless sunnies, when it comes to accessories you can always rely on this Italian fashion house. With new season updates in the form of vibrant colored lenses and thicker, squared-off rims, the brand still retains its design signature for timeless style. Whether you choose to embrace the more traditional Cinéma glasses or opt for oversized pastel green lenses, these are some of the best designer sunglasses for longevity.
While you might associate them most with a classic Burberry trench coat, the British clothing brand has eyewear designs down to a tee too. With complete UV protection and the option for different fits, these sunglasses work for a range of face shapes. Created with the stylish, modern woman in mind, all designs are functional yet contemporary. If you're looking to create the illusion of a more angular face, Burberry's range of oversized frames is the one for you, a key trend for the season, a statement frame adds instant style points to a best jeans and tee ensemble.
The best Chanel handbags will never go out of style and the same can be said for the brand's show-stopping designer sunglasses. A leader when it comes to the runway, the French fashion house injects its signature into everything it does. From pairs adorned with chains to arms featuring cutout accents, no detail has been missed. Spanning a wide price range, these might be a piece you have to save up for, but they won't, unlike a Chanel bag, necessarily break the bank. Pair these brown rectangle specs with your favorite blue jeans and a Chanel-inspired boucle jacket.
Leaders when it comes to some of the best crossbody bags—Bottega Veneta's woven bags have inspired straight-to-market versions across the globe. But the brand's sunglasses offering is particularly strong this year too, mixing classical colorways with daring new shapes that are sure to make a splash as we head into warmer months. Make a statement with a yellow cat eye, or let the shape do the talking with graphic metal frames.
Los Angeles-based luxury eyewear brand Oliver Peoples has developed a cult following when it comes to sunglasses. Focusing on durability, wearability and safety, the brand is a reliable choice for sun-safe glasses that also pack a stylish punch. Handcrafted in Italy, you can be sure that no detail has slipped through the net on these wonderful tortoiseshell-esque rectangle shades.
Italian clothing brand Dolce & Gabbana has always been a top choice for accessories thanks to its luxurious jewelry and eyewear. The brand's latest collection of sunglasses features muted pastel colors and retro oversized shapes perfect for the warmer weather. This pearlescent pair with subtle animal stripe detailing is particularly distinctive from other brands and gives a nod to the metallic finishes we've seen coming through for sunglasses trends.
The best Gucci bags are something many lust after, however, if they're currently out of budget, you might want to turn your attention to the best Gucci sunglasses instead. A stylish way to buy into the brand's offering, when Gucci does sunglasses, it goes big. The latest collection features a range of oversized square frames in varying bold colors and patterns tailored to every and any summer occasion. With complete UV protection, these marigold and pearl acetate shades beautifully brighten up the face on a sunny day, and will look excellent when styled with similarly warm colors.
Respected for opulent designs and innovative beauty products, the Tom Ford label captures the essence of femininity in consistently innovative ways. Focusing on round styles to add a doe-eyed effect, the brand's sunglasses range sticks to a formulaic design structure that is yet to fail. Pair this unconventional shape with a straight leg trouser or oversized blazer to create depth and contrast to your outfit.
With sophisticated and feminine multi-colored designs, Chloé is perfecting the art of dopamine dressing through accessories. If shocking pinks and canary yellows are too bold for you, Chloé's muted palettes may be more your speed. Style this blue, mint, and gold pair as part of a white jeans outfit with your best sandals.
Saint Laurent has released a variety of frames this summer season providing numerous options to accessorize any imagined outfit. Whether you prefer hot pinks and bold yellows as a statement piece or you're leaning toward more muted tones, this elegant and revolutionary range has beautiful twists on classic frames offering designer sunglasses that will take you through this summer and beyond.
Versace is well known for its statement style and for 2022 the brand has led from the front with bright color clothing and bold statement accessories. This feel has seeped through into sunnies with an offering of detailed frames and highlighter hues that will give a directional feel to any look.
Rivkie is a fashion editor, writer and stylist with over fifteen years' experience in the industry. Having studied design and pattern cutting at the London College of Fashion, Rivkie fell in love with styling and journalism, covering fashion weeks in London, Paris and New York.
Specialising in plus size fashion, Rivkie has long championed that style is for everyBODY and has been a regular talking head on a host of radio stations and television shows, pushing for greater representation for plus size women and fashion throughout her career.