Cruise Clothing: What To Pack For A Cruise And The Best Dresses For A Cruise Holiday In The Sun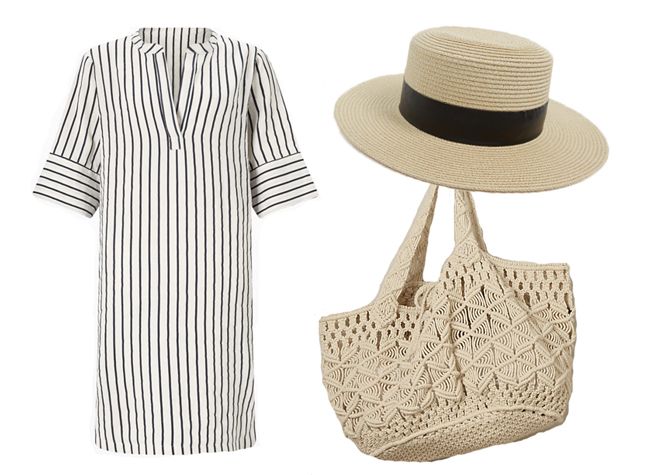 Thinking about what to pack for a cruise? Need some inspiration for dresses for a cruise holiday? Take a look at our pick of some perfect cruise clothing options...
When you think of cruise clothing, what springs to mind? Over-sized sun hats, nautical stripes, sensible boat shoes for the day and something smarter at night?
Well, although there are no hard and fast rules when it comes to cruise clothing, there are certainly some unspoken guidelines to follow when choosing what to wear each day.
When deciding what to pack for a cruise, consider the type of cruise you have booked. Does your cruise liner pride itself on luxury? Is dinner each evening a formal, sit-down affair? Or does your cruise include lots of on-land excursions and activities?
Travel editor Laura Jackson (opens in new tab) advises, "How formal the dress code is will vary not just between the different cruise lines but their ships too."
"Log on to cruisecritic.co.uk to check out traveller reviews before you go."
When planning your outfits for during the day, consider what you will be doing each day, based on your cruise itinerary and personal preferences, and plan accordingly. Even if you're planning to spend the day on-board the ship, make sure you pack plenty of light cover-ups and nice summer dresses for a cruise appropriate way to get from your room to the sundeck.
Stripe Linen Dress, Jigsaw. Buy it here for £103 (opens in new tab) Classic wide brim sun hat, Aldo. But it here for £18 (opens in new tab) Crochet Beach Bag, Anthropologie. Buy it here for £88 (opens in new tab)
"Generally speaking you'll want to be cool and comfortable during the day for excursions" Laura suggests. "Take comfortable shoes you can walk in all day and a bag that fastens up securely (ideally not a rucksack)."
Enamel Button Chinos, Jaeger. Buy it here for £60.00 (opens in new tab) Shirt with Sheer Sleeves, Uterque. Buy it here for £75.00 (opens in new tab) Kenley Espadrille Trainer, Whisltes. Buy it here for £95.00 (opens in new tab)
In the evenings, the formality of the dining rooms will vary depending on your cruise company and the ship. However, as a general rule when packing cruise clothing for the evenings, think smart and sophisticated. However, if buying new dresses for a cruise, you need not worry about selecting anything overly formal.
Dresses for a cruise:
Green silk printed dress, L.K.Bennett. Buy it here for £325.00 (opens in new tab) Printed cold-shoulder dress, Reiss. Buy it here for £185 (opens in new tab) Embroidered dress, Reiss. B (opens in new tab)uy it here for £135 (opens in new tab)
Laura explains, "When it comes to formal evenings onboard don't worry, you don't need to buy a ball gown! Formal nights are always smart rather than stuffy and while I'd avoid hemlines that are really short, a pretty dress or tailored trousers and top are ideal."
Pale Pink Peg Trousers, Finery. Buy it here for £59 (opens in new tab) Black top with cap sleeves, H&M. Buy it here for £8.99 (opens in new tab) Trim Detail Jacket, Whistles. Buy it here for £115.00 (opens in new tab)
"Take lots of accessories such as a sparkly evening bag, a selection of jewellery and a few pairs of shoes (flats or heals) so you can mix and match" Laura adds.