How to take a good selfie and look good in photos: a foolproof guide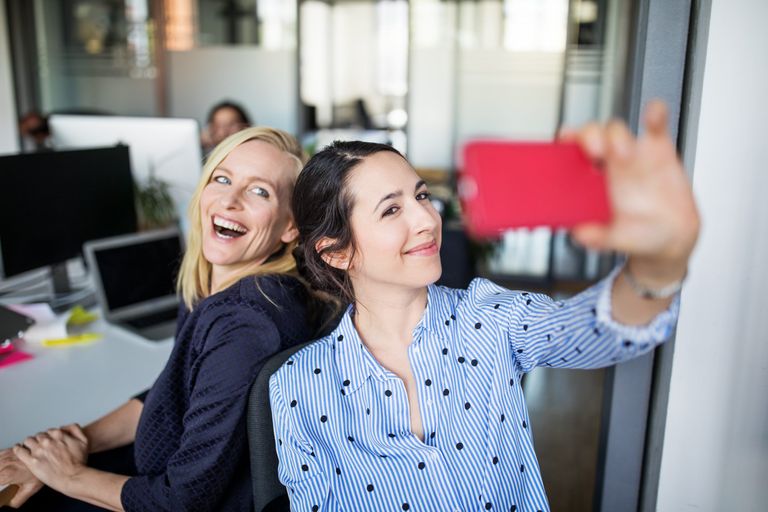 NEVER look bad in a photo ever again! Our beauty director reveals how to get the perfect shot. Every time. We cover everything from how to position your face, what to do plus we share the best camera-ready makeup.
'During my 20-year career in magazines I have worked with raving beauties – the world's top models and movie stars' says Rosie Green. 'It's their job to be flawless from every angle. But even they work it. Know their best side, how to stand so their waist looks smaller, their eyes look wider, their legs longer.
'For most of us, looking good in a photo is less about professional need, more about wanting to feel content, not crestfallen when we see ourselves on someone else's feed or mantelpiece.
'I'm here to help. Though I am often photographed for magazines and newspapers (and occasionally, cringingly, post a selfie on Instagram), I don't have a model face. In fact I have a broken nose, bumpy jawline and small eyes (the list is long). So I have used what I've gleaned from the pros (the models, the Insta stars, the photographers and the make-up artists) to look good on film.'
How to take a good selfie
Don't smile widely unless you are Julia Roberts If you look at the pros they perfect the half-smile. A massive grin distorts the face.
Chin down, eyes up (think Princess Diana) makes a big nose look smaller.
Look for the best selfie light.
Keep shoulders down – it elongates your neck.
Choose the best Instagram filters.
Disguise a not-so-firm jaw with a hand under the chin or face-framing hair.
Fake a glow with face oil.
Hold your arms away from your body to make them look slimmer.
Leave pouting to the under twenties – a natural smile is best.
How to look good in photos
Give your body some tension. It makes you look sleeker, more defined.
In a group shot turn slightly sideways and avoid being at the end – you always end up looking like an Oompa-Loompa.
Do something with your hands.
The best make-up for photos
Looking great in photographs is partly down to the right pose, but make-up can also make a great deal of difference. Too much make-up can look dull and flat, but get it right and you'll be glowing in front of the camera. Here are our expert recommendations...
Best foundations for photos
For a barely there look, tryGuerlain Météorites Baby Glow, £37.50. If you want medium coverage that will still show a healthy glow, thenCharlotte Tilbury Hollywood Flawless Filter, £30is the one for you. If you need a high coverage look, you can't go wrong with cult classicYves Saint Laurent Touche Eclat Foundation, £35.
Best concealer for photos
The reverse racoon look (hello Mr Trump) happens if you're under eye concealer is too pale. People use Touche Éclat by YSL to cover darkness, but it's really more of a highlighter, so you can end up with this effect. For darkness you need something denser that delivers coverage. I like IT Cosmetics Bye Bye Under Eye Concealer, £23.50.
Best eye make-up for photos
Focus on defining the lash line with a pencil, rather than loading on eye shadow. That definition looks great on film.
Best mascara for photos
For photos I really like using a few individual lashes on the outer corner of the eyes, I think it creates a nice shape and flattering definition. TryEylure Fleur De Force Couture Fleur Individual Lashes, £6.95. Then add more mascara than usual on the outer corner. Finally use your fingers to push back the lashes.
Best blusher for photos
Be wary of a too shimmery blush or bronzer - in a photo they can look harsh or fake. Try Nars Blush in Orgasm, £24.
Best lipstick for photos
I think anything too glossy looks overdone. Go for satin or matte textures as they work to brighten and balance the face and make lips look full and healthy. I like Bobbi Brown Semi Matte Lip Colour in Blush, £24.50. Just press it on with your finger. If you feel you need definition go for a super natural lip liner. I like Studio 10 Age Reverse Perfecting Lip Liner, £22.
Best brow products for photos
It's essential that they're defined and well groomed. I like to use Collection Fast Brow Tinted Brow gel, £4.99, then fill them with Kat Von D Signature Brow Precision Pencil, £17.