The 5 Most Common Make-up Mistakes, According To Top Make-Up Artist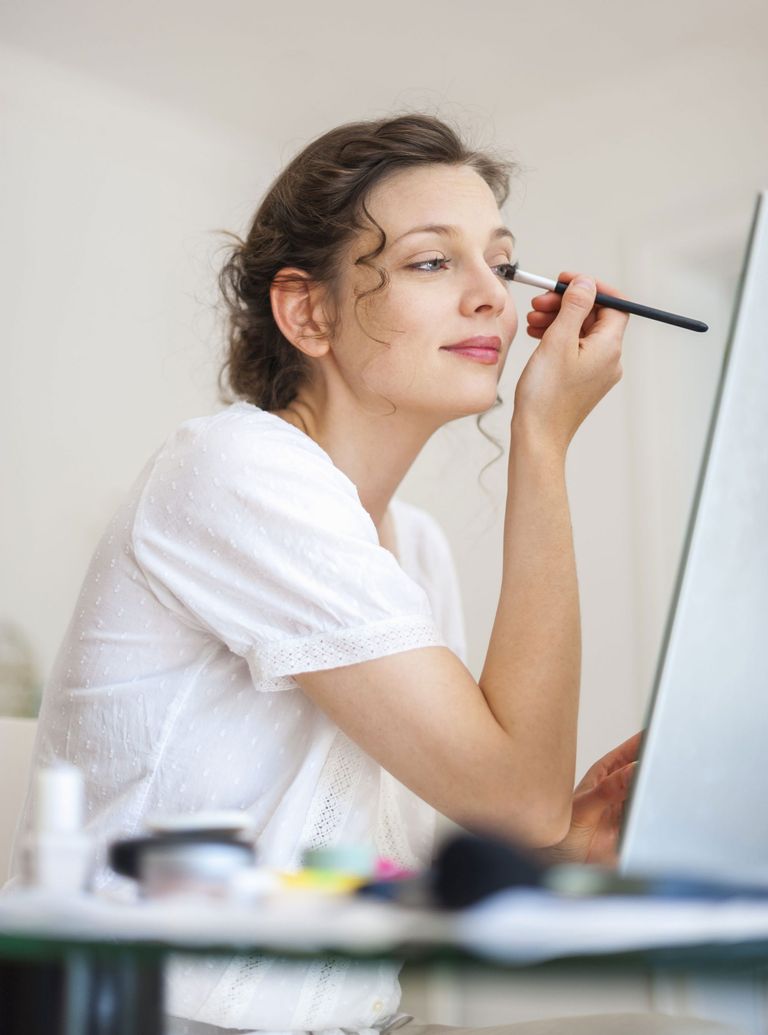 (Image credit: Rex Features (Shutterstock))
Jo GB, woman&home beauty director, met up with A-list celebrity makeup artist RebeccaRestrepo. Restrepo is Arden's Global Make Up Artist, and she works with a long list of celebrities including Debra Messing, Emily Blunt and Ruth Negga. She reveals the make-up mistakes she sees most often, and crucially, how to avoid making them...
1. Visible lip liner
The makeup equivalent of a VPL, there's nothing worse than seeing a rim of lip liner: it looks untidy and shifts the focus away from a sexy mouth.
Fix this: You can go two ways with liner. Either match it exactly, or, which I think is better, choose a universal nude lip liner shade that truly matches YOUR nude. Avoid harsh lines when you apply otherwise your lips can look mean. Do an 'X' at the Cupid's bow, create two half circles to create a roundness, then draw up from the inner corners.
JO GB loves: COMING SOON: New gel liner Elizabeth Arden Plump Up Lip-Liner in Nude, £17, out July.
2. A floating face
This is my name for that look when your face of foundation is a totally different colour to the rest of your body so it looks as if your head is floating! There is nothing worse than the wrong colour base. But when you get it right, the perfect match foundation is the holy grail of makeup. Fix this: To help you choose right, always judge the colour in daylight, not inside the store; and test the shade along your jawline, and then on your clavicle for a 'second opinion'.
JO GB loves: MAC Studio Fix Powder Plus Foundation, £23.50, now comes in 53 shades.
3. Mis-matched concealer
Or 70's white racoon eyes, as I like to call them. Unless you've been skiing, under your under eye area should tonally match your face. If it doesn't then your under-eye concealer is just too white. Choosing a corrective concealer is all about getting the right colour purely to mask the colour of your dark circles.
Fix this: Go peachy in tone for radiance, and match to your 'medium skin'. Where the heck's that? Hold out your forearm: the underside that never sees the sun is your palest, the outer skin is the darkest, so match the concealer to the skin along the inside of your wrist. That's your 'medium tone'.
JO GB loves: NARS Radiant Creamy Concealer, £23, that seem to work across all skin tones.
4. Wonky, badly applied eyeliner
If you have a less than steady hand, and a few wrinkles, don't even begin to bother applying a sharp, defined, liquid liner: you need to be an expert! Plus on crepey eyelids, liquid liner only exaggerates fine lines.
Fix this: A smudgy eyeliner is by far the most flattering way to wear liner past 40. If however you want to create a specific line for effect try this technique: use your pinky finger as a compass on your cheekbone, to help steady your hand and match up both eyes better.
JO GB loves: Hourglass Mechanical Gel Eye Liner, £16
5. Eyebrows that are too dark
Brows that are too dark or too square make you look very hard and angry. Your brows frame your features, so why go too heavy and bold? That's a man's brow and not the least bit feminine!
Fix this: All brows, except black skin and redheads who suit soft red tones in brow colour to lift the complexion, suit brow powder or cream with naturally looking ash tones.
JO GB loves: Elizabeth Arden Statement Brow, £17, that grooms and colours in one.
Whichever beauty mistake you think you're likely to fall victim of, you can now rest assured that these beauty tips tricks and products will help you fix it, for a flawless make-up look!