The ultimate natural makeup look in 5 easy steps (and the £6.99 product you need to achieve it)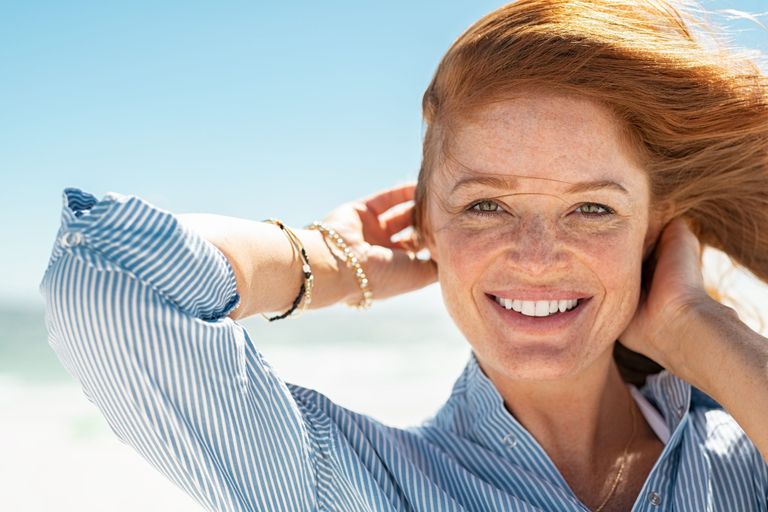 We may not be getting out much, but that doesn't have stop us having fun with beauty
You may well be in a permanent uniform of loungewear at this point - no judgement. But Zoom calls or just and the urge to do something creative can still ensure make trying a new make-up look is an appealing prospect.
So this natural makeup routine is just what we all need for an easy little pick-me-up.
Whether you want a fuss-free natural makeup look for quiet days at home, or just fancy treating yourself to a new product or two, this guide has got you covered.
How to achieve an easy natural makeup look
Step one: Freshen up foundation
"Lighten up your base" is a beauty cliché, but it makes sense.
Brands always launch exciting formulas and so few women need full coverage anyway.
If you have reasonably good skin with the odd tone issue try sheer foundation with heavy-duty concealer only where needed.
SHOP NOW: Sisley Phyto Hydra Teint SPF15, £76, Space NK
New Sisley Phyto Hydra Teint SPF15 shows how far tinted moisturisers have come.
It's got just-enough pigment, a radiant finish and the same antioxidants and hydrating botanicals as the brand's luxurious skincare, which explains the price.
More shades would be great, but it's sheer enough to adapt.
SHOP NOW: Burt's Bees Goodness Glows liquid makeup, from £7.50, Feel Unique
Burt's Bees Goodness Glows liquid makeup is less advanced on the skincare side but offers similarly comfortable, dewy coverage.
Step two: Powder your brows
Most women use pencils and gels for easy eyebrow grooming, but recently I've been converted by powder.
It gives soft definition so you can avoid that scary drawn-on look and sits nicely all day without going gunky or flaking off.
SHOP NOW: Max Factor Real Brow Fill & Shape, £9.99, Lookfantastic.com
For beginners, Max Factor Real Brow Fill & Shape combines a soft twist-up crayon and a powder that you dab on with a little sponge.
SHOP NOW: Benefit Brow Zings Pro Palette, £26.80, John Lewis
Benefit Brow Zings Pro Palette looks a bit intimidating but that vast selection of shades and textures is extremely useful.
Press the end of the angled brush into a powder, or combine two for an exact shade match.
Flick sharply through brow hairs to bulk them up then set using the spoolie and wax.
Step three: Try a new lip texture
The lip trend pendulum has swung back from high maintenance mattes to easy-going glosses and stains.
SHOP NOW: Clarins Lip Milky Mousse, £19, clarins.co.uk
New Clarins Lip Milky Mousse is good fun.
Squeeze out the custard-sweet cream, bounce it on using the bingo dabber sponge and it'll set into a dry, weightless tint.
SHOP NOW: L'Oreal Paris Brilliant Signature, £10.99, Feel Unique
L'Oreal Paris Brilliant Signature looks like a gloss and applies like one, but lasts longer and lacks that irritating stickiness that attracts strands of hair.
Be Brilliant, a fiery orange-red is my pick of the 12 shades.
Step four: Go easy on the eye
Eye crayons are everywhere for spring, and no wonder.
They're fun, portable and require no skill whatsoever – just draw along your upper lid, smudge a bit depending on the look you want and that's that.
The textures vary considerably so there's something for everyone.
SHOP NOW: Charlotte Tilbury Colour Chameleon, £19, Cult Beauty
An absolute classic is Charlotte Tilbury Colour Chameleon a chunky firm pencil that lays down lots of pigment without dragging.
The shades, mostly glamorous metallics, are designed to intensify your eye colour and make a lovely liner or, if the end's a little blunt, smoky shadow.
SHOP NOW: Revlon Colorstay Glaze Sticks, £6.99, Boots
New Revlon Colorstay Glaze Sticks are much softer, like cream shadow in a stick and give a wash of sheer colour.
It comes with a sponge on the end but I find fingers easier for blending and cotton buds better for cleaning up.
Step five: Less is more lashes
The mascara arms race for bigger, fatter, faker-looking formulas is over and there's a refreshing focus on lash health and subtle flutter.
SHOP NOW: Maybelline The Falsies Lash Lift, £9.99, Look Fantastic
Maybelline The Falsies Lash Lift does all of the above thanks to a fluffy, hourglass-shaped brush that gently pulls eyelashes upwards as it coats them in the fibre-infused formula.
SHOP NOW: Rimmel Scandaleyes Volume on Demand Mascara, £7.99, Feel Unique
Rimmell Scandaleyes Volume on Demand Mascara has a clever, loose texture that's ultra subtle on coat one, then can be layered up again and again without clumping.