Best 40th birthday gift ideas for women that she'll treasure for years to come
Our edit of the best 40th birthday gift ideas for women has suggestions for all price points as well as creative suggestions about what to choose for anyone who's tough to buy for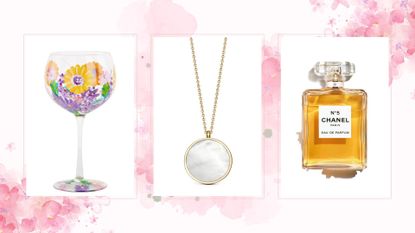 (Image credit: Future)
The best 40th birthday gift ideas celebrate what this exciting decade has ahead, from tools to help the recipient reach their goals, to investment pieces that will last for decades to come. And for those people who have everything? We've rounded up the best experience gifts to make memories that they'll cherish.
Milestone birthdays deserve something special and when it comes to 40th, or the best 50th birthday gifts or the best 60th birthday gifts you want to find something particularly special. But it doesn't have to cost the earth - our list includes a variety of price points, to cater for all budgets.
We've also consulted experts for gift-buying advice, to help you chose gifts that are memorable, useful and touching - as well as what to choose for anyone who's tough to buy for.
The best places to shop for 40th birthday gifts for women in the UK
Best 40th birthday gift ideas for women
Gift buying advice
What makes a memorable 40th birthday gift?
Francesca Pittaway, curator at Not on the High Street, knows how hard it can be to find the perfect present, especially if you want it to be unique.
"Choosing something memorable can feel really daunting, especially if you are time poor!" she says. "We often want to express to recipients how much they mean to us through a gift and when someone means a great deal to you, you might feel pressure to get it spot on. If someone means a lot to you, keeping them and why you love them front of mind when choosing something means you can't go wrong."
It might sound cliche, but often the most memorable presents involve making memories. Book a weekend away, go for a fancy dinner or just plan a little surprise for them. You'll both never forget sharing quality time together doing something special.
Natalie Joliffe, co-owner of online luxury gifting retailer Lime Tree London, explains, "As a 40 year old myself I know which gifts I like to receive! People always appreciate those especially luxury items that they wouldn't necessarily go out and buy themselves, such as candles or flowers (real or artificial) - in particular British sourced, sustainably produced, handmade and vegan make a lovely gift and any product where the retailer donates a portion to charity is special too.
A memorable gift is one that someone has put genuine thought into: someone who knows you well and has taken the time to find something they know you will love! For example, my husband bought me a hamper of goodies from Space NK for one of my 40th gifts, as he knows I spend too much on others and not enough on myself."
What do you get someone who doesn't want anything for their birthday?
Finding the perfect gift to mark a milestone birthday is even harder if your recipient is insistent they don't want anything!
"In this minimalist world, it's experiences that count. For friends, a night out drinking cocktails might be best," Joliffe continued. "While for husbands and partners, the promise of a swish dinner or experience that the whole family can enjoy together will go down well." Take a look at our list of the best hobbies for women for some more ideas.
Tanith Sellicks, MD of homeware gifting site Pure Table Top, agrees that if someone says they don't want anything for their birthday, but you still want to get them something, then a gesture is best, "The question is do they really not want anything? People often say they don't want anything but secretly they'd love to receive a thoughtful present from a loved one. Have a think - sometimes a gesture or charity donation in their name could be an option.
"You don't have to be extravagant to show someone that you've thought about them," adds Tanith.
Is there a traditional gift for a 40th birthday?
For any milestone birthday, jewelry is a safe and classic choice, as Joliffe explains. "Jewelry is the most traditional gift for a women's 40th - something you can wear still for years to come and hand down to future generations."
A personalized gift is also a great choice to mark a 40th birthday. "You can personalize pretty much anything if you're organized and order online," Joliffe continued. "Think personalized candles, throws, kitchen and homeware products as a start - it shows that thought has gone into the gift (and it's not last minute!)"
Digital Editor - Woman & Home
An internationally published digital journalist and editor, Rachael has worked as a writer and editor for both news and lifestyle websites in the UK and abroad including Metro UK, Homes & Gardens, Ideal Home, GoodTo.com, honey.nine.com.au and body+soul.
Rachael's published work covers a broad spectrum of topics and she has written about everything from the future of sustainable travel, to the impact of the coronavirus pandemic on the world we live in, to the psychology of colour.