High-End Makeovers Of Classic Cheapo Goods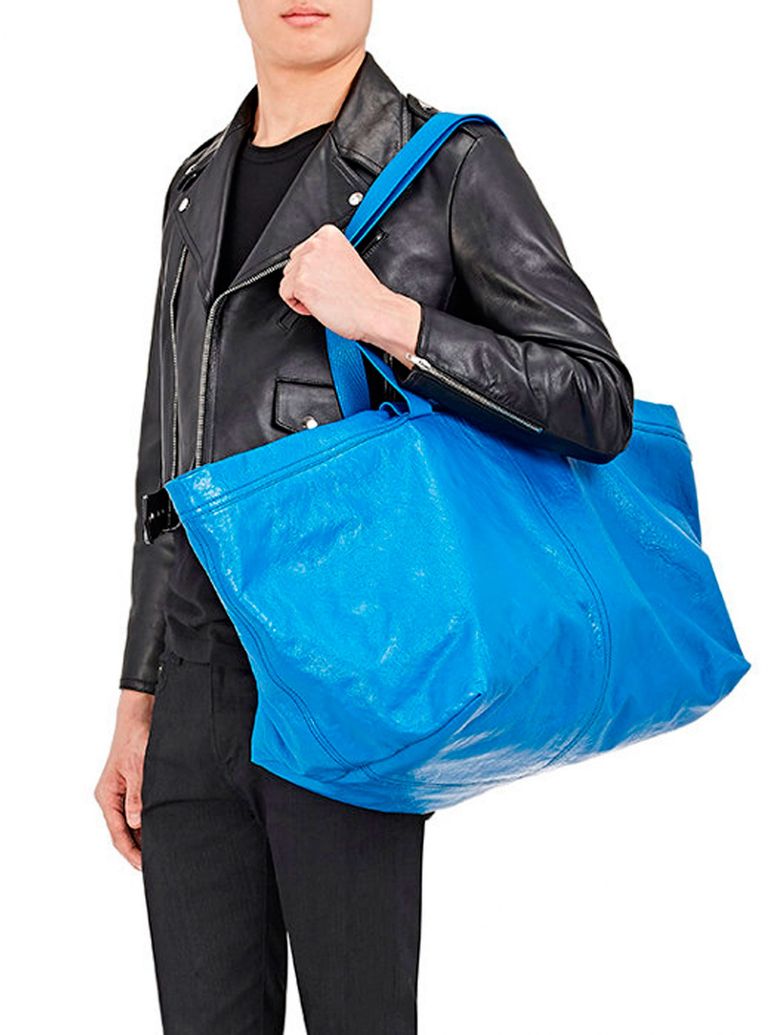 Earlier this week, to the world's dismay, Balenciaga unveiled a $2145 'homage' to IKEA's trusty 40p FRAKTA shopping bag. The favoured companion to grocery shoppers and laundry-carrying students everywhere went from everyday essential to hopelessly high-end overnight, and this isn't the designer's first time in taking inspiration from less-than-glamorous holdalls. Last year, Balenciaga's It bag, likened to a cheap Thai Sampeng laundry carrier, sold for no less than £975.
However, they're not the only designers guilty of gilding low-end wares into haute couture. Here's a round-up of our favourite rags-to-riches fashion pieces...
Anya Hindmarch's gold crisp packet bag
At the request of a crisp-loving customer, Anya Hindmarch turned the humble foil packet into a covetable piece of couture. As one of the world's foremost accessory designers, it comes as no surprise that her bags sell for thousands - this beauty is priced from under £1000 to around £65,000 for a 18ct white gold version. Quite the mark-up from a 65p packet bought at the corner shop!
IMAGE © Selfridges via Pinterest
Jil Sander's plastic carrier bag
Similarly, high-end handbag designer Jil Sander was inspired by the bog-standard when she notoriously released a plastic tote worth £180. You read correctly - a carrier bag that you'd spend no more that 5p on is now worn by the fashion elite. The German designer also created a $290 paper bag sporting a Jil Sander logo in 2012.
IMAGE © Style.com via Pinterest
Celine's AW13 line based on the tartan laundry bag print
Designers, it seems, are obsessed with laundry holdalls. And who could blame them? They're ubiquitous, convenient and loved (and loathed) by many. Phoebe Philo, creative director of French fashion house Céline, injected a little humour into her AW13 catwalk with coats, jumpers, skirts and bags seemingly inspired by market-stall tartan carriers.
IMAGE © Style.com via Pinterest
Chanel's supermarket sweep in 2014
One of the world's most famous fashion designers took their everyday-life-inspiration to new heights when they staged a catwalk in their very own supermarket in Paris. Models, including Cara Delevigne and Kendall Jenner, were snapped with trolleys, buying Chanel-branded household essentials, including ketchup and eau de Chanel, from the supermarket shelves. Absurd? Definitely, but you can't help but admire their attention to detail - even the shopping baskets featured their characteristic leather-woven chain straps. We bet they didn't have unresponsive self-service checkouts, however!
IMAGE © PopSugar via Pinterest
Isa Jaward is a journalist from London who has written for the likes of Time Out, The Guardian and Music Week.