Handbag trends 2023: These are the 8 bag styles to watch out for according to experts
Experts reveal the handbag trends 2023 that will help you up your arm candy game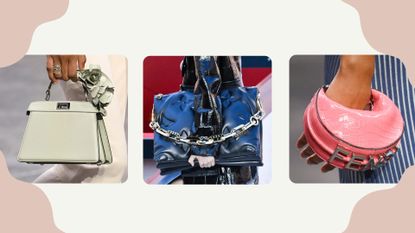 (Image credit: Getty)
woman&home newsletter
Sign up to our free daily email for the latest royal and entertainment news, interesting opinion, expert advice on styling and beauty trends, and no-nonsense guides to the health and wellness questions you want answered.
Thank you for signing up to . You will receive a verification email shortly.
There was a problem. Please refresh the page and try again.
With a new year loading, it's time to reveal the handbag trends 2023 that experts recommend investing in now. From XL bags to super tactile styles, these are the bags you'll be seeing everywhere next year.
The latest handbag trends can easily bring any outfit up to date, so if you're looking for a speedy way to bring those winter outfit ideas into the new year, then the handbag trends 2023 should help in your endeavor.
Stylist Rebekah Roy (opens in new tab) says women love a handbag, not just because they look good, but because they also make us feel good.
"Handbags represent empowerment," she says. "Historically, the first handbag or small clutch only held an opera ticket! A handbag is more than just a bag. It represents our status and our style. You can take your life with you wherever you go. It's pure freedom."
While bags have got gradually smaller, with the micro bag one of last season's biggest handbag trends – 2023 finally sees a return to larger, carry-everything styles. With models parading the runway at Marni and Ferragamo with some of the best designer tote bags, big enough to store a weekend's worth of goods. With most people returning to their pre-pandemic commuting lifestyle, bigger bags are a must, and we're subsequently seeing a return to classic structured and top-handle bags. Plus, there are new shapes on the horizon too, with crescent moon bags making their presence known.
8 HANDBAG TRENDS 2023 has in store
The best designer bags are ones that are versatile, practical and timeless. An investment purchase, they are often classic in terms of color and silhouette, but they also can be standout statement pieces that retain their value, long after the season has finished.
An easy wardrobe update, the best handbag trends 2023 started on the runway, but as soon as the fashion trends 2023 start to drop, the straight-to-market labels often have a brilliant selection of bags inspired by new season trends, but at a snippet of the price, offering a great way to inject less timeless designs without breaking the bank. If you want to give your handbag a 2023 makeover, these are the styles and colors that everyone will be carrying next season.
1. SERIOUSLY STRUCTURED BAGS
Bags that mean business were a big trend on the runway. Carrying on from its 2022 success, Prada's reissue of their 1995 style, a minimalist favorite of many a fashionista then and now, came down the runway in a variety of colors from black to bright pink and lime yellow. Continuing the trend for dopamine dressing, with mood-boosting hues.
Regardless of shades, the one thing that unifies this trend is the use of sturdy leather in structural shapes. One of the best designer bags for work, These are the bags that hold their own, with not a slouch in sight. Ideal for slipping into a minimalist capsule wardrobe, their clean outline adds polish to any outfit. Go classic in black or opt for one of the big fashion color trends 2023 - such as yellow or blue, to add a color pop to your look.
While some of the runway bags were smaller, celebrity stylist Natalie Robinson (opens in new tab) suggests for life on the pavement, opt for one that can carry everything you need.
"A structured bag is great for work, hence opt for one that's big enough for your laptop to facilitate remote working," she says.
What to look out for:
Simple lines: Look for simple sleek silhouettes with minimal hardware. The minimalist design of these bags means they are the best tote bags for every day as they won't take over your office outfit, plus they're actually a practical buy as you can fit in all you need for your daily commute.
Muted colors: Just because the shape is work-appropriate doesn't mean the bag has to be boring black. The new season sees a lot of lovely, muted shades that will make your bag stand out but not be too OTT. Try olive green, burgundy, or soft green.
2. VEGAN & SUSTAINABLE ALTERNATIVES
It's been a big talking point in the fashion industry for some time and when it comes to the best sustainable clothing brands, the number is certainly on the rise. The fashion industry accounts for approximately up to 10% of global carbon dioxide output, using a lot of polyester, which is a prime source of microplastic pollution. That's not all, leather, which is a natural product, is not only harmful to the poor animals whose skins are used, but the rearing of these animals has a huge environmental impact. Thankfully, the fashion industry is starting to wake up to these major issues.
Rebekah, who also founded Bare (opens in new tab), a vegan sustainable fashion site and store, says: "I can give you 1000 reasons why sustainably is important, but simply put, shouldn't we all care about the planet - and that our children and grandchildren to inherit a better world."
With this in mind, designer brands are trying to become more sustainable by thinking outside the box when it comes to materials used. Prada uses recycled nylon in some of its re-edition bags, while Stella McCartney, who has been leading the charge on vegan leathers, created the first luxury bag using Mylo, a faux leather made from mushrooms.
Rebekah says there are so many leather alternatives to choose from these days.
"Pineapple leather was one of the first to come on the market because it's strong and very durable," she says. "We now have some great handbags made out of cactus, apple and even mango leather!"
What to look out for:
Vegan leather: Leather alternatives come in many forms from Pinatex, which is made from the leaves of pineapples to cork. And you don't have to sacrifice style for the planet as there are lots of great brands using these textiles now such as Thalie (opens in new tab), Mashu (opens in new tab) and Been London (opens in new tab).
Recycled: More brands, such as, Scandinavian clothing brand, Ganni are now at least using recycled polyester in some of their handbag designs. Polyester can take up to 200 years to decompose so it's much better to recycle it than to dump it.
Vintage: One of the best options for helping the planet is by buying vintage or second-hand bags. In some cases, they can cost more than those bought brand new, but generally, you can get a great designer bag at a fraction of the price.
Rental: Have no fear if you desperately want to repeat what you saw on the runway. The best designer dress rental companies often carry handbags too, so you can stay on style without the investment.
3. SHINY METALLICS
Metallics aren't just for the holiday season as the runways for 2023 were awash with glossy metallics, adding sparkle to our closets all year round. Chanel, JW Anderson and Gabriel Hearst all featured metallic bags in their collections, and while gold remains a favorite, silver is having its moment in the spotlight as one of the big trends for next season, ideal for wearing with white and a heavy dose of sunshine.
Don't just keep these shiny wonders for evening wear though. While an obvious fit for a night out, Tom Ford sent models down the runway with a turquoise metallic tote slung over their shoulders, proving you don't have to keep the shine for evenings. And of course, metallics have also slipped into the shoe trends 2023 too so you can go for a matching set of accessories if you'd like
"I'm all for wearing shiny and metallic bags with daywear," says Rebekah. "An easy way to dress a pair of jeans up is with a metallic bag. Remember, fashion is about having fun, so mix up your evening and your daywear with a metallic bag!"
What to look out for:
Embellished bags: Some of the best Chanel bags for 2023 are the brand's gold bags, embellished with pearls. A metallic bag with added gems or pearls is the perfect night-time accessory, making your best cocktail dresses look runway-ready.
Tote bags: While metallic bags are normally small and sweet for evenings out, why not go supersize this year and try a shiny tote? They're a great way of adding a little bit of glam to your daytime wardrobe and also work well for day-to-night outfits.
Silver bags: It's been out of favor for a while, but silver is definitely back this season. Choose bags with a high mirror shine as seen at JW Anderson for the ultimate piece of arm candy.
4. TOP HANDLE
Queen Elizabeth II was rarely seen without a classic top-handle handbag, especially her favorite Launer handbag design. This vintage style is definitely back for 2023, and while they have a nice retro, ladylike feel to them, Sportmax proved they can still look super modern, thanks to boxy shapes and multi-colored patterns.
Cassandra Dittmer (opens in new tab), stylist and founder of CD Studio, says this style of bag is a fashion classic, which is why it's seen across the runway time and time again.
"Top-handle bags are so classy, timeless and a great investment piece," she says. "I think the best way to style this accessory is to think of the ideal occasion or use for the bag."
While not as versatile as the best designer crossbody bags that can be worn hands-free, top-handle bags help to give any look a polished feel. Louis Vuitton had several top handle bags in a variety of patterns and colors, all of which added a final luxe touch. While this look will work with larger bags, Cassandra says smaller top handle bags really make a style statement.
"I think the juxtaposition of a more functional bag in a smaller shape is a really unique way to style this season and beyond," she says. "It is less functional but feels more modern and playful. I also love the idea of something more feminine and romantic paired with the structure of a top handle bag to have a very balanced and unique approach to personal styling."
What to look out for:
Mini bags: Ditch the evening clutch bag for a mini top handle bag, which feels much more modern. Try Jacquemus for a designer-led purchase or Zara for more affordable versions.
Blue: Louis Vuitton, JW Anderson and Off White all sent variations of blue top handle bags down the runway. Blue was a huge deal at runways across all four major fashion cities and certainly a color to slot into your wardrobe next season.
Accessories: Fendi attached leather flowers to their top handle bags, while Dior went for luxe keyrings. Adding a keyring or small leather accessory to your top handle bag is an easy way to bring it into 2023. It's also a cost-effective way of injecting a little designer feel to any handbag, instantly elevating it.
5. SUPER TOUCHABLE
Moving on from one of the big handbag trends 2022 - furry textures - comes super touchable bags. These aren't bags to be stroked, but instead are tactile, puffed up and squashy, with an emphasis on using quilted nylon or butter-soft leather.
Despite being designed with shoulder straps, the brightly colored bags at Sportmax and Stella McCartney were worn squished under the arm, showcasing just how touchable they are.
While you may think bags like this are for evening only, they make a great statement when contrasted with sharp tailoring - a sort of relaxed style contrasted with rigidity - especially when the bags in question are also supersized.
"A super soft bag is great for the evening, especially when worn with a little black dress," says Natalie. "Such bags are wonderfully tactile and make for a statement accessory, overall."
What to look out for:
Bright colors: There's something about these super squishy bags that really suit bold colors and it's a great way to introduce color if you can't do bright color clothes. With earthy orange, olive green and sunshine yellow being key colors for 2023, choose one of these shades to add a pop of color to neutral outfits.
Nylon: While butter-soft leather is a luxurious, touchable choice, nylon is not only a great alternative but much hardier, ensuring you won't leave too many fingerprints all over your tactical bag.
6. XL BAGS
After the long reign of micro bags, the XL tote bag is the big winner when it comes to the handbag trends 2023, proving the new season bags can be stylish and practical as well.
Designers who introduced the maxi as a must-have included Louis Vuitton, who sent models down the runway carrying patent uber-sized tote bags under their arms, while the best Gucci bags on the catwalk were XL tote bags covered in the brand's signature monogram.
"This trend works with something sleek, chic, and tailored that can emphasize the oversize bag," advises Natalie. "Ideally it's a disproportionate use of the oversize bag that creates the illusion of (the wearer) looking smaller - and the bonus of course, is that you get to carry lots of things around!"
What to look out for:
Minimal designs: Minimal in style, the XL size is all you need to make a style statement. Keep the silhouette simple and any embellishments to a minimum.
Quilting: Classic detailing such as quilting looks ultra modern when supersized. Take in point one of the best Saint Laurent bags of the season, the Icare. Carried by celebs such as Hailey Bieber and Zoe Kravitz, the oversized shopper is chic, timeless and practical.
Monograms: This Y2K trend is going nowhere fast as Gucci and Louis Vuitton continue to play on their iconic branding.
7. CRESCENT MOON SHAPES
A move on from the slouchy hobo, a crescent moon bag is its structured sister and it is a must for the handbag trends 2023. The ends of the bag round upward and inward, creating the shape of a moon and the perfect handbag for any minimalists out there. Mostly worn over the shoulder, this style fits snugly under the arm, ensuring the finished look is sleek.
Hermes sent crescent bags down the runway in muted shades, while Fendi upped the color game with bright pink crescent bags that were on the micro side and designed to be worn over the hand. Whether you continue to embrace Barbiecore, or opt for a classic shade, that offers slightly longer longevity, this is the bag you should be toting to dinner come the summer.
"I love a crescent bag shape because it is so interesting and versatile," says Cassandra. "I think they're best styled for an evening out or for a more fashion-forward moment!"
What to look out for:
Muted shades: The crescent moon bag can be worn for day and night so is a super versatile addition to your wardrobe. Choose one in a neutral, muted shade that will go with everything.
Micro: Perfect for nights out, a micro crescent bag will add interest to any outfit. The downside? They don't carry much so ditch the purse for one of the best designer cardholders and you're ready to go.
8. BUCKLES
"Statement buckles are a flashback to the 2000s," says Cassandra, and much like all the Y2K trends that are prominent at the moment, the modern take is slightly more refined than the original trend.
At Altuzarra and Marine Serre, buckles were simple, chic and had a function, however, Givenchy was closest to the original trend, creating bags with buckles all over, used simply as decoration.
Buckles like this give simple silhouettes an edgy feel, tapping into the utility or Gorpcore trend that is one of the denim trends 2023 predicts will be big. The practical nature of this trend means it doesn't just work well with sleek handbags, but also with the best designer backpacks, a carryover from last year's handbag trends.
What to look out for:
Silver buckles: Silver is the new gold, so it makes sense to incorporate this modern metal into the hardware of your 2023 bag.
Big buckles: Marine Serre only had one buckle on some of their bags, but they made them matter by making them big, rounded and oh-so-shiny. They also included the buckle into the handle, making it an easy way to tote this trend if too you like things sleek and chic.
Practical pockets: Pulling in from the Gorpcore look, invest in handbags with pockets finished off with buckles for a statement and trend-worthy look. Practical and stylish, backpacks in this trend feature lots of pockets with practical buckles, such as Prada's Re-Nylon rucksack range.
With over 22 years' experience in journalism, Jayne has written about a variety of subjects. She spent the start of her career within the world of film, interviewing Hollywood stars, attending premieres and lusting after red carpet outfits, and then moved into fashion, launching websites for big magazines such as Look, Woman's Own and Wedding and working with top fashion brands such as Westfield, LK Bennett and Hunter.
Career highlights include dressing up as Kylie (in gold hot pants!) for a national newspaper and working on big fashion events alongside Giles Deacon, Henry Holland and Naomi Campbell.