Affordable designer bags worth investing in
These are the affordable designer bags under $500 that fashion experts recommend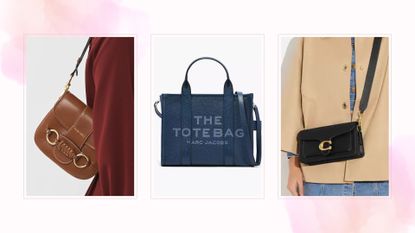 (Image credit: Chloe / Marc Jacobs / Coach)
The phrase affordable designer bags might feel like an oxymoron, but if you've been dreaming of some designer arm candy and assumed every style costs at least four figures, you might be pleased to know that there are plenty of gorgeous designer bags under $500.
It's no secret that the price of the best designer bags are steadily creeping upwards, and with many costing over $1000, saving up and then splurging on a new season style is becoming increasingly difficult. However, while some of the best Chanel bags are always going to set you back a tidy sum, there are numerous affordable designer bags that come in under $500, making that premium purchase a little more attainable.
Each season the handbag trends usher in a host of new looks, and while many of the runway styles are set at a very high price point, depending on the size, fabrication and hardware, there are affordable bags available from many of the industry's top labels. We've rounded up ten of the best affordable designer bags to shop right now, from seasonless classics to trend-worthy buys.
10 affordable designer bags under $500
As always, in order to avoid making a handbag mistake, make sure you know how, when and where you want to wear your bag. If you're looking for a trend-worthy buy, and affordable designer bag will give you the look you want without too much of an investment. Alternatively, there are plenty of designer handbags under $500 that fit the brief for a timeless, wear with anything bag. For the most classic style, look to neutral colors and hardwearing leather fabrications for a design that will last.
1. Coach Tabby Shoulder Bag 26
Specifications
RRP: $450 / £450
Colorways: 9
Reasons to buy
+
Becoming a cult bag
+
Striking clasp detail
+
9 colorway options
Reasons to avoid
-
Slightly more expensive than other bags in this list
Coach, often referred to as Coach New York, is an American clothing brand specializing in luxury goods. Crafted from black leather, for timeless appeal, the Tabby has become one of the brand's most iconic styles, making this an excellent investment piece. Available in a host of trending colorways, we love the black with brass statement C clasp for an affordable designer bag that will always look sharp. A great designer bag for work, while you can't fit your laptop in, you can wear this design crossbody or on the shoulder, and it's ideal for essentials such as phones, keys and cards.
---
2. Tory Burch Small Ella Bio Tote
Specifications
RRP: $298 / £315
Colorways: 6 / 5
Reasons to buy
+
Subtle but elegant colorway
+
Great price point
+
Lots of colorway options
One of the best designer tote bags, the small Tory Burch Ella Bio Tote comes in a host of colorways, but this latte iteration is ideal for brightening up a spring capsule wardrobe and thanks to its neutral hue, it won't go out of fashion. The embossed design on the front showcases the brand's signature, while the elegant simplicity of the silhouette is ideal for exuding quiet luxury and the Stealth Wealth look.
Although this is billed as a small size, as shown on the model, it is still a roomy enough size for daily essentials, or for pairing with those smart casual outfits for a little bit of weekend luxe. The pale hue will team well with jeans, as well as with bolder colors to add a softer feel to your look.
---
3. Kate Spade Knott Whip-Stitched Tote
Reasons to buy
+
Lots of beautiful detailing
+
On-trend colorway
+
Good size
Reasons to avoid
-
Could mark easily due to light color
In one of the biggest fashion color trends for 2023, this lemon yellow bag will brighten up all those spring outfit ideas in a flash. With ability to be worn as a crossbody bag or as a shoulder bag, this piece of arm candy is all about the detail. From the knot on the carry handle, to the artisanal whipped detailing, this bag has a relatively small price point compared to the crafting that has gone into it. Kate Spade is known for its love of color and quirkiness and while it is very much a designer bag, there is accessibility and affordability at the core of its design and this slots into that approach perfectly.
---
4. Jacquemus Le Petit Panier Soli
Specifications
RRP: $460 / £355
Colorways: 7
Reasons to buy
+
Seven color choices
+
Trending summer style
+
Two ways to carry
Reasons to avoid
-
Not the most iconic of styles
French clothing brand Jacquemus has created quite the cult following for its micro handbags, but despite their small stature their price-point is steadily growing. If you're looking to invest in an affordable designer bag by Jacquemus, then its raffia bag is the ideal partner for the months ahead. Larger than its most famous style - the Chiquito range, the Panier Soli will make every outfit feel summer-ready.
Raffia bags remain key fashion currency for this season's trends and with contrasting straps and front flap pocket, in seven dopamine dressing-inspired colorways, you're bound to find one that suits you. With a shoulder or crossbody carry option, this is a surprisingly versatile style, ideal for a capsule wardrobe for travel. Delivering the hit you might want from the Loewe palm leaf bag, but at a fraction of the price, this is a piece you can wear this summer and beyond. We love the nod to Barbiecore style with this bright pink hue.
---
5. Longchamp Epure Bucket Bag
Specifications
RRP: $335 / £250
Colorway: 5
Reasons to buy
+
AM to PM style
+
5 colorways to choose from
+
Under $350
A bag brand worn by Princess Anne and Kate Middleton, Longchamp has a rich history in crafting long lasting bags. One of the best affordable designer bags on the market, while its large leather styles can be quite pricey, its smaller leather goods, as well as its canvas styles are practical and more accessible. Giving a nod to the latest accessories trends, this leather bucket bag can be worn for work or play. Wearable via a top handle only, this bag will go easily from AM to PM and what it lacks in width it makes up for in depth. A great choice for essentials, this dark brown leather iteration is ideal for keeping those summer outfits for work looking polished.
---
6. See by Chloe Saddie Satchel Bag
Specifications
RRP: $485 / £395
Colorways: 3
Reasons to buy
+
See by Chloe, more affordable than mainline
+
Packed full of detailing
+
Timeless color
Due to high price points, many designer brands look for entry points to their brands to build their consumer base. This normally is done through things like perfume, make up ranges or small accessories such as designer cardholders, the best wallets or bag charms. However, some brands, like Chloe create diffusion line collections, clothes and accessories that reflect its main range but at a slightly lower price point, with items in the hundreds instead of thousands. This is true of See by Chloe, a part of the brand, the core design aesthetic reflects that or the main line, but if a Marcie bag has always felt out of reach, you could start your collection with the Saddie, and affordable designer bag at under $500.
If this season's hottest aesthetic Coastal Cowgirl is on your hit list, then this bag is perfect for up-styling your look. Available in three colorways, the tan is by far the one that feels most seasonless to us, ensuring you can get maximum wear out of your affordable designer bag. A small satchel bag, this is a good size for everyday essentials and while it is mainly classed as a shoulder bag, the straps are adjustable to create one of the best designer crossbody bags too.
Thanks to the metal hardware clasp and intricate leather-work on the front of the bag, this small satchel is packed with detail and will transfer from day to evening with ease. Thanks to Chloe's inherent boho style, this satchel bag really reflects the brand's design aesthetic for a handbag that you can cherish for years to come.
---
7. Michael Kors Veronica Dome Satchel
Specifications
RRP: $358 (US only)
Colorways: 1
Reasons to buy
+
MK monogram fabric
+
Great price point
+
Lady-like design
Regularly showcasing during New York Fashion Week, Michael Kors accessories have seen a huge growth in popularity. While many designer labels price out customers with their handbag collections, Michael Kors has developed some of the most affordable designer bags on the market, and with MK monogrammed bags appearing on arms all over the world, this strategy has helped to create a bag with cult status.
Covering every possible style, from its designer backpacks, to clutches, totes and everything in between, the Michael Kors aesthetic centers around neutral colors, including tan, cream and black, alongside healthy doses of pink and light blues hues, for a warm color palette that goes with pretty much anything. While there are plenty of leather options, it's the MK print canvas that is perhaps the most recognizable signature of the brand, making this look the one to invest in.
---
8. Anya Hindmarch Holiday Tote
Specifications
RRP: $295 / £195
Colorways: 1
Reasons to buy
+
Easy to spot
+
Smile-inducing
+
Great size
Reasons to avoid
-
Only really a holiday bag
Never failing to put a smile on our face, British designer brand, Anya Hindmarch approaches fashion with plenty of tongue and cheek. This cheery tote bag is one of the most affordable bags in Anya's range, coming in at under $300 and one of the best beach bags if you're wondering what to pack for a beach vacation this summer. The bright orange hue makes it easy to sport and the 'Holiday' lettering is sure to get you in the mood for some sun. A spacious design it's ideal for carrying all those essentials down to the beach, and will also make a pretty good partner for what to wear on a plane as a roomy carry-on bag. Crafted from recycled canvas, made from plastic bottles, this bag has two sets of straps, one for handheld carry and one for wearing on your shoulder. Although this affordable designer bag is only available in orange, if you want a darker color, there is a navy iteration available branded with the phrase 'beach' instead.
---
9. Marc Jacobs Medium Leather Tote
Specifications
RRP: $450 / £495
Colorways: 5
Reasons to buy
+
Iconic bag
+
Plenty of price, color and fabric options
+
2 ways to carry
Designer Marc Jacobs has produced some of the best affordable designer bags for years, but its The Tote Bag series that has really reinvented this fashion house as a luxury retailer with accessible bags that everyone wants a piece of right now. The collection is categorized by its 'The Tote Bag' lettering on each iteration, with the bags spanning multiple fabrications and sizes, from mini canvas tote versions starting from $175to large leather totes at $595, making even the biggest of this style an achievable proposition.
We are loving the medium navy leather tote bag for both its style and affordability. Large enough for all your work essentials, the navy hue is just so incredibly chic and a wonderfully elegant alternative to black. Wearable as a crossbody or carriable via its top handles, this style is set to remain much sought after for many seasons to come.
---
10. Isabel Marant Striped Canvas Tote
Specifications
RRP: $295 / £251.74
Colorways : 1
Reasons to buy
+
Great color
+
Under $300
+
Strong branding
Reasons to avoid
-
No fastening on the main bag
Isabel Marant effortlessly combines a sports-luxe aesthetic with a distinctly bohemian feel and this fabric striped tote is ideal for those looking for a lighter fabric bag for everyday that packs a fashionable punch. The front zipped pocket is ideal for storing travel cards or keys to keep them close to hand, while the main body of the bag is fastening free, great if you love a tote that is a bit of a catch all style. If you're worried about security, there is an inner zipped compartment that's perfect for cards and your phone.
The bright striped design makes this a good summer bag that is wearable for work or play. Folding relatively flat, you could certainly use this style poolside for a directional feel to your look.
Rivkie is a fashion editor, writer and stylist with over fifteen years' experience in the industry. Having studied design and pattern cutting at the London College of Fashion, Rivkie fell in love with styling and journalism, covering fashion weeks in London, Paris and New York.
Specialising in plus size fashion, Rivkie has long championed that style is for everyBODY and has been a regular talking head on a host of radio stations and television shows, pushing for greater representation for plus size women and fashion throughout her career.