8 unique Easter basket ideas for adults
Get creative and give your loved ones something they'll actually use with these unique Easter basket ideas for adults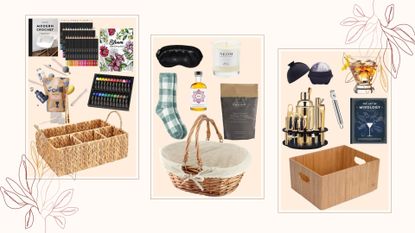 (Image credit: Future)
Our Easter basket ideas for adults will help you come up with creative and unique gifts for your loved ones that they can make use of over their Easter break and onwards.
While pre-made Easter baskets can be lovely, most Easter hamper ideas for adults tend to be made up of chocolate, candy, pantry staples and maybe a bottle or two, most of which ends up gathering dust at the back of the treat cabinet after we've picked out our favorite bits.
So why not gift them an Easter basket that's made solely for them and their likes, interests or tastes? Get creative by picking something that they're passionate about and then making them their very own hamper. To help you get started, our edit of basket ideas has something for everyone—from the fashion-lovers to the home cooks and the green-fingered.
Easter basket ideas for adults
Why you can trust Woman & Home Our expert reviewers spend hours testing and comparing products and services so you can choose the best for you. Find out more about how we test.
Our guide to Easter basket ideas will help you get started on creating unique Easter gift for adults this year. We've picked out some of our favorite products that could be added into each themed basket—and included a total price for all of our suggestions. However, for each option we've also added a list of alternative content ideas if you wanted to take more creative license.
We've also provided some unique "basket" suggestions, so while each idea may not use a typical hamper, we've suggested an alternative vessel that your giftee might make more use out of. However, you could get a personalized Easter basket made up with their name on too if you wanted to make this extra special.
1. Beauty Easter basket
Specifications
Total price: $260.79
Basket: Toiletry bag
Content ideas: Lipstick, moisturizer, facial tool, perfume discovery set, silk hair ties, hairbrush, nail polish, body lotion, mascara, makeup palette, minis
If your giftee lives by a daily skincare routine, never heads out without their best red lipstick and has already made their way through some of the biggest 2022 hair trends, then our beauty Easter basket idea, full of springtime skincare, makeup and hair must-haves, will be right up their street.
We've put together a selection of beauty staples, including a silk hair tie to stop any kinks when the weather heats up, one of the best facial rollers in the industry, and the new and improved formula of the Huda Beauty Liquid Matte—one of w&h's best long-lasting lipsticks.
We also suggest including the brand-new Ole Henriksen Strength face cream: with its quenching formula and refreshing gel-like texture, it's one of the best lightweight moisturizers we've tried this year.
To upgrade their perfume collection, consider including Maison Margiela's Replica fragrances discovery set which features fresh scents and floral fragrances for spring.
If they like to get creative with their talons, we'd also throw in some pastel nail polish so they can recreate their favorite Easter nail ideas or just general spring nail designs that they love. All of this is housed in the chic Béis Cosmetics Case, which boasts several sections for organisation and a standing mirror for application.
2. Home chef's Easter basket
Specifications
Total price: $255.82
Basket: Bread bin
Content ideas: Cookbook, chef's knife, personalized cooking apron, spice rack, fancy cooking oil, truffle ingredients, wooden chopping board, premium cooking ingredients
A sure-fire way to put a smile on a home chef's face is to gift them a selection of kitchen essentials. Our edit includes a range of cooking must-haves—like the renowned Global Chef's Knife which is used in some of the most-famous Michelin star kitchens in the world, a chic criss-cross spice rack tower that can be placed horizontally or vertically and an adorable personalized chef's apron.
We also included the New York Times number one bestselling Magnolia Table by Joanna Gaines—one of the best cookbooks to come out in the US over the past few years. And of course, we had to include a fancy cooking oil.
This idea features an elegant bread bin in place of a basket, as they can reuse it afterwards for their freshly baked loaves or Easter biscuits.
3. Crafts Easter basket
Specifications
Total price: $175.84
Basket: Divided craft basket
Content ideas: Crafting/sewing/knitting book, sewing set, coloring book, nice coloring pencils, knitting set, painting set, easel, sketching pencils, sketching pads crochet set, pottery set, jewelry making kit
The Easter break is a great time to relax, recharge and maybe try out some new hobbies. If your loved one is creative, why not gift them an Easter basket full of craft essentials so that they can learn a new skill—or even reignite their flame for an old one—during the holiday.
We've suggested a watercolor painting kit for our crafty Easter basket and perhaps a home pottery kit too. The Sculpd Pottery Kit contains everything they'd need to make pots, trinket dishes, vases and more.
An adult coloring book along with a set of colored pencils is a great inclusion too for those who want a bit of relaxing but creative downtime and a crochet set for anyone who talented with a needle and thread. We suggest a divided wicker basket for this one so they can keep all of their new craft materials nice and organized.
4. Self-care Easter basket
Specifications
Total price: $169.99
Basket: Wicker basket
Content ideas: Candle, bath oil, blanket, tea, silk eye mask, fluffy socks, essential oil diffuser, cocoa mix, bath salts
If you want to treat them to the gift of self-care for their Easter break, this basket has all the wellness goodies anyone would need for a lovely week of pampering. Presented together in a reusable wicker basket, this edit contains cosy fluffy socks and a luxury silk eye mask to help them get a restful night's sleep.
And what is a self-care basket without one of the best-scented candles? Of course, we opted for the Neom Real Luxury candle, which is one of the best aromatherapy candles around thanks to its perfectly blended notes of lavender, jasmine and Brazilian rosewood for relaxing scent.
Our basket also includes the indulgent REN Clean Skincare Moroccan Rose Otto Bath Oil—one of our favorite bath oils for recreating the classic Moroccan hammam spa experience at home—and a packet of the delicious Salted Caramel Hot Chocolate cocoa flakes from Hotel Chocolat.
5. Mixologist Easter basket
Specifications
Total price: $157.38
Basket: Kitchen storage box
Content ideas: Cocktail shaker, spirit minis, fancy juice, ice cube tray, cocktail accessories, drinks recipe book, citrus rind peeler, cocktail glasses, ice ball mold
One for the keen hosts, this basket is perfect for bringing along on Easter Sunday as it will end up being a gift for the whole party. Filled with everything they'll need to brush up on their cocktail-making skills, this basket will stand them in good stead for all of their gatherings to come.
The beautiful gold cocktail accessory set and stemless martini glasses are great for those who like to do something a bit different with their interiors and tend to lean towards more contemporary styles—plus they both look a lot more expensive than they are so you can get some bonus friend points. We've also included an ice mold for impressive presentation and a citrus rind peeler so they can create those fancy lemon twirls in their martinis.
This is also a great option to go for if you've left your gift shopping until the last minute, as this whole basket is made up of Amazon Easter gifts, so you can take advantage of the site's fast delivery times and still show up with an impressive present that looks like you've spent weeks planning it.
6. Fashionista's Easter basket
Specifications
Total price: $350.42
Basket: Trendy tote bag
Content ideas: Demi-fine jewelry pieces, nice scarf, sunglasses, sandals, casual trainers, belt, gloves
For your most fashionable friend, a stylish tote bag full of on-trend buys would be a much-appreciated gift. Our picks are on the higher end of the price spectrum but you could swap in some alternatives if you wanted to lower the price a little.
Fashion-forward friends would appreciate a pair of versatile, but chic white trainers. We went for the iconic Superga Cotu Classic, one of Kate Middleton's favorite trainers, as they're both comfortable and stylish.
We also suggest including a thoughtful jewelry gift. London brand Missoma offers some of the best jewelry online, so naturally, we had to include their stylish cuff that boasts Meghan Markle as a fan. Monica Vinader is also one of the best jewelry brands for on-trend pieces so their Siren hoops would make a great gift for any fashionistas in your life.
7. Jetsetter's Easter basket
Specifications
Total price: $348.98
Basket: Weekend bag
Content ideas: Passport case, luggage tag, travel pillow, jewellery case, mini toiletries, crossbody bag, coin wallet, travel pouch
A package full of travel essentials can be a lovely way to show your closest jetsetting friend just how much you love them. Housed in a Longchamp Le Pliage Overnighter bag, which is one w&h's best weekend bags for women, this one is on the higher end of the price spectrum, but you can switch out some of the products to bring the cost down.
A passport case can be a really useful gift for those who travel a lot as it can be easy for a passport to become tattered and bent on the corners when it's used on a regular basis—so this tan-colored ROYCE version would make a lovely treat. It's also helpful to have a good travel pillow on hand at all times and this classic Samsonite inflatable definitely fits the bill.
To help them save room in their luggage for Easter eggs, we've also suggested a mini toiletry set from Sephora, while the affordable Amazon jewelry case will keep all their best necklaces, bracelets and rings safe on their travels. As an extra little treat, the Michael Kors travel pouch is perfect for keeping all their essentials, like purse, keys and passport in one easy place during their long journey.
8. Gardener's Easter basket
Specifications
Total price: $185.83
Basket: Garden Utility Bag
Content ideas: Gardening apron, gardening basket, planter, gardening book, plant seeds, flower seeds, herb seeds, plant markers, watering can, garden tools
Filled with some of the very best gifts for gardeners, this Easter basket is perfect for all your green-fingered friends who love to use the spring months to get their garden in shape.
We opted for a chic Anthropologie garden utility bag as the basket for this one, as it is super handy for carrying tools and the like around the garden but looks fabulous too. Inside the bag, you could include the matching apron, ideal for keeping clothes clean and carrying tools around while doing gardening tasks.
Of course, we had to include a set of pretty garden tools to keep in their new bag and a gorgeous watering can to help keep all their shrubs healthy. A gardening book could be helpful too as well as a selection of seeds to get their spring planting off the ground.