The 8 best travel pillows for every kind of trip and every kind of sleeper
Bag the best travel pillow for a comfortable snooze wherever you're traveling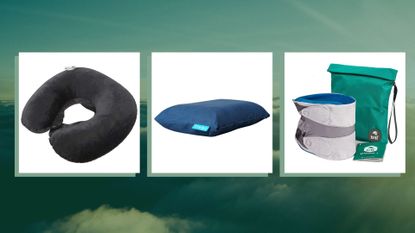 (Image credit: Future/Canva)
woman&home newsletter
Sign up to our free daily email for the latest royal and entertainment news, interesting opinion, expert advice on styling and beauty trends, and no-nonsense guides to the health and wellness questions you want answered.
Thank you for signing up to . You will receive a verification email shortly.
There was a problem. Please refresh the page and try again.
Finding the best travel pillow can do a lot to make a long journey more comfortable. We spent two months sampling a variety of travel pillows in multiple scenarios—including long red-eye flights in uncomfortable economy class seats, train rides across the city, and road trips.
Travel pillow technology has come a long way from the classic U-shape pillow filled with little bean bag beads. With different shapes, sizes and materials now available there's a lot to consider when choosing a travel pillow. We tested a number of different options from brands that offer both the best pillows, best suitcases and travel goods to those that are new to the travel pillow market, and assessed their particular features.
We looked at features such as size, weight, material and, of course, the level of head and neck support. Each pillow has also been tested for portability and comfort—the two most important aspects of any travel pillow. Our guide has the best picks for every kind of trip and traveler, so all you need to do now is pick from the best places to travel in 2022 and start planning.
What is the best travel pillow to buy in 2022?
Why you can trust Woman & Home Our expert reviewers spend hours testing and comparing products and services so you can choose the best for you. Find out more about how we test.
Only have time for a cursory glance? Below is an overview of the best travel pillows you can buy in 2022, with quick links to buy...
The best travel pillows as chosen by our experts
1. J-Pillow Travel Pillow
Best overall travel pillow—and best for long-haul flights
Specifications
RRP: $39.95 / £22.95
Overall score out of 5: 4
Portability score: 3
Comfort score: 5
Does it have a case?: Yes
Reasons to buy
+
Supportive and durable
+
Soft, yet firm
+
Stops head from dropping
By far the most unusually shaped travel pillow on this list, the J-Pillow looks somewhat like an elephant, so it's only right that its longest protrusion is called "the trunk". It's this "trunk" that makes the pillow so special—where normal U-shaped travel pillows support just the back or sides of your head, this pillow supports you at almost every angle.
Knowing how to use this isn't tricky, either. There's a clever little embroidered ear on the side to show you where to put your face. Then the trunk naturally sits below the jawbone and chin to support your head should there be any lolling about. The pillow is supremely soft in feel and is firm without being hard. It has a loop for attaching to bags or suitcases, and it comes in a carry case for extra protection.
While it doesn't squash down significantly, it's well worth carrying the bulk with you if you're on a long-haul flight in economy class. We reckon even the most sensitive sleeper will get a couple of hours of shut-eye with this pillow.
2. Trtl Pillow Plus
Best travel pillow for neck pain
Specifications
RRP: $69.99 (US only)
Overall score out of 5: 5
Portability score: 5
Comfort score: 4
Does it have a case?: Yes
Reasons to buy
+
Soft cushioned support
+
Ergonomic design
+
Lightweight and compact
Reasons to avoid
-
Length of the neck support insert is a bit bulky
-
Currently on backorder
At first glance, the Trtl (pronounced "turtle") Pillow Plus doesn't look the comfiest. It doesn't look much like a pillow at all. More neck brace than soft furnishing, the device is specifically designed for those lolling heads aboard long flights. Inside is a durable, solid brace mechanism and it's covered with a breathable, soft fabric. This extends to create a wraparound functionality to secure the pillow in position. Two dials allow you to change the height of the brace too: ideal if you need extra support or perhaps have a shorter or longer neck than most.
It will take some time to find the right position for you, which is a downside. And if you want to change position mid-flight? Then you'll likely have to take it off to readjust. But the faff is well worth it. The support inside is scientifically proven to hold your head and neck in a better position than traditional U-shaped pillows, making this by far the best travel pillow for neck pain.
It also has more padding than the original Trtl model (see below; number 4) to make it softer. It's lightweight, easy to pack into backpacks or larger handbags, and is machine washable. The Trtl Plus also has a waterproof carry case, which can be attached to bags with its popper-button loop.
One caveat: the Ttrl Pillow Plus is quite popular so it's currently on backorder. You can place an order for one now at Trtl, with an estimated ship date of June 6.
3. Simba Memory Foam Travel Pillow
Best travel pillow for side sleepers
Specifications
RRP: £45 (UK only)
Overall score out of 5: 4
Portability score: 4
Comfort score: 5
Does it have a case?: Yes
Reasons to buy
+
Adaptable and breathable material
+
Fits into compact carry bags
+
Very comfortable
Reasons to avoid
-
Quite large for a travel pillow
-
A tad noisy if you fidget in your sleep
While most of the best travel pillows are U-shaped, the Simba Memory Foam Travel Pillow is much more like a traditional pillow you'd use in bed, but don't dismiss it immediately. It might not be specially shaped for aeroplane use, but it's still a supremely comfortable, cooling pillow - and it's a world better than the ones provided by the airline (and cleaner, no doubt). Plus, the shape makes this one perfect for side sleepers.
Simba does some of the best pillows for back pain and neck pain (like the Simba Hybrid pillow) thanks to its clever filling. This pillow is made from memory foam—or Simbatex, as the company calls it—designed to keep you cool while you sleep. It's firm but moulds nicely around your head. In fact, it will fit in those awkward gaps should you be lucky enough to get a window seat.
While it can be a little noisy if you shift around on it, it does have a smooth, pleasingly cool case that's great to rest your face on. The pillow comes with a clever carry cylinder that unzips completely. This means it can be packed away just by rolling it up.
4. Trtl Pillow
Best travel pillow for short-haul flights
Specifications
RRP: $39.99 / £39.99
Overall score out of 5: 4
Portability score: 4
Comfort score: 4
Does it have a case?: No
Reasons to buy
+
Holds head in comfortable position
+
Soft fleece and foam padding
+
Great ergonomic support
Reasons to avoid
-
Much smaller than a regular neck donut travel pillow
-
Doesn't have extra cushioning
The original Trtl Pillow (read: "neck brace") is a brilliant little gadget to carry on your holidays. It's perfect for planes or cars, and offers good ergonomic support. The brace part is encased in a lovely soft fleece material, which wraps around your neck to secure the support.
We reckon the best place to secure it is below your jawline on your preferred side. However, it can also be used directly under the chin. This one doesn't come with a carry case or extra cushioning, but for short-haul flights it's a perfect addition to your hand luggage—you'll likely get an hour or two's kip thanks to the Trtl. It's also one of the best thin pillows for front sleepers to use on-the-go.
5. Samsonite Inflatable Travel Pillow
Best inflatable travel pillow
Specifications
RRP: $15 / £22
Overall score out of 5: 4
Portability score: 5
Comfort score: 4
Does it have a case?: Yes
Reasons to buy
+
Compact and easily fits in storage
+
Lovely soft feel
Reasons to avoid
-
Can be difficult to deflate
-
Seams can be irritating
Of course, Samsonite is known for their tp quality suitcases and having some of the best weekend bags for women on the market, so it's not surprising that the brand makes a reliable travel pillow. Inflatable travel pillows are rarely on any best-of lists. They are often hard once they're full of air, and having to blow them up is inconvenient. But the Samsonite inflatable travel pillow is changing things. Its clever stopper means it can be inflated by mouth in a matter of seconds. It literally takes just a few breaths and it won't deflate as soon as you try to plug it up. Want to deflate it? Removing part of the stopper lets out significant amounts of air extremely fast.
It has a lovely soft feel on the top and a non-slip surface on the bottom. This makes it secure on your shoulders, though the underside can be a little noisy when moving about. The seams, however, are a drawback. There are large external flaps of material on the inner rim of the pillow where your neck rests. This can become irritating if you move a lot in your sleep. Regardless of that, though, this is by far the best inflatable on the market. The best bit? It packs into a carry case no larger than your mobile phone, so it's a handbag-friendly too.
6. Hippychick Lumbar Support Travel Pillow
Best memory foam travel pillow
Specifications
RRP: £39.95 (UK only)
Overall score out of 5: 4
Portability score: 4
Comfort score: 5
Does it have a case?: Yes
Reasons to buy
+
Adapts to the contours of your neck, head and back
+
Waterproof cover and anti-allergy barrier
+
Super easy to pack away
Hippychick is known for its ergonomic, cleverly designed baby products. Its travel pillow is equally good and well worth the investment if memory foam is your bag. It comes packed tightly into a lovely linen drawstring bag, but once it's out, it puffs up fast—within 30 seconds, the pillow is ready to use. The memory foam is firm enough to keep its shape while allowing the contours of your head and face to find their own way.
It folds and rolls nicely into all sorts of shapes, making it an ideal window-seat accessory. Its silky-smooth cover is a lovely place to rest your head. The pillow is also surprisingly easy to pack away, thanks to the durable memory foam.
The cover is made from 100% biodegradable wood pulp cellulose, so it's waterproof and hypoallergenic. A fabulous choice for if you're heading on one of the best spa breaks in the UK or even one of these best UK weekend getaways with the girls and need a bit of extra support.
7. Huzi Design Infinity Pillow
Best travel pillow for middle seats
Specifications
RRP: $39.90 / £36.99
Overall score out of 5: 3
Portability score: 3
Comfort score: 5
Does it have a case?: No
Reasons to buy
+
Soft and breathable bamboo fabric
+
Cool-feeling material
+
Offers chin, neck, head, and shoulder support
Reasons to avoid
-
Not compact or easily packed away
On a flight, everyone dreads the middle seat, stuck in between two people with nowhere to rest your head. It's a horrifying prospect on an 11-hour flight. But this is where the Huzi Infinity Pillow comes in. This unusual pillow—more like a giant cushioned snood—is a real game changer.
The Infinity is incredibly versatile, so you can twist it into almost any shape you like. Wear it just like a snood or scarf, by doubling the loop around your neck to create 360º support. Or, twist it tightly and tuck it into itself to use as a pillow against your headrest. Alternatively, ideal for those middle seats, create a massage-table-style face hole on your tray table by doubling it around. The creators even suggest you could wrap the entire thing around your head to create a noise-isolating environment, complete with eye mask and pillow all in one.
The pillow's outer cover is part bamboo, part polyester. This gives it a lovely cool, smooth feel and the filling doesn't make a sound when you move around on top of the cushion. The whole thing is polyester and machine washable, so you'll have a fresh pillow for every trip.
8. Tielle Luxury Supersize Travel Pillow
Best travel pillow for business class
Specifications
RRP: £55 (UK only)
Overall score out of 5: 3
Portability score: 2
Comfort score: 5
Does it have a case?: Yes
Reasons to buy
+
Large enough for your head, yet compact enough to pack
+
Includes a silky-smooth pillowcase
+
Soft and squishable
Reasons to avoid
-
Expensive
-
Can't be easily stored away on its own
If you're fortunate enough to be flying in business, you might not think you need a travel pillow—you're usually given one along with your bedding on long-haul flights. But those airline pillows aren't always the best, even in business, and who knows how often they're washed? We recommend you take a Tielle along with you.
This 80% duck down and 20% duck feather pillow is a luxurious addition to your hand luggage, and will ensure a good night's sleep on a fully reclining seat. It's big— 40cm x 50cm—and is shaped like a normal pillow, making it a perfect addition to the bedding set you're provided with by the airline. The case is a silky-smooth cotton blend (600 thread count, to be precise) and is wonderfully cool on your face.
Super lightweight, it won't make your hand luggage feel heavy, but it's not like other travel pillows that crush into small carry bags. This one comes in a huge sack-like drawstring bag, which, in itself, isn't ideal for travel. However, you can squash the pillow down and pack it into a backpack or handbag. Great for if you're heading to any of these affordable luxury vacation destinations.
What is the best way to use travel pillows?
There is some debate around how best to use travel pillows—specifically, the U-shaped ones. Traditionally, most of us assume that they wrap around the back of the neck, leaving a gap at the front for your chin. However, this might not be the best way to use them, as any travelers with lolling heads will quickly get neck-ache if they're nodding forwards. That's why many will wear the pillows backwards to provide a much better chin support.
Of course, none of this is an issue with rectangular travel pillows, which can be squashed into various corners and crevices to make excellent sleeping companions. Either way, whichever type of travel pillow you choose, don't forget to recline that seat. This is because sleeping on planes is always easier when you're semi-supine.
How to choose a travel pillow: What type is best for you?
With so many new travel pillows on the market, it's hard to know which type of pillow is best. Should you get the classic U-shaped pillow that slots behind the neck or under the chin? Or should you try something completely different? Ultimately, the best type of travel pillow for you depends on your sleeping style—so here's what each type of pillow is best for:
U-pillow, J-pillow or infinity pillow: If you're partial to a floppy neck and nodding head, these styles will support you best
Mini rectangular pillow: This style will work well for any fidgety sleepers
Inflatable pillow: If you need to pack light, something inflatable will be the practical choice
Memory foam pillow: Anyone who suffers from neck or back pain will benefit from this supportive material
Is a travel pillow worth it?
Carrying a travel pillow might seem like more hassle than it's worth, but you should really consider the impact it could have if you don't get to sleep on an overnight flight. Taking a travel pillow could mean the difference between having two days of groggy jet lag and feeling spritely on arrival.
Many airplanes (unless you're in first class) lack comfort, so having a travel pillow can certainly make any journey feel just that little bit more bearable—however long your flight is. And there's always the thought of the hotel pillows waiting for you after the flight.
If you're going long-haul, invest in something that'll be comfortable in a number of positions, so you can fidget a little. And, if you're doing a short-haul hop, try a lightweight travel pillow that won't take up too much space in your bag.
Lottie is an NCTJ-trained journalist, an experienced travel writer and an expert in creating compelling digital content.
Lottie has been in the travel writing business for nearly a decade and has writing and photography bylines at The Telegraph, The Times, The Independent, the i and National Geographic Traveller. She's done broadcast work for BBC Radio 4 and have contributed to a number of guidebooks and coffee table titles during her career.