Stanley Quencher Tumbler review: Is this internet-breaking tumbler worth your coin?
I tested the cult-favorite Stanley Quencher Tumbler to find out what the hype is all about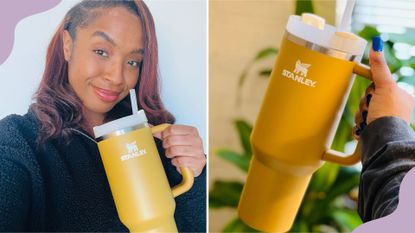 (Image credit: Future)
We loved the Stanley Quencher Tumbler and were pleasantly surprised that this product delivers more than its cute design. Like most people with this cult-favorite tumbler, we noticed our water intake increase from 30 ounces to 80 ounces a day. And after testing and using this tumbler for over a month, it's still as good as the day it first arrived, so for $30 we'd recommend this useful water bottle to anyone.
Reasons to buy
+

Large 40oz size

+

Comfort-grip handle

+

Double-wall insulated

+

Reusable straw

+

Fits in cupholder

+

Keeps drinks cold/hot
Reasons to avoid
-

Not the most affordable

-

Not spill-proof
Why you can trust Woman & Home Our expert reviewers spend hours testing and comparing products and services so you can choose the best for you. Find out more about how we test.
If I'm being transparent, I went into this Stanley Quencher Tumbler review determined not to fall for the hype. Yes, the Stanley is aesthetically pleasing, but I didn't see it performing differently than the three insulated water bottles under my sink. So if you came here for an honest Stanley review that goes past its cute exterior, you've landed on the right page.
Unless you live under a rock, you've probably seen this 40oz handle tumbler online, on social media and in the hands of hundreds of TikTok users, if not millions. And while its large size and pretty color options are what sells the cup alone, even TikTok couldn't persuade me past its somewhat high price point. But, as a shopping writer, I felt it was only right that I'd get my hands on one.
The Stanley Quencher H2.0 FlowState Tumbler is designed to keep you hydrated all day with its 30 or 40oz size and double-wall insulated interior. So, what makes this tumbler any different than the best water bottles on the market already? Is it just another cute and overhyped internet sensation? Let my Stanley Quencher Tumbler review help you decide.
Spectifications
RRP: From $30
Sizes: 30oz, 40oz
Weight: 1.1Ib (30oz), 1.4Ib (40oz)
Key Features: Double-wall vacuum insulation keeps drinks cold, hot, and iced. 3-position lid, dishwasher safe, reusable straw, and a comfort-grip handle
Why is the Stanley Quencher Tumbler so popular?
With 178.6 million TikTok views under hashtag #StanleyTumbler and over 5,000 Instagram posts, social media has definitely played a role in this insulated water bottle becoming a cult favorite. With the majority of Stanley buyers raving about its 40oz size, great color options, useful handle, and reusable straw, I can confirm these features are what set this water bottle apart from other water and make it so popular.
The woman&home Stanley Quencher Tumbler review
First impressions are everything, and the Quencher FlowState H2.0 Tumbler definitely leaves a lasting impression from its design alone.
When I first saw the tumbler on social media, it instantly caught my eye with its broad color options, easy-to-grip handle, and of course, its large size. But after opening the tumbler for myself, I realized the camera didn't do it any justice. Its sleek and soft silicone construction not only feels amazing but makes it easy to hold. And to my surprise when I first wrapped my hands around this cult-favorite tumbler, I felt like every girl on TikTok, fangirling and excited to fill it up.
One of my favorite design elements of this cup is its narrow base. Unlike most of my reusable water bottles that are too bulky to fit in my car cupholder, surprisingly, this 40oz Stanley fits perfectly, allowing me to continue my daily water intake while on the go. And its reusable silicone straw and comfort-grip handle make it easy to pick up and sip throughout the day.
But inside the tumbler is where all the magic happens. Its double-wall vacuum insulation keeps your drink cold for up to 11 hours, hot for seven, and iced for two days. So don't be surprised when you hear ice cubes shaking after 48 hours.
Using the Stanley Quencher Tumbler
The brand sent me their 40oz Quencher H2.0 FlowState Tumbler to review, but being someone who doesn't come close to hitting their daily water intake, I felt it would be impossible to finish 40 ounces of water in a day. But to my surprise, I drank the whole 40 ounces and the refill as well.
Stanley's easy-to-grab handle and reusable straw definitely played a role in my increased water intake. I found myself mindlessly grabbing the tumbler and taking sips while working, driving, and at the gym, and before I knew it, it was time for a refill. So, if your New Year goal is to increase your daily water intake, this is the perfect tumbler.
I've been drinking out of the Stanley Quencher Tumbler going on two months, and after convincing myself this tumbler wouldn't be any different than my other reusable water bottles, I will gladly admit I was wrong. The Stanley has not only replaced all my water bottles but has also become a nightstand essential for when I need a midnight refreshment.
Insulated cups are great for keeping your drinks cool and hot for longer periods of time, but the feature that makes the Stanley tumbler one-of-a-kind and my new all-time favorite water bottle is its two-day ice insulation. Yes, it's nice to have cold water for up to 12 hours, but when you can find a cup that will still be filled with ice cubes for two days, it doesn't get any better than that. Although this cup keeps drinks hot for seven hours, I still find myself using my existing coffee cups. I don't think the Stanley Quencher will replace the best coffee travel mugs on the market and for me this is because I don't need to drink from a 40oz tumbler when I don't consume more than 16oz of coffee.
What I liked about the Stanley Quencher Tumbler
The things I like most about the Stanley Quencher Tumbler are its huge size and the convenient handle that makes it easy to carry and drink out of throughout the day.
I also love filling my Stanley with ice water in the morning, and by the evening, I'm still able to enjoy my chilled water along with a few ice cubes from earlier, which definitely surpasses its maximum cool insulation time.
Cleaning the Stanley is also a breeze. This is a dishwasher-friendly tumbler, but because I am constantly drinking from it throughout the day, I prefer hand washing it, which takes under two minutes because of its stainless steel interior. But if you prefer to load up the dishwasher, I can confirm adding the Stanley in is safe. And after several washes, I still have yet to experience any logo or name fading.
The construction of this cup was well thought out. From its small base diameter to its screw-on lid and rotating cover to its sustainable materials, the Stanley Quencher Tumbler exceeded my expectations.
What I didn't like about the Stanley Quencher Tumbler
Although there isn't much I dislike about this cup, one flaw is its screw-on lid. The Stanley tumbler isn't 100% leakproof, which the brand doesn't claim to be, but it does make it less portable as you can't just throw it in a bag and go. During the first week of testing the Stanley cup, I found it difficult to screw on the lid properly. But after many failed attempts of me trying to secure the lid by pressing down, I realized all it took was a few quick twists to the right.
And if you have average-sized cabinet shelves, storing your Stanley away might be an issue. But, with most people having the tumbler attached at the hip like me, I don't even feel the need to put it away as it's always in arm's reach.
Is The Stanley Cup worth it?
I went into this review not wanting to be like every girl on TikTok raving about their new, cute Stanley tumbler. I also didn't see how this insulated cup would be any different from the others I already own, especially with the Stanley being double the price. But after thoroughly testing the Stanley Quencher Tumbler for almost two months, I now understand the hype of this internet-famous cup. Even my mom has asked if she could have mine! So if you're looking for an early Mother's Day gift or 21st birthday gift ideas for the giftee who has to take hikes across campus, the Stanley is a simple gift they'll use daily.
So is the Stanley tumbler worth your coin? If you have the budget to spend on a durable cup, definitely add this to your shopping cart. And if you do, I highly recommend snagging one now, as they do sell out quickly.
Stanley Quencher Tumbler FAQs
How do you clean a Stanley quencher?
Each part of the Stanley Quencher H2.0 Flowstate Tumbler is dishwasher safe and can be cleaned in any standard dishwasher. You can also clean the Stanley Quencher Tumbler by hand with dish soap.
Can you use the Stanley Quencher Tumbler without straw?
Yes, the Stanley Quencher Tumbler has a 3-position lid that can rotate into a drink-thru lid to sip coffee and other beverages.
How long do Stanley Cups keep drinks cold?
The 30oz Stanley Tumbler keeps drinks cold for nine hours and iced for 40 hours, while the 40oz tumbler keeps drinks cold for 11 hours and iced for two days. We tested these timings and can confirm the cup lives up to its claims.
What is the difference between the Stanley Quencher Tumbler and other similar brands like Yeti?
Although brands like Yeti and Hydro Flask will keep your drinks insulated for long periods, the Stanley Quencher Tumbler's unique two-day ice feature and narrow base that fits perfectly in any cupholder are what sets it apart from other insulated water bottles.
How do I stop my Stanley Cup from leaking?
We found that the Stanley Quencher Tumbler isn't 100% leakproof. But, to stop it from leaking we made sure to store or stand it upright, and for a leak resistance top, you can rotate the lid to the third position for a fully closed top.
Kenedee Fowler is a shopping writer based in the United States. She joined woman&home in September 2022, and ever since has been sharing her expertise with the brand to help readers source gifts for any occasion and on any budget, reviews products so you don't have to, and scout out the best deals and products to give you the best value for your money. Before joining woman&home, Kenedee was a home editorial fellow for Insider Reviews, where she wrote in-depth reviews and articles across the home vertical.

Kenedee is a recent graduate from the number one journalism school in the US, the University of Missouri - Columbia, where she gained hands-on experience as a multimedia journalist at mid-Missouri's local news station.