21st birthday gifts and present ideas for him and her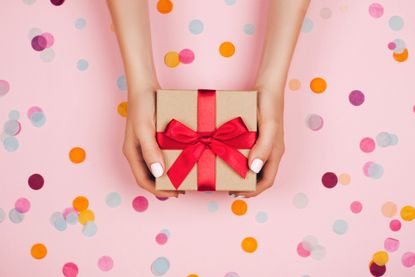 (Image credit: Getty Images/iStockphoto)
Browse our pick of the best 21st birthday giftsand ideas, whether you're buying for a daughter's 21st birthday, son, best friend or sibling. From thoughtful 21st birthday gifts, personalised to make the perfect present, to unique 21st birthday gifts sure to surprise and delight even the most difficult-to-buy-for loved ones!
What makes a great birthday gift?
Tracy Kemp, director of unique and unusual gift company Vintage Playing Cards (opens in new tab) suggests:
"Buying a gift for someone is special and finding something perfect makes you and whoever you are giving the gift to feel great. Presents should be about showing that you are thinking of that person and your appreciation of them on their birthday.
"Is there something that they have been coveting, or have they have mentioned in passing that they love a particular style or object? Or have they admired something of yours? Even if it is something very small remembering this will create memories for both of you."
What do you get someone for their 21st birthday?
When people are looking for the right present in 2020, they want something that will last and not go straight to landfill. This means thinking outside the (present) box. Consider making precious memories as a present instead of just buying a product. Book an experience or plan a trip that will create memories that will last a life time.
Some of the best 21st birthday gifts that aren't experiences are brilliantly functional but look good too. Something that they can use in the exciting years ahead, but that is special enough to mark the important milestone of turning 21.
Scroll down for our pick of the best 21st birthday gifts online right now. From unique experiences to stylish yet practical presents, we have something for everyone.
21st birthday gifts and present ideas for him and her
Combining both practicality and style, this gift is as useful as it is timeless. Perfect for cyclists, those still studying or anyone embarking on a new career in the working world, this leather backpack with double buckle fastenings comes in eight different colour ways to suit every style.
Personalised, embossed card holder, £115
Debit card, credit card, drivers licence, Oyster card, student ID and more – keep all your card safe and in one place in this smart and stylish card holder by quintessentially British leather goods brand Smythson. Have the card wallet embossed with the recipient's initials for a personalised gift that will last and be used for years to come.
The New York Times: 36 Hours World Book, £30
Behold, the book which could form the basis of many a weekend away or trip planning for decades to come. Compiled by the brains behind the New York Times, this attractive coffee table book is brimming with ideas, suggestions, tips and travel inspiration for anyone with wanderlust in their heart.
Gold Plated Twist Small Hoop Earrings, £140
Hoop earrings are a timeless accessory that never goes out of style. These handmade hoops are by British jewellery brand Dinny Hall, an institution in their own right and a brilliant brand to buy from if you're looking for a special gift.
Jo Malone perfume 50ml, £69
Jo Malone scents are synonymous with sumptuous luxury and a gift of one of her iconic fragrances is certainly a treat that suits a momentous milestone birthday. English Pear and Freesia is one of the brand's best selling fragrances, with notes of King William Pear, Freesia and Patchouli.
Montblanc Explorer Eau de Parfum, £33.00 - £63.72
A woody and aromatic scent, this long lasting fragrance is loved for its versatility and fresh top notes of vetiver and sandalwood.
A staple of contemporary style, ray-bans can't help but make a statement and their timeless design means that they'll still be a much-loved and used accessory long after they're first gifted.
Bursting with vibrant colours, this vintage print from TFL will make a quirky, retro addition to any room, brightening up any space whether that be a bedroom or communal area in a first rented flat.
Gold Initial Bracelet, £595
A sophisticated take on alphabet jewellery, an on-trend and quintessential birthday gift, this gold Initial bracelet features a 22-diamond letter fixed inside a polished gold oval. Finished with a delicate gold chain, this is a special gift that will be cherished for generations.
Red Letter Days Happy Birthday Gift Experience, £49.99
Not sure what to get someone or buying for a 21-year-old that already seems to have everything they need? Gift them an experience instead so that they can make memories or try something new with you or a friend. This flexible voucher means the recipient can choose his or her own experience from hundreds of options – eliminating the worry about choosing the 'right' one for them.
Leather and canvas tote travel bag, £170
A luxury bag that works well as carry on hand luggage for anyone who loves a weekend away, this is a practical yet stylish gift that can be used time and again over many years.
Ottolenghi Simple Cookbook, £25
The purveyor of fine food and delicious dishes, Ottolenghi has a well-earned reputation for wholesome cooking bursting full of flavour. This introduction to some of his simple yet timeless and enjoyable recipes is sure to start a long lasting love of Ottolenghi in any 21-year-old who loves to cook.
Walk With Alpacas Experience, £35
A unique experience that any birthday celebrant is sure not to forget in a hurry, why not gift the opportunity to make memories and have a laugh while walking a couple of adorable alpacas?
Apple Watch Series 3, £199
A great gift for any 21-year-old keen on sport, competitive exercise, or just keeping track of their daily stats like how many steps they take to how long they've been sitting down. Other helpful features include a in built torch and feature that helps you find your iPhone – no matter where in the house it has been left this time.
Personalised champagne bottle, £44.50
From the esteemed food and drink connoisseurs at Fortnum and Mason in London, this is a birthday bubbles present with a bespoke touch. Why not try a personalised twist on a traditional 21st gift of a bottle of champagne by having a special message or the birthday girl or boy's name printed on the bottle?
An internationally published digital journalist and editor who specialises in SEO strategy and content production, Rachael has worked as a writer and editor for both news and lifestyle websites in the UK and abroad.
Rachael's published work covers a broad spectrum of topics and she has written about everything from the future of sustainable travel, to the impact of the coronavirus pandemic on the world we live in, to the psychology of colour.