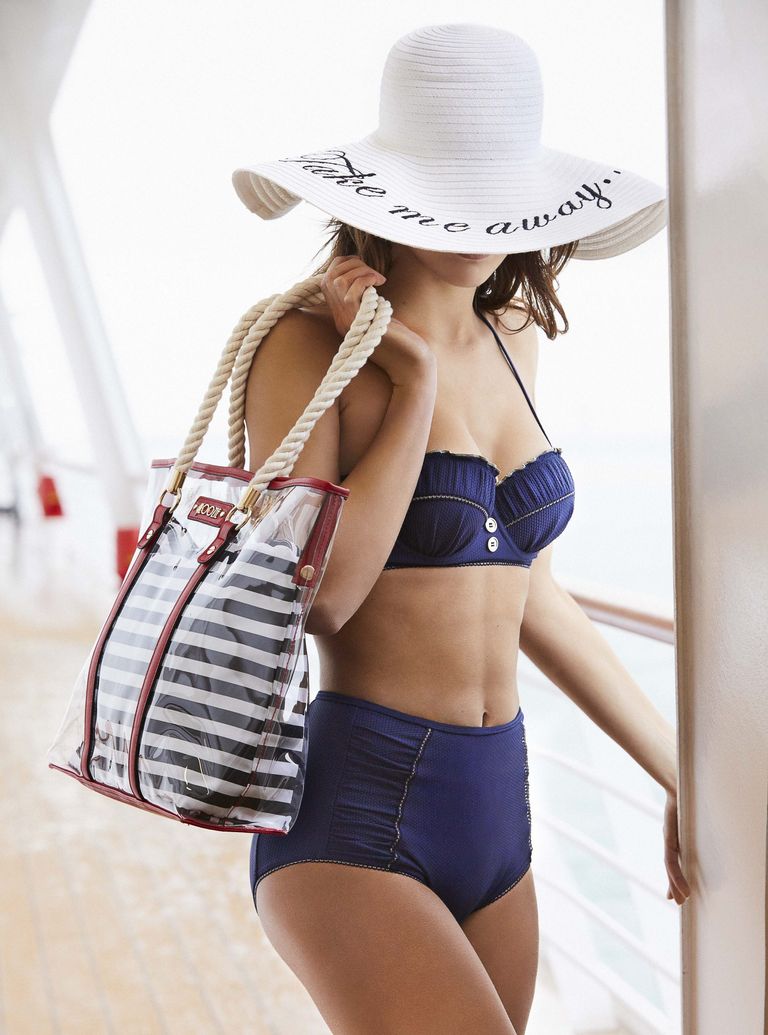 Invest in a roomy beach bag to carry all your holiday essentials
The summer's here and you're dashing down to the beach or poolside, desperately cramming in your towel, book, ipod, snacks, water (essential) and, of course, you can't fit it all in. It's about time you invest in a purpose built beach bag. Designed for all those sunbathing needs - there'll be plenty of room for all the things you need for a luscious day at the beach or poolside.
Whether your style would most suit a wicker basket or an oversized tote - we've hand-picked a selection of our favourite beach bags from the high street this season so you can stay in tune with what's in fashion and informed of what's out there. Classic, staple colours and styles will go with almost anything whilst beach bags with a pop of colour will brighten up your beachwear.
If you're a stippler for security and need the reassurance of secure, zipped pockets, then we've found designs with secretly tucked away pockets to keep your money under wraps on the beach.
Or, if you like to leave your villa or hotel feeling carefree, so leave your valuables at home, then wicker baskets and open designs will be the perfect mule for your day-on-the-beach essentials.
If you, like many of us, are family donkey, and have to carry the suncream, snacks and spades on behalf of the whole family, beach bags that are made with comfort and size in mind are definitely the ones for you. This water resistant bag from Debenhams has a seperate compartment for all you valuables whilst ensuring everything stays dry by the pool.
Buy now for £25.99 from Debenhams
Ready to shop your last-minute holiday essential? Click through for our edit of the very best beach bags...
Basket bag, £29.99, Zara
A chic and classic style never fails to be a hit on the beach. This woven basket bag from Zara features a drawstring cotton fastening so you don't need to worry about your bits and pieces spilling out. Buy now for £29.99 from Zara
Zigzag bag, £32, Accessorize
Add a bit of fun to your beach outfit with an on trend geometric print. This bag is big enough for all the essentials and more! It even has a inside pocket and zip fastening to ensure everything stays secure. Buy now for £32 from Accessorize
Embroidered bag, £89.99, Mango
If you're looking for something that can take you straight from the beach to an evening out, this stunning embroidered bag is perfect. We love the simple yet effective detailing and in classic black it will work with all kinds of holiday looks. Buy now for £89.99 from Mango
Flamingo tote, £18.50, John Lewis
Everyone needs a great tote bag and this fun flamingo and pineapple style from John Lewis caught our eye straight away. It's ideal for popping in your handbag for unexpected holiday buys or shopping trips. Buy now for £18.50 from John Lewis
Palm print bag, £27.99, New Look
Embellishment, embellishment, embellishment! It's a must have trend for the summer season and New Look have got it spot on. Add a bit of sparkle to your beach days with this fab tropical woven bag. It's a great size for all your holiday essentials and will certainly catch a few eyes. Buy now for £27.99 from New Look
Emroidered bag, £35.99, Mango
Update your nautical stripes with this pretty embroidered beach bag from Mango. The little pink pompoms add a fun touch and it includes a removable drawstring inner liner perfect for securing all your belongings. Buy now for £35.99 from Mango
Basket, £75, Rae Feather
So you've got the perfect straw, oversized beach tote - why not go one better and personalise it with your initials? We're obsessed with the monogramming and fun pom-poms on this Rae Feather bag - get yours now and wait for the compliments to come flooding in! Buy now for £75 from Rae Feather
Stripe bag, £155, Truss at Net a Porter
If you're looking for a bag that will work on the high street as well as on the beach this Truss bag is just the thing. The sophisticated stripes and muted colours will work alongside a number of wardrobe staples, seeing you through the summer season and more. Buy now for £155 from Net a Porter
Basket bag, £17.99, H&M
Sometimes you just want a simple and classic design that you can take from the beach to the shops and at just £17.99 this bag from H&M is affordable and a summer staple. With a magnetic fastener and two inner compartments you can keep all your valuables tucked away. We also love the pop of metallic on the front tassel! Buy now for £17.99 from H&M
Orange stripe bag, £15, Very.co.uk
Add a bright pop of colour to your beach days with this sunny shade of orange. This gorgeous beach bag is a suitcase staple for your holiday and will fit all your seaside must haves, no problem. Buy now for £15 from Very.co.uk