Plus size outfit ideas: 7 curve loving looks for the season ahead
Struggling for plus size outfit ideas this season? w&h fashion editor has all the inspiration you need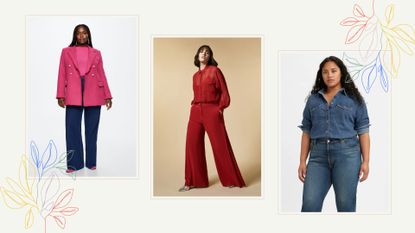 (Image credit: Mango / Marina Rinaldi / Levi's / Futre)
When it comes to stylish plus size outfit ideas, there is no doubt that fashion has come a long way in recent years. When I started my career as a fashion stylist and personal shopper, there were very few straight-to-market brands offering plus size edits, and designer brands showing any real body diversity were almost non-existent.
Fast forward to 2022 and while there is always room for improvement, putting together plus size outfit ideas is not as much of a struggle as it used to be, and if you're looking for great fall outfit ideas, that tap into the fall 2022 fashion trends, that will work for curves, you're in luck.
When it comes to the best plus size outfit ideas, there are several factors I believe are most important to consider. Firstly, think about fabric. Quality fabrics will always look more expensive and the higher the content of natural fibers in the fabric, the more comfortable and breathable it will be. Consider the cut of the garment too, fitted and tailored garments that are cut for your curves, as opposed to oversized styles will enhance your silhouette. The most important factor, however, is confidence. Rip up the rule book and use this as a guide, but be governed by your own comfort level as any outfit worn with confidence is the chicest of them all.
Plus size outfit ideas - according to a fashion editor
1. Dresses
The best plus size dresses offer immediate fashion kudos. Super stylish, with a throw-on-and-go appeal, a dress is a complete look, needing minimal styling, so if you find putting plus size outfit ideas together stressful, then a wardrobe of the best dresses should minimize those sartorial meltdowns.
An easy way to update a wardrobe, you can slip new season frocks into your wardrobe, taking note of the latest fashion color trends 2022 to give an instant update. And once you have found the silhouettes and brands that work for your body type, picking up new dresses is a speedy activity.
Want to hold onto your best summer dresses? Then it's all about layering. Learn what to wear over a dress, such as a denim or leather jacket, or slide long sleeve tops or light knits under dresses to give them a fall-ready spin. This maximizes the cost per wear of your dress and means you can hold onto warm weather favorites for longer.
When it comes to footwear, draw inspiration from the fall winter shoe trends 2022. Look for easy, everyday trainers, ankle boots, or calf-friendly knee-high boots to render any dress appropriate for the winter season.
(opens in new tab)
Simply Be Square Neck Floral Dress
RRP: £32 (UK only) | Floral frocks don't need to be reserved for spring, particularly if you opt for a dark based design. The square neck on this dress is flattering on busts of all sizes, while the sleeves add warmth. The waisted silhouette will highlight your curves.
(opens in new tab)
M&S Khaki Green Cotton Trench Coat
RRP: $135 / £74 | With a practical detachable hood, this smart, fall-ready layering piece features the brand's Stormwear technology. The patch pockets add a directional, utility feel, while the belt will help to cinch you in at the waist for a curve-loving fit.
(opens in new tab)
Duo Boots Leather Verity Boots
RRP: $231 / £195 | Fitting calf sizes up to 50cm, these beautiful leather, knee-high boots are a real investment piece and will help to transition frocks to fall. The burgundy hue will go with everything and offers a little more zing than basic black iterations.
2. Denim
The best plus size jeans for curvy women has, like most of the market, improved massively over the last decade. Whether you're looking for the best slimming jeans, with in-built shaping panels, for a midriff smoothing fit, or are looking to invest in plus size designer jeans that follow the denim trends 2022, there are plus size styles for all tastes.
If you're wondering which are the best jeans for your plus size outfit ideas this fall, it really does depend on the type of look you want to put together and I'd say the most important thing here is to lean on a denim shape that makes you feel good. While skinny jeans, according to many fashion critics, have had their moment, the best skinny jeans are great for supporting and contouring curves, with elasticated denim designs behaving like shapewear, offering uplift to fuller figures, so don't give this design up if it's the best for your shape.
If you're wondering how to style flared jeans, or are worried that they won't work for curves, the trick, as always, is about balancing proportions. Team wide legs or flared shapes with a more fitted top half - such as a fitted sweater, shirt or t-shirt, and look to high waist styles to sculpt and lift bums and midriffs, gently shaping your top half and highlighting your waistline. To smarten up this look, add a well-fitted blazer, that's neat through the shoulders and middle, to continue to create a well-proportioned silhouette.
(opens in new tab)
Levi's 501 Original Crop Jeans Plus
RRP: $98 / £95 | With an extensive plus size denim range, Levi's offer both the most classic and some of the most directional cuts. This cropped hem design is ideal for those looking for the best petite jeans, or those after a leg lengthening finish.
(opens in new tab)
Levi's Classic Western Denim Shirt
RRP: $79.50 / £70 | Wondering how to wear a denim shirt? Pairing denim jeans and a shirt together creates a fun coord that taps into the Y2K fashion trend. A matchy-matchy color palette will elongate your silhouette, working like color blocking.
(opens in new tab)
Hotter Switch Lace-Up White Trainers
RRP: $139 / £89 | The best white trainers ensure you always have a sleek footwear option for those smart casual outfit ideas. Pairing brilliantly with jeans or with dresses, the added metallic detail here gives a nod to the party season that lies ahead.
3. Skirts
There are so many different skirt shapes that it's almost impossible to cover them all. However when we talk about plus size outfit ideas, similarly to dresses, you want to consider the overall silhouette and fabric, as this will determine how the skirt sits on your body.
Silky slip skirts, cut on the bias might tap into the fashion trends 2022, with their '90s grunge-like aesthetic, but if you're conscious of your hips, look for silky styles that have a more A-line silhouette to tap into the trend in a way that feels more comfortable for you.
Looking for a skirt shape that is universally flattering? You can't go wrong with an A-line. Narrowing at the waist before flaring out, the level of A-line differs from skirt to skirt, but they all skim midriffs, bums and thighs for a sleek finish. To emphasize your waist and elongate your torso, opt for a high-waisted style and tuck your top in.
When it comes to fitted skirts, don't be put off by their figure-hugging silhouette. If you're worried about wearing something tight-fitting, you can always slip on some of the best plus size shapewear underneath for a more streamlined silhouette. Alternatively, look out for ruched detailing as this will glide over your silhouette but still give a more contoured look.
(opens in new tab)
MSK Jersey Ruched Midi Skirt
RRP: $79 / £72.76 | The ruched front on this pencil style silhouette is a great piece for plus size women. A smart design, this can easily be dressed up for your 9-5 or teamed with some glam heels and some new season sparkle to render it party-ready.
(opens in new tab)
Yours Clothing Sequin Bodysuit
RRP: $68 / £39.99 | A bodysuit is a great top option for a plus size outfit. Offering a much smoother finish to your silhouette, they offer the look of a tucked-in top, without any added fabric bulk. This sparkly number is ideal for the Holiday season.
(opens in new tab)
River Island Wide Fit Platform Heel
RRP: $102 / £55 | A wardrobe essentials, black heels will never go out of style. The platform design on this pair makes the heel a little easier to manage, while the ankle strap adds extra support. These can easily be worn with tights on cold evenings too.
4. Trousers
Similarly to skirts, there are dozens of trouser silhouettes that will work as part of your plus size outfit ideas, but there are some hints and tips I can give you as to what to look for when shopping for trousers.
Trousers are probably one of the hardest items to buy as a plus size woman, depending on your weight distribution. The reason getting the cut of plus size clothing is so difficult is because of the way weight can distribute itself between two shoppers of the same size. One size 22 woman might carry most of their weight around their waist, where as another might carry it largely on thighs and/or hips. This makes designing a universally great fit really tricky, resulting in some shoppers being repeatedly disappointed.
The first thing I would suggest is make friends with a great local tailor. Being able to nip in waists or slim-down side seams will make it easy to get the perfect fit and can make even cheaper items look expensive. And remember, the fit through the leg is most important. Universally flattering, a slim, straight leg is a great go-to, just pick the correct fabrication according to event.
Regardless of leg shape, trousers should fit relatively flat across midriffs, bums and thighs, as while you might want to learn what to wear wide leg pants, what you don't need is fabric pooling around your thighs or under your bottom. Higher waistbands, whatever your dress size is one of the best silhouettes you can buy as it instantly elongates your frame and offers gentle sculpting and shaping to your silhouette.
(opens in new tab)
River Island Slim Fit Cigarette Pants
(opens in new tab)
Mango Pink Boucle Long Line Blazer
RRP: $129.99 / £79.99 | If you haven't already, investigating what is Barbiecore should be top of your new season hitlist. This bold, boucle blazer is not oversized, but does have a longer hem length, ideal for taller curvy girls. The slim lapel elongates your frame.
(opens in new tab)
Universal Standard Classic V-Neck Tee
RRP: $50 / £53.99 | If you've opted for a slightly more boxy fit jacket, or one with a longer hemline, keep the layer underneath your jacket fitted to help reclaim your curves. The best white t-shirts in a stretch-cotton mix will give breathability and great fit all in one go.
5. Jumpsuit
When it comes to flattering jumpsuits, this item has become a key component both to many capsule wardrobes and for many of the best plus size clothing brands. Easy to style - thanks to the throw-on-and-go appeal, jumpsuits have been particularly popular with plus size women for special occasion outfits as the pants style bottom gives greater comfort than skirts, by reducing the need for the best anti-chafing shorts. Similarly to dresses, jumpsuits don't require putting separates together and can take out a lot of the stress of getting outfits right.
When it comes to silhouettes, as you would with any outfit, think about balancing your proportions. Wide-leg jumpsuits should have more fitted top halves, while a slim-fitting pant on a jumpsuit can be accompanied by a more voluminous top or sleeve. Waisted or belted styles will help highlight and celebrate your curves.
Opt for fabrics that have a little more weight to them, or that are lined, particularly as we head into cooler months.
(opens in new tab)
Eloquii Black Tie Shoulder Jumpsuit
RRP: $119.95 (US only) | This tie shoulder design offers added height thanks to the bow detail closures. Coupled with a flattering wide leg and a bust flattering empire line silhouette, the pleat at the waist of the jumpsuit will ensure this skims your middle.
(opens in new tab)
Yours Clothing Emerald Block Heel
RRP: $51 / £29.99 | In a wide fit, this pair of low block heels can be worn throughout the entire year. Ideal as we head towards putting together Holiday party outfits, the emerald hue adds a welcome change from black, although it's dark enough to remain subtle.
Saint Laurent Lou Leather Camera Bag
RRP: $1,750 / £1,285 | One of the best designer crossbody bags, the camera bag shape of this Saint Laurent number, coupled with the timeless black leather and hands-free silhouette, makes it a great investment piece for wearing AM to PM.
6. Knitwear
As the winter draws ever closer, knitwear returns to the fore as one of the lynchpins of our fall outfits. The best cashmere sweaters, or knits in natural fibers will help to keep you cozy whilst simultaneously regulating your body temperature, making sure you don't get too warm.
For the best plus size outfit ideas that incorporate knits, consider both form and function before making your selections this season. For many a weighty, longline cardigan can replace a coat, particularly if you are heading from home to car and straight into an office building. Natural fibers will help to reduce sweating, more so than heavy, manmade fabrics, so investing in the best sweaters is a wise choice.
Opt for fitted silhouettes that can tuck into skirts and trousers, or be slipped under dresses, these offer less bulk and help to streamline your silhouette. If you do however want to wear a directional, chunky knit, then keep your skirt or pants more tailored to rebalance your frame.
Marina Rinaldi Belted Cashmere Cardigan
RRP: $1,785 / £1,010 | We saw plenty of punchy colors on the runway for the fashion trends 2023, suggesting brights are here to stay and this, ruby red hue is one that will light up any wardrobe. The shawl collar and tie belt add a tailored twist to it.
Marina Rinaldi Triacetate Wide Leg Pants
RRP: $545 / £310 | Bringing the drama, embrace the opportunity to color block, and elongate your frame, by cutting your silhouette minimally in one color. With an androgynous edge, the wide leg is balanced by the waist belt on the cardigan.
(opens in new tab)
Dune London Wide Fit Snaffle Front Loafer
RRP: $109 / £80 | Lean into the androgynous feel of the look with a pair of loafers. When deciding how to style loafers for women, pair them with more feminine tailored pieces or bright colors, as a way of retaining the smartness of the look but with some fun.
7. Coat
Coats can add bulk, but as winter approaches, they're an integral part of many plus size outfit ideas. But you don't have to be selective about which of the coat trends 2022 you can shop, as small styling tweaks can make a big difference to your end look.
For a more streamlined silhouette, you'll want to pick one of this season's top tailored designs, with a calf length finish. Opt for a bright hue to instantly cheer up your morning, and if you feel the cold, a warm wool or cashmere blend will make for the coziest of coverups.
Looking for something with even more protection? Puffer and quilted styles will still be very much on trend for this season and while many shy away from puffier styles, as they do add extra width to your frame, choosing a version with a belt, or contoured seam detailing will make your coat not only super snuggly, but figure loving too.
(opens in new tab)
M&S Lilac Belted Single Breasted Coat
RRP: $105 / £59 | One of the biggest color trends of 2022, expect to see this soft hue accompany us into 2023 too - making it a wise investment for this season and beyond. The Contoured silhouette and fabric tie belt help to waist this style.
(opens in new tab)
J.Crew Green Wrap Over Knitted Skirt
RRP: $198 / £188 | Crafted from 100% merino wool for a high end finish, the wrap front panel adds interest to this tube style skirt. Green was another major trend and paired with lilac offers a fun and vibrant finish. The comfort fit waistband here is a plus.
(opens in new tab)
J.Crew Cashmere V-Neck Sweater
RRP: $158 / £192 | With styles up to a 3XL or US 24, J.Crew has a good selection of fuller figure styles, in top quality fabrics - something that is still hard to find when it comes to plus size clothing. Use pastel hues to help balance out bright colors.