The best silver shampoos that will keep blonde hair looking freshly coloured and glossy
Struggling to keep your fresh blonde colour looking brand new? Here are the best silver shampoos on the market...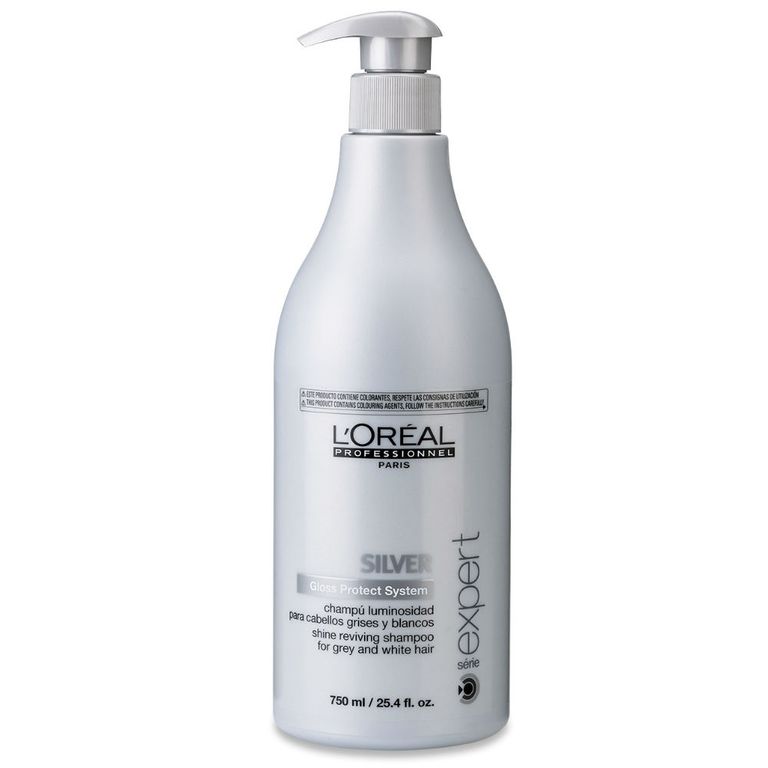 Keep your blonde colour brand new with our favourite colour-fade silver shampoos. Keeping your hair looking shiny and new has never been so easy...
Colouring our hair can completely lift our complexions and boast our confidence too, but expensive trips to the salon can soon mount up as we struggle to minimise roots and maintain flawless fresh highlights, especially, if your preferred hue is blonde.
Set to be the trend shade for the next two seasons, blonde is the colour most prone to discolouration and dry lacklustre texture, but worry not, you don't have to compromise on your hair's health to pull of this high-maintenance hue.
MORE:Inspirational hairstyles that are perfect for women in their 50s
All you need is the high streets best kept secret, silver shampoos. Created with clever optical brighteners, their violet formula successfully removes brassy yellow undertones to extend colour between salon visits.
The best way to get the most out of silver shampoosis to use them as a treatment, think of it as a twice-a-week treat for your tresses as opposed to a daily shampoo. This way when you do use it you'll really notice the difference. It's simple to apply, just pop it on like your regular shampoo and conditioner, no time-consuming 20-minute leave-on treatment time or difficult-to-master massage.
MORE:This £23 hair growth shampoo and conditioner is winning rave reviews
As well as a better clarity of colour and even tone, it will transform your hairs texture. Forget a dry, shine-less do - with silver shampoos, smoother, silkier locks can be yours for the taking.
Here are our top six silver shampoos. Which one will you try?
Formulated with amino acids and clever colour correcting agents, L'Oreal Professionnel Serie Expert Silver Shampoo, £11.69 strengthens each strand of hair whilst lessening the appearance strong brassy yellow tones [above].
Not just for blondes, its built in Gloss Protect System is great for dousing corse grey hair in shine, for softer, glossier locks.
John Frieda Colour Renew Tone Correcting Shampoo, £5.99
A great buy if you have an event coming up but your salon colour appointment is still a few weeks away. The lavender hued formula of John Frieda Colour Renew Tone Correcting Shampoo contains a high-tech optical brightener for fresher looking locks. We tired it with the corresponding conditioner and couldn't believe the difference. Not only were our highlights brighter, our hair in general was noticeably silkier. A steal at £5.99.
Pro:Voke Touch Of Silver Shampoo, £3.19
This twice a week treatment was one of the first on the market and is still one of the best. Designed to be used on natural and coloured hair, Pro:Voke Touch Of Silver Shampoo brightens blonde, white and grey tresses to fight fade and give an even clarity of colour.
Bleach Silver Shampoo, £5.50
Enriched with wheat proteins and vitamin B5, Bleach Silver Shampoo super moisturising formula douses hair in an undetectable silver veil that corrects brassiness and adds nourishment. The perfect tone for ash blondes.
Philip Kingsley Pure Silver Shampoo, £42
One of the more expensive, yet highest rated in terms of customer reviews, Philip Kingsley Pure Silver Shampoo adds shine to discoloured blonde and lacklustre grey tresses. As well as its deep cleansing and moisturising credentials, this lavender scented shampoo neutralises brassiness from root to tip for a better clarity of colour.
Joico Color Endure Violet Conditioner, £11.55
Crafted with a drop of violet dye, Joico Color Endure Violet shampoo and conditoner enhances the vibrancy of blonde, grey, highlighted and bleached hair to correct colour fade and unwanted underlying yellow tones. Great for tresses prone to knots this one effortlessly detangles leaving you with a silky smooth finish.