A Healthy Scalp Can Transform Your Hair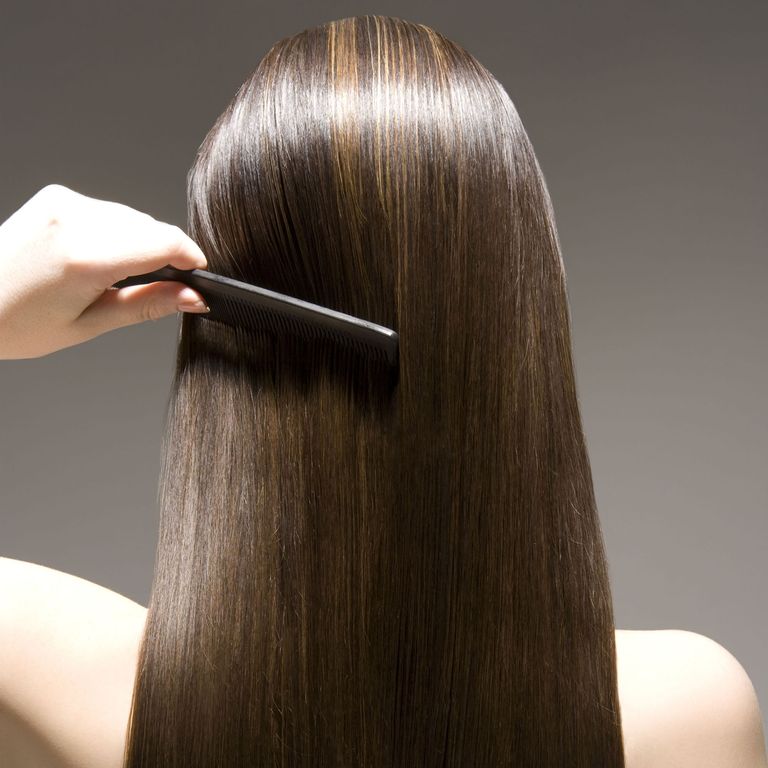 Regularly cleansing your scalp can give you longer, softer locks
Unless you suffer with a common scalp disorder such as dandruff, your scalp might not be something you have steered much attention towards before. But, a healthy scalp is vitally important for a youthful head of hair.
Genetics, everyday stress, hormonal changes and over-styling can take their toll on a healthy scalp, causing an excess build-up of sebum (a waxy matter) which clogs and inflames your hair follicles - restricting growth, moisture and eventually resulting in hair loss.
Our diet also plays a huge part in the health of our hair. If you suffer form a dry scalp, incorporate more omega-3 ad oily fish into your diet. Vegetarian and vegans should also be careful not to skip protein and supplement their diet with iron for optimum hair health.
Other great ways to keep your scalp in tip-top condition is to schedule all topical salon treatments such as colour or relaxers during non-menstrual weeks, as our scalp is more prone to sensitivity and bruising at that time. Also deep conditioning your strands 24 hours prior to your visit, this will keep your scalps natural pH in check. Many people avoid using conditioner at the roots because they're afraid to weigh down fine hair, but just like your face requires moisturiser, a healthy scalp benefits from hydration. The same goes for exfoliation. Use a scrub on your scalp once a week to revive dead sin cells and promote growth.
In the fight against thinning experts recommend deep cleansing your scalp once a week. So with that in mind we've compiled our top 7 scalp care products, ranging from deep cleansing treatments to gentle shampoos because a healthy scalp leads to beautiful hair.
Healthy scalp: Philip Kingsley Exfoliating Scalp Mask, £8
Enriched with organic plant oils, Philip Kingsley Exfoliating Scalp Mask, £8 will soothe your scalp and eliminate flakiness. Unlike medical scalp treatments this gentle moisture surge is completely odourless. Pop it on before shampooing once a week and leave for 10-20 minutes before rinsing.
Healthy scalp: Aveda Invati Exfoliating Shampoo, £22.50
Cultivated with anti-inflammatory salicylic acid and nourishing milk thistle, Aveda Invati Exfoliating Shampoo, £22.50 gently removes the build-up of product residue which clogs pores and prevents healthy hair growth. Use in the place of your normal shampoo once a week.
Healthy Scalp: Kerastase Specifique Clarisonic Cleansing Protocol, from £25
If you've had treatments in the past, you know the drill: a stitch in time at the sink, extra softness for a few days and then... business as usual. Not so with a hair facial, or hacial, as these new results-driven rituals actually last. New Kerastase Specifique Clarisonic Cleansing Protocol is a deep scalp detox that works on sensitivity dandruff and even hair loss.
First a clay mask pulls out pollution and sweat, which can obstruct growth, then comes the Clarisonic for Kerastase tool, which feels far lovelier than you'd imagine scalp exfoliation would. A moisturising mask follows, then an intensive treatment is pressure applied with a microniser (like a spray tan gun).
The whole thing takes no more than 45 minutes and our tester left feeling almost light-headed with cleanliness. "Like a facial where they've done a ton of extraction and all the gunk is gone." Result! Find your nearest salon at
salons.kerastase.co.uk
Healthy scalp: Moroccan Oil Scalp Treatment Oily, £24.85
An overly oily scalp can restrict growth and destroy any hope of volume. Enriched with anti-oxident rich Argan oil, Moroccan Oil Scalp Treatment helps correct imbalances to manage oil production and soothe inflamed hair follicles. It might seem mad to apply oil to hair that's already oily, but the extra nourishment will trick your scalp into not producing its own to excess. Simply massage a couple of drops into your scalp pre-shampoo.
Healthy scalp: Viviscal Gentle Shampoo, £9.95
Ideal for delicate, damaged and thinning hair, Viviscal Gentle Shampoo, £9.95 is free from parabens, artificial colours and fragrances. The fruit extract forumla gently exfoliates your scalp to remove dead skin cells - providing the perfect environment for strong healthy hair.
Healthy scalp: Kiehls Deep Micro-Exfoliating Scalp Treatment, £20
Encased in a cooling menthol gel, this finely-crushed apricot seed and argan shell scrub removes troublesome flakiness and increases the blood flow to your scalp. Apply Kiehls Deep Micro-Exfoliating Scalp Treatment, £20 once a week after shampooing and surrender to its tingling mint sensation.
Healthy scalp: Alterna Caviar Exfoliating Scalp Facial, £32
Apply this nourishing caviar rich treatment once a week, before your shampoo. Containing finely ground exfoliating beads and active fruit enzymes, Alterna Caviar Exfoliating Scalp Facial, £30.40 breaks down dandruff and dead cells for a instantly healthier scalp. Surprisingly non-abrasive, the bristle brush applicator gets right into the roots and provides a soothing head massage in the process.
Healthy scalp: Salon Science Hydrasooth Cooling Spray, £10
Planning a winter getaway? Warm weather can cause havoc with our scalps, even just a short spell of dryness, flaking or sunburn and the overall health of your hair can deteriorate. To prevent stunting its growth, shine and softness, mist Salon Science Hydrasooth Cooling Spray over sectioned hair, damp or dry when soreness sets in. Made with cooling aloe and hydrating cactus, this this clever spray promises to calm, revive and revitalise scalp inflamation from the first spritz.