7 Reasons To Embrace Your Greys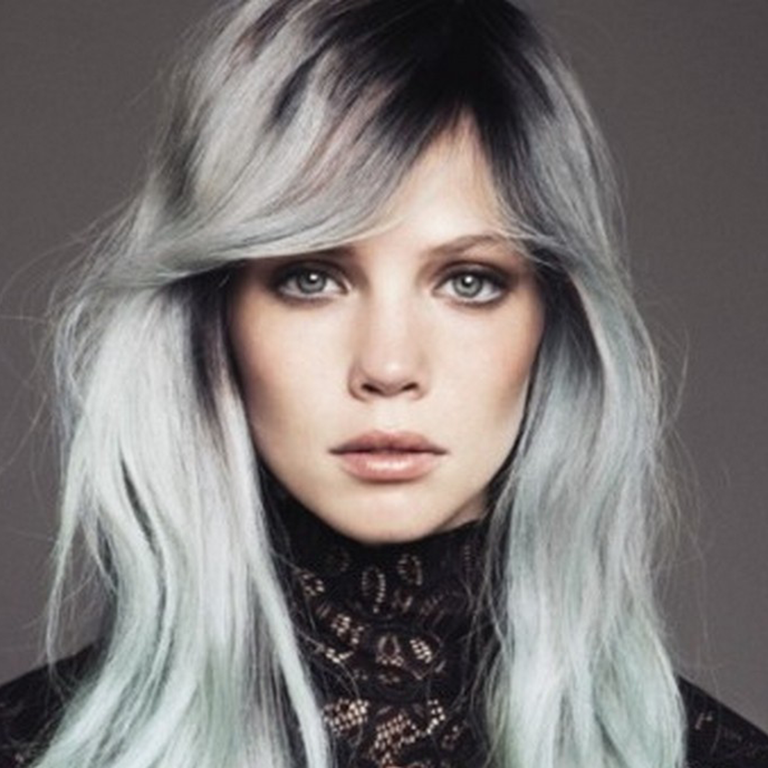 Embrace winter's coolest colour with these inspiring cuts...
Good news - silver tresses are back in fashion and the icy tones seen from the red carpet to the runway have the ability to make your skin look more radiant and youthful than ever! Introducing this year's hottest hairstyles for older women...
Not only is the new grey hair trend a great look, but it could also save you a small fortune on trips to the hair salon. That's because grey hair has the densest pigment and is therefore the hardest to cover. But if you're not quite ready to embrace your natural colour, why not try easing into it? Hair experts advise that once your hair reaches over 40% grey you should swap heavy colour in favour of subtle highlights and once it reaches 90% you should ditch the colour altogether. Embracing your greys is a great hairstyle for older women, plus it will be kinder to your tresses in the long term.
'With the weather getting colder and the evenings getting darker, hair trends are taking a more wintery feel, trends are becoming more stonewashed and Goth-like with gorgeous mixes of white, grey and black giving an ombre look,' says hairstylist Lisa Shepard who is inundated with requests for the look in her Color Bar.
Think grey hair will make you look older? Think again! Not only is grey hair bang on trend at the moment, but many hair professionals believe that grey hair can even brighten tired complexions. 'Gray hair grew in for a reason: to give your face a softer frame.' explains LA hairstylist, Umberto Savone. Hey, if it's good enough for Dame Helen Mirren, then it's good enough for us!
So, will you embrace your natural colour? From long flowing locks to low-maintenance pixies, keep reading to discover 6 of the best grey celebrity hairstyles for older women to choose from...
Dame Helen Mirren
All eyes have been on Helen Mirren hair ever since she stepped onto the red carpet sporting a soft pink rinse last year. We love her latest look. The elongated front of this super sleek white blonde do beautifully frames her face whilst the short choppy layers at the back add playful movement. Pair yours with a sweeping side fringe to keep the look on trend.
Sally Field
US actress, Sally Field's salt and pepper do always looks fabulous on the red carpet. Swept back into a beehive, the tonal hue is effortlessly flattering. Copy Sally's style and team your two tone looks with a splash of soft grey eyeshadow.
Jamie Lee-Curtis
Jamie Lee-Curtis short grey locks draw your attention to her eyes. This neat back and sides style with a subtle off centre parting is a sophisticated choice and puts all the focus on her pretty features.
Cindy Joseph
American model, Cindy Joseph, 63 successfully proves that women over 50 can wear long hair. Her sweeping shoulder waist-length locks have featured in a number of high-end campaigns including one for Italian fashion house, Dolce and Gabbana. If you want to keep your tresses long, avoid harsh all-over block colour. Instead work in lowlights to create dark tones underneath, this will create an al together more natural and softer look.
Carmen Dell'Orefice
America's oldest runway model, Carmen Dell'Orefice is still strutting her stuff aged 83, proving age is nothing but a number. Whilst she posed for her first vogue cover at the tender age of 15 she admitted in a recent interview 'I've had more covers in the last 15 years than I had in all the years before that.' Elegantly swept away from her face, the icy hue of her trademark locks create a lit-from-whithin glow to her flawless features. Try sweeping your hairline back to give thining locks extra height and volume.
Dame Judi Dench
Short and sweet, Judi Dench's choppy pixie crop frames her face beautifully. Easy to wear and style it's the perfect choice for low maintenance ladies.