How to dress for your body type - tips and tricks to make the most of your shape
Dressing for your body type just got a lot easier...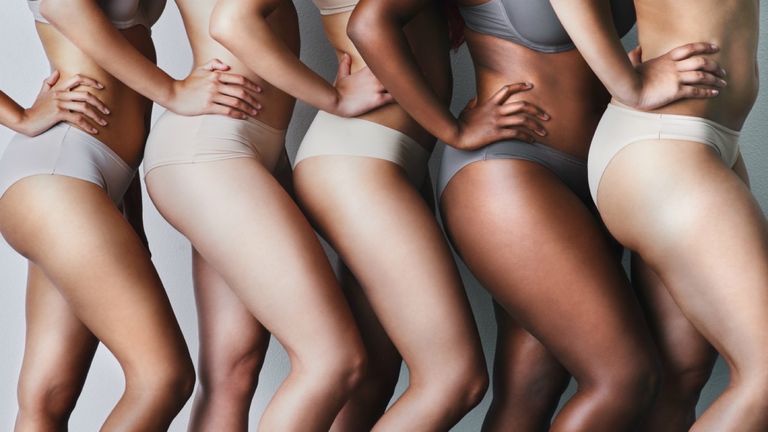 (Image credit: Getty Images)
Pear? Apple? Strawberry? If you're struggling to find out where you fit into the fashion fruit bowl, you're not alone.
Before we dive into how to dress for your body type, let us first caveat this piece by saying that fashion should be fun. Any 'rules' are there as a guide only, to help you navigate the sometimes overwhelming world of shopping. So, if you actually feel your best in pieces that are the polar opposite of the recommendations for your body type - don't worry. There's always the best shapewear to tackle any areas you might feel less confident about. But the chances are, the pieces that flatter your body shape best will be the ones you reach for time and time again.
Key body types
A quick online search and you're likely to find yourself more confused about body types than you were in the first place. Alongside the usual fruity favourites, there's talk of lesser known shapes like banana, spoon and even an inverted triangle. Here we will be looking at what stylist Susie Hasler considers the "five key body types". They are:
Apple
Strawberry
Rectangle
Hourglass
Pear
How to find out which body type you are
"The best way to find out what body shape you have is to use a professional personal styling service like Styled by Susie," says Susie. "Otherwise, look in the mirror while wearing a fitted outfit, so you can clearly see your body shape as a silhouette. You'll be able to see where you might be broader, where you might be narrower, where you may need balancing out."
If you're struggling to make a judgement on your silhouette alone, fashion guru Bradley Bayou has come up with a simple and objective way to figure out your body size, based on measurements for your shoulders, bust, hips and waist. All you need is a tape measure and a calculator.
How to measure your body
Here's how to measure your body:
Shoulders: Measure from the tip of one shoulder on one side all the way round to the other. Hold the measuring tape high up to the widest point, so that it almost slips off (you may need to enlist a helping hand for this one!).
Bust: Make sure you are standing upright. Hold the tape measure taut around the fullest part of your chest (but don't squish!).
Waist: Measure around the smallest part of your natural waist, just above your belly button.
Hips: Measure around the fullest part of your bum - this should be just below the hip bone.
With these measurements, and an idea of your silhouette in mind, you can shop to flatter your body depending on the shape you best fit into.
How to dress for your body type
Pear shaped body type
You have a pear shaped body if…
Your hips are at least 5% wider than your bust or shoulders
You have narrow shoulders and a small waist
You tend to gain weight easily on the bottom half
How to dress a pear shaped figure
"Pears should avoid anything that adds volume on their bottom half," advises Susie. "So avoid white jeans, pleated or mesh skirts - as well as V necks because they can make the shoulders appear narrower."
Instead, look for tops that draw attention to your top half. Think bold colours, busy prints and detailing like ruffles. Teamed with simpler pieces on the bottom half, it'll help balance your shape. Of course, anything that shows off your tiny waist is a no-brainer too.
Apple shaped body type
You have an apple shaped body if…
Your hip, shoulder and waist measurements are all roughly equal (within 5%)
Your hips are the widest part of your body
You carry most of your weight on the upper part of your body
How to dress an apple shaped figure
"With apples, keep the focus away from the tummy by drawing the eye upwards towards the shoulders or down towards the legs," says Susie. "We would advise them to wear scoop or V necks, and to wear anything on their bottom half that's going to accentuate their legs. That could be lighter coloured or patterned trousers, skinny jeans, ripped jeans or anything that draws the eye down away from the tummy."
Longline tops, open collars and even drop-style earrings will all help to create the illusion of a longer torso. And, resist the urge to size up. Swathes of heavy, excess fabric will only make you look larger than you are. The best dresses to hide a tummy feature fluid fabrics and waist-whittling wrap fits.
Hourglass body type
You have an hourglass shaped body if…
Your waist measurement is no more than 75% of your hip and bust or shoulder measurements
Your hip and bust or shoulder measurements are roughly equal (within 5%)
Your top and bottom half are fairly equally proportioned, with clear waist definition
How to dress an hourglass shaped figure
An hourglass should avoid anything that's too shapeless," explains Susie. "Instead draw the eye to the waist. If that's not possible, keep the rest of the silhouette quite fitted - so focus on the legs for example. The key is not to drown the hourglass in too much fabric or anything too oversized. This body shape looks amazing in anything that shows off their balanced silhouette, so that could be a shirt dress, a jumpsuit, or it could simply be a pair of jeans with a T-shirt tucked in."
Seek out pieces with lycra content that hug your curves to really make the most of your feminine shape. And if you're struggling to find the perfect fit, buy garments that fit your bust and hips, and have them tailored to your waist - problem solved!
Rectangle body type
You have a rectangle shaped body if…
Your hip, bust and shoulder measurements are roughly equal (within 5%)
Your waist measurement is 75-95% of your shoulder or bust measurement
You have an athletic frame, with a small bust and slender legs
How to dress a rectangle shaped figure
Lucky for you, rectangles can pull off nearly everything. "We would generally advise them to wear clothing with detail," says Susie. "It doesn't have to be a print or a pattern - it could be stripes, or textures such as a cable knit jumper - or it could be an oversized collar or even just going to town with accessories. It could even be something as simple as buttons on the shoulders or a pocket on the bust of a T-shirt."
"The one thing I would stay away from for a rectangle would be any type of lower neckline, particularly a V-neck because it won't add a very good shape to the bust or the shoulders."
Strawberry body type
You have a strawberry shaped body if…
You're broader on the top half
Your bottom is relatively flat
You have narrow hips and slender legs
How to dress a strawberry shaped figure
To balance out your frame, steer clear of anything too fussy or voluminous on the top half. Horizontal stripes and roll-necks are best to avoid too. Choose bust-boosting V or scoop necks instead, which will make your shoulders look narrower.
"Strawberry shapes look great in lighter colours or patterns and anything that shows off those slender legs," adds Susie. If you prefer plain black trousers or jeans to something jazzier, a pair of eye-catching shoes will have the same effect.