10 camel coats to buy now and wear forever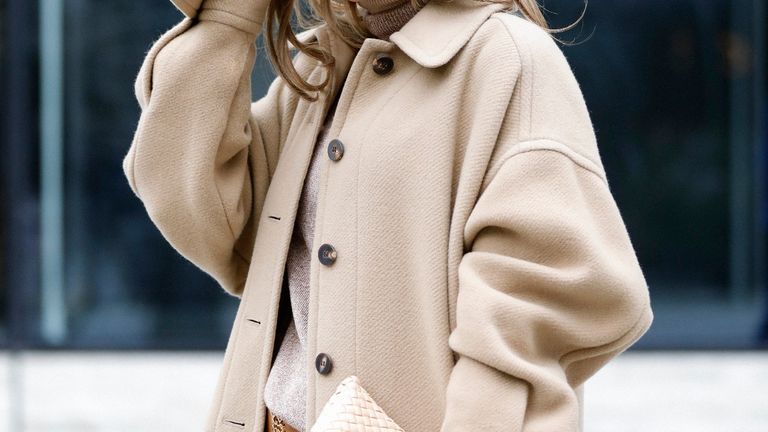 From Hollywood sirens to supermodels, First Ladies to royalty, camel coats have been worn by the chicest women in history and with excellent reason. Versatile, flattering and endlessly stylish, there's no coat that comes with such enduring appeal.
In fact, many would consider a camel number among the best winter coats whatever the season.
The earliest incarnations of the wardrobe staple were swathes of fabric made from the ultra-soft hair of Bactrian camel. They were worn by wealthy Tartan and Mongolian rulers, and the material became synonymous with luxury. Though it's now more common for camel coats to be cut from wool or cashmere, the style has retained all of its luxe status and never fails to lend polish to any outfit.
A bona fide fashion editor favourite, Max Mara's signature honey-hued 101801 icon coat put the camel cover-up firmly at the top of the fashion agenda when it debuted in 1981. Almost forty years later, it remains as relevant and desirable as ever.
A smart outerwear investment if there ever was one, the key to a camel cover-up with longevity is a timeless silhouette. From tailored to teddy-textured, here are the 10 wear-forever styles to know about.
Key styles of camel coats to shop now
The robe
Famously worn by Marilyn Monroe, the robe-cut coat is arguably the most elegant camel style. Characterised by an open front, wide lapels and waist-cinching tie, it makes for a feminine, flattering coat and exudes old-Hollywood glamour. The most sophisticated iteration of the season comes by way of Reiss' Leah coat, £325. It features a versatile mid-calf hemline, sleek-yet-practical side pockets and classic notch collar to be worn turned up or down. Crafted from premium double-faced wool mix, it's lightweight yet warm, taking you right through the cooler season.
VIEW NOW: Leah Coat, £325, Reiss
The tailored
A favoured style among preppy college students during the 1920s, the tailored camel coat has long lent a smart finish to any outfit. Inspired by traditional menswear, it has become a go-to silhouette for Duchesses Cambridge and Sussex. They repeatedly demonstrate its versatility, wearing it atop swishy midi skirts, tailored shifts and evening-ready dresses. For those looking to invest, reach for Mango's woolen style, £179.99. It comes with a classic double breast and notched lapel collar. Subtle shoulder pads give a slick, structured shape, while wool fabrication means it will last a lifetime.
VIEW NOW: Wool Double Breasted Coat, £179.99, Mango
The trench
No conversation about camel coats can be complete without mention of the trench. This is a wardrobe staple in itself and, when realised in camel tones, makes for a piece guaranteed to be worn forever. Boden's Mark Trench Coat, £160, has all the hallmarks of a classic (belted waist, slip side pockets, vented back) but with the addition of a contemporary, fashion-forward spin. Check out the chic leopard detailing on collar, cuffs and belt. Made from 100 per cent cotton, it's lightweight yet windproof, and is fully lined for winter warmth.
VIEW NOW: Mark Trench Coat, £160, John Lewis
The duffle
While the refined nature of the camel coat lends itself to smarter occasions, it can work for off-duty wear too. When released in a classic duffle coat silhouette, it makes for the perfect cold-weather weekend cover-up. La Redoute's hooded iteration, £78, comes with cosy faux-fur trim and a high neck to stave off wintery chills, plus a toggle and zip double closure for extra warmth. The mid-thigh length is perfect for pairing with slim-leg jeans and ankle boots –just add brunch.
VIEW NOW: Hooded Duffle Coat with Faux Fur Trim and Pockets, £78, La Redoute
The blazer
On occasions when only sharp and slick will do, a camel blazer always delivers. The versatile shade pairs perfectly with neutral workwear, and offers a softer alternative to traditional black and grey jackets. & Other Stories has some of the best tailoring on the high street, and the wool blend blazer, £135, has all the attention to detail and fit that you'd expect from a far pricier piece. Tortoiseshell buttons give it a timeless touch, while the oversized fit means chunky winter knits can be layered underneath.
VIEW NOW: Oversized Wool Blend Tailored Blazer, £135, & Other Stories
The raincoat
Though traditionally not the most stylish of cover-ups, the raincoat becomes an entirely desirable proposition when reinterpreted in a sophisticated camel hue. Case in point, Zara's limited edition mac, £89.99. It's the chicest way to endure wintry weather. Made from durable nylon and featuring a removable hood with adjustable drawstrings, this number will stand up to wind and showers. Its lightweight composition means it can also be worn over thick layers without looking bulky. Meanwhile the subtle A-line silhouette and midi length emphasise its fashion-forward credentials.
VIEW NOW: Limited Edition Trench Coat, £89.99, Zara
The puffer
Nothing beats an insulated puffer when temperatures plummet. Having been championed on the catwalks for the past few seasons, down coats have transitioned from scruffy to polished, being reinterpreted in flattering silhouettes. As such, they are now an autumn/winter essential. None come more refined than Marks and Spencer's feather and down puffer, £69, in warm camel. The long-line shape offers maximum warmth, while Stormwear technology will keep you dry. Of course, the universally flattering shade complements everything in your cool-weather wardrobe, too. Win-win.
VIEW NOW: Feather & Down Puffer Coat, £69, M&S
The statement collar
The sartorial equivalent of a reflector, camel shades have a light-boosting, warming effect on the complexion. Meaning they're a smart choice to wear close to your face. Maximize the flattering effect with a statement collared design, such as Next's belted coat, £78, which comes with an elegant outsized wrap-over neckline. Available in petite and regular fit, the timeless style is guaranteed to give you a lift, even in the depths of winter.
VIEW NOW: Belted Coat, £78, Next
The teddy
Chilly mornings and evenings call for snuggly, comforting layers in which to envelop ourselves, and this is where the teddy coat excels. The soft nubbly texture is supremely toasty, meaning it's a piece you'll be longing to reach for all season long. What's more, the chubby finish is perfect for adding stylish interest to plain outfits. So even on jeans-and-T-shirt days, you'll still look like you've made an effort. With its luxe, oversized fit, Monki's Borg coat, £85, in deep camel comes fully lined to ensure extra warmth.
VIEW NOW: Long Teddy Coat, £85, Monki
The wrap
From Audrey Hepburn to Alexa Chung, Catherine Deneuve to Michelle Obama, the chicest dressers have long been known to reach for camel outerwear. Perhaps one of the most iconic is Jackie O, who was known for pairing her signature outsized sunglasses with an equally stylish wrap coat. Cut to the knee and with a neat, fitted silhouette it was the epitome of ladylike glamour. Ted Baker's Rose Wrap Coat, £299, harnesses that timeless appeal with a sleek high-neck collar, midi hemline and elevating metal details. Made from premium quality wool, it might be an investment but it's a piece that will be worn for years to come.
VIEW NOW: Wool Wrap Coat, £299, Ted Baker
Which of these camel coats has your vote?