The new beauty treatments you need to try in 2020
The beauty treatments you need to know about this year.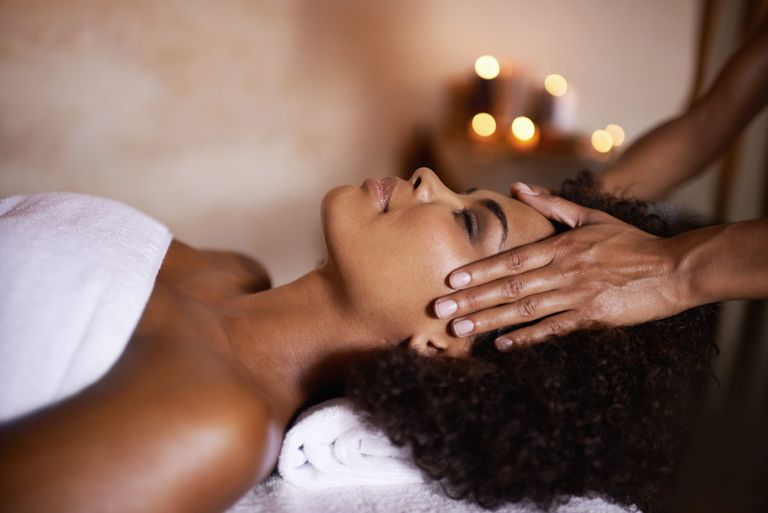 Whether you want something cheap and cheerful, or to splash out on a luxe spa treatment, we've got all bases covered...
The best beauty advent calendars 2020 –which contain a plethora of luxe new products to try – are a fantastic (and amazing value) way to change up your beauty regime from home. But if you're looking to switch things up when it comes to professional beauty treatments, it can be difficult to know where to even begin.
Luckily, we've got some expert advice on hand to guide you along the way...
Get a spring-ready with a glow at home
Spray tan fans know they're the #1 trick in town for holiday body confidence. If you're not a regular tanner, don't worry - you don't have to go super bronzed. Just a nice, even wash of golden colour slims limbs, covers up thread veins or any little bruises plus helps remove the temptation to fry yourself in the sun while away, give it a go and we defy you not to be converted.
Tanning treatments on mobile beauty apps are booming with good reason: a therapist visits your house at your convenience, pops up tanning tent so there's no mess, and can customise the tan used leaving you bronzed and ready for bed with no mess, fuss or awkward journey home. We love LeSalon, who offer spray tans by one of our favourite brands, Vita Liberata, as well as manicures, pedicures, waxing and lash treatments.
Treatments are available in London zones 1-4 from 6am-11pm, making it super convenient to fit in all that pre-holiday prep if you already have a busy life. Tanning from £45, visit Lesalon.com
Go for full flutter with a lash lift
Whether you're got short, straight, forward-facing lashes, or just want to add a little something extra what nature gave you, Lash Perfect Lift may just be the perfect eyelash treatment. In one 40 minute session the LPL lifts, curls and tints natural lashes for a lengthening and thickening effect that lasts up to 8 weeks.
Essentially you lie down and relax for just over half an hour while various solutions and bits of apparatus are applied to create either a "C" or a "J" curl. The Lash Perfect technicians are experts in helping you pick based on your eye shape and desired look. This would make an excellent treatment before a holiday where you intend to skip makeup most days as it gives naked lashes a little boost without looking fake or being remotely high maintenance.
Lash Perfect Lift is available nationwide at Lash Perfect trained salons and spas, from £35, visitlashperfect.co.uk
Go for a seasonal package for a head-to-toe pamper
Booking in bulk can save you time - and money - when it comes to beauty treatments. Plus, you get that truly transformative pampering experience, emerging from the salon as if you've just had a rom-com style makeover (at least in our heads anyway).
The Bespoke Winter Package at SKIN Lounge, Richmond is comprised of the holy trinity of facial peel, body scrub and massage, and either lash extensions or an uplifting LVL treatment. First up is theAlumier Glow Facial Peel,ideal for targeting skin concerns such as ageing, pigmentation and acne. This is followed by theLuxury Full Body Scrub and Massageusing soothing aromatherapy oils, then a bespoke lash treatment, depending on your desired effect. Start 2020 feeling super groomed and glowing.
Treatments start at £28, find out more at skinlounge.co.uk.
Master occasion hair at John Frieda
Party hair can be so tricky, can't it? It's hard to create a style that feels special enough for a big occasion without going for an old-fashioned heavily set 'do, but Zoë Irwin at John Frieda may just have cracked it. As an A-list stylist and uber trend spotter, Zoë's a genius at taking high end styles and making them work for real women as demonstrated by this exciting new accessory styling masterclass. If you've noticed beautiful hair accessories in the shops this summer but aren't sure how to make them work for you, this one hour session can help.
MORE:This is why you should never cut your beauty products open
Book in with Zoë at John Frieda Alford Street, or another stylist at any John Frieda Salon and and you'll enjoy a totally unique, easy-to-follow tutorial on styling your hair with a chic accessory of your choice. That could mean creating a cool up do in which to pin a sophisticated clip or pretty bow, or tonging in loose waves crowned with a beautiful embellished headband - whatever you fancy.
The team will use accessories by Born In The Sun during your tutorial which you can take at the end of your session, along with all your newfound knowledge to put into action for that big summer wedding. The Accessory Styling Masterclass, £100 + accessory (from £35) with Zoë Irwin, or from £40 + accessory with any stylist at John Frieda Salons.
Brighten your smile without sensitivity
Teeth whitening is popular with good reason, it can make you look younger, fresher, just all-round better without anyone being able to tell what you've had done. On the flip side it can be painful for sensitive teeth, time consuming and pricy (you're looking at £500+ if you go somewhere reputable, and please do go somewhere reputable). There's also the risk of over whitening aka the Love Island contestant look. Shudder.
So we were very pleased to hear about an alternative that brightens your smile, removes stains and sets you up for a pearly future too. Polish & Perfect by Dr Reena Wadia includes an in depth examination of your smile (very comfortable, promise) tailored advice for your dental needs and finishes with airflow polishing, a deep-cleaning treatment that uses a mixture of powder particles and water to blast away stain build up. Don't worry that bit is comfy as well, the powder tastes of mint and it didn't aggravate my sensitive teeth at all.
The whole thing takes about 30 minutes tops and you'll leave with a brighter, healthier smile plus all the advice you need to sparkle for aeons to come. Polish & perfect, £250, at RW Perio, visit rwperio.com
Reward hard-working hands with a high end mani
Our hands get a rough deal don't they? They work all day, they wash dishes, they're exposed to the elements nearly all of the time and the most attention they get is with not-so-nail-friendly gel manicures (or nibbling if you're that way inclined) Why not give your mitts some genuine TLC with The Jessica Deluxe Manicure with LeRemedi.
This many-stepped 'facial for your hands' packs in a full nail analysis, alpha hydroxy acid exfoliation, an elbows-deep slathering in a restorative mask, various oils and concentrates, heated mittens if you wish and that's before we even get to the expert manicure using Jessica Nails beautiful, gentle polishes. From £38 at Jessica Salons
Clear out skin with a Hydrafacial
It's not exactly cheap, but if you're looking for results the Hydrafacial ticks every imaginable box. Congestion-clearing? Tick. Texture-smoothing? Tick. Plumping, hydrating, collagen-boosting? Tick, tick tick.
The six steps of this classic treatment include peels, serums and a pressurised hydradermabrasion pen that pushes the good stuff in and flushes the bad stuff out (you can see the gunk that's exited your skin if you wish).
From £200 at Mallucci London (below) and nationwide
Reframe your face in a hot minute at Benefit
Looking for a treatment to knock a few years (or late nights) off? For absolute ease, speed and bang for your buck, I reckon nothing beats a brow tidy. Benefit are #1 in the UK for brow services and no wonder, their wax service includes brow mapping to find your perfect shape, a makeup touch-up if you fancy to hide any redness and the option of adding on a tint to pick up all those tiny hairs you never knew existed. From £16, at Benefit Boutiques nationwide
Try the treatment that will revive damaged hair
The brilliant and super-scientific L'Oreal Professionnel Pro Fiber treatment can help reconstruct a damaged 'do thanks to a special molecule that seeks out weak spots on the hair shaft and seals them back up. It's cost effective, from £15, takes a few minutes at the backwash and can then be recharged at home with L'Oreal professionnel Recreate and Reconstruct haircare ranges.
Find a L'Oreal Professionnel salon here
Enjoy a holistic massage in the comfort of your own home
Mobile spa and beauty companies were all the rage last year and their offering is only set to continue in 2020. As well as blow dries, nails, lashes and brows being on offer without having to brave the elements, at-home massages will allow you to truly feel the benefit. A massage is a deeply relaxing experience, but when you emerge feeling blissful, but then have to brave a busy tube, or sit in traffic for half an hour, the relaxation soon dissipates. The joy of an at-home massage means you can follow it straight on with another zen-inducing experience, whether that's a relaxing bath, curling up with a good book, or some peaceful meditation before bed (a Grace & Frankie marathon on Netflix also totally counts). Freedom Wellness Massage offer specialised massage, whether it's a deep tissue, relaxing or sports massage you're after. They also offer yoga and pilates sessions if you want to book out a whole afternoon dedicated to
Find a mobile massage near you here
Treat your feet with a holistic pedi
Our poor feet get a hard time what with the walking and weight bearing and inappropriate shoe wearing. Generally the closest they get to being pampered is the occasional file and polish, rough going over with a metal file or slathering in hardcore hoof cream, but we've found a treatment that will show those tootsies how much you appreciate their hard work.
Still London is a non-toxic, vegan, environmentally-friendly salon in East London (where else?) and their Icelandic Arctic Ocean soak, massage and pedi is basically foot nirvana. First soak away any aches and pains in pure Icelandic sea salts, then enjoy an exfoliating salt scrub and heavenly foot massage complete with cold pressed rosehip and sea buckthorn oil. Finally get those toes all spruced up with a full file, buff and cuticle work pedicure and a lick of colour by non-toxic polish brand Kure Bazaar. Expect to leave with the very definition of happy feet.
£40 at STILL London
Get a J.LO Glow with a Sunday Riley Ice Clear Facial
Three words: Best extraction ever. There are lots of other reasons to love this instant-results facial, if you're feeling clogged up and dull. It combines a high-tech cryotherapy machine, rumour has it J-Lo has the same one in her house, with antibacterial and anti-inflammatory LED and a hands on approach (aforementioned extraction). The treatment finishes with a generous slathering Sunday Riley's peerless skincare products.
From £60 at Hershesons Berners Street
Treat yourself to a half price spa day
If you haven't tried Treatwell yet, where have you been? We jest, We jest. So how does it work? Download the app, put in your postcode, browse and book.
You can filter by area, treatment and price and read customer reviews of the hundreds of spas on offer. Even better, this app regularly runs offers for discount treatments, keep checking back for anything from £5 off a mani to half price spa days.Find out more at Treatwell.co.uk
Treat toes at home with Blow
There is something deeply cheering about a softened heel and freshly painted toenail, even if it's only you who sees them. That said, sometimes the journey home from the nail bar in flip flops has all the appeal of a cold shower, so why not have the salon come to you?
Blow Ltd are pioneers of the luxury at home treatment, with a crack team of expert nail technicians, organised and paid for via an app that's as easy as booking an Uber. Go for the OPI Classic pedicure and your therapist will arrive armed with everything you need for a salon pedi experience from the comfort of your couch.
Pedicure from £40, available in London, Birmingham and Manchester. Find out more at blowltd.com
Perk up skin in minutes at The Light Salon
Yes its lovely to lounge around in a robe for hours drinking herbal tea before being slathered in masks and massaged, but do you know what else is lovely? Achieving the same heavenly glow after 15 minutes under an LED light in your own clothes and makeup. That's what the light salon is all about: fast, effective, skin-improving treatments for the lunch hour crowd.
Nip in for a radiance inducing 20 minute ExpressLED Skin Health & Rejuvination, £35, then supercharge it with as many add-ons as you fancy. I love the Advanced Exfoliation Peel, £35, and Lifting 10 Minute Facial Massage, £15. New and exciting is Microneedling with 60 minute treatments from £160. Available at Harvey Nichols, Hershesons and Cowshed Spas. thelight-salon.com
Spread good vibes with a restorative Elemis massage
Sometimes you need a hardcore deep tissue elbows-in-the-back type of massage, and sometimes you need to be a bit kinder on yourself, in which case visit Elemis for a Hot Mineral Body Boost. The concept is thus: lie on the warm amber and quartz crystal bed for a 75 minute top to toe massage, and along with the usual muscle release you can expect an energising and rebalancing effect akin to post yoga zen thanks to the highly charged minerals.
The bed itself feels a bit like lying on a sandy beach which makes for a pleasantly escapist experience, while the facial massage is a classy touch making this feel like two treatments for the price of one.
£155 at House of Elemis and Selected Centre Parcs Spas.
Don't want to leave the house? Try one of these at-home beauty treatments
For a natural glow try LED
At home Light therapy works best with a 'little and often' approach, meaning regular DIY LED could be a better bet than a professional session once in a blue moon. MZ Skin Light Therapy Golden Facial Treatment Device, £385, is a sizeable investment and looks a bit unsettling, but offers powerful customisable combos of five LED types in sessions of 10 to 30 minutes. It's satisfyingly weighty, you can watch TV through the eyeholes (just), and it's a warm, relaxing way to soothe, repair and brew up new collagen.
If spots are an issue, Neutrogena Visibly Clear Light Therapy Acne Mask, £59.99, kills spot-causing bacteria and calms inflammation to leave your skin looking clearer. In a clinical trial, 98% of women had fewer breakouts after 12 weeks.
At-home microneedling will plump out fine lines
Needling fanatics have been buying budget dermarollers online for years, but now we get slick user-friendly devices like BeautyBio GloPro Microneedling Regeneration Tool, £199, with 0.3mm needles, attachments for the body and lips, plus an LED light to soothe.
Our beauty editor says, "Rolling it around for a minute felt satisfying, making it easy to stick to bi-weekly sessions, dousing my flushed face in hydrating serum afterwards. After a month my skin felt unusually juicy and a facialist noted my 'bouncy cheeks'. I do worry that it would be easy to get carried away, using it too often with too much pressure or spreading bacteria around. Go gently, and use the sanitising spritz."
If you'd rather avoid needles, Facegym's chunky Gold Derma Roller, £30, revs up circulation without penetration by massaging skin as you roll.
For wrinkles and fine lines, try laser
At home A DIY laser won't blast away pigmentation or break down a tattoo, and nor should it, but the FDA-approved Nira Skincare Laser, £299, heats the deep dermis layer of the skin, activating collagen to do impressive work around the eyes and mouth. Its wavelength sits at 1450nm, similar to professional machines, but at a lower power unit, so you build up to the equivalent of one pro treatment in a month of use.
Pick whichever one of the five levels feels warm not sore, although even level two got a bit ouchy after the advised 40 blasts under each eye. It takes two minutes max, and is comfy enough that we'll keep going to the three-month sweet spot, where in clinical trials medics reported 'one wrinkle scale unit improvement' in 61% of users.
A cream can't compete with lasers for collagen building, but Vichy Mineral 89 Eyes, £20, is as effective as topical treatments get, thanks to de-puffing caffeine, energising adenosine and line-plumping hyaluronic acid.