Paris Fashion Week s/s 2024: What fashion experts predict you'll be wearing next year - and how you can shop the look now
Paris Fashion Week spring/summer 2024: The hottest catwalk shows from one of the most stylish cities in the world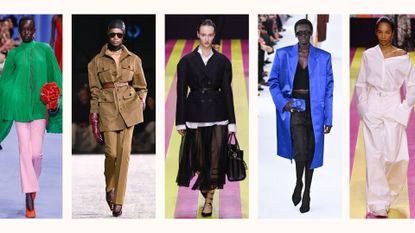 (Image credit: Getty Images)
Paris Fashion Week spring/summer 2024 shows are the last stop of a month long festival of fashion that has travelled between all the major fashion cities. A city of romance, Paris is also known for its exquisite style, which means PFW shows are the ones not to miss.
The Paris Fashion Week shows are some of the most anticipated of the month long schedule. Packed with some of the most iconic names in fashion, the front row and the street style snaps are almost as good as the runways themselves as everyone aims to show up look their best for such an important occasion on the fashion calendar.
Having already watched hundreds of shows from NYFW s/s2024, LFW s/s2024 and MFW s/s 2024, we've already spotted some trend threads emerging, but as all the attention is now on Paris, it's up to some of the world's most famous French clothing brands to display their wears.
Paris Fashion Week spring/summer 2024
If you've already got to grips with the latest autumn/winter fashion trends for 2023, like us, you may want to turn your attention to the first part of 2024. The Paris Fashion Week spring/summer 2024 shows were full of inspiration and beauty, veering between modern and directional pieces, as well as serving as a lesson in a French capsule wardrobe, a reinterpretation of modern Parisian style with a heavy dose of Quiet Luxury. We asked fashion editor and stylist, Antonia Kraskowski to give us her lowdown on the Paris Fashion Week spring/summer 2024 shows and what we'll be wearing next season.
1. Dior
Having recently received the royal nod after dressing Queen Camilla in a regal navy gown and cape for the state banquet at Versailles, Maria Grazia Chiuri's latest collection for Dior was much anticipated as the event to kick off day one of Paris Fashion Week.
Embedded within a wraparound digital installation titled 'NOT HER' by artist Elena Bellantoni, the show referenced unconventional women, those typically considered dark or dangerous - witches of the Middle Ages to 19th century Parisiennes. The installation itself was a talking point with magenta and bright yellow base backgrounds filled with past examples of sexist posters and adverts and updated with feminist corrections of the text.
Juxtaposed against a backdrop of constantly changing imagery and slogans, models strode down an equally bright candy-striped catwalk in an almost entirely monochrome collection. Opening the show was a delicate semi-sheer lace ankle length dress festooned with delicate trailing fabric. Dior's famous New Look silhouette was referenced throughout, with looks nipped in at the waist on blazers, coats and dresses with belts or carefully structured tailoring. Shirting took on a contemporary twist with many looks either one shouldered or worn louche and off the shoulder, reminiscent of the iconic off the shoulder Dior jacket.
Breaking up the monotones came several unexpected prints which were an ode to the city itself - Paris' city streets appeared in the form of an intricate map that looked like graphic tie dye drifting in and out of focus, while a print of the Eiffel Tower shot by photographer Brigitte Niedermair who has shot several Dior campaigns, appeared on jackets and full skirts. However, it was a motif of suns and moons that piqued interest, perhaps the designer's cheeky wink to the tale of Dior's predicted success by a clairvoyant when he was a boy on holiday.
Sombre black slowly gave way to lighter hued looks, including stunningly intricate lace tempered with chunky black boots for a ladylike silhouette with a masculine edge. Classic feminine midi skirts were balanced with asymmetric shirts and a pointed flat/gladiator hybrid shoe, finished with pearl detailing. Floral patterns appeared briefly in the form of oversized blooms in pastel shades delicately embroidered on semi sheer dresses and skirts but also as monochrome photo prints on a structured coat and maxi skirt.
An abstract and at times obscure collection, Chiuri's latest offering took feminine stereotypes and offered a new transformative perspective on classic motifs of the design house, echoing the feminist installation that surrounded it.
Cos Pinafore A-Line Dress
RRP: £95 | It might not be Dior, but the nipped in waist and full skirt does reference the infamous Dior New Look. This dress can be worn alone, bare armed in the summer or slipped on over a shirt or knitwear to make it one of the best autumn dresses.
2. Saint Laurent
Set amongst gargantuan marble walls in the shadow of the Eiffel tower, Anthony Vaccarello's latest collection for Saint Laurent during Paris Fashion Week spring//summer 2024 took the brand back to basics, literally.
Show notes paid homage to female pilots Amelia Earhart and Adrienne Bolland, with opening looks reflecting the pilot aesthetic in the form of perfectly cut boilersuits cinched at the waist with elegant leather belts, worn with aviator glasses. The typically masculine look was feminised with oversized gold jewellery and towering stilettoes, creating some seriously flattering jumpsuits with plenty of edge.
After a previous collection of tailoring and eveningwear, the reset button was firmly pushed for the season ahead with crisp cotton shirts, cargo trousers and pencil skirts taking centre stage alongside shirt dresses. The result? A catwalk delivering a chic take on utilitarian in an earthy palette of beige, khaki and sand.
Shoulders were broad and the fit of blouses deliberately oversized, but with the waist highlighted to create a louche, pared back silhouette. Humphrey Bogart-esque oversized coats again conjured the spirit of pilots and adventurers but with an air of quiet luxury.
Masculine-inspired silhouettes gave way to a collection of dresses in two halves. The first, a series of barely-there high necked halterneck minis with cut away backs that echoed the high hemlines that ardent Saint Laurent fans have come to expect of the brand, conspicuous in their absence otherwise but something that Vaccarello said he has now tired of. These were contrasted with a series of billowing gowns. Gathered silk bodices and oversized sheer fluted sleeves created a majestic, otherworldly elegance as the models moved around the dramatic marble space, for some of the best cocktail dresses around.
A collection filled with timeless classics and elegant lines, Saint Laurent SS24 is sure to be snapped up by fashionistas ready for a fresh start to spring.
Zara Linen Cargo Pocket Dress
RRP: £45.99 | If you're heading off to sunnier climes, then this linen dress is one to snap up for a travel capsule wardrobe. The breathable fabric will keep you cool, while the '90s cargo style will ensure you're ahead of the trends for next spring/summer 2024.
3. Balmain
When Olivier Rousteing announced that less than two weeks before his Paris show 50 looks from his latest collection had been stolen during a hijacking, many were left wondering how the brand could bounce back from such a monumental theft but Rousteing and his atelier are clearly made of sterner stuff, remaking over 70% of the pieces that were stolen.
Opening the show, a structured black and white tailored two piece with strong shoulders and pin sharp lines, exhibiting the house's expert cutting, the look softened with bold gold buttons shaped like roses, a motif that would continue throughout the collection - florals for spring might not be ground breaking but Rousteing's interpretations certainly breathed new life into classic fashion tropes.
Blooms appeared across jackets as corsages, as pocket detailing on skirts and as sculptural garlands growing across the body of blazers and dresses, slowly appearing larger and more ornate as more looks emerged onto the powder blue catwalk. Models carried bags decorated with plasticised flowers designed to look as if they were carrying bouquets tucked into their accessories.
Sharply tailored blazers were tempered by soft micro-pleated skirts with wavy upturned hems that conjured the imagery of delicate petals or teamed with bell shaped skirts, creating hyper-feminine silhouettes.
While many of those showing at PFW s/s 2024 have continued the trend of Quiet Luxury with muted palettes, Balmain's spring collection featured a riot of colour – even monochrome looks were lifted with dashes of colour here and there - tomato red shoes, pink buttons, a colourful bag or bangle.
It was however the latter half of the collection that stole the show as florals continued to bloom in ever more statement forms. Over a form fitting polka dot playsuit, colourful rubberised roses in a range of hues flourished across the bust; a carefully ruched blue, off-the-shoulder dress was finished with blood red roses at both the hem and across the decolletage for a dramatic juxtaposition but it was the crystallised and cage dresses that reminded us of the atelier's couture credentials for creating breathtaking pieces where under the lights the flowers appeared to take on a life of their own, twinkling and growing across bodices.
After a final walk, models headed out to under the Eiffel Tower to greet those who gathered outside - dancing, they waved roses at the assembled crowd as the tower glittered behind them for a playful finish to a catwalk, proving that even theft could not halt the unstoppable Rousteing.
River Island Satin Polka Dot Dress
RRP: £48 | Polka dots never go out of style, making this a solid investment piece, that will also be seen as a style supreme buy when spring rolls around. To make it work for right now, wear over a black roll neck and some of the best black boots.
JD Williams Green Pleated Blouse
RRP: £65 | Get a runway-worthy look for less with this pleated green blouse. The floaty silhouette will skim your shape, pairing well with the best skinny jeans. Rock this one for the upcoming party season, or slip it into your summer wardrobe.
4. Givenchy
In a Chrysalis-like white tent, American designer Matthew Williams showed his latest collection for the iconic French fashion house of Givenchy.
The show opened with simple yet statement tailoring – an oversized cocoon-like black blazer teamed with a slimline knee length skirt creating a somber feel, followed by an asymmetric spaghetti strapped sheer dress, its only detailing a swathe of fabric draped at the bust, a look that would repeat throughout the collection in a variety of iterations, from pale grey with delicate iris embellishments and a cream beaded take to another black sheer version worn over a crystal skirt, careful knotting in amongst the folds of fabric creating interest.
Necklines were daring, with plunging cuts, wrap details and slices to the navel while dresses with high necks turned to expose acres of bare skin across the spine in a stark contrast.
Spring coats came in lightweight neutral wools and contrasting sheeny satin, a cobalt blue version adding a dash of colour to an otherwise muted palette. Florals were sparse for a spring collection, taking on the form of oversized iris prints decorating featherlight sheer fabrics and intricate embroidery on a handful of pieces including a vibrant green evening gown.
A hero look for evening wear saw a classic black silk halterneck gown split to the thigh and finished with a dramatic fanned lace neckline, both dramatic yet delicate.
It appears that the American in Paris has marked spring/summer out to be a bright one.
RRP: £425 | Get ahead of the spring/summer 2024 game with this yellow Gant winter coat. Start the season early and usher in some colour to brighten even the gloomiest of days, this soft wool-blend coat is guaranteed to keep you both cosy and stylish.
Phase Eight Rimsha Lace Dress
RRP: £159 | Evoke the drama of the Givenchy collection with lashings of lace this season. A twist on a classic LBD, this A-line silhouette will flatter through your torso and waist, and offers gentle upper arm coverage. The keyhole neckline is ideal for discreet cleavage.
5. Loewe
In a palette of earthy, neutral tones with the occasional dash of orange, teal and magenta, Jonathan Anderson's latest collection for the Spanish fashion house was a fun play on proportions for otherwise typical wardrobe staples.
Continuing the brand's collaboration with artist Lynda Benglis, a group of six monumental sculptures were placed around the expansive catwalk. Cast in a range of materials including polished bronze and a matte black patina, the striking pieces reflected light in different ways across their unusual shapes.
Opening the show, a long oversized cardigan/cape hybrids knitted in huge looping stitches and finished with sculptural bright gold buttons kept models arms firmly by their sides. Teamed with baggy jeans and glittering shoes, it created a laidback cocoon-like silhouette, echoed in asymmetric one-collared oversize ribbed sweaters cut low on the chest.
Switching focus, Anderson's next piece under examination for proportions was the trouser. Ultra high waists that finished just below the ribs were order of the day; appearing in denim, wool and corduroy and teamed with everything from slimline sharply tailored blazers and shirts with pointed lapels to chunky knitted cropped sweaters. Teamed with sculptural, armour-like tops constructed of crystal embellished flowers, looks were finished with bangles that resembled the artwork which models strode around.
Masculine Bermuda shorts were updated with statement gold pin details that ran across the width of the body, creating a paper-bag waist detail while simultaneously creating a feminine curve on looks that had a distinct element of tomboyish charm, teamed with slender polo shirts and blazers.
Playful twists on outerwear came in the form of hitched up hems, slung over the shoulder on one side to create the illusion of a bag
More feminine silhouettes came in the form of cotton tiered rara skirts with trailing ruffles and softly draped undulating chiffon strapless dresses and delicately fringed dresses, gossamer fine threads moving hypnotically around the body.
Closing the show came two looks of opposites. First, a stunning statement evening gown in a soft and creamy shade of buttermilk, the elegant slip dress cut emboldened by another large gold pin adorning a giant square across the chest for a sculptural finish. Followed by a timeless slimline double breasted suit, it was a simple yet chic finish to a show that has will have the fash pack clamouring come spring.
Sezane Emile Red Cardigan
RRP: £130 | While the extreme maxi length of the Loewe design is not widely available you can dip your top into the look with a chunky red cardigan. Despite being a look at PFW spring/summer 2024 shows, this style is ideal for right now.
6. Alexander McQueen
With 26 years at Alexander McQueen, 13 of which as Creative Director, Sarah Burton announced that SS24 would be her final collection just two weeks before it hit the catwalk at Paris Fashion Week, to the surprise of many.
A final note placed on each seat ahead of the show read "This collection is inspired by female anatomy, Queen Elizabeth I, the blood red rose and Magdalena Abakanowicz, a transgressive and powerfully creative artist who refused ever to compromise her vision. The show is dedicated to the memory of Lee Alexander McQueen, whose wish was always to empower women, and to the passion, talent and loyalty of my team."
Opening the show, Kaia Gerber emerged onto the cyclical catwalk at Le Carreau du Temple in a structured mini dress featuring meticulously cut away sections at the chest and shoulders; a look that continued across several tailored pieces. Masculine suiting tropes received a distinct twist that celebrated the female form - suit pockets were restructured to cup the bust while elsewhere cut away panels were replaced with moulded forms at the chest, teamed with nipped in waists creating precision silhouettes. Moulded bustiers with tear drop cut-aways and statement peplums highlighted the female shape, creating hyper-curvaceous forms teamed with delicate slimline skirts made of undulating horizontal fringing in gold and vivid blood red versions.
While several looks appeared in bold blood red including a velvet high necked dress slash to the hip, a mesmerising one-armed textured coat and figure hugging lace ankle length frock, the hue also appeared in more subtle forms; a slash of colour worn on the lips, a sharply turned accessory such as pointed shoes and as statement prints on otherwise sombre all black looks and swaying fringed details. The red rose motif, continued from the designer's previous collection, appeared as a singular oversized print on dresses while a showstopping piece reimagined the floral form as petals, forming a stunning statement dress of intricate folds that referenced female anatomy.
Burton's anatomical exploration continued, taking the form of an exquisite, oversized cream jumper, loops and stitches recreating bones and organs in an abstract formation that looked almost floral-like in its complex folds and frills. This level of intricacy was echoed in a silver pearl encrusting body stocking, its achingly perfect embellishment a signature of the fashion house.
Closing the show, Naomi Campbell appeared to wipe away an emotional tear as she emerged in a glittering pewter version of an earlier bustier and fringed skirt look as David Bowie's Heroes boomed throughout the space, emotions running high for Burton's final bow.
Turning the final page in the 26-year story of her time at Alexander McQueen, Burton's departure marks the end of an era. Who will take her place remains to be seen and indeed where the designer will move onto is still a mystery but also another tale that we can't wait to watch unfold.
Phase Eight Mallory Dress
H&M Black Corset Belt with Buckles
RRP: £21.99 | "If you're looking to create an hourglass silhouette, then a corset belt is a great way to highlight your curves. Before you invest in a leather one, try this bargain high street iteration to make sure you are fully committed," says Rivkie Baum, fashion editor, womanandhome.com
7. Victoria Beckham
With a front row consisting of Anna Wintour, Kim Kardashian, Pamela Anderson and husband David plus three of their four children, Victoria Beckham's latest collection was a hot ticket for the Friday of Paris Fashion Week spring/summer 2024 amid the label's foray into fragrance, launching three perfumes the same week, which many took as a serious step towards the brand being recognised as a bona fide fashion house.
Taking place in the former residence of Karl Lagerfeld, it was Victoria's days as a stage school student and her dance education that inspired the PFW SS24 collection – attire that evoked feather weight ballet rehearsal dresses, simple jersey tees and knitted sweaters with dropped necklines and cardigans with overly long sleeves worn with tiny shorts all appeared on the catwalk, looks synonymous with the uniform of dancers. Clever concealed wire detailing offered structure to otherwise slubby jersey dresses, creating the feeling of movement and light. Delicate silk column dresses in icy pastels also had a nod to Beckham's dance training, updated with padded panels in unexpected places to echo the protective clothing worn during rehearsals.
Spending most weekends at their Cotswolds home, it was only a matter of time before Beckham was inspired by life in the great outdoors. Outerwear influenced by rainwear more typical of country lanes with green and white parkas updated with the designer's signature structural flair and teamed with a vintage-style pointelle knits, a nod to weekends spent at local markets and jaunts to antique shops.
Sharply tailored pieces also appeared in country-pursuit tweeds, teamed with oxblood accessories and long socks conjuring a feeling of old fashioned country folk heading out for the hunt or on a brisk walk. Several blazers appeared in sleeveless iterations, raw hems and shoulder pads on show, a nod to the careful construction of Beckham's tailoring.
With her brand finally in profit after many years struggling financially, it seems that Beckham's fashion fortunes are finally taking a turn - or should that be pirouette - into establishing her as a fashion power house.
Zara Straight Grey Blazer
RRP: £69.99 | "Suited and booted, blazers will remain key into spring/summer 2024 and this light grey hue, as seen at Victoria Beckham is a lovely change from classic black and navy, without compromising on versatility. If you choose a high street style, take it to a local tailor for a few nips and tucks for a customised fit." says Rivkie.
La Redoute Khaki Green Coat
RRP: £75 | It's not often that you see the best waterproof jackets as the height of fashion, but Victoria Beckham gave the humble raincoat a high fashion make over for spring/summer 2024 and we're totally here for it. We love the waist loving toggle detail, that will ensure your shape isn't lost. The practical poppers, hood and elasticated cuff detail adds wearability.
8. Louis Vuitton
Tailored silhouettes took many forms - from broad, exaggerated shoulders on high shine blouses and bell shaped mini skirts to nipped in waists on dresses and double breasted jackets with hems cut into ribbon-like sections, flowing over hips for a more louche touch. Finished with wide brimmed hats worn with the brim turned up for a final flourish, Ghesquiere's latest collection is sure to entice a new audience to these revisited styles.
Inside a Champs-Elysee filled with on-brand orange sheeting draped across the walls, created to resemble the atmosphere of being inside a hot air balloon, Nicolas Ghesquiere's latest collection for Louis Vuitton took the FROW flight of fancy back to the Eighties.
Opening the show, brightly panelled leather jackets with blouson sleeves and gathered hems dove straight into a vintage vibe, paired with delicate lightweight full skirts that swirled and lifted, their multiple layers a flyaway sensation. They were tempered with wide leather belts worn slung low on the hips, a nod to the reemerging Y2K trend that has returned to haunt anyone over a certain age.
Eighties maximalism played a critical card in the influence of the collection - clashing patterns and colours abounded, stripes mingled with checks across layered looks, adding a bohemian and nomadic edge to looks – oversized Nehru-inspired collars and cowl neck draping updated shapes. Bold shoulders and oversized silhouettes continued to dominate with a series of oversized bomber jackets in both leather and pastel satin with double breasted button detailing, dropped shoulders and puffed up hems creating a rounded, vintage shape.
Oversized silhouettes gave way to a more fitted form, with the same swirling maxi skirt later paired with a form fitting leather strapped bodice that highlighted the waist, the apron-like appearance dialling down the otherwise opulent look. The vintage vibe continued with relaxed pyjama-like stripes, appearing on shirt dresses teamed with white tights while sleepwear-like trousers were worn with structured corset tops for a new daytime look.
Free People Hampton Hip Belt
RRP: £88 | Seen during the autumn/winter 2023 shows at Michael Kors, the hip belt, which had its last moment during Y2K is back with a vengeance. This classic black leather design with statement buckle will easily slip on over skirts and dresses.
RRP: £35 | Evoke the Louis Vuitton runway with an A-line checked skirt. This tiered design hits at a midaxi length that will pair well with the best winter boots this season for a more bohemian feel. Team with a slouchy top and hip belt for a runway-look.
8. Chanel
Virginie Viard's latest collection for Chanel was a relaxed ode to the French Riviera via traditional markers of the famous fashion house. Inspired by the Villa Noailles in the south of France where the fashion house supports the annual October International Festival of Fashion, the architecture's clean and simple lines were echoed in a thoroughly modern collection full of colour.
Opening the show, the classic Chanel tweed appeared not as a suit but instead as floor length maxi kaftan dresses, slashed to the navel and teamed with sandals and jangling heavily layered gold necklaces, instantly setting a laidback holiday vibe that continued throughout the show. Colourful striped sequin trousers in North African inspired geometrics and patterned capes worn one shouldered over chic swimsuits nodded towards a more bohemian feel, colourful stripes also appearing as lightweight knitted pieces reminiscent of travelling in exotic locations.
Traditional wool check tweeds in shades of pink appeared as bright summer dresses and serene long skirt outfits, while lightweight micro fan pleating evoked notes of the 1920s with a drop waisted dress that moved weightlessly.
This was one collection that was not afraid to feature colour in many different forms - shining embellished tops appeared to wink like stained glass in the midday sun, while linen patchwork offered new life of another classic house marker, the skirt suit.
Of course, a show inspired by the South of France could not omit nautical references - red, white and navy combinations also appearing on the catwalk - Breton stripes on louche knitwear teamed with perfectly cut wide leg trousers, a delicate striped camisole given a contemporary feel with an oversized logo and worn with a red striped midi skirt while a navy silk dress decorated with dots had a subtle tricolour trim along hems.
Even Chanel's classic Camelia motif was offered a summer makeover, appearing as an in-bloom free-spirited reincarnation, scattered across looks in bold oversized prints of pink and orange against dark bases and in primary-coloured hues across the closing looks of delicate lace dresses that created a joy and free-spirited feel to the finish, replacing the traditional Chanel bride favoured by the designer's predecessor Karl Lagerfeld.
Summer may have only just have drawn to a close across Europe but plenty of today's show attendees will no doubt already be planning their dream Chanel summer wardrobes after Viard's triumphant show.
& Other Stories Striped Sweater
RRP: £65 | Breton tops are the backbone of many a capsule wardrobe and Chanel leans into the French feel with its own take on the everlasting trend. Thanks to its classic style, a Breton never goes out of fashion and this V-neck sweater is ideal for right now.
Ted Baker Marsiia Sweatshirt
RRP: £110 | 'Florals for spring? Groundbreaking'. One of the most famous fashion quotes of all time, this sweatshirt is one you can wear now into next year, giving a nod to Chanel's gorgeous blooms. We love the contrast of the black and the pink.
With over fifteen years' experience, Rivkie is an accomplished fashion editor, writer and stylist. Covering international fashion weeks, and styling photoshoots all over the world, Rivkie loves translating the trends in an accessible way to make fashion available for all budgets.