The best Christmas gifts for men – cool, unique present ideas for the most important males in your life
Christmas gifts for men can be a tricky task, but we've got you covered with a fabulous selection of pressies for every taste and relationship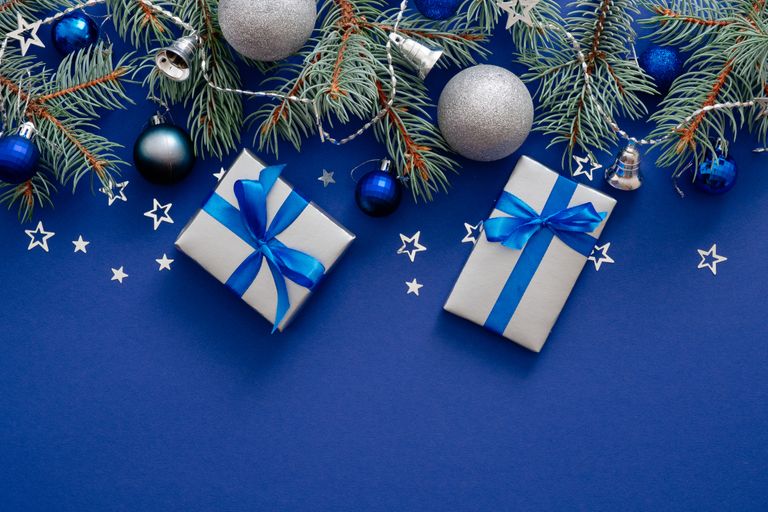 (Image credit: Getty)
With Christmas fast approaching, it's time to start thinking about Christmas gifts for men and what to get your favourite people.
2020 has been tough for everyone so make it the year you surprise him with a gift that's a little different. Don't think that this means your present has to be extravagant – remember it's the thought that counts – even on a budget your gift can be unique and thoughtful. 
Getting gifts for the men in your life can be tricky – especially for the man who has everything – so we've done the hard part for you. 
Our tempting collection of gifts for men is brimming with thoughtful ideas to match all budgets, and will take care of any man on your shopping list — whether that's grandad, dad, son, husband, brother, or friend. 
How to pick the best Christmas gifts for your man
To find the perfect Christmas gift for him, think about what he likes to do, what he likes to wear and his favourite hobbies, and then browse through our gifts below.
From a coffee machine to help make those dark winter mornings more manageable to a cosy dressing gown, you can find the perfect present in our edit of top gifts for him, all online now. 
While everyone loves a good pair of socks, why not think outside the box this year? Here's our roundup of the best gifts for him which he'll love to find under the tree this Christmas. 
Fashion gifts
Tommy Hilfiger Uptown recycled polyester duffle bag
RRP £145
The eco-conscious will love the sustainable story behind this duffel bag, made from recycled polyester that turns used textiles, manufacturing waste and plastic bottles into this luxe-look fabric. For those seeking something more practical than environmental, the built-in laptop sleeve, zipped pocket and optional shoulder strap, should win them over. 
Scotch and Soda Wool-blend striped beanie hat
RRP £54.95/ $59
This hat is strictly for colour-lovers. Finish any outdoor look with this striped rib-knit beanie for a pop of cosy colour. Made with an alpaca-blend wool, it's super soft and great for retaining heat on chilly winter days. 
Williams Handmade personalised glasses case
RRP £30
Men can be tricky to choose for so sometimes it's best to opt for items they can make use of. If they're a glasses wearer then this personalised case will be a win-win. Not only will it≠keep specs safe, the sleek leather design comes in nine different colours and you can also get them embossed with your loved ones initials.
Boden Brushed cotton dressing gown
RRP £85
Everyone wants to get cosy when they're at home no matter the time of year, get this stylish checked dressing gown and it'll be the present they use every day, forever. Trust us, you can't go wrong with a Boden buy.
100% wool waffle knit crew jumper
RRP £95
If in doubt, get a classic knit. This is the fail-safe Christmas rule that happens each and every year – this time, our focus is on Peregrine. The soft blue hue, timeless waffle design and universally flattering round-neck of this jumper will be perfect for all the men in your life. Psst, it also comes in five other colours.
Six card billfold wallet
RRP £85/ $125
Suave gents will know the Aspinal of London brand well, their bags, wallets and accessories make an iconic British addition to any wardrobe. For the man that has it all, a card wallet is the way to go. Hand-crafted in the finest italian leather, there's a range of colours and finishes to choose from to suit his style.
Customisable Apple Watch leather initial watch strap
RRP £40/ $40
Apple Watch wearers can update their series 6-1 and SE styles with these customisable straps from Casetify. Choose the colour of the base and the stripes (this is the fun part) and add initials for a thoughtful gift that everyone will enjoy. It's also made from cruelty-free leather and it's water and sweat resistant – there will be no returns needed with this one. 
Plaid flannel shirt
RRP £100, $89.50
From teens to grandpas, there isn't a man in the family that won't appreciate a great shirt. Look to this J Crew classic checked number to update the wardrobes of all your favourite people. You can get it in a slim, classic and tall fit in sizes XS-XXL so you're bound to find one to suit everyone.
Cycling glasses
RRP £130/$180
Do you have a cycling fanatic in the family? Or a friend who loves their bicycle? Get them the ultimate sporty gift with a pair of the new Rapha cycling specs. This protective pair will allow them to keep on biking even through the winter months, too. 
Books gifts
Limitless: The Autobiography by Tim Peake
RRP (£20, Century)
Imagine looking out of your window and seeing Australia flashing by. This is just one of the incredible experiences that British astronaut Tim Peake describes in his fascinating autobiography. It tells of his road to becoming an astronaut – from flying-obsessed boy to being chosen from 8,000 candidates to go into space. 
Morgan Howell at 45RPM with Dominic Mohan
RRP £39.95, Black Dog Press
Take a trip down memory lane with artist Morgan Howell. Painting original 7" classic singles larger than life with every crease, tear and mark, these nostalgic bits of artwork are truly magnificent. Attracting a cult following of art collectors, Howell has been commissioned by Andrew Lloyd-Webber, Neil Diamond and Ian Brown to name a few. Accompanying each piece of artwork in this collection is an evocative story from their owners. Perfect for any music lover
Grooming gifts
Louis Vuitton Nuit de Feu eau de parfum
RRP £275 for 100ml, Louis Vuitton
There's no denying that luxe price point, but this is no ordinary fragrance. A huge 100ml bottle of highly concentrated scent created by master perfumer Jacques Cavallier Belletrud. The fragrance itself is smoky and sexy with leather, musk and oud - it's unisex too, so you can gift your other half then steal it any time you wish. 
Oral B iO8 Electric Toothbrush
RRP £190, Boots
Give the gift of his best ever smile with this super high-tech toothbrush. It says a cheery good morning every day (polite) It also uses a unique combination of vibrations that give teeth that silky post-hygienist feel (minus the post-dentist trauma) Even better, it uses artificial intelligence to track the shape of the teeth to help you become a better brusher. It's also quiet, quick to charge and pretty darn sexy-looking too. For a toothbrush.
Scentaddict fragrance subscription
RRP From £10 per month, The Fragrance Shop
If you're really stuck for what to buy him, this is where subscription boxes come in. Scentaddict by The Fragrance Shop alleviates the stress of gift buying for you and adds a little delivered-to-door joy to the scent-loving recipient each month. He will be able to pick a new 8ml scent (enough for about 30-days) that slips into the stylish travel-sized atomiser that comes with his first order. 
Dyson Supersonic Exclusive Copper Gift Edition
RRP £329.99/$399.99
If you're buying for someone who likes his fancy gadgets (and you've got a bit of cash to splash) this limited edition copper version of the Dyson Supersonic is ideal for the man who takes hair styling seriously. Powered by lots of high tech innovation including the patented Dyson digital motor V9 - Dyson's smallest, lightest, most advanced digital motor, this dryer is sure to impress. This gift edition comes with six accessories too.
The Beard Mate Beard Shaping Tool / BEARDCLASS Beard Shaping Tool
RRP £6.95 / $14.95
There's more beards around than usual this year due to the inability to get a professional trim so easily. This clever tool allows him to tidy things up at home - styling and shaping his hairy addition whenever he pleases. The ergonomic design makes it easy to get to grips with giving him full control. 
Aesop Post-Poo Drops
RRP £20/$29 for 100ml
They say 'a botanical bathroom deodoriser that effectively neutralises disagreeable smells with crisp notes of citrus peel and discreet florals.' We say 'nothing gets a giggle more than opening Post-Poo Drops on Christmas day.' Amusing, yet practical, the now classic stocking filler will instil his bathroom with a subtle neutralising smell to disguise 'other' odours. Plus it looks aesthetically pleasing on the side of his sink, too. 
Health & fitness gifts
More than just decoration, this smart watch is like having your iPhone attached to your wrist - with a few added extras. As well as being able to make phone calls, send text messages, use Apple pay and control various apps like Maps and Spotify, the Series 6 is a step up from Apple's previous models with the addition of a blood oxygen sensor that captures readings in the background to indicate wellness. And in the spirit of health it also monitors your sleep, heart rate and workouts so you can stay on top of your wellbeing.
Garmin Edge 830 GPS Bike Device
£349.99
It might set you back a bit but this contraption is ideal for those with a passion for cycling. It features a 'Trendline' popularity routing, showing the best on-and off-road routes and the touchscreen bike computer comes fully complete with comprehensive navigation, performance and cycling awareness features. It's also preloaded with Garmin Cycle Maps and 20 hours of average battery life!
Upgrade his home gym with these adjustable dumbbells. Their octagonal shape will stop them from rolling around on the floor, protecting him and enabling him to change plates with ease. They can be adjusted from 12.8 to 44lbs, helping him to progress, whatever his fitness level. 
Wolfyok Dumbbells Set
RRP $149.99
Everlast PowerCore Freestanding Heavy Bag
RRP £179.99
Boxing is a great way to lose weight and tone-up the upper body – and walloping a punch bag has plenty of stress-relieving benefits too. The Powercore bag is a free-standing punching bag that can withstand an intense cardio session at home. It's height adjustable, allows for quick-succession punching and has a super-sturdy base that's easily filled with sand or water.
RDX F7 Ego 14oz Golden Leather X Boxing Gloves
RRP $45.49
Reinforced coating and shock resistant padding makes these the ideal gloves for sparring or kickboxing. The Maya Hide leather will help absorb the hardest of shots on a bag or from your opponent, whilst strategically placed perforations, will keep your hands cool and odours at bay. 
Food & drink gifts
That Boutique-y Whisky Company World Whisky Collection Gift Set
RRP £44.95, Master of malt
Instead of buying the whisky lover in your life the same old Scottish single malts, why not take his tastebuds on a whirlwind tour of the world's most interesting distilleries instead? This contains four 50ml bottles, including Single Malt Irish Whiskey 8 Year Old, Slyrs 3 year Old, English Whisky Co. 8 Year Old and Heaven Hill American Whiskey 9 Year Old.
Beer Hawk Christmas Gift Box
RRP £20, Beer Hawk
The year is 2020 therefore it's almost certain that the man you are buying for is into craft beer. This very good value little hamper will please explorative beer snobs with five cans from independent UK breweries, a beer glass and box of chocolate 'beer token' coins. 
Gin connoisseurs will love a sip on this decadent Burrell's dry gin. The bottle alone is a thing of beauty, featuring a portrait of past squire of the South Ormsby Estate, Charles Burrell Massingberd. The gin itself is a delicious blend of fruity and floral flavours that pack a botanical punch.
Oddbox eGiftcard voucher
RRP minimum amount £10
For a healthy gift that will also help you do your bit for the environment, opt for an Oddbox eGiftcard. Every box rescues fruit and veg from farms that would have otherwise gone to waste, including four types of fruit and nine varieties of seasonal and local veg. Plus, within the box is a sheet which details the reason behind the rescuing of each item such as surplus or misshapen. Veg only and fruit only boxes are also available, in sizes small, medium and large.
The Cheese Geek cheese boxes
RRP from £88.50 for three months
Cheese certainly does possess some health benefits, when eaten in moderation! The Cheese Geek lets you indulge in the good stuff and brings cheese into the 21st century, delivering handpicked, top quality cheese to your door every month, through it's one-of-a-kind cheese subscription service and one-off boxes for special occasions. Make his day with a carefully crafted cheese box filled with four to five tasty cheeses per month. The boxes also come with tasting notes, pairing suggestions and a scoring card, so it's easy to mark and rate his favourites.
Manilife Peanut Butter Christmas Cracker
RRP £9.99
Choose from either Original Roast Christmas Cracker (original smooth & crunchy) or Deep Roast Christmas Cracker (deep roast smooth & crunchy); the nuts in this nut butter come from a single, family run, peanut farm in Argentina. Plus,  Manilife is a peanut butter brand with a mission to help end loneliness. All profits from the sale of these delicious crackers go to Campaign to End Loneliness charity. 
Chouseki ramen bowl set
RRP £45
Budding chefs interested in Japanese cuisine are bound to enjoy this next-level cookery kit. Complete with bamboo ladles, Chouseki ramen bowls, and a book of recipes to make your own noodles and ramen dishes. 
Home and gadget gifts
Jo Malone London Orange Bitters Liquidless Diffuser
RRP £132, Jo Malone London
In it's sleek marbled vessel with minimalist black reeds, this is about as manly as home fragrance gets (although you'll be sure to love it too) This would make an excellent gift for any style-conscious gentlemen in your life, with its blistering good looks and gender neutral bitter citrussy scent. Plus, being liquidless you needn't worry about knocking it over and spilling pricy fragrance oil on the carpet. Winner!
Smeg BLF01 50s Retro Style Food Blender
RRP £160, John Lewis
Everyone wants a bit of Smeg in their kitchen, don't they? This ultra stylish bender would make an excellent gift for foodie friends or health-conscious chaps who love to whip up fresh smoothies, soups and salsas.  It also makes a mean frozen margarita - just saying. 
Lavazza Tiny Arsenal Edition coffee machine
RRP £89
Buying a present for a football fan? Look no further than these special edition Lavazza Tiny coffee machines which come in Arsenal or Liverpool FC colours. What better way to get ready for a match than getting buzzed on your morning pick-me-up.
New York print
RRP from £14
While none of us are jetting about the globe at the moment, it's easy to get the holiday blues. If your loved one is missing a favoured destination this Christmas, give them their favourite city or country in print. Choose from dream destinations all over the world, like New York, Havana, Tokyo and many more.
This smart analogue clock does more than tell the time. If the man in your life is constantly monitoring his weather apps, this is the clock for him. With a built-in thermometer and humidity gauge, he'll never be caught in the rain. It's super stylish too making it the perfect addition to a study.
Beosound A1 2nd Gen waterproof bluetooth speaker
RRP £200/ $250
Music isn't made to be played through a phone, tinny earphones or a boxy sounding-speaker. Audiophiles (that's sound snobs to you and me) who like to listen to their music the right way, will be gagging for the Beosound A1 2nd Gen speaker. It boasts a long list of capabilities, mainly an impressive battery life, and the fact it's waterproof and dust resistant.
Panasonic Lumix G100
RRP £589/ $747.99
For photography and filmmaker enthusiasts, the Panasonic Lumix G100 is the gift that keeps on giving. It's easy to capture high-quality stills and video with the simplistic design and set-up of this camera. So even if your man isn't tech-savvy, he can still get creative with this bit of kit.
Powerbeats Pro
RRP £219.95/ $249.95
Is he a running man or gym junkie? These sweat-resistant and wireless headphones are the go-to listening device for sporty types. They look good too, coming in a range of stand-out colours and fitting snugly to any size or shape of ear with a flexi-frame and interchangeable buds. 
Set of three drum kit storage tins
RRP £10
This novelty gift is one for the drummers. A trio of storage tins to deck out their study, kitchen or living room, they're a great space-saving solution for tidying up a cluttered space. Perfect for packing away band-gear, spare charging wires or maybe just a secret stash of biscuits.