Best leather jackets for women that will never go out of style
The best leather jackets deliver on shape, style, and fabric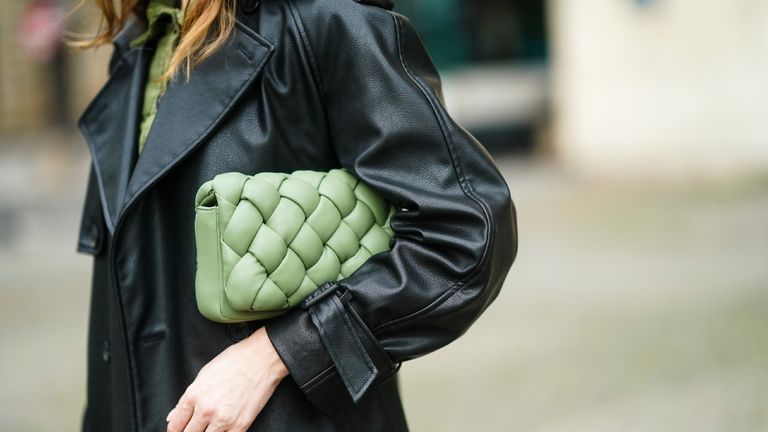 (Image credit: Getty)
Trends come and go, but the best leather jackets for women somehow manage to steadfastly withstand any change in style or season. Choose wisely, and you'll not only be wearing yours not only from autumn through to spring but remain as devoted to this style staple in five, ten, or even twenty years.
When you picture a leather jacket, we're willing to bet it's the biker that first springs to mind. A fashion icon and rebel all at once, bikers have been worn and loved by the likes of Madonna, Kate Moss, and Cindy Crawford. Follow their lead and choose one in classic black with stand-out metal hardware. In recent seasons, fashion's love of leather has branched out into more structured styles too. Expect tailored leather blazers and boxy jackets with neat collars alongside the more relaxed "shacket" (that's a shirt-jacket hybrid for the uninitiated).
The best winter coats are the ones that will slot seamlessly over most outfits in your closet, and the leather jacket certainly fits into that category. A true capsule wardrobe hero, layer yours over everything from jeans and t-shirts to floaty midi dresses for a failsafe daytime look. Come evening, the toughness of the leather will create a cool contrast over silks, sequins, and chiffon.
Leather is a natural fabric made mostly from the hides of cows (but sometimes sheep, lambs, and goats, too) and is by its very nature both soft and durable. Hence why it's such a popular choice for designer handbags. It can vary in color depending on the tanning process it has undergone and marks relatively easily—but don't let that put you off. The potential for scuffs and marks is no bad thing, as it will only add character to your jacket. Leather also becomes more buttery the more you wear it.
Not everyone is comfortable wearing leather, which is why we've also scouted out some equally stylish and hard-wearing faux versions. They're so convincing in appearance and texture that you'll need a keen eye to distinguish between them and the real deal. Faux leather is far cheaper than real leather to produce, making it a more purse-friendly option. Simply put, they're ideal for elevated events and everyday wear, especially as you head back to school.
Since this is a style staple you won't regret investing in, we've selected the very best leather jackets to shop. Trust is, this is sure to last you many seasons to come.
Best leather jackets – as chosen by the fashion team
1. All Saints Balfern Leather Biker
Specifications
RRP: $489/£319
Sizes: US:00-10/UK: 2-14
Ask any fashion editor worth their salt where to buy the best leather jackets, and we can almost guarantee that All Saints will be one of the first brands to cross their lips. Not only do they have an extensive range (there were more than 20 on their website at last count), but the quality is seriously high.
See our full All Saints leather jacket review
2. Ted Baker Floreiy Leather Shacket
Specifications
RRP: $570/£229
Sizes: US: 2-12/UK: 6-18
Not sold on a traditional biker? No problem. The shacket is one of the best leather jackets around for an on-trend look. Wear this high-shine maroon piece buttoned-up in place of a top, or loosely layered over your best jeans and a t-shirt.
See our full Ted Baker coats review
3. Zara Faux Leather Jacket
Specifications
RRP: $69.90/£49.99
Sizes: XS-XXL
Not 100% sure whether a leather biker jacket is a worthwhile investment for you? A faux leather option offers a cheaper way to try the trend, with less credit-card-based commitment. The baby blue shade makes an uplifting alternative to black.
4. Whistles Tessa Tumbled Leather Biker
Specifications
RRP: $695/£369
Sizes: XS-L
Like we said earlier, leather jackets will only get better with age, but if you can't wait for yours to look a little rugged, this one has the added benefit of appearing already lightly worn. Look closely to spot the slightly mottled fabric and fades around the stitching. The boxy fit makes it especially flattering on rectangle body shapes.
5. Reiss Ossie Leather Collarless Biker Jacket
Specifications
RRP: $645/£375
Sizes: US: 0-12/UK: 4-16
The chic collarless shape, the goes-with-everything tan shade – we could wax lyrical about the virtues of this leather jacket for hours on end. Best worn with neutral tones of white, beige, and camel, it manages to feel both classic and modern all at once.
6. Fatface Leather Bethany Biker Jacket
Specifications
RRP: $320/£195
Sizes: US: 2-18/UK: 6-22
Black can be draining on certain complexions, making chocolate brown a softer option. A true biker, this features a statement collar, asymmetric zip, and plenty of metalware. Buy your normal size for a spot-on fit, or go one up to make room for layering knitwear underneath.
7. Mango Pocket Leather Jacket
Specifications
RRP: £119/$199
Sizes: XS-XL
Mango is our go-to for could-be-catwalk pieces at prices that won't make your eyes water. This item gives the classic leather jacket a refresh with a round collar, stand-out pockets, and nautical-inspired buttons. It's fully lined, too, helping to keep you warm on chillier days.
8. H&M Crop Faux Leather Jacket
Specifications
RRP: £34.99/$49.99
Sizes: XS-XL
We love a multi-tasker, and this chic jacket can be fastened with either snap fastenings or zips. Anything cropped is a good choice for hourglass body shapes, drawing attention to the smallest part of your frame.
9. Cos Relaxed Nappa Leather Blazer
Specifications
RRP: $390/£290
Sizes: US: 2-14/ UK: 6-18
The humble black blazer just got a whole lot chicer. One of the best leather jackets we've found, the buttery soft fabric is the perfect partner to the structured shoulders and nipped-in waist. Use the built-in belt to add extra definition to your shape.
10. Hobbs Tania Leather Jacket
Specifications
RRP: $660/£329
Sizes: US: 2-14/ UK: 6-18
Hobbs' specialty is beautifully fitting pieces, so we weren't surprised to find this has been carefully cut to sit on the hip. The sleek, minimal style makes it more office-appropriate than a biker that's heavy on detail.
11. Mango Saharian Leather Jacket
Specifications
RRP: $249/£149.99
Sizes: XS-L
A little longer than your average jacket, this thigh-grazing style can be worn in a variety of different ways. Team with blue flared jeans to play on the 70s silhouette or undone over a silky slip dress and trainers for an on-trend look.
12. Hush Opal Leather Jacket
Specifications
RRP: $425/£295
Sizes: US: 2-12/UK: 6-16
Most leather jackets we've come across feature silver metalware, so we love that Hush offer a choice between this and gold. The customer reviews speak for themselves, with shoppers raving about the classic shape and super soft leather.