Best Gucci bags to invest in—including the iconic Horsebit 1955, Jackie 1961 and GG Marmont
The best Gucci bags are timeless, classic and instantly recognizable. Our fashion experts reveal their favorites from the Italian fashion house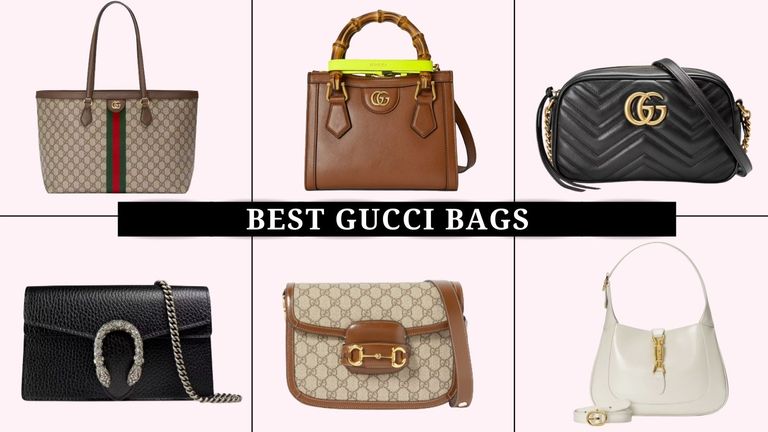 (Image credit: Future/Gucci)
Trends may come and go but a designer handbag is a life-long investment, and the best Gucci bags are some of the most iconic. Whether it's the failsafe Jackie shoulder bag, or the vibrant Dionysus evening clutch, there's a Gucci bag for every occasion—so let us walk you through the different styles from the luxury fashion house.
Much like the best Louis Vuitton bags and Chanel, Gucci bags are not only beautifully designed but they hold their value too making them one of the best designer handbags to invest in. he House of Gucci, which follows the Gucci family in the 1990s, has seen a resurgence of interest in the timeless brand. According to Wethrift, Google searches for vintage Gucci increased by 92% the week of the film's release, proving Gucci is more popular than ever. "This is a very exciting time to be buying into the Gucci brand. It is arguably in one of the best positions to stand the test of time, under the creative direction of Alessandro Michele, we are seeing lots of visionary activities," explains Sacha Newall, Founder, and CEO of MyWardrobeHQ.
With some of the best crossbody bags and best tote bags, Gucci's collection is instantly recognisable with bold logos, punchy hues, and sparkly embellishments for one eclectic line. There are some more pared-back pieces too in neutral hues and buttery-leather fabrics that will make a strong addition to your capsule wardrobe. From the famous Jackie 1961 to the GG Marmont, Gucci bags ooze sophistication and will instantly elevate any look whether you're going on a dinner date or attending an important meeting.
The best Gucci bags as chosen by fashion experts
We know parting with such a large amount of money requires a lot of research and consideration, so we've done the hard work for you and rounded up the most-coveted Gucci bag styles to shop now.
1. Horsebit 1955
Defined by the equestrian double ring and bar, the Horsebit 1955 takes inspiration from the Gucci archives with the same lines and forms from over six decades ago. It comes in many different designs from simple leather versions to bolder printed designs. The shoulder bag variation is the most classic with an elegant flap, metal hardware and an adjustable strap to make it fit crossbody too so you can wear it every day with your best winter coat. The line also features totes and bucket bags, all with the same recognisable metal hardware.
Horsebit 1955 Fashion Editor's picks
---
---
---
2. Jackie 1961
The Jackie is another retro design this time taken from the sixties. Originally named after Jackie Kennedy, it was reintroduced for Fall Winter 2020 and has become quite the cult hit. It still has its signature curved half-moon shape and buckle closure but it now includes an additional detachable shoulder strap so you can wear it multiple ways - from top handle to crossbody. There are also fresh new colours and fabrics - from sweet pastel hues to winter corduroy. And if you need more convincing, Harry Styles has one.
Jackie 1961 Fashion Editor's picks
---
---
---
3. GG Marmont
Once again it's the hardware that defines the GG Marmont with its distinctive '70s inspired GG symbol on the front. Crafted from soft matelassé leather, the line comes in many shapes and sizes from mini crossbodys to carry-all totes, with the shoulder bag being the most coveted. It's effortlessly versatile this one so you can wear it with your best cashmere and jeans combo and your 9-5 look. Stick with neutral hues if you want to keep it classic or make more of a statement in pillar box reds and monogram prints.
GG Marmont Fashion Editor's picks
---
---
---
4. Dionysus
The tiger head clasp that adorns this design takes inspiration from the Greek God Dionysus who according to Greek mythology crossed the river Tigris on a tiger sent to him by Zeus. The structured design will add instant polish to any look from your best jeans to your Christmas party outfit. As part of the Gucci Beloved line—a collection of classic designs revamped by Alessandro Michele for a more contemporary take—the Dionysus now comes in an array of iterations, from crayola colours to the brand's signature monogram print.
Dionysus Fashion Editor's Picks
---
---
---
5. Diana
Another nod to nostalgia is the Diana bag reinvented by Alessandro Michele from the original 1991 design, which was popularized and then named after Diana, Princess of Wales. Defined by the bamboo handle, the new design features vibrant neon bands—a fun reference to the bands used to keep the handles in shape. In a structured tote design, it also features a longer strap for ease so you can carry it crossbody too. You can mainly snap it up in easy-to-wear neutral hues as well as a more zingy green to jazz up your camel coat.
Diana Fashion Editor's Picks
---
---
---
6. Ophidia
The Ophidia made its debut in the Cruise 2018 catwalk and features the iconic inlay Web detail for a pop of colour and a shiny GG Marmont tab for that sought-after designer stamp. While these remain consistent through the line, the shapes and silhouettes are ever-evolving - from the best backpacks to roomy bucket bags to a more classic crossbody, the Ophidia can adapt to suit your needs.
Ophidia Fashion Editor's Picks
---
---
---