IKEA Billy bookcase hacks: 12 ways to transform best-selling furniture
Try one of these brilliant Billy bookcase hacks to organize and add style to any room on a budget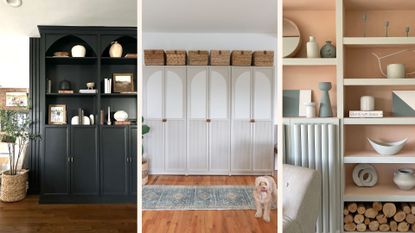 (Image credit: Elisa Mastrocolla @theedgewoodhome |Jennifer O'Brien @cityfarmhouse1 | Claire Douglas @clairedouglassstyling)
Believe it or not, IKEA Billy bookcase hacks could be the secret to an organized, affordable, stylish home. All you need is a large helping of creativity and some elbow grease to transform your classic IKEA Billy bookcases.
With over 60 million IKEA Billy bookcases sold since its release in 1979, there's a good chance you'll have owned one of these practical flatpacks at some point. Available in numerous sizes and finishes, the humble Billy bookcase is synonymous with affordability.
These qualities also make it perfect for 'hacking', aka customizing or transforming into a bespoke-looking piece of furniture. As such, the Billy bookcase has gained a huge fan base of DIYers and savvy home renovators to make a home look expensive on a budget.
Prepare to be inspired and surprised by this comprehensive round-up of Billy bookcase hacks for every room.
12 IKEA Billy Bookcase hacks and ideas for your home
Over the years, IKEA Billy bookcase hacks have become more imaginative, sophisticated, and stylish. Consequently, this flatpack staple could solve all your home-storage woes. From organizing your books to housing your shoes or organizing a kitchen, there are Billy bookcase hacks for every room in the house.
1. Perfect kitchen pantry with plenty of storage
This pantry storage hack is so good you'd be forgiven for doubting it was a budget-friendly build to make a kitchen look expensive. Six Billy bookcases, two tall units for the sides, and four small central units, all with Oxberg doors, provide a wall of built-in organized pantry storage and two height extension units with glass doors make full use of the tall ceilings for maximum concealed storage.
Rachael Fuller, an interior designer at Full Home Design, had an empty kitchen wall that was crying out for extra storage but she didn't fancy paying thousands on brand new cabinetry, so she came up with a creative plan which turned out to be one of the best DIY pantry IKEA Billy Bookcase hacks we've seen.
The stylish design encompasses a central area complete with brick wall detailing, handy shelving, and a countertop area; stylish brass knobs elevate the finish of the doors, and crown molding and baseboards complete the built-in look.
2. An affordable appliance pantry
Over the years, it's easy to acquire a sizeable collection of kitchen appliances. A milk frother here and a hand blender there and before you know it, your kitchen cupboards are heaving with handy gadgets and kitchen essentials. The answer to this modern-day problem is an appliance pantry, a dedicated storage area for small appliances.
Self-taught DIY aficionado Jennifer Amarteifio @frontlinediy designed the perfect DIY project to enhance her existing pantry with a bespoke-looking Billy bookcase hack to store her kitchen appliances.
This Billy bookcase hack is simple and effective and requires little in the way of additional tools and materials. "All I did was add 1x2 primed trim to the face using my Brad nailer. I also added a piece of baseboard to the bottom for that built-in look," Jennifer explains. "I adjusted the shelves to the heights I needed for my appliances. Then I filled all the shelf pin holes with spackle and wiped with a baby wipe."
The great news for novice DIYers is that this hack can be replicated without hours of arduous painting or changing your existing kitchen paint color. Jennifer only painted the trim rather than the whole bookcase, matching the white to the shade already in her beautiful pantry. This super hack proves that sometimes simplicity really is best.
3. Stylish arched cabinet with storage and shelves
This project is one of those Billy bookcase hacks where you have to do a double-take because it looks so high-end – the perfect way to make a living room look expensive on a budget.
Callie and her husband Robert, founders of the transformation blog Home on Harbor, are talented DIYers with a keen eye for design and an impressive array of IKEA hacks under their belt including this awesome arched cabinet.
Callie, who shares her renovation work on Instagram @homeonharbor, explains why the Billy bookcase is one of her favorites, "They're so versatile and a great size to fit into even small spaces. We used two 30-inch wide Billy bookshelves with 4 Oxberg doors for this project."
The arched detailing at the top of the Billy bookcases is inspired and that's not the only feature that cries bespoke. Formed from two standard Billy bookcases joined together and accessorized with trim woodwork, baseboards, and crown molding, it isn't the most complicated of hacks, but the attention to detail and the high-quality finish make the finished article sing.
Callie has this clever tip for would-be hackers, "We painted it the same color as our walls to give it a true built-in feel. Painting IKEA furniture isn't hard; you need to make sure you follow the right steps. Lightly sand the pieces, prime them with a good primer (I like Kilz), and then use two coats of high-quality paint."
This bespoke-looking cabinet would be perfect in a dining room where the cabinet could be used for storing dinner-party crockery and cutlery. The open shelves are perfect for styling with your favorite ornaments and home accessories.
4. Cozy reading nook complete with shelves
Amy Bennett of Abigail Amira LLC used Billy bookcases to create an eye-catching reading nook in her beautiful home, complete with stylish built-ins. Amy used dark green paint, elegant gold picture lights, and intriguing objects to style her sophisticated built-in bookcases, another creative transformation in this selection of Billy bookcase hacks.
Once again, the DIY aspects of this project were fairly straightforward but very effective. The Billy bookcases and height extension units were attached to the wall for security and made to look built-in. Amy explains how she did it," I used a 1x6 for the top header to cover the gap between the top of the shelf and the ceiling. It also created a nice place to add battery-operated picture lights!"
"I used three 1x3s for the vertical trim (one on each side of the bookcase and one in the center). Finally, I added a 1x12 on the exposed side of the bookcase and then a small, flat trim piece to close any remaining gaps between the trim and ceiling."Once the construction was complete, Amy primed and painted in a stunning shade of forest green.
Making a feature of your book collection is the perfect way to celebrate your collection after decluttering your books.
5. Amazing mudroom area with storage and seating
A mudroom is on many people's list of dream home attributes, but fully bespoke furniture costs thousands and requires space that not every home can offer. Home stylist and content creator Jessica Nickerson came up with the perfect solution to this dilemma and no prizes for guessing which classic IKEA bookcase she used to create this clever hack.
Jessica's mudroom hack, as shared on her blog househomemade, takes up surprisingly little space, but every inch is considered, offering storage, hanging space, and even seating, the perfect example of how to organize a small space. The mudroom consists of two fifteen-inch Billy bookcases with height extenders, connected by a central shelf and seated on an IKEA Besta TV cabinet for extra storage.
6. Dreamy daybed with built-in storage
This daybed is pretty genius in the DIY stakes and certainly one of the best IKEA Billy bookcase hacks you'll find. This hack comprises a plywood base that forms the bed component of this beautiful set-up, accompanied by four IKEA Billy bookcases, one wide and one narrow at both ends of the bed.
This daybed hack isn't just functional, it looks super stylish and would make a real feature in a child's bedroom or guest room to organize a small bedroom. Using IKEA furniture and DIY keeps the project costs well below that of a bespoke build.
Jessica Nickerson @househomemade is the clever content creator and home stylist responsible for this brilliant design and here are some of the tips she shared on her blog househomemade about this project. "We used the Billy bookcases from IKEA. I slid the bigger shelf onto the base and used the bracket hardware at the bottom and screwed it to the wall a few times near the top."
Jessica cleverly thought to fill and paint the pin holes to make the shelves look custom and also used trim to fill any gaps between and around the units. "They're space-saving and custom-looking. The bed helps this room to double as a guest bedroom."
To replicate this hack you'll need to measure the space you have and plan meticulously to ensure there is enough room to fit the daybed and storage. If you are pushed for space and don't have a window to consider, you might decide to add the shelving at one end of the daybed or the other.
7. Adapted set of drawers
Believe it or not, that is a Billy bookcase under there. This clever hack from the New Infarrantly Creative blog has transformed the usually recognizable bookcase into a unique and quirky drawer unit by adding two additional shelves and then making drawers to fit the shelves.
This hack involves a fair amount of cutting and assembling to make the custom drawers, so you'll need tools and some plywood to replicate it, but the final piece is definitely worth the effort. You could prime and paint the whole thing in the same color and attach matching handles for a unified look, or opt for a more eclectic style as the creator did here.
8. DIY luxury shelves with arched detailing
This Billy bookcase hack has several standout features, including the dreamy dark paint job, the attractive arches, and stylish storage, to name a few. This masterpiece is the work of talented DIY and home interior content creator Elisa Mastrocolla @theedgewoodhome.
Elisa explains how this DIY hack came to be, "I had an empty wall in my living room and desperately needed some storage room but after doing some research and crunching some numbers, I knew a custom built-in wasn't in the budget. Using IKEA furniture seemed like the perfect choice. I chose the Billy/Oxberg option because it comes with doors and I knew I wanted cabinets and shelves."
Using IKEA furniture and customizing it kept the costs down so even a project of this large size came in under $850 Elisa confirms she "couldn't be happier with the final product," and it's not hard to see why.
Using a dark paint shade and continuing it along the adjacent wall creates a feature within the room and paired with a dark shade of flooring, gives an overall cozy and relaxing feel to this living room. Color drenching in this way avoids making common mistakes when decorating with dark colors.
9. Transformed bespoke-looking bookcases
With trendy details like fluted doors and leather handles, this project looks extremely high-end, but you'll be pleased to hear it's affordable, achievable, and can be completed over a weekend.
Designer, style expert, and writer Jennifer O'Brien @cityfarmhouse1 is the creative genius behind this stylish makeover, shared on her blog City Farmhouse. Jennifer bought three Billy Bookcases with doors from IKEA, which she primed and then painted. The next steps in the process are clever and hold the key to the final luxe look. Jennifer attached pole wrap to the lower doors with strong adhesive to give a stylish fluted texture, then templated and painted the upper doors to create an arched effect.
Reflecting on the project's success, Jennifer advises, "The best ideas come when you can't afford something. I saw a set of arched cabinets but couldn't justify the price. I got creative and found a way to get the look from much less using three IKEA Billy Bookcases. In the process, building on the skills I had." The results are an amazingly chic set of furniture and one of the most stylish Billy bookcase hacks around.
10. Bespoke shoe closet hack
Too many shoes or insufficient storage space is a common complaint, resulting in shoeboxes stacked in every spare bit of closet or under-bed space. This can make finding the perfect pair of shoes time-consuming and tedious. The answer is stunningly simple, consult your big book of Billy bookcase hacks and DIY yourself a built-in, open shoe closet like Florida-based style blogger Shannon Jenkins @upbeatsoles.
This stylish hack uses two standard IKEA Billy bookcases with height extension units on a raised timber base. Shannon wanted a slick floor-to-ceiling look which she achieved by adding a plywood box to the top of the extended bookcase. Decorative trim was added to the top and bottom of the now built-in units to create a bespoke look.
Shannon's clever design created a central alcove, perfect for a huge mirror to check you're looking your best before heading out in the perfect pair of shoes. Shannon advises, "Plan out the style trim you are going for first. Pick out all materials and paint colors. Then draw out a plan with all measurements."
The results speak for themself, a stylish and practical shoe closet that creates a feature from your organized shoe collection.
11. Organized playroom with entertainment center
An entertainment center is a great home organization idea for a small space while attractively housing a television and creating a stylish focal point in a room. Blogger Leslie Lambert's brilliant Billy playroom hack is a fantastic example of a DIY entertainment center comprising a tall Billy bookcase at each side and a short, wide bookcase to connect them.
The final product looks bespoke, thanks to the addition of crown molding and baseboards. Leslie has a top tip for any DIYers keen to create their version, "when you're building, mark the location of the middle shelf on the back of your bookcase (before you put the solid white panel in). You'll need to nail this panel into place to secure it, and by marking the level of your shelf, you ensure you'll get your nails into that middle shelf and that they won't be exposed above or below it.'
This project, shared on Leslie's blog Lambert's Lately is a great example of why a smart Billy bookcase hack is such a useful tool. Clearly happy with the final results, Leslie @lambertslately shares, "I am in love with the result of this IKEA built-in hack – I think it absolutely frames the room and, in addition to being beautiful, gave us some much-needed storage space."
12. Stylish statement shelving
Billy bookcase hacks are popular because, despite their many advantages, Billys lack style straight out of the box. Luckily for style-conscious DIYers, they are super easy to customize, as I demonstrated with this pastel-hued hack on my own blog Claire Douglas Styling.
This IKEA hack wall of bespoke-looking built-ins was formed from four standard Billy bookcases, four Oxberg doors, many MDF strips, caulk, and some strong postal tubes. The trick was to fill the gap between the top of the bookcases and the ceiling with an MDF-covered frame to give a bespoke look.
Cardboard postal tubes might not be a common DIY material, but they are an affordable and sustainable way of adding a tubular texture to surfaces – I love using them. I glued the tubes to the Oxberg doors, primed then painted them. They completely changed the project's look, adding an element of fun. The pastel colors transformed the wall from drab to fab and make a small living room look bigger as they draw your eye around.
Being bold with color or texture in IKEA Billy bookcase hacks is a great way of making them really stand out.
Top tips for successful Billy bookcase hacks
If you plan to recreate one of the IKEA Billy bookcase hacks from this guide, here are the main takeaways to ensure a successful project.
Build-in the bookcases in your IKEA Billy bookcase hacks by connecting multiple units together and adding crown molding and baseboards to create the look of custom-built furniture.
Use paint to elevate the finish of your furniture hack, don't forget to prime first and fill the pin-holes with spackle for an extra high-end final look.
Customize your Billy bookcase hacks with arched detailing or non-standard compartment sizes; this creates a bespoke feel to the overall piece.
Add doors to the bookcases to create concealed storage; this is practical and looks like bespoke furniture. Doors can be solid or glass and can be customized with pole wrap, half dowels, paint effects, and even postal tubes to create texture.
Change the hardware from the standard IKEA-supplied handles, as this gives the final results a more luxe feel.
Use all available space to create the wow factor with your Billy bookcase hacks.
Incorporate other decorative elements into your hack for a stylish, considered feel; this could be open shelving, peg hooks, brick slips, or even lining the back of your Billy shelves with the latest wallpaper trends.
Claire is a DIY and home interior writer specializing in budget room transformations, creative DIY projects, and resourceful home styling. Claire runs the popular home interiors blog ClaireDouglasStyling and shares all her DIY tips, tricks, and behind-the-scenes styling insights on her Instagram and Tiktok accounts. When she's not writing, Claire enjoys foraging for flowers and foliage and experimenting with interesting materials and decorating techniques to incorporate into future interior schemes; micro cement and postal tubes were a recent unusual but triumphant pairing. In her spare time, Claire enjoys creating floral installations for her home...the more bonkers the better!