IKEA desk hacks: 10 bespoke-looking furniture transformations
Try one of these budget-friendly and inspiring IKEA desk hacks to improve your home office set up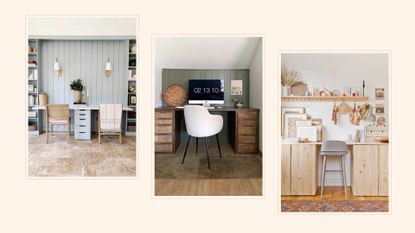 (Image credit: Stephanie Cameron Interiors | BrePurposed | Paper and Stitch)
These outstandingly stylish IKEA desk hacks show how a little imagination goes a long way when it comes to creating a designer-looking desk area.
IKEA desk hacks have grown enormously in popularity in recent years. This isn't a huge surprise, as working from home is now commonplace meaning a home office is required in some form or other.
Although, these desk hacks aren't just for home offices; we've found proof that there's an IKEA desk hack for every room – much like brilliant IKEA Billy bookcase hacks.
Not all homes have the luxury of a 'spare' room to use as dedicated office space and working from the kitchen table is far from ideal; this common conundrum is exactly the reason that some of the IKEA desk hacks in our round-up came to be.
IKEA desk hacks don't always have to solve a space-related issue though, sometimes transforming a piece of basic furniture to look bespoke is the perfect way to save money without sacrificing style or functionality.
IKEA desk hacks: 10 envy-inducing transformations
Even the most enthusiastic of interior designers might struggle to get excited about a desk; often, a purely practical purchase, home office desks can be a little dull. That's where IKEA hackers come in.
The term hack simply describes the process of customizing or transforming modest IKEA furniture to better suit your desk-related needs.
Never happy to settle for uninteresting or overpriced furniture IKEA shoppers have got a transformation trick (or two) up their sleeves and after seeing some of these creative DIYs you'll never look at desks in the same way again.
1. Upgrade basic IKEA drawers with cane webbing
Interior decorator and blogger Bre Bertolini, the creative force behind the popular Instagram account @brepurposed sets the bar extremely high with the first of our IKEA desk hacks.
Bre transformed two simple IKEA Alex drawer units into a piece of exquisite bespoke-looking furniture with the help of some basic DIY materials. Bre added wood trim, cane webbing, and new hardware to the drawer fronts and stained them to produce the dark walnut effect.
The desktop was made from a bargain door slab from Lowe's and completed the piece perfectly. For DIYers keen to recreate this IKEA desk hack, Bre shares a detailed DIY tutorial on her stylish home interiors blog Brepurposed.com.
This DIY project is creative, inspiring, and perfectly executed by the talented DIYer. The dark wood works perfectly with the gorgeous sage green wall paneling, which is itself an interior design feature that will help sell your house, and the attractive neutral desk chair is the perfect styling accessory.
Reflecting on her IKEA desk hack, Bre says, "When I saw the IKEA Alex drawers, I knew I could give them the perfect makeover and create my dream desk." We couldn't agree more.
2. Add metallic detailing for a luxe look
Miriam Manzo, designer and founder of Miriam Manzo Interiors proves the age-old adage that the devil's in the detail with this project, which is one of the most achievable IKEA desk hacks.
You don't have to put blood, sweat, and tears into an IKEA hack to produce impressive results; Miriam has upgraded this white gloss IKEA desk by spray-painting the legs and upgrading the drawer handles.
This makeover is a fine example of how to make a home look expensive on a budget and a fun tool-free project that even DIY beginners can easily complete.
3. Double your home office space
Interior designer and DIY expert Jessica Welling of Jessica Welling Interiors designed this organized and functional space to provide the perfect environment to homeschool her children. This IKEA desk hack comprises two IKEA Alex drawer units beneath a large desk made from sheets of plywood that have been layered up and made to appear solid by covering the edges with trim and then staining for a rustic look.
At ten feet long, this is one of the largest IKEA desk hacks we've seen. Jessica adapted her original design to ensure she got optimal results, "I had originally planned to use three of the Alex drawer units, with one on each end and one in the middle. But then I realized that I will need a spot to sit between the kids, so I got rid of the middle file cabinet and replaced it with an Adils desk leg from IKEA," she explains.

The large rustic desk fills the space and works well with the matching rustic shelves adorning the walls above, the Skadis pegboard (also from IKEA), and the wall-mounted task lights. Although this is a homeschooling area in Jessica's beautiful home, it would also work perfectly for those working from home.
4. Transform cabinets for a storage-friendly standing desk
Standing desks are perfect for health-conscious home workers or those worried about the health risks of sitting all day. Although good for your health, standing desks can be painful for your bank balance, often costing more than their lower-level counterparts.
California-based Brittni Mehlhoff, the founding editor, art director, and stylist of the Paper & Stitch blog and hugely popular Instagram account @Paperandstitch came up with the perfect solution to this purse-string predicament; it's one of the most aesthetically pleasing IKEA desk hacks yet.
Brittni hacked two pine IKEA IVAR cabinets by fixing a pine board across the top. Opting for a pared-back and neutral look, the talented DIYer decided not to paint the cabinets, although this would be an option if you prefer.
Brittni styled her standing desk with Scandi-style accessories and installed a beautiful pine peg-hook shelf on the wall above, adorned with stylish accessories. The results speak for themselves, and as the IVAR is one of the most cost-effective of all the IKEA ranges, they aid the modest cost of the project.
If a standing desk is not for you, this hack could still be an option, "I also considered going a normal desk height for this one, which would have meant making some precise cuts and measurements before assembling the cabinets," Brittni explains.
5. Use cube storage for handy built-in shelving
Next up is another budget-friendly DIY desk comprising cost-effective cube storage units and an IKEA Linmonn table top wrapped in marble-effect contact paper. At less than $60, this project is one of the most cost-effective of our IKEA desk hacks.
All the details can be found on the creative lifestyle blog Pretty Providence, run by best friends Jessica and Sarah, who share many inspiring projects on their Instagram account @prettyprovidenceblog.
Jessica and Sarah shared their thoughts about the project's success: "It's perfect for a home office, virtual learning, or crafting. The storage makes this desk perfect for a small workspace," they reflected.
The cube storage is excellent for organizing a small space as it provides compartments to house storage baskets, books, folders, and anything else you might need to keep accessible while you work, study, or attend to general life admin.
6. Construct a stylish home office with wall paneling
This dreamy home office ticks all the boxes. Providing not one but two desk spaces, it also boasts symmetrical built-in shelves perfect for organized book storage and styling, a drawer unit to store home office essentials, attractive shiplap wall paneling, and stylish sconces.
Despite bearing all the hallmarks of expensive custom joinery, the project costs for this impressive DIY were surprisingly modest, coming in at a little over $500. California-based interior designer Stephanie Cameron of Stephanie Cameron Interiors, aka @Stephaniecameroninteriors, is the mastermind (or should that be magician?!) behind this design.
Stephanie used the following IKEA products in her build, two narrow IKEA Billy bookcases with extenders, one Alex drawer unit, and a marble-effect Ekbacken countertop. She painted the units and the paneled wall they attached to in Boothbay Gray from Benjamin Moore.
The paint is critical in this transformation as it ties the whole space together and creates a luxe look. This is the process Stephanie recommends to successfully paint IKEA furniture, "Sand/de-gloss, use a heavy-duty primer like Zinsser Bulls Eye 1-2-3, then paint with premium enamel paint. I love Benjamin Moore Advance Paint. Just be sure to follow the directions for the longer drying/curing times carefully to ensure the hardest and smoothest finish possible."
7. Create a luxury-look floating vanity desk
A floating bathroom vanity is a great way to make a bathroom look expensive. Houston-based blogger, DIY, and decor expert Ashley Rose, the talent and confessed serial creative behind the Sugar and Cloth blog and Instagram account @sugarandcloth found a clever way to create this expensive look on a budget.
Ashley's beautiful floor tiles were the driver behind her creative DIY project, "Since we went with the statement blue tile floor, we liked the idea of doing a floating IKEA vanity so that you could still see most of the floor pattern," she explains.
To recreate this floating vanity desk hack, you'll need two sets of IKEA Eket cabinet drawers and wall mounts, some wood for the tabletop, and some replacement drawer handles.
Ashley styled her luxe-look dressing table with all the latest bathroom trends – a statement wall mirror, gold accessories, plants, and a rustic stool that fits perfectly under the unit when not in use.
8. Elevate a playroom with an IKEA play table hack
Sarah Hurst, the early-years teacher, mother, and child-led play expert behind the blog Arthur Wears, designed the perfect play table using the classic IKEA Flisat table and Skadis pegboard.
Sarah cleverly attached the board to the table rather than the wall with the help of some IKEA Skadis connectors allowing the table to be moved around the room to maximize play opportunities and the board to be easily removed if required.
She styled the board and table with various colorful and fun child-friendly accessories and shares this top tip, "the wall mount proved really useful as an extra hanging tool along the top of the pegboard. It is magnetic, and a few mini bulldog clips work well as scissor hangers," to ensure it's a winner for kids or grandkids should you attempt to recreate this IKEA desk hack in your own home.
9. Add a wooden desktop with a waterfall end for a modern twist
DIY blogger Colleen Pastoor, the creative behind the Lemon Thistle blog created a stylish and practical double desk in her children's bedroom, another of the child-focused IKEA desk hacks in our round-up.
Colleen used a set of blue IKEA Alex drawers and created the tabletop part of the desk from wood, adding a waterfall end as a modern twist. Skinny shiplap wall paneling adds texture and interest under the desk.
The bedroom was already quite full before the desk was built and Colleen shares this advice for others packing a lot into a small space, "keeping with the muted blues of the walls and the same light wood tones as the floor made it feel like a part of the room." Cohesive color is a great way to make a small room feel bigger.
10. Use paint to add a pop of color
Look to the latest color trends and must-have interior paint color trends to add a touch of personality to your workspace. Hannah Tutton, the interior designer behind the interior styling and renovation-focused Instagram account @Houseoftuts, pulled off a stylish IKEA desk hack by adapting an IKEA Lisabo desk to suit her requirements better.
The creative DIYer moved the under-desk drawer to one side to allow sufficient room under the desk to house a freestanding white drawer unit and still have room for someone to sit at the desk.
Hannah painted the desk in a pale pink paint color (the exact shade is Hellebore by Little Greene Paint Co.) which really elevated the final results and made the desk look bespoke. The fluffy desk chair and funky accessories add to the look making this one of the more playful IKEA desk hacks in our selection.
Our top tips for successful IKEA desk hacks
As we have seen before with Billy bookcase hacks and Kallax hacks, there are recurring themes for successful IKEA hack projects…
Focus on improving functionality or style (or both): The most successful hacks work because they improve the usability or aesthetics of the furniture. Use the furniture as a base and add texture and colour in the form of paint or additional panels. With IKEA desk hacks, these additions can be in a tabletop form or end panels.
Don't settle for basic hardware: Replacing the standard IKEA door handles and drawer pulls can really elevate a piece of furniture and change its whole look. Going for a classic finish like antique brass will make it look higher-end, whereas bold design choices like geometric shapes and bright colours can add a playful vibe.
Get creative with materials: The desk might be made of particle board, but this does not stop you from adding creative materials to transform the look. Those on a tight budget should consider inexpensive options such as contact paper or metallic spray paints.
Don't neglect the rest of the room: The show-stopping IKEA hacks that really stand out are usually just one part of considered room design. On its own, an IKEA desk hack will give you a stylish and functional desk, but the results are magnified in conjunction with other decorative details such as wall panelling, a cohesive colour palette, stylish home accessories and statement lighting.
Claire is a DIY and home interior writer specializing in budget room transformations, creative DIY projects, and resourceful home styling. Claire runs the popular home interiors blog ClaireDouglasStyling and shares all her DIY tips, tricks, and behind-the-scenes styling insights on her Instagram and Tiktok accounts. When she's not writing, Claire enjoys foraging for flowers and foliage and experimenting with interesting materials and decorating techniques to incorporate into future interior schemes; micro cement and postal tubes were a recent unusual but triumphant pairing. In her spare time, Claire enjoys creating floral installations for her home...the more bonkers the better!